My family decided to ease our Thanksgiving commute by splitting our gathering this year, with the San Francisco gang doing dinner there and our considerably smaller East Bay contingent dining on this side of the Bay. My job is to bring Thanksgiving pie—for just six people.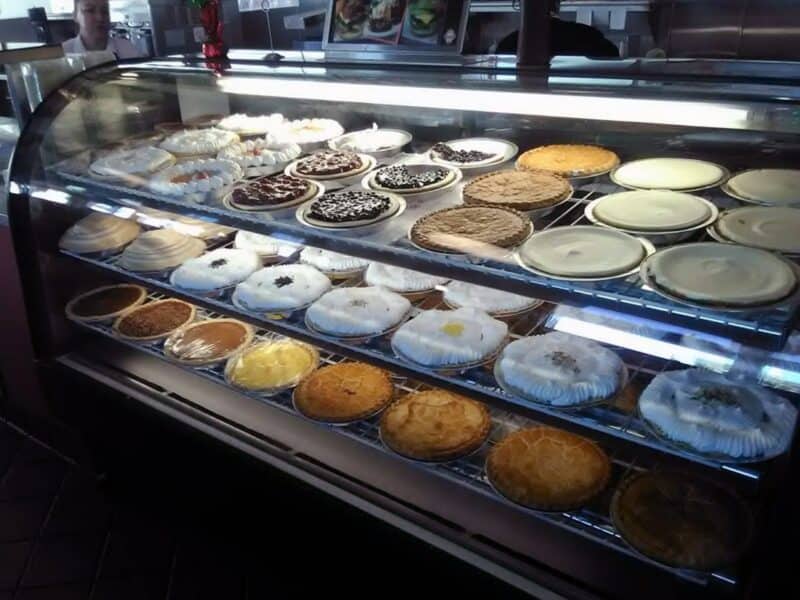 My problem is that I can't stand pumpkin pie. Nor am I a competent or willing baker. I would have to get two pies, one pumpkin and one pecan, but I had no idea where the best place would be to order them. So, I did what any reasonable Alamedan would do. I went to Facebook and posted a request in the Alameda Peeps group for recommendations: "Best place on the island to get yummy pies for Thanksgiving?"
Peeps to the rescue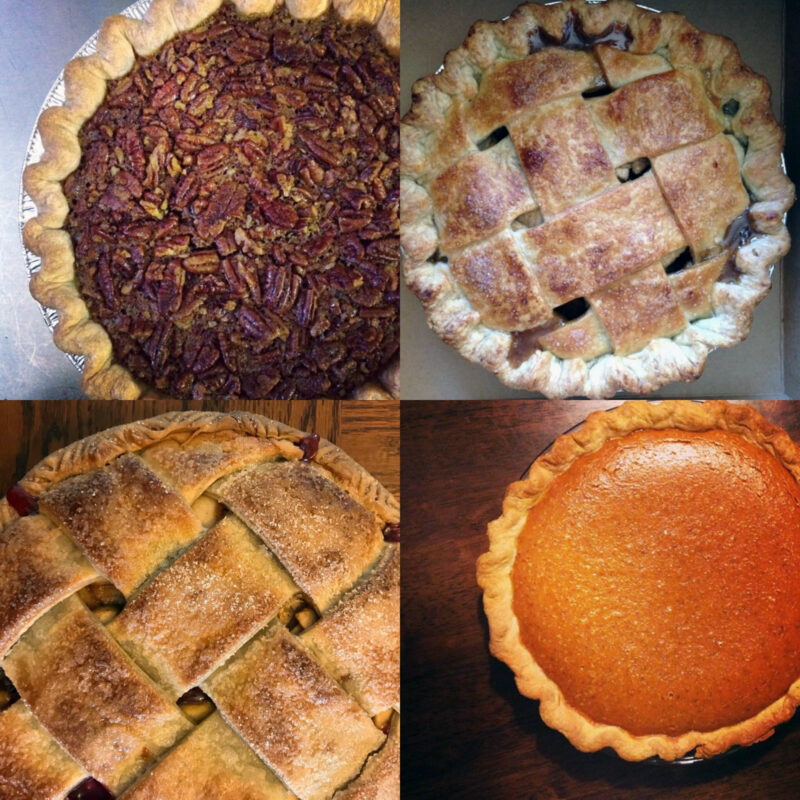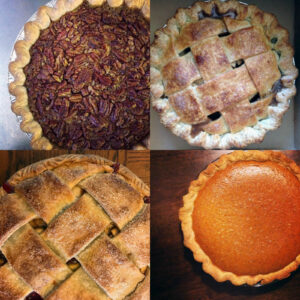 The suggestions poured in. Julie's Coffee and Tea Garden, at 1223 Park St., was the first one, with a side note that their pre-orders were already at about 75 to 80 percent capacity. I immediately opened the link and saw photos of beautiful pies—rich-looking pumpkin for $34 to $36 and chocolate pecan for $42 to $44. As much as I wanted to taste those pies, I couldn't afford to spend that much—a total of at least $76—for just six people, but if you have a larger group or just need one pie, by all means, order online by Saturday, November 19 for pickup on Wednesday, 9 a.m. to 4 p.m.
Another pie source possibility is my favorite new neighborhood grocery, Island Savoy Market, 1200 Lincoln Ave. They are featuring Shannon Marsden's delicious pies—while they last. These are the same pies available for pre-order from Julie's Coffee and Tea Garden.
Crispian Bakery, at 1700 Park St., was next on the Peeps list, along with another surprisingly popular choice: Nation's, at 1432 Webster St. Both places had devoted fans. I knew there were a couple of other places I wanted to check out as well, so I decided to do it the old-fashioned way—in person.
Checking out Thanksgiving pie contenders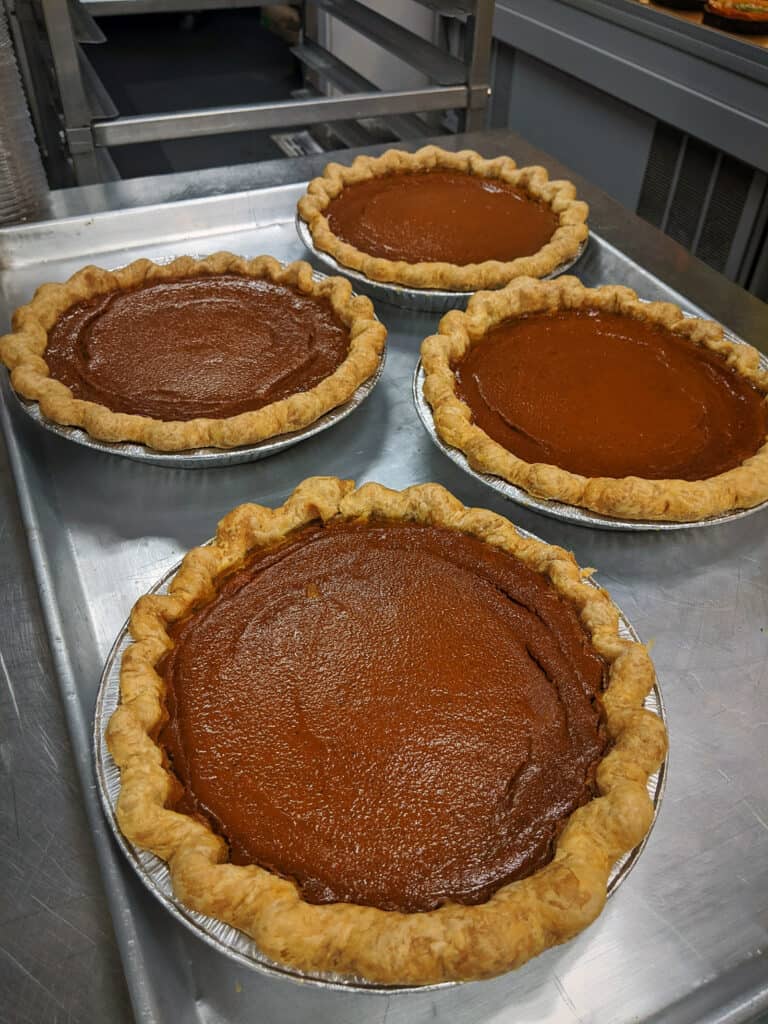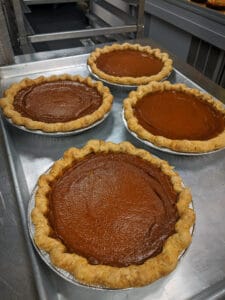 My first stop was at Feel Good Bakery in the Alameda Marketplace, 1650 Park St., (they have a second location at 3215 Encinal Ave.) mostly because I've gotten fantastic pastries there in the past—and they have a big parking lot. They had a lot of beautiful tarts and breads and other pastries on display, but no pies in the case. The person behind the counter gave me a list that could be pre-ordered, including pumpkin pie for $35 and pecan for $38. I'm sure they're delicious, but sight unseen doesn't work for me, so I gave it a pass. There's an online order page on their website but I didn't see any pies on it, so you may want to stop by or call them at 510-864-2733 if you're interested.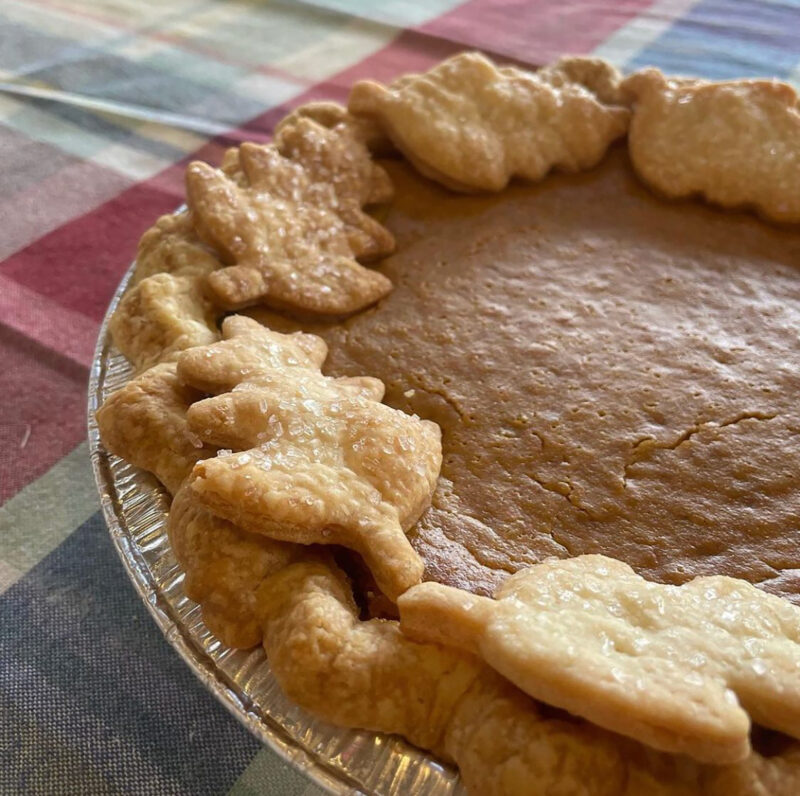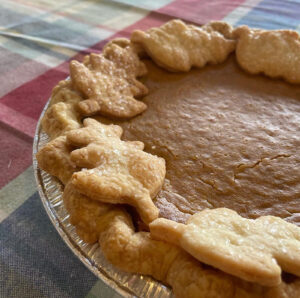 Next was Crispian, where the heavenly aroma of fresh baked pastries delighted my senses through the open window that faces the sidewalk. I had seen the pies in photos, and they looked incredibly yummy. The pies were quite large, and the prices were surprisingly a bit less than Julie's and Feel Good. Crispian's pumpkin pie is $30 and the bourbon pecan pie—a huge favorite with some of the Peeps— is $32. The person at the window gave me some good advice: There's nothing particularly fancy about pumpkin pie, so when funds are limited, splurge on a pie like their bourbon pecan. "Bourbon is one of the main ingredients," she said, proudly. Pre-order online to pick up on November 23.
From there I stopped briefly at Nob Hill Foods Bakery, 2531 Blanding Ave., where I asked if they would have freshly baked pies available to pre-order for Thanksgiving. Nope. All their pies are frozen, I was told. So much for that.
The pie of choice
Finally, I visited Nation's, where the bakery case was full of pies, many of which had way too much whipped cream or meringue on top for my taste, but both the pumpkin and pecan were unadorned and looked like perfect examples of old school Thanksgiving pies. They were smaller than those at the artisanal bakeries, which suited my needs perfectly, and just $15 apiece. I ordered one of each. They're open on Thanksgiving Day, so I'll pick up my pies that morning.
If none of these pie possibilities suits your fancy, you can always commute to Oakland or Berkeley to try one of the many bakeries where "East Bay piemakers are working overtime to bake the best Thanksgiving pies you could ever ask for," according to Oaklandside. That list, by the way, includes a Nation's too.
Liz Barrett is the Copy Editor of the Alameda Post and writes about our community. Contact her via [email protected]. Her writing is collected at AlamedaPost.com/Liz-Barrett.