Bear's-Eye View of Alameda for July 31, 2022
I have written before about the dangers of foxtails for my canine friends, and after my bestie L'il Dude just wound up in the ER a second time this year, I thought it important to include a reminder about this menace. First off, he is fine, fully recovered, and back to his varmint ways.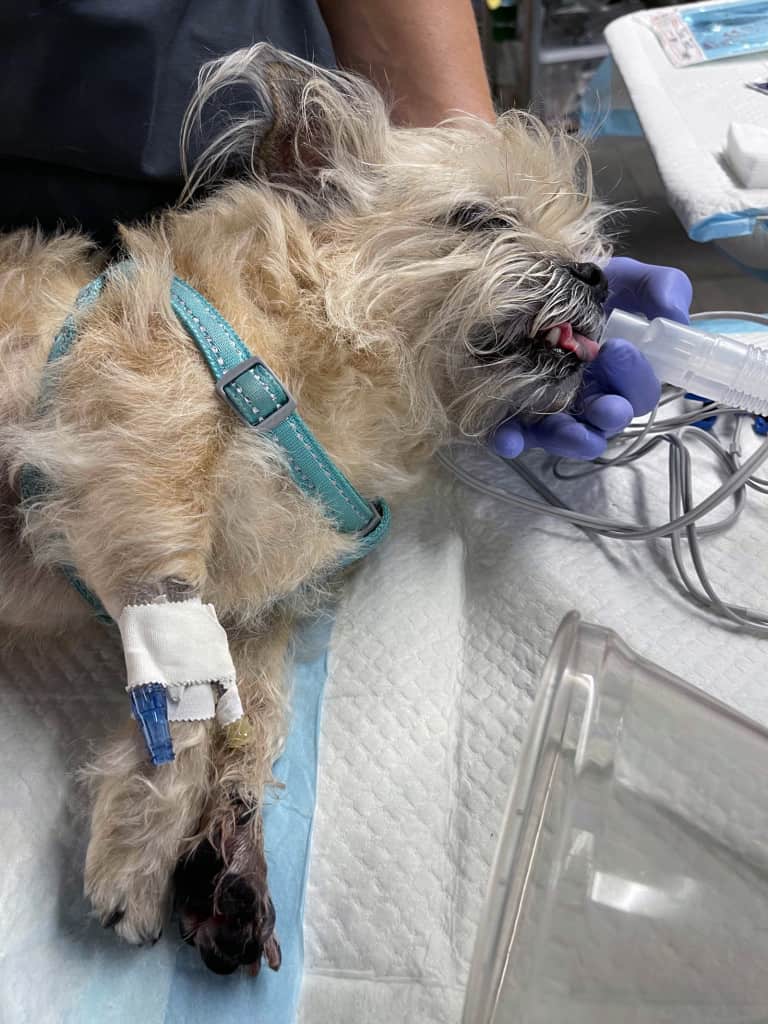 L'il Dude's human companion is very careful about not letting him roam around in the weeds, but she thinks he just picked it up walking on the sidewalk where the seeds get blown. If you human companions see us licking a paw or sneezing abnormally, please get us into a vet as soon as possible.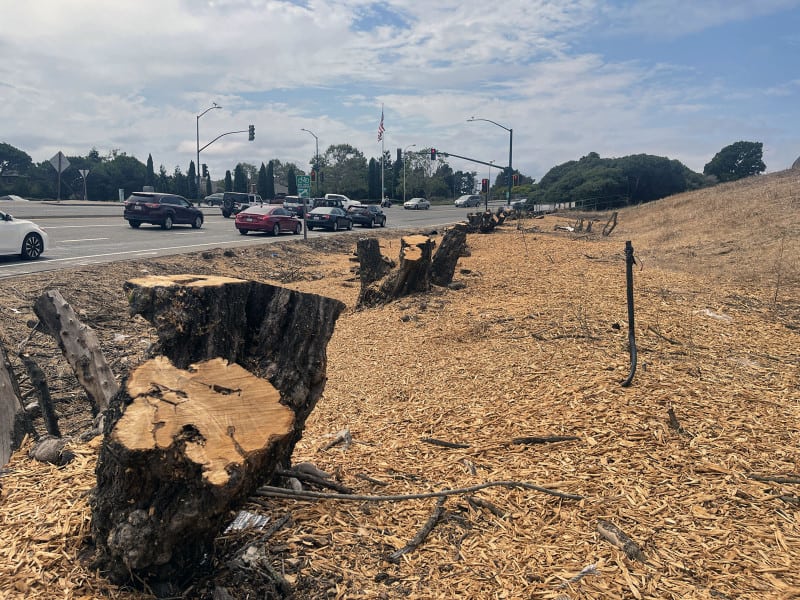 If you live on Bay Farm or drive along Doolittle Drive, you have already seen the effects of the Alameda Chainsaw Massacre. Not sure who cut all these trees down or why, but it was pretty shocking to drive by and just see stumps. Does anyone have any intel on this devastation?
While I was on one of my walks around Grand Marina, I met Paul Feinberg. He said he was a "plein air" painter getting ready for the big Frank Bette Center for the Arts exhibition at South Shore Center next Saturday, August 6. 40 artists are painting Alameda scenes and then exhibiting them for sale. Visit their website to get all the details and schedule of activities.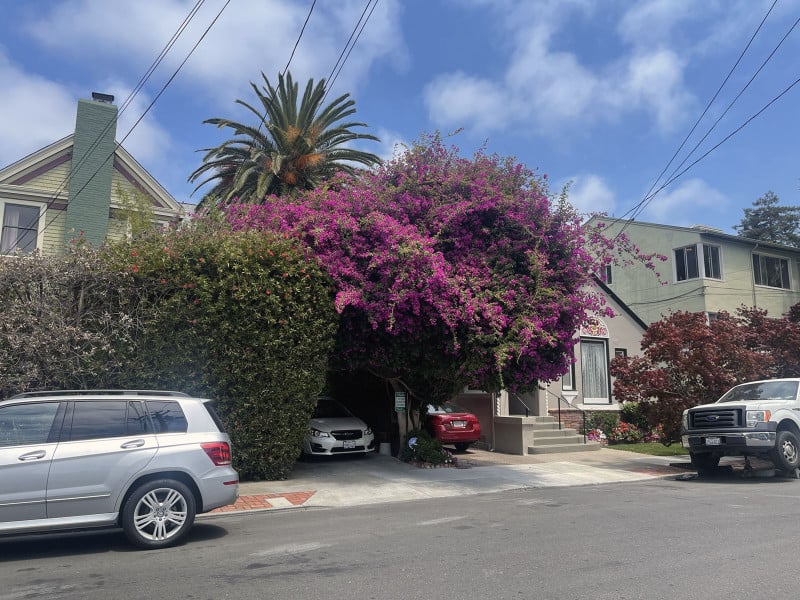 As I have walked around our fair city, I have noticed the magenta leaves of Bougainvillea glabra or is it Bougainvillea spectabilis? Whichever it is, they are beautiful, and there are some very old specimens around town. The one pictured is on Alameda Avenue in the 1500 block.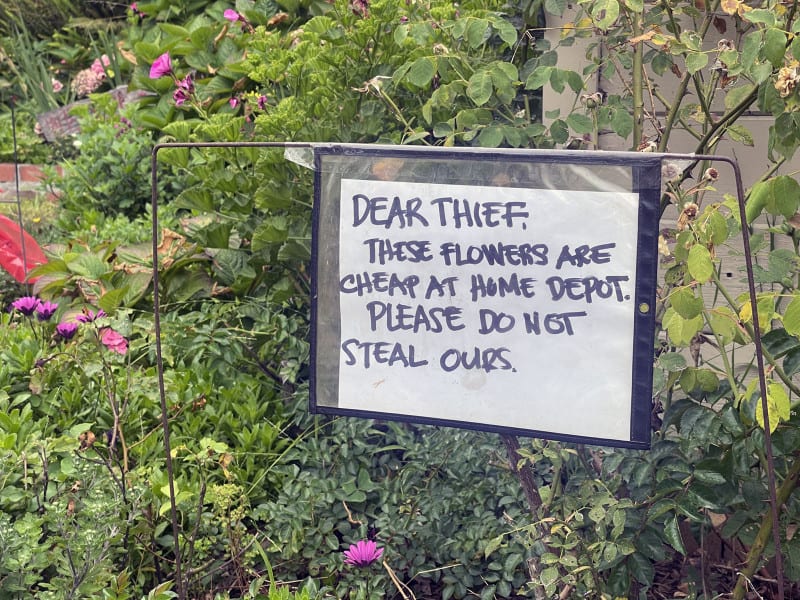 Occasionally, I read a post where someone has had their plants stolen right out of the ground in front of their house. What is up with that? I will save my "moral decay of society" rant for another day, but please people, think about what you're doing. It is really sad when neighbors need to put up signs saying "Don't Steal Our Plants."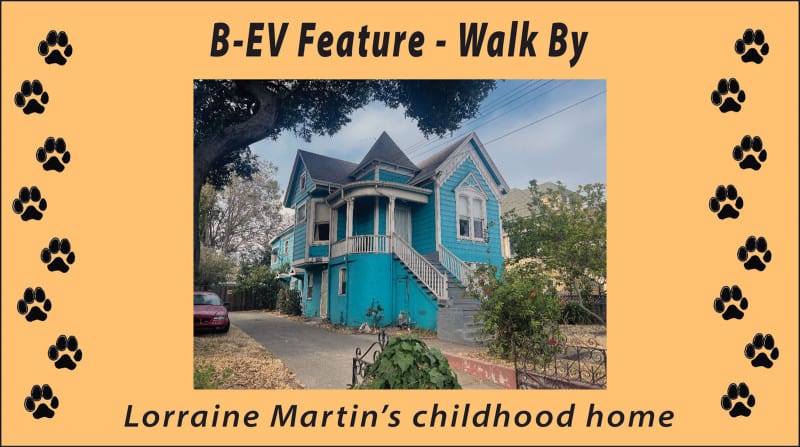 This week's featured house on the "walk-by" request line belongs to Lorraine Martin. Her parents bought the house in 1939 for $1500. If you would like me to walk by your Alameda house and feature it in a post, please email my human companion at [email protected].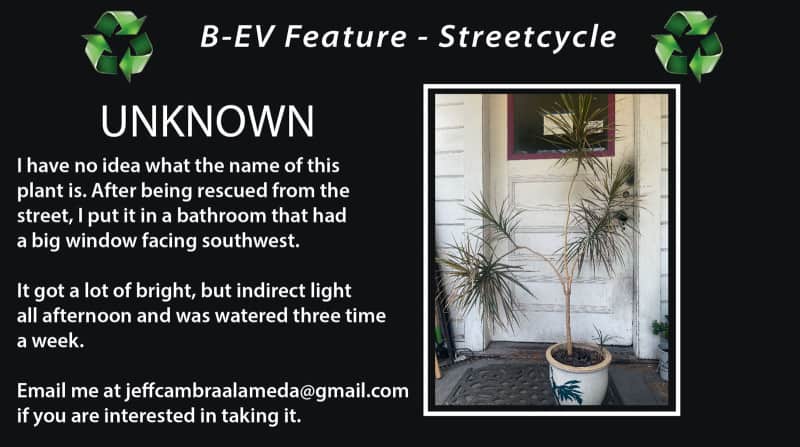 I also have another plant up for grabs in Streetcycle. I don't know what kind of plant it is either! It was in the bathroom and got lots of indirect light all afternoon. If you're interested, shoot me an email. I deliver to any Alameda address.
Editor's note: it looks like a dracena marginata.
Can you believe it's almost August and summer will be turning into fall soon. Kids will be back in school and the sunlight days will get shorter.
Don't forget about the Plein Air exhibit at South Shore this coming Saturday. I am going to try to make it.
Mouf, Roving Reporter
Bear's-Eye View of Alameda
Mouf and his human companion can be reached via [email protected]. Their stories are collected at AlamedaPost.com/Jeff-Cambra/. All photos by Jeff Cambra.