What's the "buzz" all about? Alamedans had a chance to find out by getting up close and personal with electric vehicles (EVs) and bicycles at the EV and E-Bike Show on Saturday, October 1, at South Shore Center. The exposition, sponsored by Alameda Municipal Power (AMP) and hosted by nonprofit Ride & Drive Clean, featured passionate electric car owners showing off their environmentally friendly vehicles and offering anecdotes and feedback regarding EV ownership. Vivee Young, owner of Westside Joe's Bike Shop on the West End, also demonstrated the wide range of e-bikes her store offers for all ages, functions, and capabilities.
Attendees explore options for electric vehicles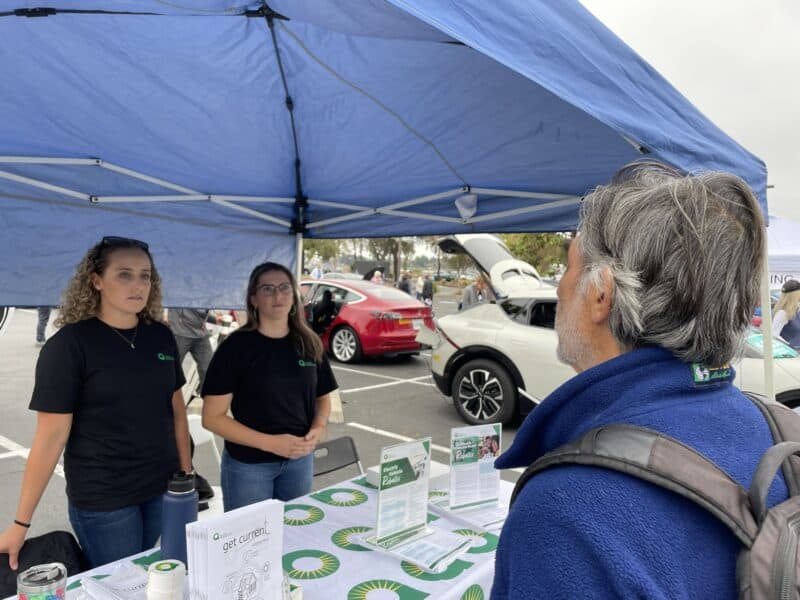 Heather Tiernan and Heather Heinbaugh greeted attendees at the AMP booth, providing information on rebates the utility offers Alameda residents for home appliances, used electric vehicles, EV chargers, and e-bikes. All around, various EV models were on display from manufacturers that included Chevrolet, Ford, Hyundai, Kia, Nissan, Polestar, Tesla, Toyota, and Volkswagen.
Many visitors, weary of high gas prices and seeking to reduce their carbon emissions, eagerly explored their options by stepping into the driver's seat or listening intently to EV owners. Billy Harrison, owner of a red-and-black 2022 Kia EV6, was only too happy to engage, enthusiastically touting the vehicle's Head-Up Display (HUD) and other state-of-the-art navigation functions to curious passersby.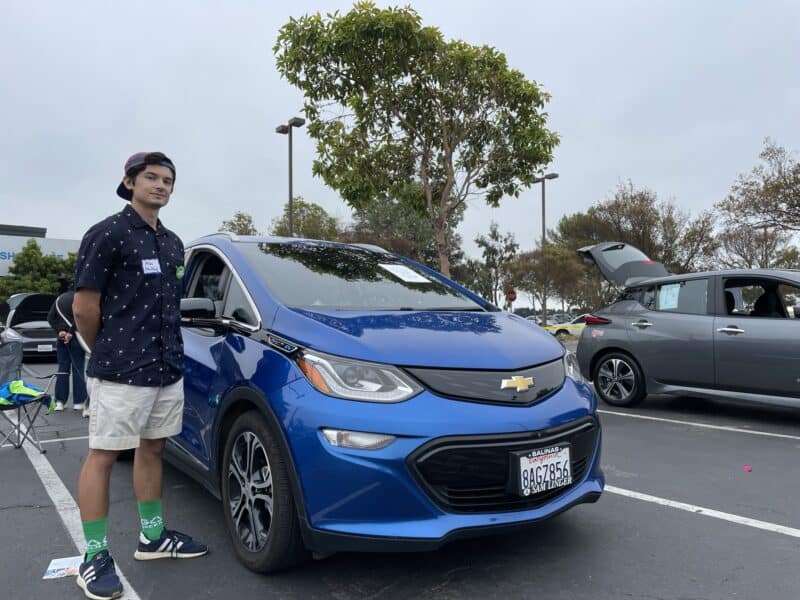 Nearby, Maximillian Perez stood by his 2017 Chevrolet Bolt. A frequent cyclist and transit rider during college, Perez quickly realized it would be too difficult to reach his workplace without driving. "But I still wanted to save CO2 and be more responsible," Perez explained. "So I went to a Ride & Drive Clean event…and found [the Chevy Bolt] to be the best model for me in terms of range and value."
Kathy Anderson and Doreen Wong, stepping out of Perez's Chevy Bolt, expressed gratitude for owners like Perez. "They're very honest about their experiences with electric vehicles," Anderson noted. "It's because they're not trying to sell you anything," Wong added. The retired West End residents expressed concerns about getting off the island and reliability of the bus and ferry, but also excitement for additional bicycling and pedestrian infrastructure coming to Alameda.
E-bikes and a fan favorite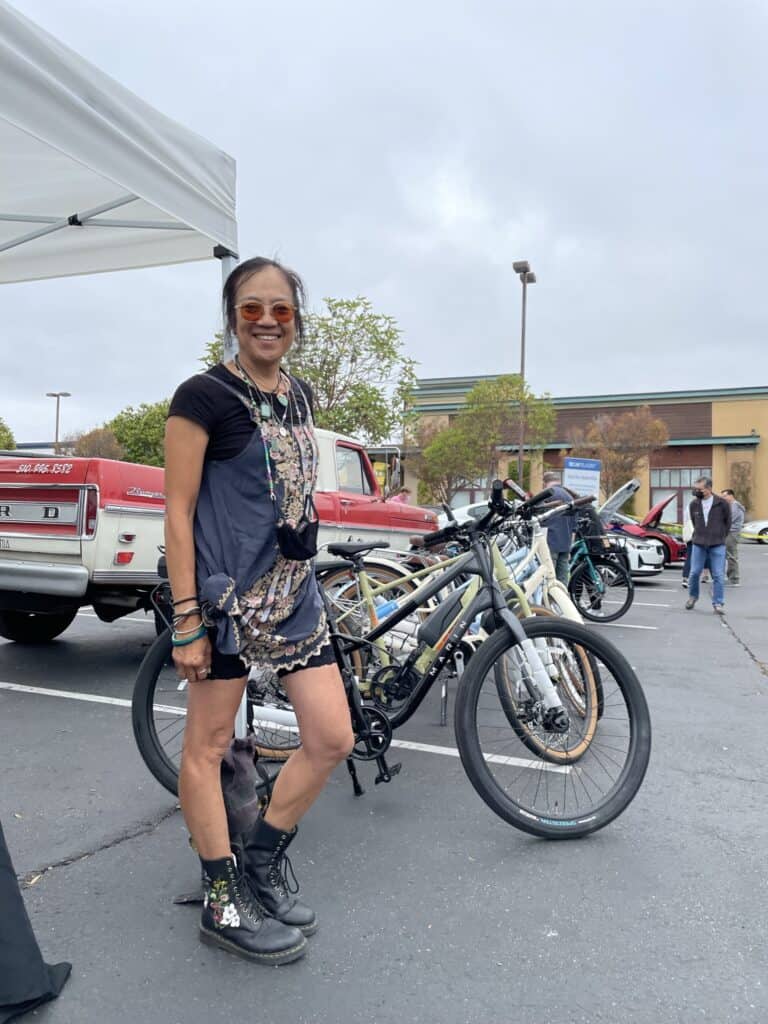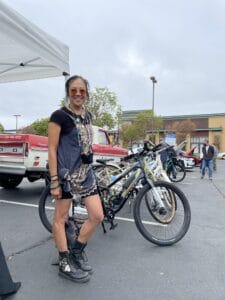 Behind her diverse display of e-bikes, Vivee Young highlighted for her audience the wide selection of brands available for purchase at Westside Joe's, including models fit for commuters, parents (with children), and elderly individuals. "I got to an appointment on Park Street in just five minutes on an e-bike, and I didn't even have to find parking!" Young happily exclaimed.
For many, the event was also a family affair. Jennifer and Avi Warner brought their two young children, Ori and Sadie, to check out the future of mobility. Residents of central Alameda, the Warners revealed they were strongly considering the purchase of an electric vehicle, encouraged especially by AMP's rebate offers. Jennifer Warner also expressed her desire for the family to be environmentally conscious by becoming less car-centric and staying on-island for shopping and other needs.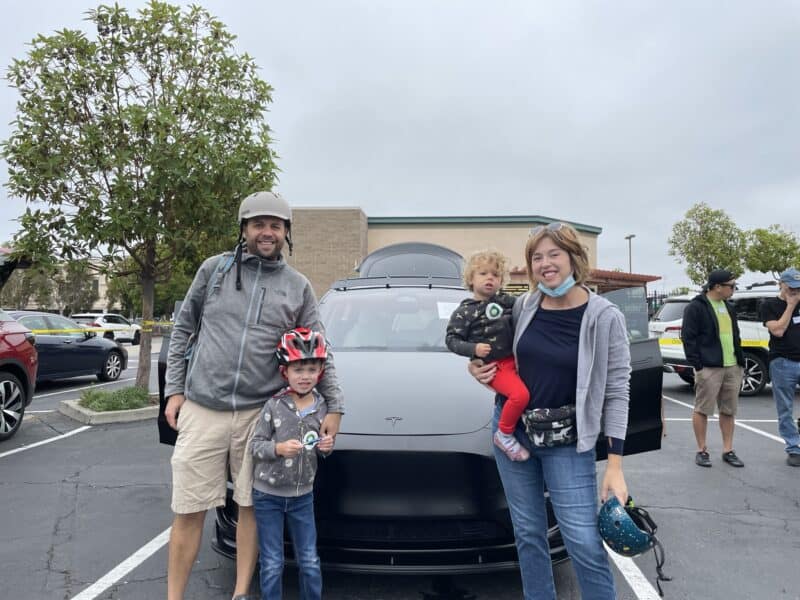 Young Tesla fan Ori's focus was much more singular. When asked why the Tesla Model Y behind him was his favorite, he simply replied, "Because it's black." Agreed. Sometimes, that's all it takes.
Ken Der is a contributing writer for the Alameda Post. Contact him via [email protected]. His writing is collected at AlamedaPost.com/Ken-Der.