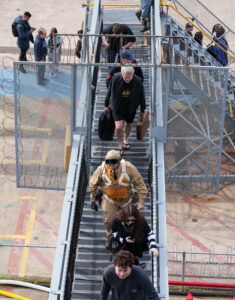 A man dressed like a World War II pilot hurriedly collected his gear in the parking lot below the aircraft carrier USS Hornet on Saturday morning in Alameda.
Is the famous warship being recalled to active duty? Did he overshoot the runway and end up in the parking lot?
"We're representing October 10, 1944, which is where we actually celebrate the 1,000th arrested landing on the ship," explained Tony Abrams, of Vallejo, part of a Hornet reenactment group. "So it's just coming out for a living ship day."
Living ship is a great way to put it, with more than 1,500 people on the Hornet attending CarrierCon at what's officially known as the USS Hornet Sea, Air and Space Museum.
It was a convention celebrating cosplay, tabletop gaming, and Western and Japanese pop culture media.
Abrams was dressed as Cmdr. William Taylor, a real pilot on the second version of the Hornet, commissioned toward the end of World War II. The first Hornet was sunk during the Guadalcanal campaign in 1942, after launching the famous Doolittle Raid on Tokyo and besting the Japanese at the Battle of Midway.
Russell Moore, the Hornet's marketing manager dressed in a bright blue replica "Star Trek" shirt, said it was the first CarrierCon since COVID-19. Moore said it was a great double bill, with the fantasy cosplay crowd the icing for the Hornet's historical cake.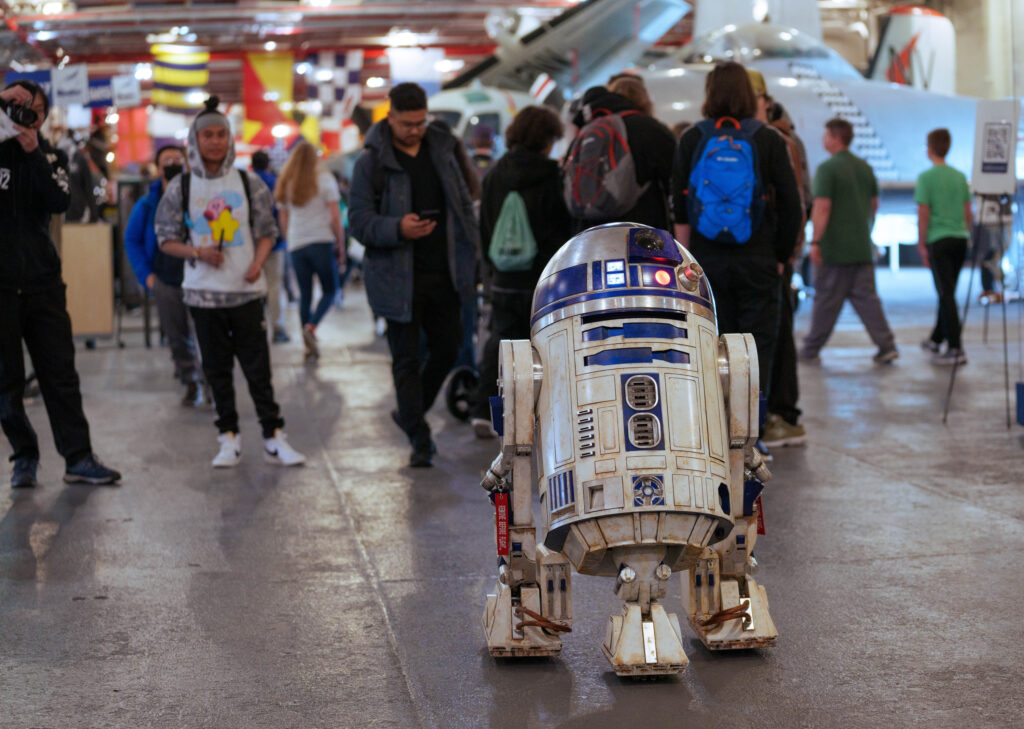 "It's just a great way of bringing people out," said Moore, who said Saturday was probably the fifth CarrierCon."I mean, it's double dipping in a way, essentially. I think what the cosplayers like as well is the ship looks like there's an old science fiction ship if you're taking pictures and playing 'Star Wars' games." The mix was eclectic, from the booth of Star Wars replica robot makers to about 45 artists repping Japanese anime and other kinds of games. While a Teletubby roamed the flight deck above, inside the cavernous hangar below was everything from Darth Vader escorting Emperor Palpatine through the crowd, to Marvel superheroes and characters representing much newer online games.
"They offer it all in one place: games, anime cosplay," said Antonio Gutierrez, from Alameda. "This is different than like a Comic-Con; that seems to be a lot of TV and movie stuff. This kind of doubles up on the attraction, because it's not really common to have a con in a World War II aircraft carrier. People get to explore the ship."
The Hornet hosted then-President Richard Nixon when it retrieved the Apollo 11 astronauts from the Pacific after landing on the moon in 1969. The Hornet is full of planes and memorabilia, including one of the test capsules used in Apollo 11 training.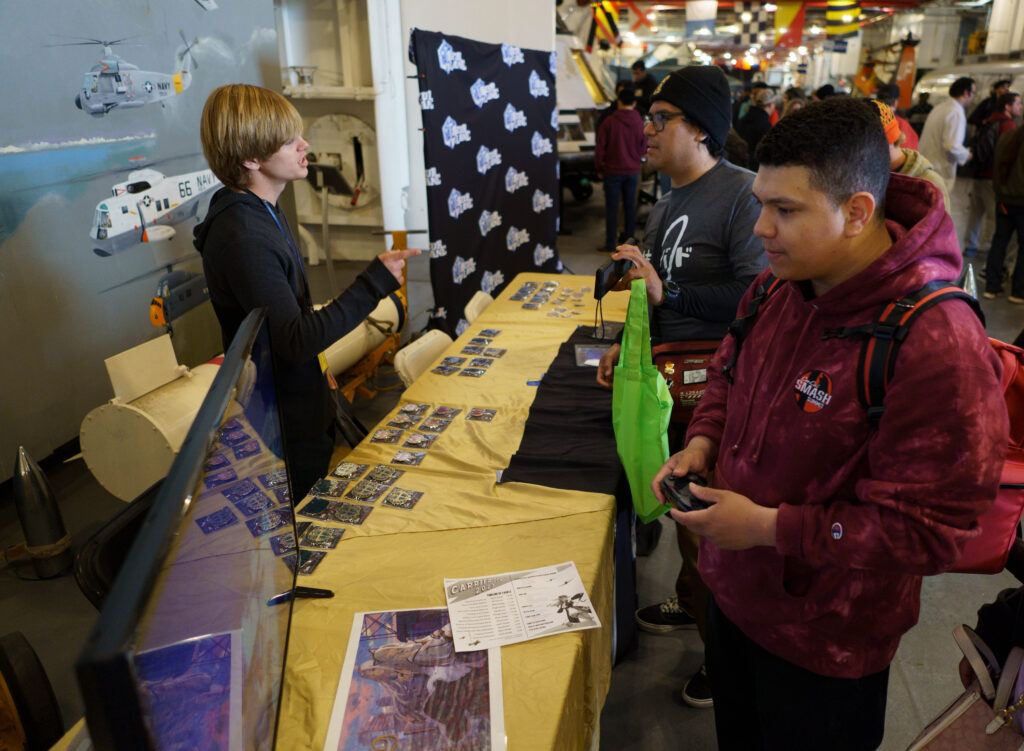 Samuel Pena drove two-and-a-half hours from Madera in the Central Valley to see the Hornet again. He lived in Alameda before the pandemic and the Hornet was frequently a destination for his family for special events like Fourth of July fireworks and Halloween.
"I own my own little e-sports club, so I wanted to host (a tournament here) but unfortunately it was too late, but hopefully next year," Pena said. "I'm also here for the 'Yu-Gi-Oh' (TV show trading cards) and just to see the vendors what they got. They always have nice stuff here. I'm glad to be back."
Belowdecks "Dungeons and Dragons" tournaments were happening at tables in the former Chief Petty Officers Lounge. A specific version of the game was written for CarrierCon by local player Robbie Pleasant called "The Ghost Ship's Sting." "This is the first year for CarrierCon that they're doing 'Dungeons and Dragons,'" said Brian Green, from Hayward, a member of a local D&D group recruited to help organize the tournament (which includes handing out promo posters for the upcoming Chris Pine film "Dungeons & Dragons: Honor Among Thieves.")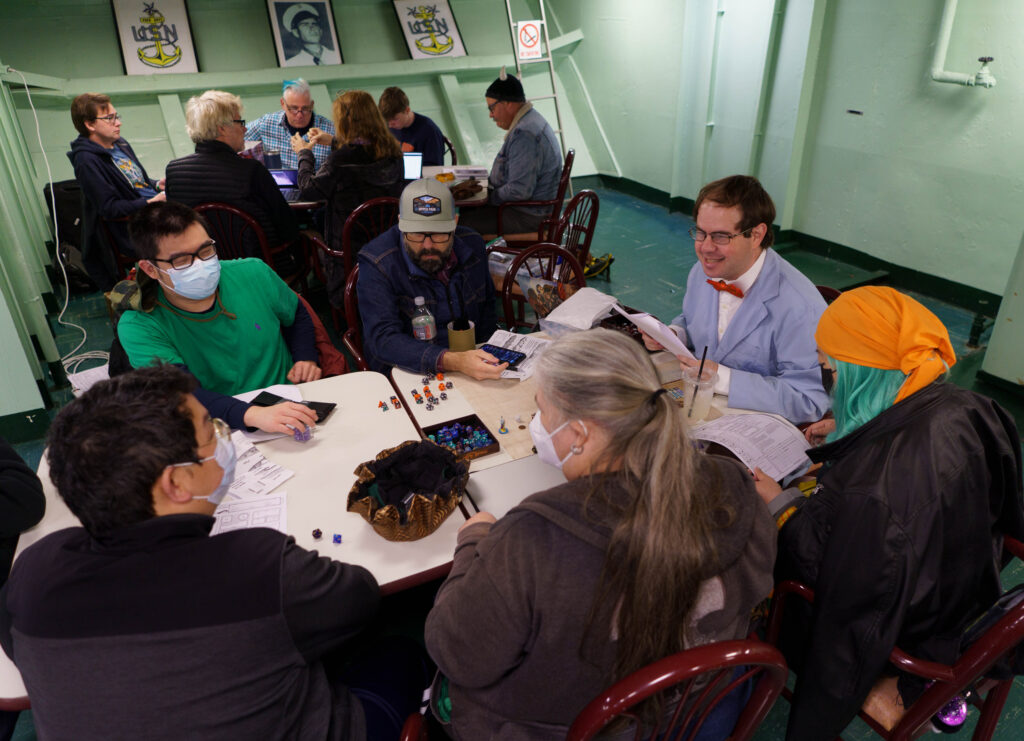 "That's not the only game; there's a bunch of games being scheduled throughout the day," Green said. "We're sort of running three different adventures. We have the whole gamut, from level one to level four." Back in the hangar deck, next to the Mandalorian Mercs Costume Club, the non-profit Bay Area R2 builders were showing off their "Star Wars" droids they take to schools, hospitals and various charity events, including the R2-D2 that was rolling cruising around the ship, seemingly unsupervised and taking in the scenery.
"There's no selling for profit; it's really about love of 'Star Wars,' love of building, love of learning and tinkering," said builder Robert Stevenson. "We all build them differently: some of them do full dome rotation or panels open and close and have servos," a type of radio control.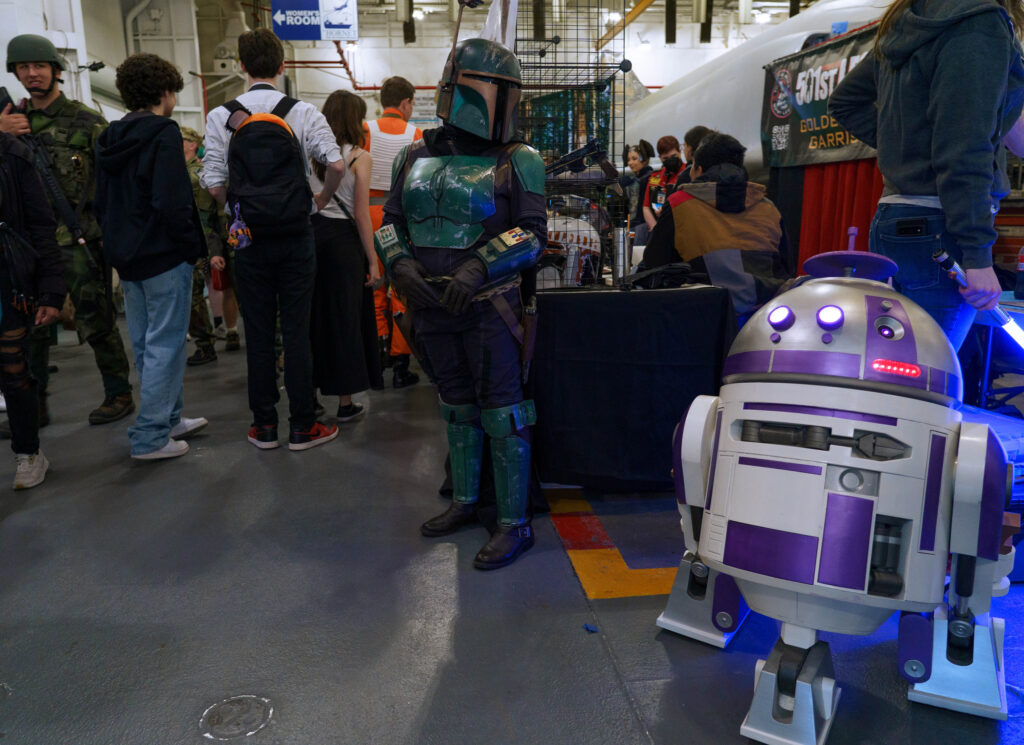 One participant wasn't quite as futuristic. Berkeley resident Steven Head was dressed as Civil War Union General Ambrose Everett Burnside, also known for popularizing what we call sideburns. Burnside's — and Head's — extended from near the ears into a fluffy mustache.
Head said he's not into much of the anime and games shown off at CarrierCon, but is partial to World War II history, especially the Pacific campaign.
"I'm mostly just here for, let's be truthful, to get out of my shell," Head said. "I'm not very big around crowds."
Copyright © 2023 Bay City News, Inc.  All rights reserved.  Republication, rebroadcast or redistribution without the express written consent of Bay City News, Inc. is prohibited. Bay City News is a 24/7 news service covering the greater Bay Area.