Stand-Up Paddle Board race around the island 'for bragging rights only.'
If you think driving around Alameda can be challenging, imagine doing it in the water on a Stand-Up Paddle Board (SUP). This Saturday July 30, more than 15 hardy competitors will compete in the Alameda Islanders Challenge, sponsored by Mike's Paddle. Entrants in the demanding SUP event will either paddle halfway around the island (9.5 miles) or all the way around the island (16 miles).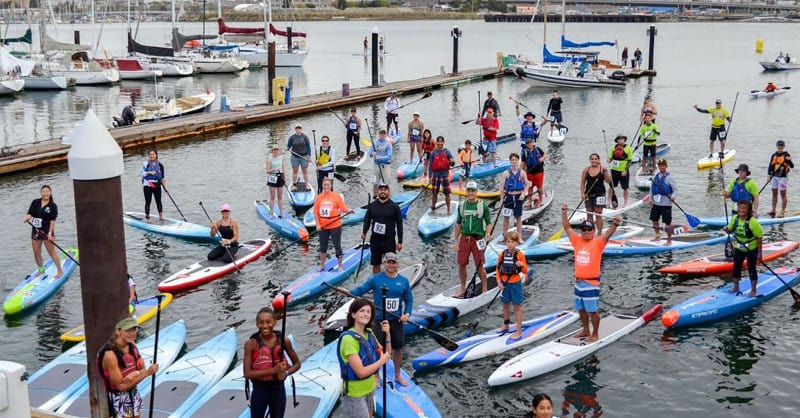 All of the race participants will paddle clockwise around Alameda, starting at Mike's Paddle in Ballena Bay at 8 a.m., and then proceed west along the rock wall. From there, the athletes will paddle around Alameda Point and into the Oakland Estuary.
Hazards in the Estuary
"Watch out for ferries and boat traffic in the beginning of the Estuary, as there can be 1- to 2-foot swells and chop created by boat traffic," the race entry information warns. "Once you pass Jack London Square, a no-wake zone will be observed by boats."
The Grand Street Boat Ramp—about halfway around Alameda from the starting point—marks the end of the race for the "half islanders" division. Those competing as "full islanders" will continue East around the island toward San Leandro Bay, cross under the Bay Farm Island Bridge, and continue West along Crown Memorial Beach back to where the race began at Mike's Paddle in Ballena Bay.
Bragging rights only
Race organizer Mike Wang, the owner of Mike's Paddle, estimates that all paddlers should be finished by 1 p.m., but "the challenge will be timed for bragging rights only," he notes. There are no awards based on race times. Everyone who participates gets a hat and T-shirt, whether they finish or not.
"We are fully supportive of folks who just want to accomplish this difficult challenge," Wang says. This will be the first time the event is open to the public. "We've done a lot of them in the past with small private groups," Wang notes, "and now we're ready to bring it to the public."
Best places to watch the Alameda Islanders Challenge
For those who prefer to participate as spectators this Saturday, the best places to watch the Alameda Islanders Challenge are Grand Street Boat Ramp (end of Grand Street, at the Estuary), along the Rock Wall (access near the Encinal Boat Ramp, 190 Central Ave.), and at the Bay Farm Island Bridge (at the end of Otis Drive).
Copy Editor Liz Barrett writes about the community for the Alameda Post. Contact her via [email protected]. Her writing is collected at AlamedaPost.com/Liz-Barrett/.