There is a California primary election June 7. If you're a registered voter, you already had a ballot mailed to you by the Registry of Voters. If you have not yet returned your ballot, you have until the end of Tuesday to vote in person at a voting center, drop off your ballot in a secure location or get your ballot postmarked in time. Read our Voters Guide for more voting information.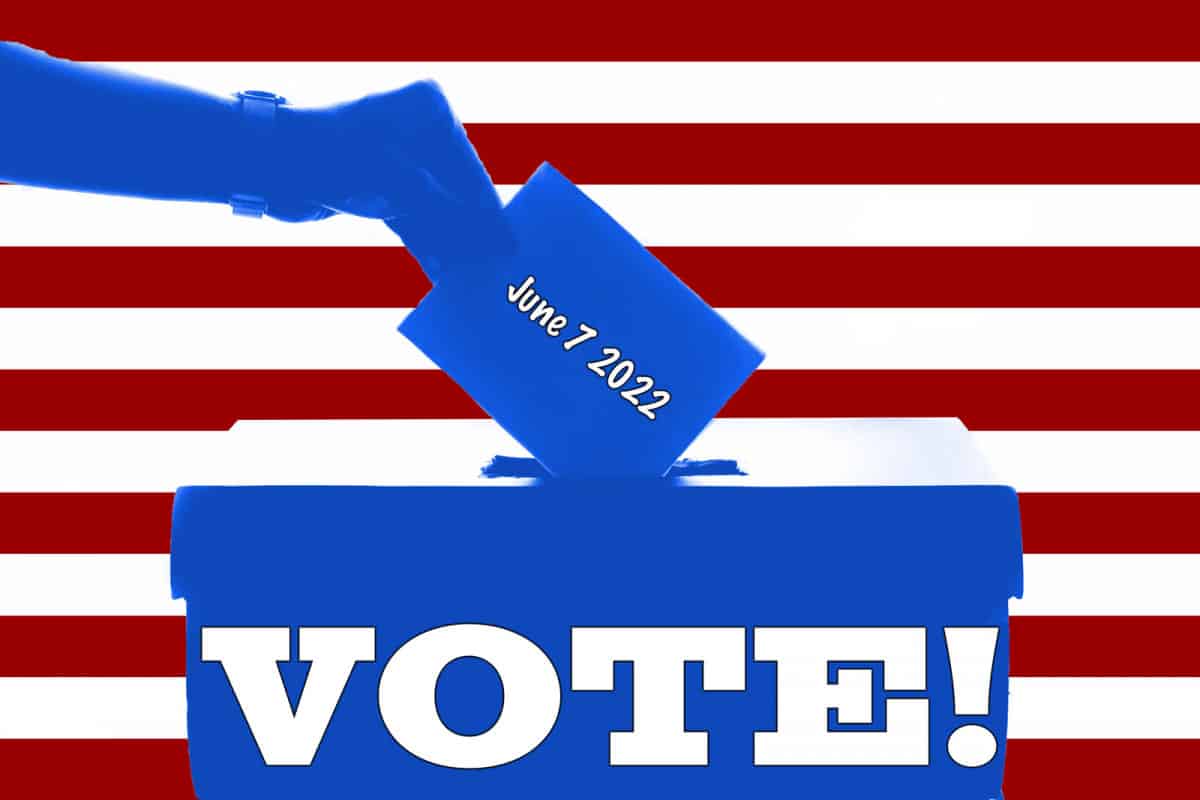 Get out and vote! Yes, you've heard it before. And you've heard all the excuses.
"Why should I bother? I don't know who is on the ballot. It's too much of a hassle. There is nothing on the ballot I care about. It's not an important election. I'm in CA, we're safe from what's going on in the rest of the country. I only have one vote, what difference will it make?"
Sometimes that all feels true. But democracy requires your participation. Most of your life is affected by public votes – how much you pay in taxes, the civil rights you and others enjoy, what benefits you receive from the government, who represents you, and so much more. If you don't vote, you don't have a say in any of this. Every election matters. Every office that is filled and measure that is approved will directly impact you, whether you vote on it or not.
The biggest obstacle for most is getting informed on ballot measures and candidates. There are well-publicized offices on the ballot like CA Governor and Alameda County Supervisor, but there are also local races for County Superintendent of Schools and Superior Court Judges. Alameda County's official election website at ACVote.org contains information about past and upcoming elections, including results after the election. You should have received the Official Voter Information Guide from the CA Secretary of State in the mail, but you can also download it as a PDF if you misplaced it.
Educating yourself takes effort for sure, but with a little knowledge comes the confidence that you're voting for someone or something you truly believe in, instead of picking a name that looks familiar or appealing. If you're not part of a local political organization who has made suggestions of whom to vote for, ask your friends and neighbors what they know. Together you can tackle all the candidates and issues.
Even if there is no race or measure on the ballot that you are passionate about, it's still important to know the options and make informed choices. As an example, I bet you don't think about the Board of Equalization very often. But they are the board who sets rates for all kinds of taxes across the state. That's something you might want a say in. Or you might think that you can ignore Alameda's Measure B because you don't have children in AUSD. But that too is an issue that affects all Alameda residents.
Primary elections exist mostly to select each party's candidate offices to stand in the November General election. That's not very exciting to most. This June's primary election is not a marquee event, and turnout already shows a low return rate for ballots. But these are important decisions to make and participate in.
Yes, things are different in California than other parts of the country. State- and county-wide offices are almost entirely Democrat-controlled. We're not restricting women's rights, LGBTQ+ rights, or voting rights. We enjoy strong environmental and societal protections not seen in the rest of the country. But it's your vote on these issues that gives California its influence and leadership for the rest of the country.
When only a few people vote, the results become skewed and do not represent the general population. Having only 10% of voters decide who gets chosen for the ballot in the November election can lead to unpopular results and unqualified candidates. This is probably the most important reason for you to vote. Everybody has a voice; everybody has a vote. If you don't use yours, your voice will be drowned out by those who do vote, whether or not you agree with them.
Voting is your right. And it's a privilege not every nation enjoys. Voting is essential to maintaining this democracy and making your voice heard. If you don't speak up, nobody will ever hear you. You can take other steps, like participating in local political groups, national organizations, or even volunteering to be an election worker for Alameda County.
So, do it. Speak up! Vote in this primary election and commit yourself to being educated for this and future elections. The general election this November will be significant, so you will want to be prepared. Your voice is important and so is your vote, for you, your family and friends, and your community.
Adam Gillitt is the Publisher of the Alameda Post. Reach him at [email protected]. His writing is collected at AlamedaPost.com/Adam-Gillitt.
---
Editorials and Letters to the Editor
All opinions expressed on this page are the author's alone and do not reflect those of the Alameda Post, nor does our organization endorse any views the author may present. Our objective as an independent news source is to fully reflect our community's varied opinions without giving preference to a particular viewpoint.
If you disagree with an opinion that we have published, please submit a rebuttal or differing opinion in a letter to the Editor for publication. Review our policies page for more information.