The City of Alameda Transportation Commission received an update on the Link21 Program at its meeting on Wednesday, March 22. Jointly sponsored by the Capitol Corridor Joint Powers Authority (CCJPA) and the San Francisco Bay Area Rapid Transit (BART), Link21 proposes a new Transbay rail crossing between Oakland and San Francisco with the aim of bolstering the rail network within the 21-county Bay Area megaregion.
Camille Tsao, Link21 Program Lead for CCJPA, said the project is critical to meeting population growth and shifting travel demands projected by the year 2040. BART's existing Transbay Tube between San Francisco and West Oakland will have insufficient capacity and reach to adequately address issues of transit accessibility and connectivity, imbalance between job availability and affordable housing, and climate change in the Bay Area. Tsao said a new rail crossing can expand both BART and regional rail service—non-subway train service like Caltrain or Amtrak—and unlock the potential for one-seat train rides to locations far beyond BART's current service area.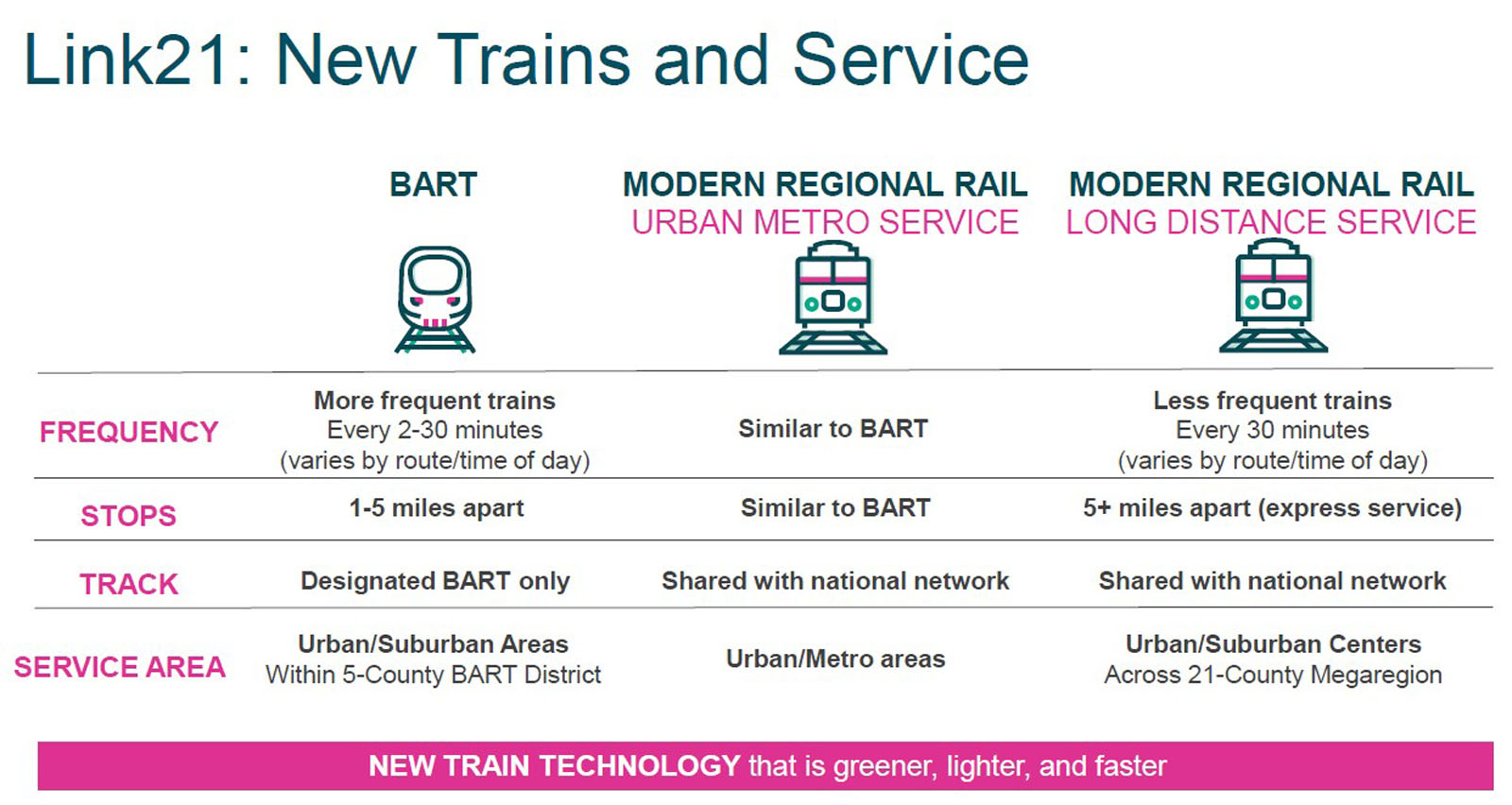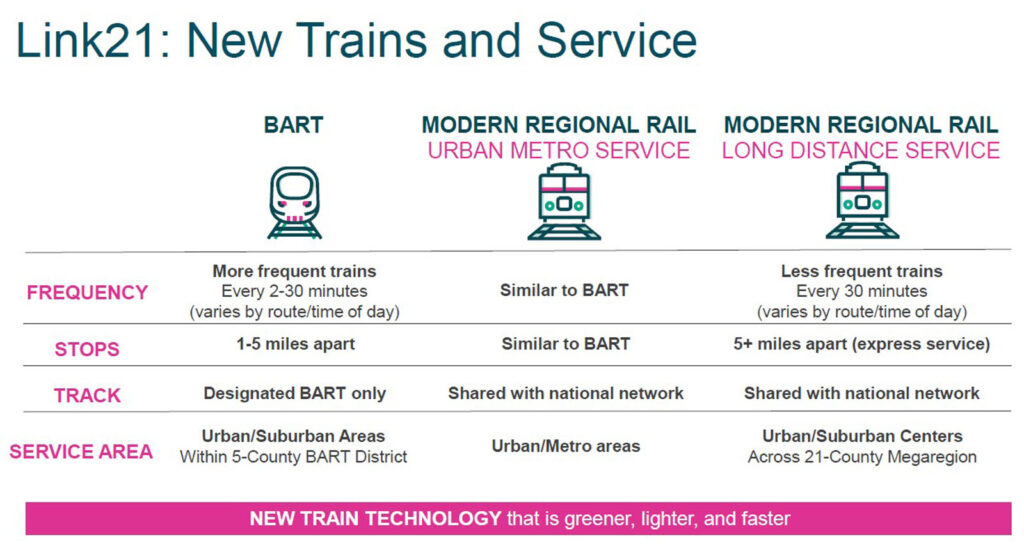 Initially, Link21 explored a new crossing with two sets of tracks—one set for BART and one set for regional rail, since BART utilizes a wider rail gauge—conceptualized by a November 2019 study. But Link21 recently removed this concept from consideration since projected ridership demand in 2050 would not justify a four-track crossing. In response, Transportation Commissioner Scott Weitze cautioned against being too shortsighted on such a long-term project. Tsao assured that constructing additional capacity to the new crossing would be possible when demand arises.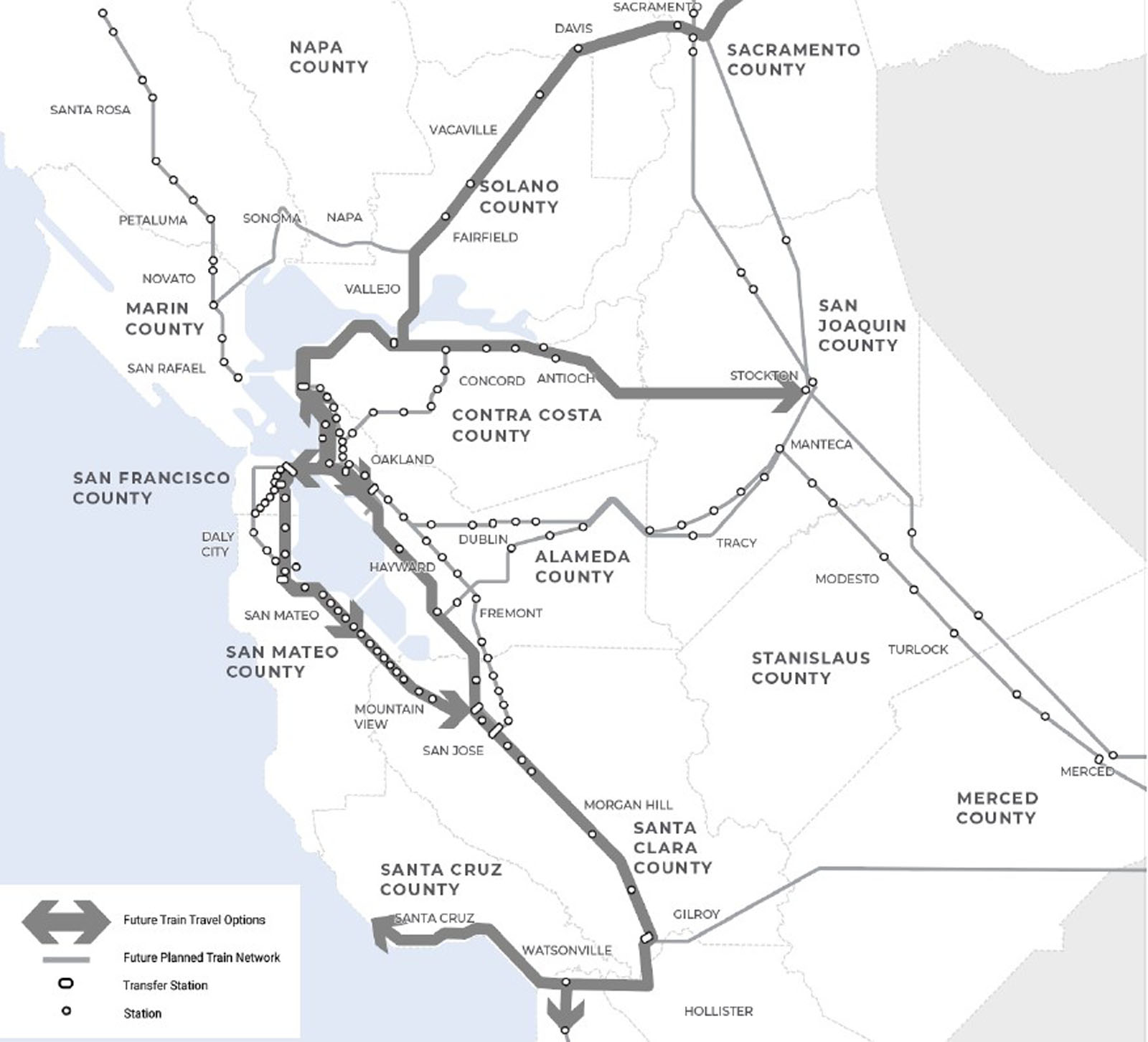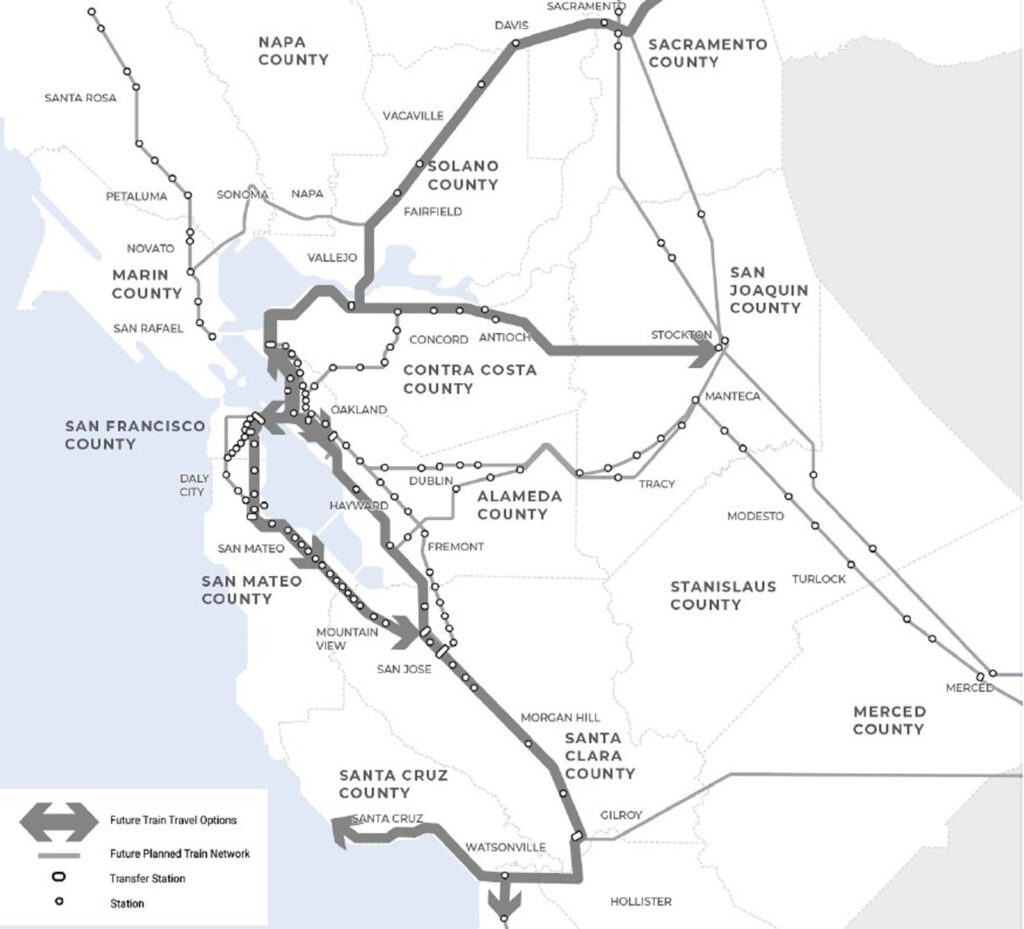 The latest concept maps released by Link21 identify numerous possibilities for a new rail alignment and explore a host of high-level considerations. Should the new crossing be served by BART or regional rail? Should the alignment swing into Alameda? Where is the ideal transfer station between BART and regional rail in Oakland? Should Salesforce Transit Center or Mission Bay receive rail service?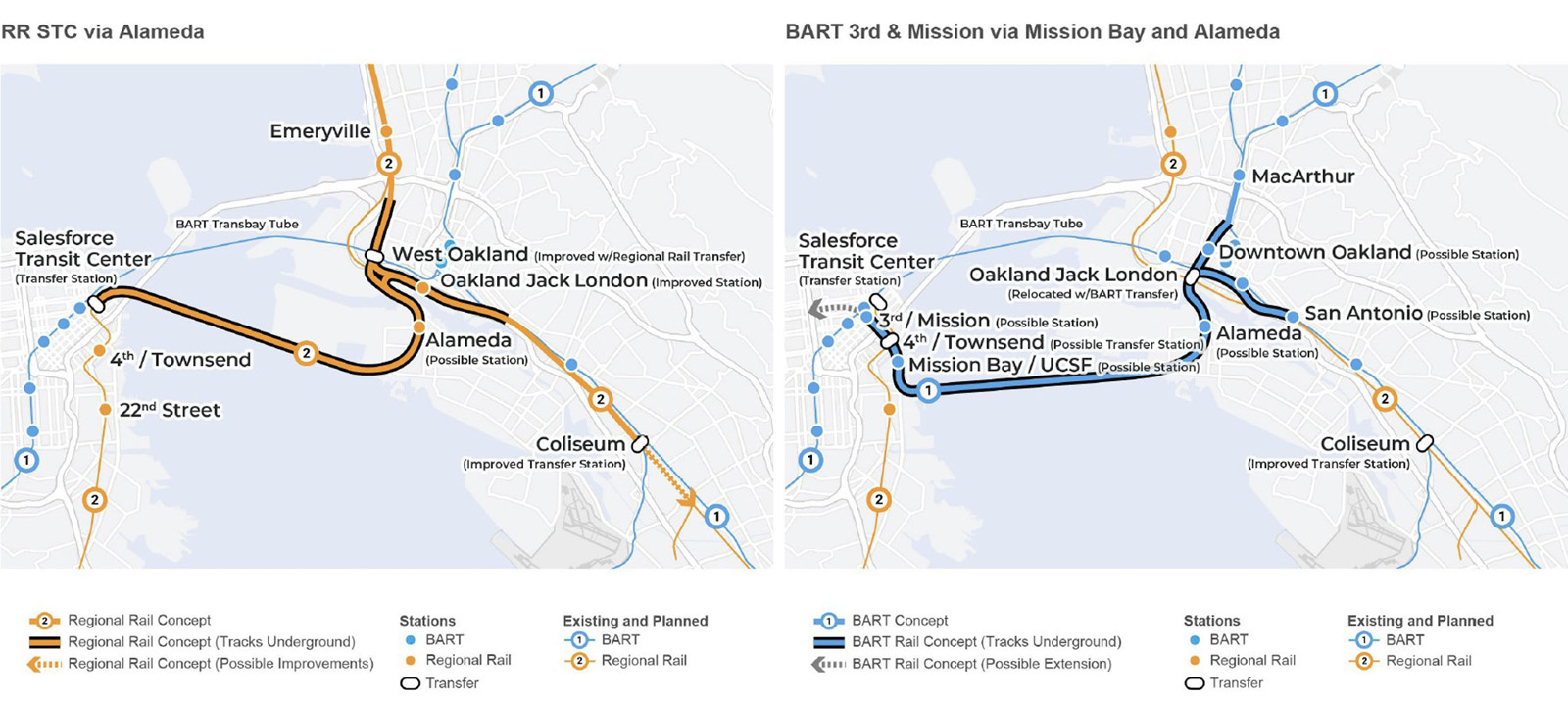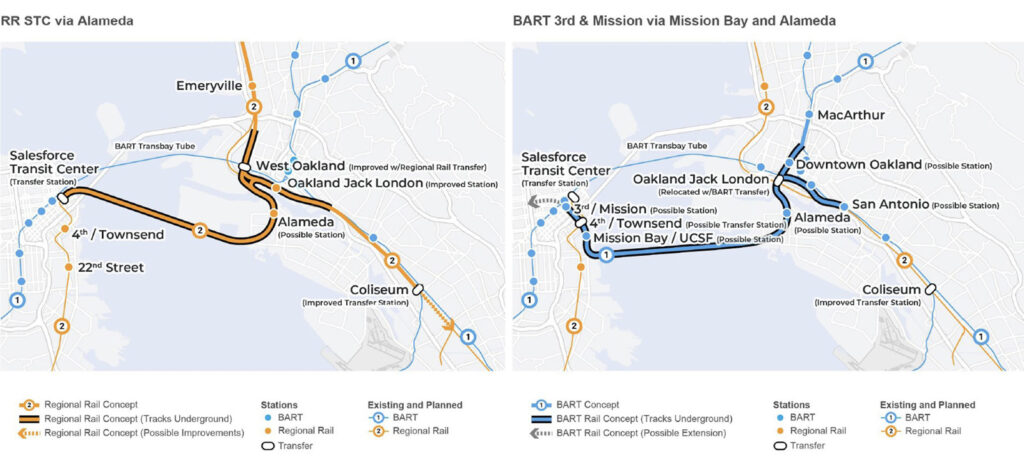 Identifying the location for a new rail station in Alameda is far beyond Link21's current scope, but a group of transportation planning students at UC Berkeley's College of Environmental Design has taken up that question. Guided by Link21, the group—Katie Fallon, Ash McEvoy, Cam Kees, Salustia Josefino, and Luke Henningsen—conducted a deep-dive research project to identify optimal station sites on the island.
Kees and Fallon spearheaded development of a model that ranks sites by weighing a variety of different factors, including equity, current conditions, and future conditions. Equity considerations, which were weighted at 50%, include percentage of renters, people of color, households with no car, population under 18 and over 65, and median income.  Current conditions, weighted at 30%, involve existing transit and infrastructure, population and job density. Future conditions, weighted at 20%, include factors such as projected population and job density, and vacant land. Quantifying these factors required the team to explore case studies and existing plans, map existing conditions, and engage with various Alameda stakeholders, all while assessing station sites for risk of displacement, sea level rise, and liquefaction.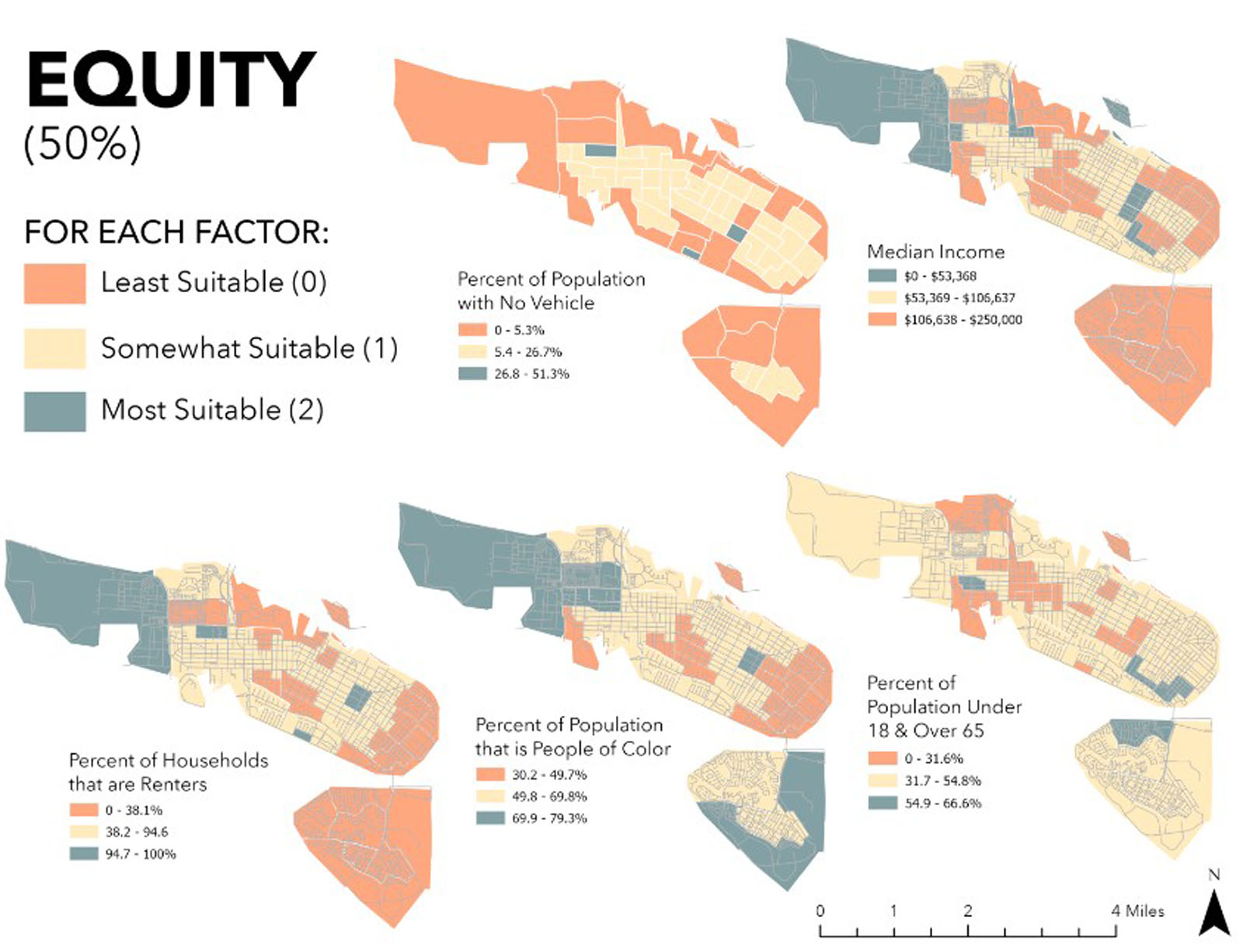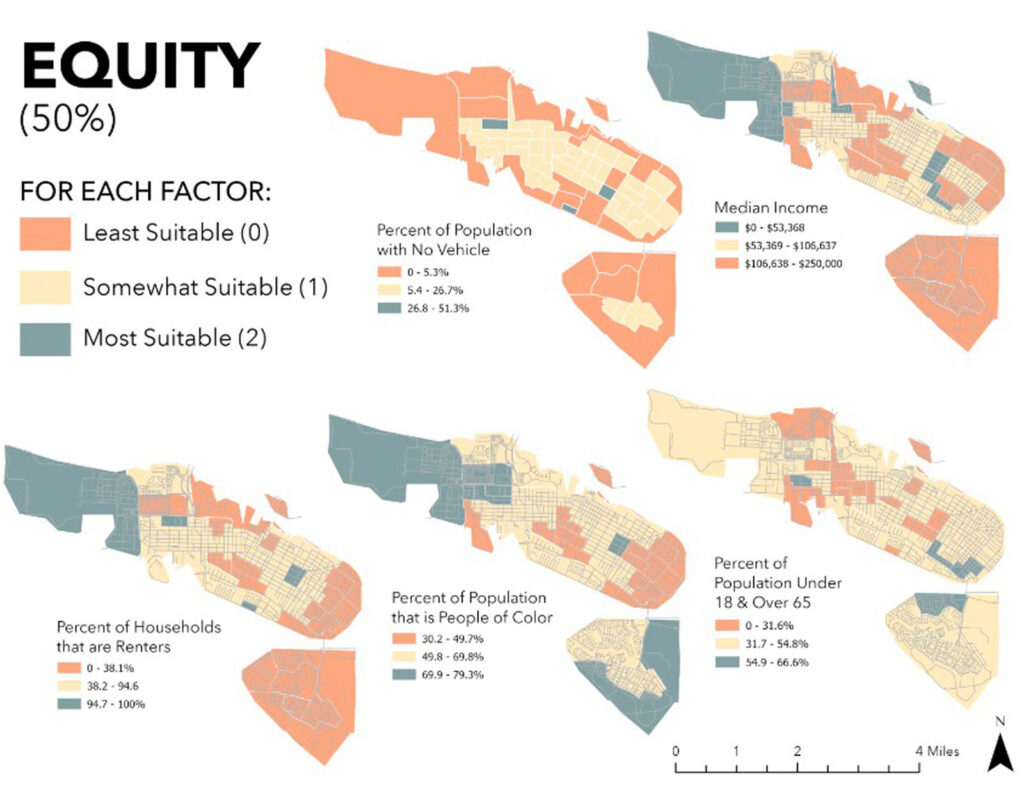 The research specifies three key potential station sites:
Site A/Alameda Point, due to its proximity to developable land, future population growth, and accessibility to key locations.
College of Alameda, due to its proximity to commercial areas along Webster Street, Alameda Landing, and Marina Village.
South Shore Center, due to its mixed-use nature and potential for new housing. However, this station site lies beyond any of the concepts floated by Link21 so far and is considered a wild card.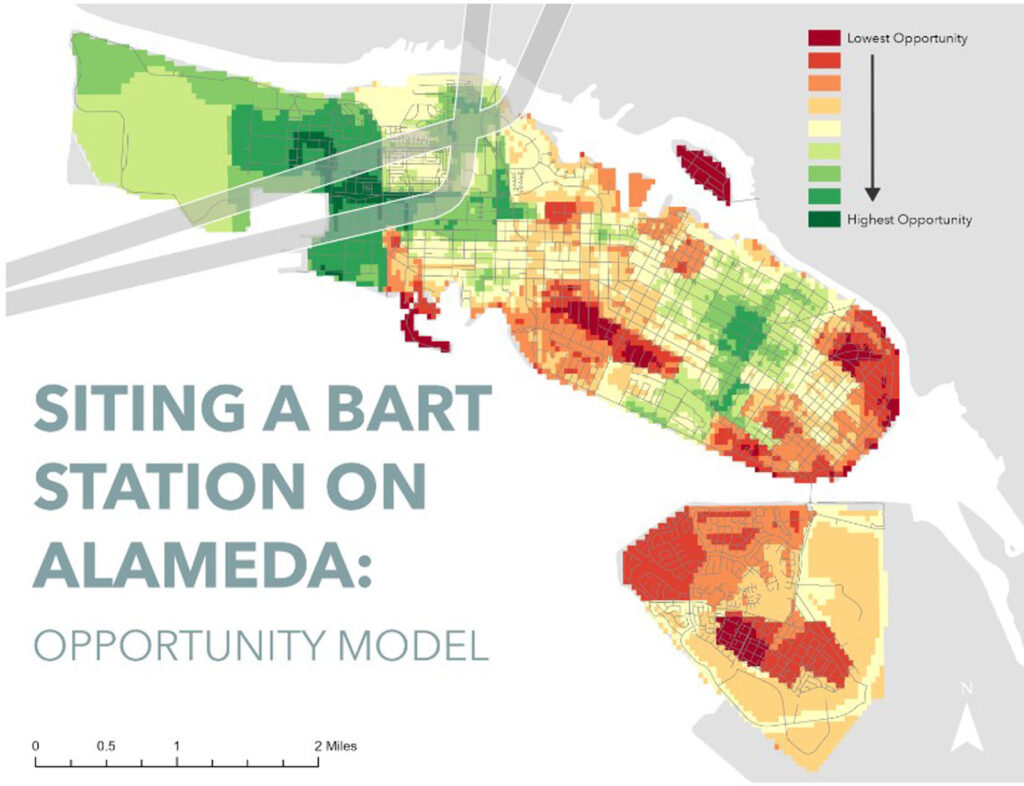 Kees, who graduated from the Alameda Science and Technology Institute (ASTI) in 2017, told the Alameda Post he chose this term project because of his Alameda roots and his strong desire to see rail come to Alameda. Both Kees and Fallon expressed hope and excitement that the megaproject would soon become reality.
BART Media Relations Manager Jim Allison applauded the Berkeley students for being "great participants in the planning effort" and said that their work may help guide future analysis and community outreach. In the meantime, Allison told the Post that the Link21 team will evaluate, analyze, and refine the concepts they have been presenting to Bay Area communities and will share results by June. The program will continue coordinating with local Alameda organizations and possibly host or table at community gatherings and events in the future.
Tsao said Link21 expects the project selection and environmental review phase to begin by 2024, and the new crossing to undergo construction by 2028 and be ready for passenger service by 2039.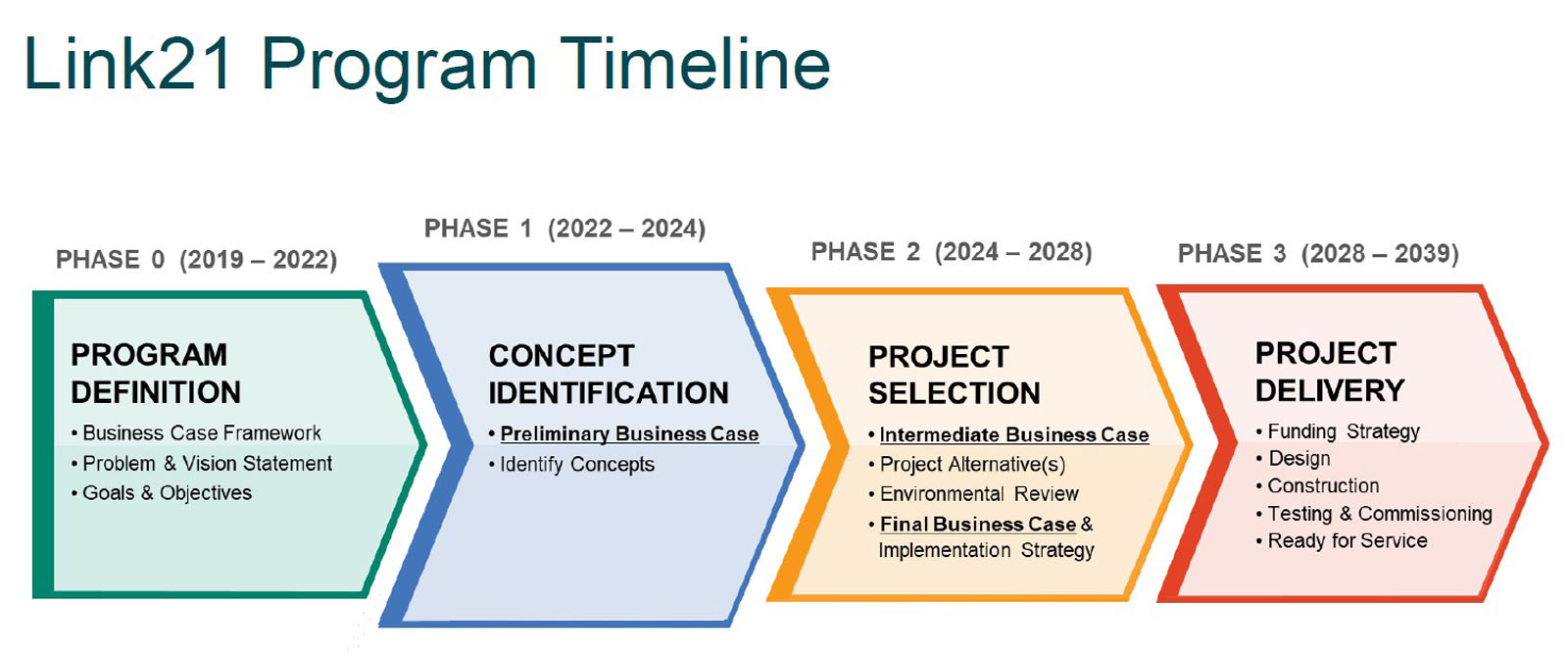 Ken Der is a contributing writer for the Alameda Post. Contact him via [email protected]. His writing is collected at AlamedaPost.com/Ken-Der.