Report states oil refineries dump millions of pounds of poison pollutants into the Bay.
A national study of water pollution from oil refineries reveals that Bay Area refineries are among the worst polluters, including the Chevron Richmond and Valero Benicia refineries. Chevron is the frequent subject of complaints to the San Francisco Baykeeper pollution hotline, and Baykeeper is currently suing Valero for spilling toxic petroleum coke into the Bay.
The report, authored by the Environmental Integrity Project (EIP), also concludes that EPA is failing in its legal responsibilities to regulate the half billion gallons of wastewater a day that pours out of U.S. refineries, loaded with nitrogen, industrial salts, cyanide, arsenic, chromium, selenium, and other pollutants.
"It's high time for EPA to crack down on the toxic pollution from oil refineries that's threatening both wildlife and human health around San Francisco Bay, and across the country," said SF Baykeeper executive director Sejal Choksi-Chugh. "It's offensive to our frontline communities that EPA has failed to require refineries to reduce the amount of many pollutants that they dump into the Bay, let alone regulate them."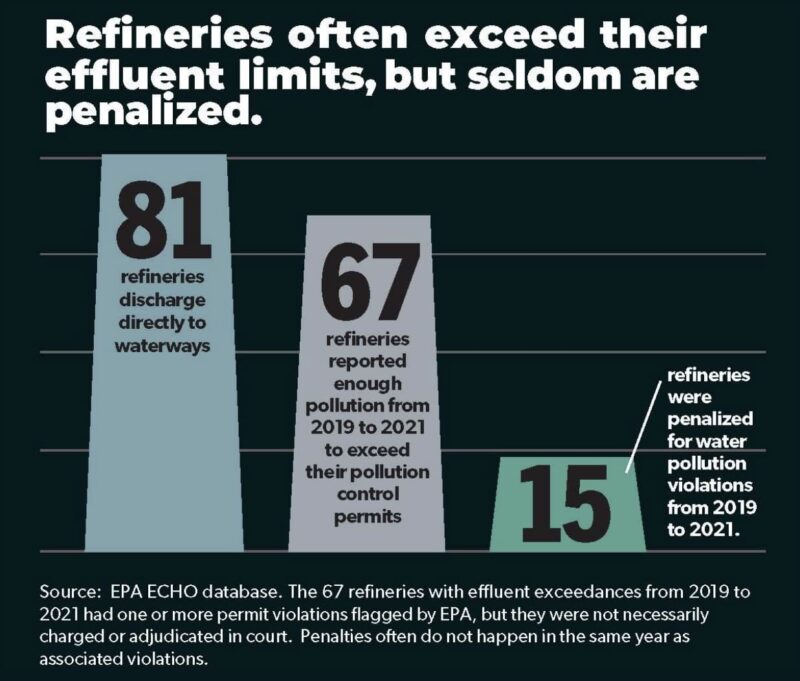 The EIP report examined the records of 81 refineries across the USA. In 2021, four Northern California refineries—including the Chevron Richmond and Valero Benicia refineries—dumped into tributaries to the San Francisco Bay at least 1,057 pounds of selenium, 1.2 million pounds of total nitrogen, 32,298 pounds of oil and grease, 525 pounds of arsenic, 271 pounds of lead and lead compounds, 196 pounds of cyanide, and 142 pounds of hexavalent chromium, among other pollutants.
The single greatest source of selenium pollution in the Bay is the PBF Martinez refinery. Its discharge permit allows the refinery to continue discharging selenium at the same rate it has done since the early 2000s, despite known harm to the Bay's fish populations and potential danger to people who depend on fish from the Bay.
"Baykeeper will continue to hold polluters accountable and to push lax government agencies to live up to their obligations to protect the Bay and the people of the Bay Area," said Choksi-Chugh.
This article was provided by San Francisco Baykeeper, who defends the health of San Francisco Bay, its watershed, and Bay Area residents. Read more at https://baykeeper.org/.