Tired of seeing disposable cups littering the beach, parks, and waterways around our island? The City of Alameda Disposable Food Service Ware Reduction Law has helped drive some businesses to use compostable to-go containers and cups. Yet many rely on plastic and non-compostable paper cups—not compostable due to plastic liner—because of their lower price point and familiar aesthetic.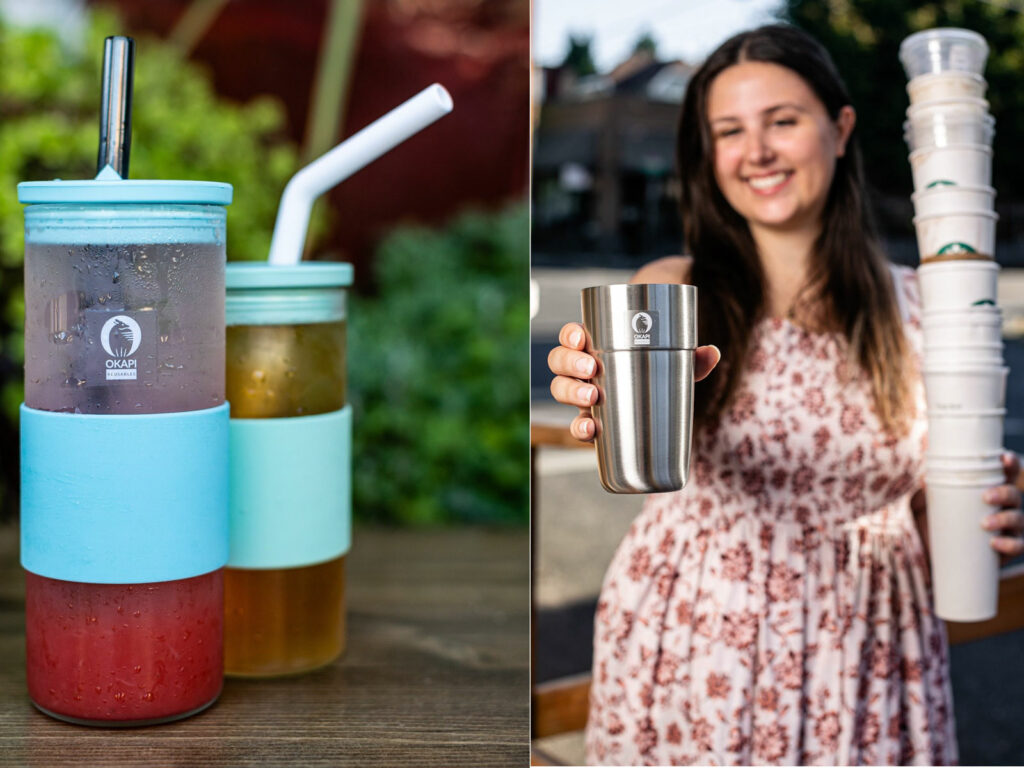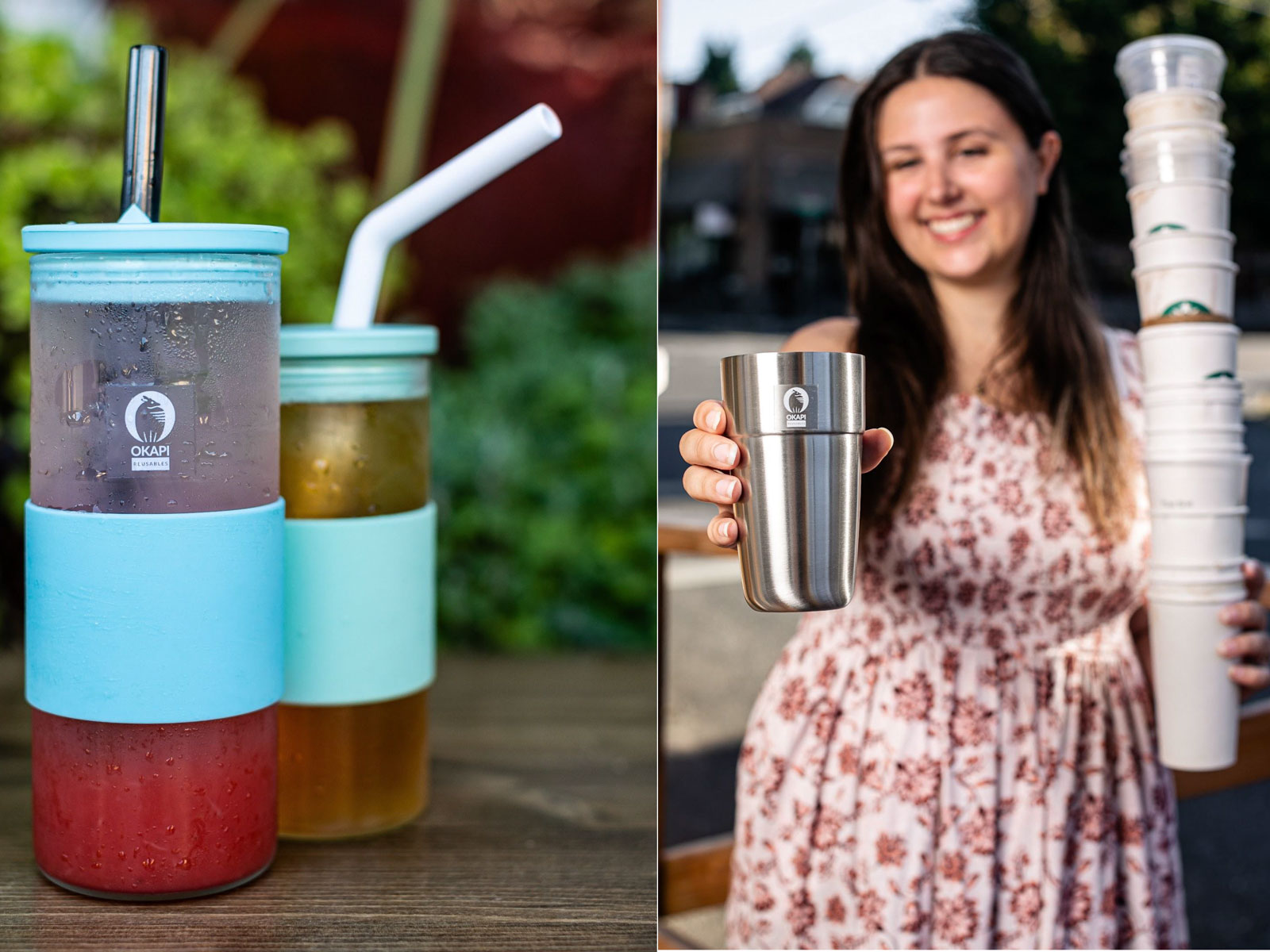 Customers like the convenience of getting a drink on the go, but there is a huge environmental impact from these materials. In the effort to fight climate change, however, it is critical that businesses and consumers adopt reusables.
Many believe that recycling disposable food containers is the answer to the waste crisis, but very few waste management utilities are able to recycle or compost disposable plastic cups, and recycling or composting paper cups is problematic due to the plastic linings. This inner plastic lining in hot drink cups also means we are increasingly ingesting the plastic contents along with our drink.
OKAPI Reusables has now launched in Alameda, with what they promise to be "a sustainable solution for businesses, and an eco-friendly choice for consumers." OKAPI Reusables is a simple service that allows customers to borrow a stainless steel or glass cup with a silicone lid and then return it for washing at any café in the network. The idea is that businesses and consumers can minimize waste, save, and do their part to help the environment.
Four Alameda cafes were first to join the network: Julie's Coffee and Tea Garden, The Local, Coffee Cultures, and Wescafe. "The more cafes that participate, the more convenient the network will become," OKAPI co-founder Emily Chueh said.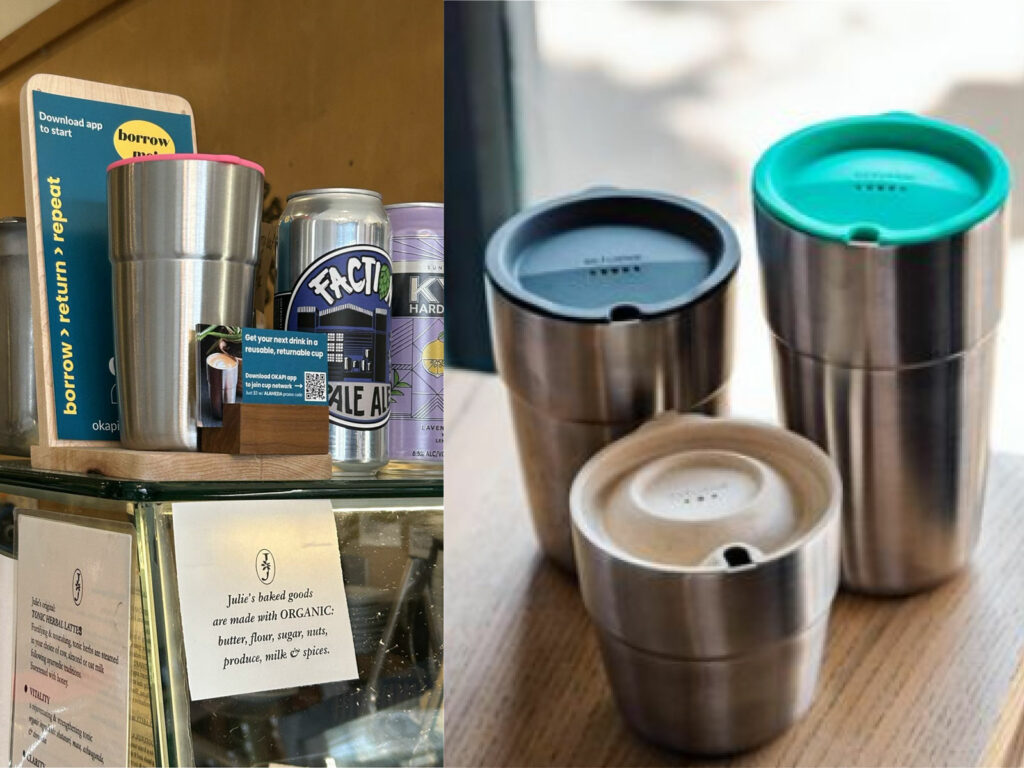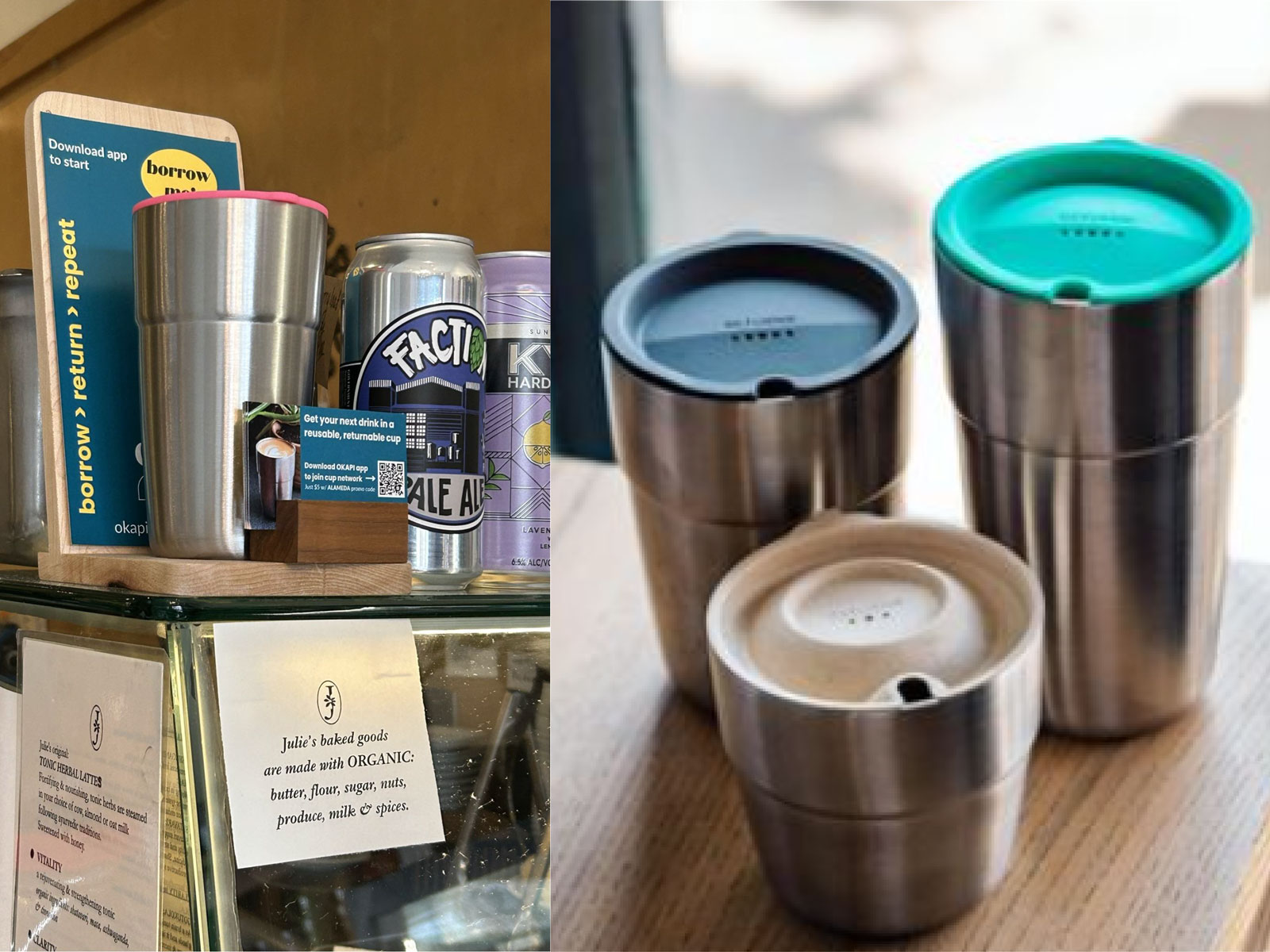 The OKAPI Reusables launch is a community effort with support from CASA (Community Action for Sustainable Alameda), the City of Alameda, ReThink Disposable, StopWaste, and the Alameda High School Amplify Club.
To kick-start usage in Alameda, OKAPI is hosting a Free Coffee Day at each participating café for customers who download the app and join. The one-time, $10 membership fee—not a subscription—allows customers to borrow and return cups to any of the participating cafés. There is no charge to cafes for the first year of this pilot program. OKAPI is continuing to recruit coffee, smoothie and boba shops into the network.
OKAPI Reusables is a women-owned business that was started in 2021. The reusable cup networks in Portland, OR, Vancouver, WA, San Mateo County, and now Alameda, have saved more than 9,000 disposable cups from the landfill.
To give it a try, download the OKAPI Reusables app on your smartphone- for Android and for iPhone. To borrow a cup, scan the QR code at the café when ordering and show the barista the confirmation on your phone screen. Your drink will be served in an OKAPI reusable cup. Return the cup to any cafe in the network by scanning the QR code on the return bin within 2 weeks.