APD makes multiple arrests, Edison gamifies reading, and new inner harbor pipeline crossing.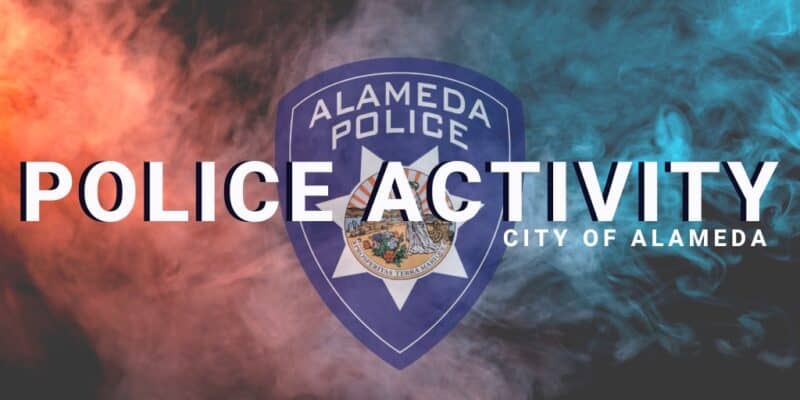 APD arrests kidnapping suspect
Alameda Police Department (APD) officers arrested a man in connection with an in-progress carjacking and kidnapping after receiving a 911 call from the victim on October 3 at approximately 12:15 p.m. During the call, the victim was able to provide dispatchers with their location and their vehicle description. 23 seconds after dispatch, the first responding officer located the vehicle on the 2300 block of Otis Drive and conducted a traffic stop.
APD identified two occupants in the vehicle including the victim and a 37-year-old San Jose resident who was arrested for multiple offenses. After investigation, it was determined that the kidnapping occurred outside of the City of Alameda and the victim was able to call for help after entering APD jurisdiction. The APD reports that this incident appeared to be isolated and was not random. The investigation is ongoing.
APD arrests catalytic converter thief
While on patrol over the weekend, an Alameda Police officer observed a vehicle without license plates and its trunk open stopped alongside a row of parked cars in the 1800 block of Elm Street. Next to them was a partially sawed-off catalytic converter. When the officer approached the cars, a man, later identified as a 49-year-old Oakland resident, emerged from underneath one of the cars and fled on foot. After a brief foot pursuit, the suspect was located and arrested in the 1800 block of Walnut Street.
Catalytic converters contain rhodium, palladium, and platinum, which are rare and valuable. Coupled with how quickly they can be removed from a car, catalytic converters are an attractive target for thieves. The Alameda Police Department suggests installing anti-theft devices, including alarms designed to be activated when a car is tilted or raised. Motion-sensing dash cameras can notify car owners of a theft and may help capture suspect or vehicle descriptions. If you see a crime in progress, call 9-1-1. If you are the victim of a theft but there is no crime in progress, please call APD's non-emergency line at 510-337-8340.
APD arrests vehicle vandal
A 25-year-old Alameda man has been arrested after more than 100 cars were damaged in a West End vandalism spree on September 30. Damages included scratched paint and slashed tires,  which left many Alamedans without their usual transportation.
Alameda police responded to a report of vandalism on the 1600 block of Webster Street and found the first vandalized cars. Over the course of the evening, officers identified more than 100 cars in various locations that were damaged and left notes for the owners. During the investigation, officers collected surveillance video that helped identify a 25-year-old Alameda man who was involved in these incidents and took him into custody.
The APD is asking anyone whose vehicle may have been vandalized between 8:30 and 11 p.m. on Friday, September 30, to email Officer Green at [email protected]. Please provide the following information:
Registered owner information including name, driver's license number, address, and phone number
Vehicle description including license plate, make, model, and year
Location of the crime/where the vehicle was parked
Description of the vandalism including photographs
Whether the registered owner desires prosecution
Edison Elementary gamifies reading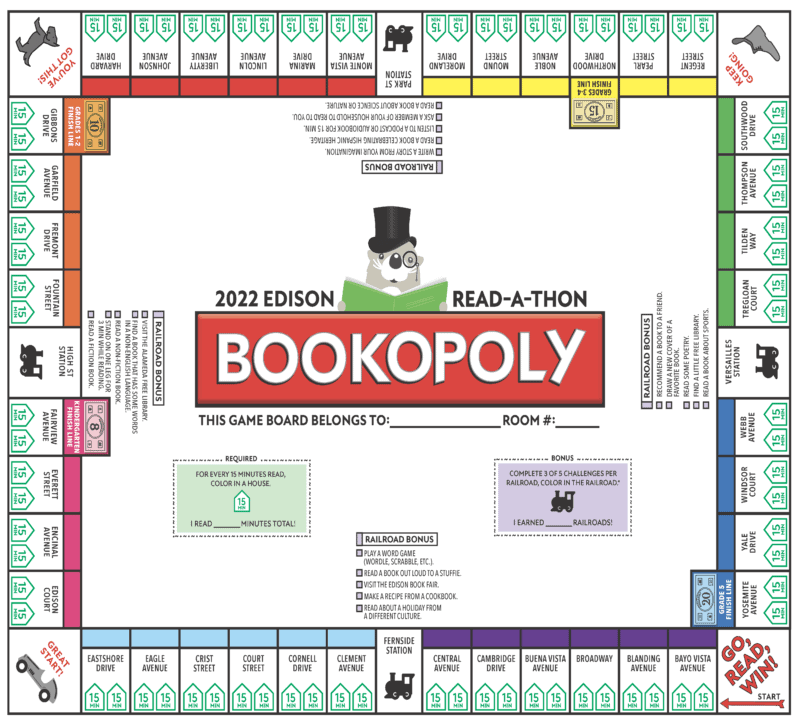 Ready, set, read! Students at Edison Elementary School are participating in the 10th annual Read-A-Thon through Tuesday, October 11. The goal of the annual event is to boost literacy, have fun, and raise funds for school programming. For maximum student appeal, the Read-A-Thon committee gamified this year's event with a custom "Bookopoly" game board based on Fernside neighborhood streets and historic Alameda railroad stops.  Students progress through the game by recording the amount of time they read independently or with their parents. Prizes this year include incentives from Tucker's Ice Cream, Toy Safari, Subpar Miniature Golf (coming soon to 1600 Park St), Books for Friends, and Books, Inc.
"There is a growing gap in the early reading skills for elementary school students due to the pandemic, so it's especially important to make literacy fun and engaging this year," said Read-A-Thon co-chair Serena Hom. The committee hopes that this special event tailored to the surrounding area will get kids reading and help reach a fundraising goal of $50,000. Students are raising money by sharing their reading goals with family, friends, and neighbors and asking for a flat donation or donations based on minutes read.
All funds raised go towards critical programming supported by the PTA, including a reading interventionist, art and garden instructors, back-to-school supplies, library books, teachers' classroom betterment funds, and more. To support the Edison Read-A-Thon, visit edisonpta.org/readathon.
EBMUD hosting online public meeting for new pipeline crossing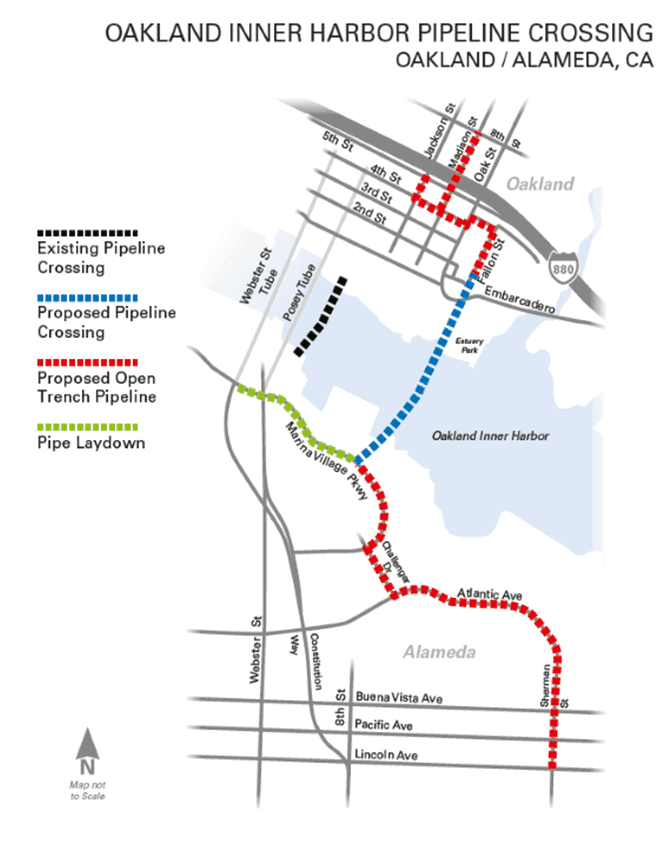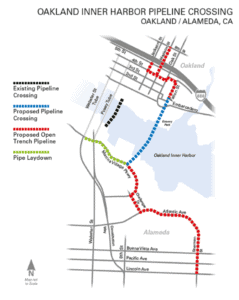 East Bay Municipal Utility District (EBMUD) will host a public meeting online today, Wednesday, October 5, at 6 p.m. to discuss construction on the Oakland Inner Harbor Pipeline Crossing, which is set to begin in November. The work will entail installing a new underwater pipeline crossing under the Oakland Estuary, as well as new water transmission pipelines in Oakland and Alameda. The purpose of the project is to meet existing and future water demands, improve system reliability, and facilitate the repair and replacement of aging infrastructure.
At the public meeting this evening, EBMUD officials will discuss project details and answer questions about work hours, timeline, and traffic impacts. A link to the Zoom meeting will be posted on the EBMUD website at noon today.
The project will entail replacing an existing transmission pipeline crossing near the Posey Tube that has reached the end of its useful life. A new pipeline will be installed beneath the Oakland Inner Harbor, approximately 1,500 feet east of the existing crossing, via Horizontal Directional Drilling (HDD). This involves fusing the 3,000-foot-long, 24-inch-diameter High Density Polyethylene (HDPE) pipeline together on the Alameda side, drilling a borehole beneath the harbor floor from Alameda to Oakland, and pulling the new pipeline through the borehole. Additionally, the EBMUD contractor will be installing nearly two miles of 24-inch steel pipeline in Oakland and Alameda, which will connect the new crossing to existing transmission mains and further improve the hydraulic connectivity between Alameda and Oakland.
The HDD work is expected to be completed in Spring 2023, and all work on the project is expected to finish in Winter 2023.  During construction, the community can expect increased traffic in the vicinity of the work, detours and/or temporary lane closures, and construction-related noise. There are no planned water outages associated with this work. Typical project work hours are from 7 a.m. to 5 p.m. Monday through Friday. If extended hours or night work are required, the community will be notified in advance.
Contact EBMUD Community Affairs with questions at 510-287-0115 or email [email protected].