A Menorah made of donations to the Alameda Food Bank and the explanation for excessive plane noise.
Giant Can-Menorah to be donated to Alameda Food Bank after lighting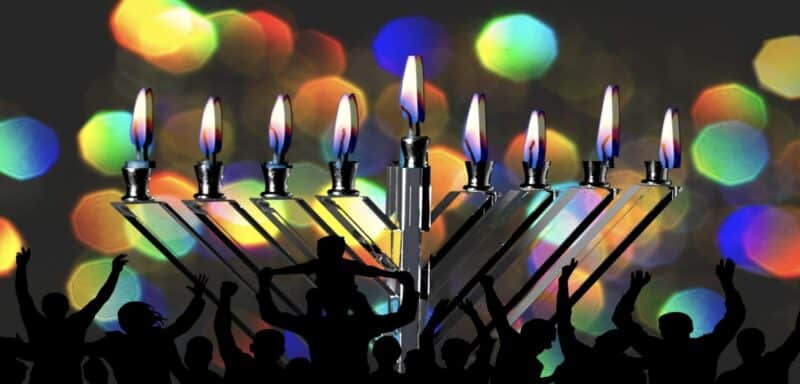 Chabad of Alameda will light a giant public Hanukkah menorah made entirely of cans of food—which will be donated to the Alameda Food Bank—on the first night of the eight-day Festival of Lights, Sunday, December 18 at 4:30 p.m., at Rittler Park, 1400 Otis Drive.
California Attorney General Rob Bonta will join in the celebration, which will feature a fire juggling show, an inflatable gym and slides, make-your-own-menorah crafts, lively music and photos with Dreidel Man. Latkes (potato pancakes), chocolate gelt and other Hanukkah goodies will be served. Complimentary Hanukkah menorahs and candles will be distributed for participants to light at home. The event is free of charge. Participants can RSVP online.
Chabad of Alameda will use the Hanukkah celebration as a time to give to those in need, with their drive for donations of 15-ounce cans of food, which will be used to create the giant "Can-orah" for the event. After the Can-orah is lit, it will be disassembled and the cans will be donated to the Alameda Food Bank.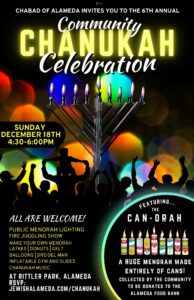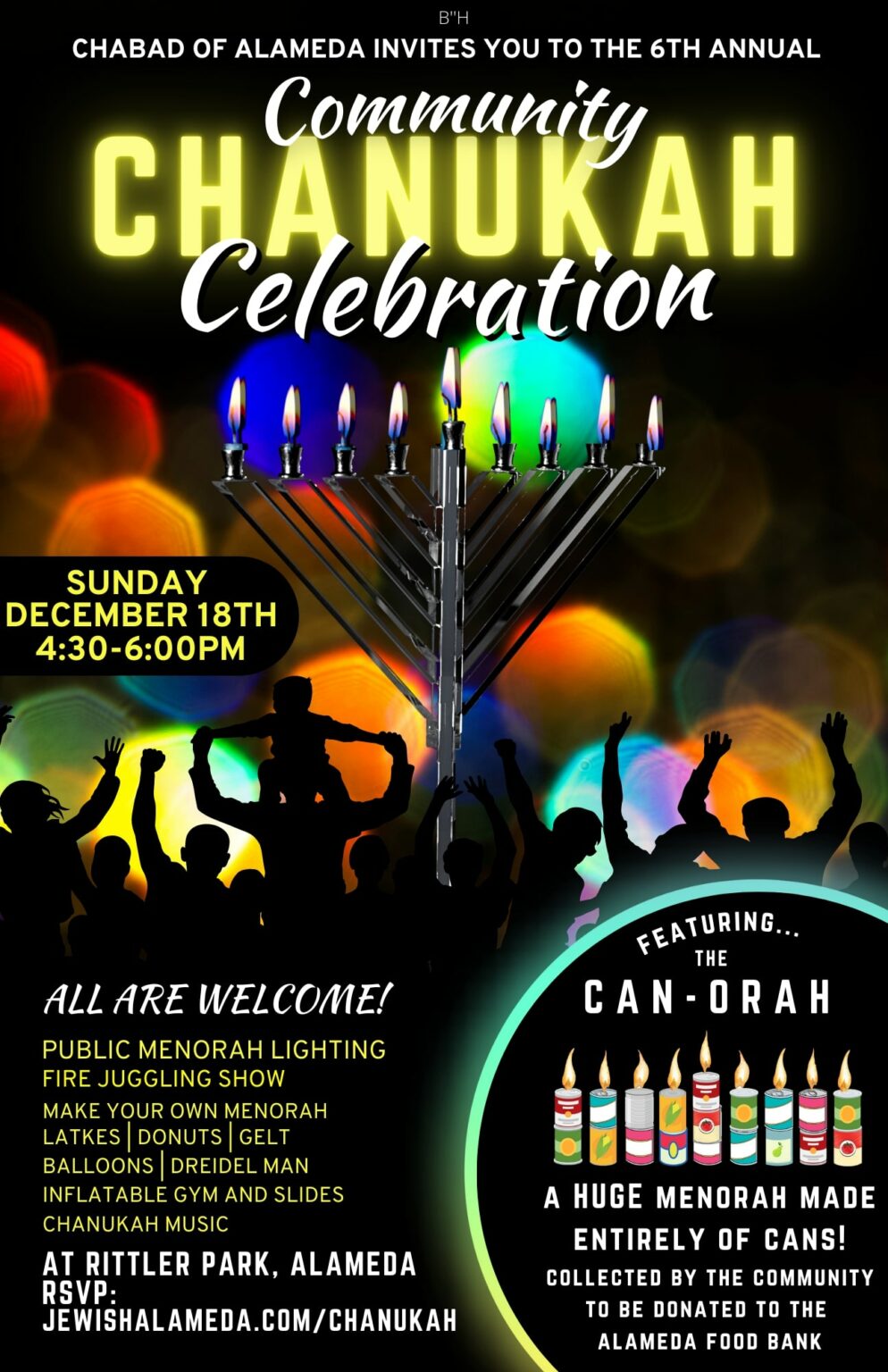 "During Hanukkah, a time of joyous celebration, it's important that we keep those in need at the forefront of our thoughts," said Rabbi Meir Shmotkin, who directs Chabad of Alameda with his wife Mushki. "The menorah made of cans is a way to combine our celebration of Jewish pride with meaningful charitable giving."
The public Hanukkah celebration also is a response to the worrisome rise in antisemitic rhetoric nationally and the consequent concerns many have expressed with celebrating Hanukkah proudly this year.
"Our response to hatred must never be to cower or hide our faith," said Shmotkin. "We must hold our heads high and live proudly as Jews. They want us to be afraid, but our victory will be to stand tall and proud, gathering in greater numbers than ever to celebrate our Judaism in public."
This year's public menorah lighting brings added significance as Jewish communities worldwide celebrate the Year of Hakhel or "Gathering," a once-every-seven-years Jewish tradition. The marking of this special occasion is part of the reason Chabad of Alameda is expecting record crowds at the menorah-lighting this year.
"Hakhel is a time to focus on the bonds of community that make us strong," said Shmotkin. "When we're confronted with hatred and darkness, our unity in bringing more light to the world will surely prevail."
Chabad of Alameda offers Jewish education, outreach, and social service programming for families and individuals of all ages, backgrounds, and affiliations. For more information visit jewishalameda.com.
Why so many loud planes flew over Alameda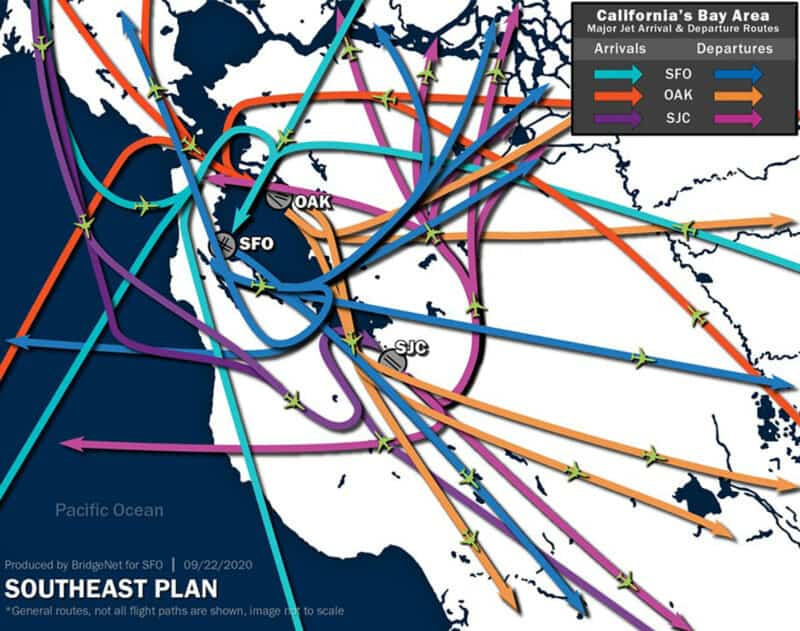 A favorite complaint in Alameda is noise, whether it comes from the Blue Angels, a concert across the Bay, fireworks in the street or across the estuary, or a new traffic light that blasts warnings over a loudspeaker all night. We just don't like it. So during the recent rainstorm, when planes seemed to be flying over our quiet little island at an alarming pace, we got upset. We posted on social media. We talked about it with friends. And we wanted to know what in the heck was going on.
People who live on Bay Farm Island already know all about loud traffic from Oakland International Airport (OAK). But most Alamedans, regardless of zip code, are not accustomed to an onslaught of overhead noise from flights originating from or heading to San Francisco International Airport (SFO), which is what happened during our recent storm. First off, storm or no storm, flights operate out of SFO 24 hours a day. The average is at least 1,300 flights each day, and the noise seems louder at night than during the day because there is less ambient or background noise.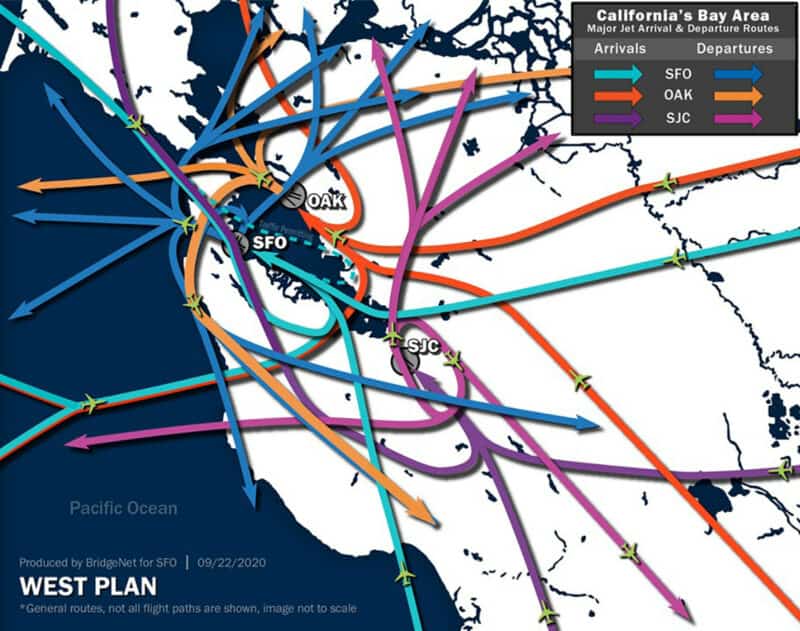 During the recent storm, with winds sometimes gusting at gale force, some flights were redirected for safety's sake. It's all about "operational flow." According to FlySFO's Community Noise page, "Operational Flow describes the flow of aircraft traffic based on typical arrival and departure procedures used together under certain conditions. Usage of one operational flow plan over another is based on weather conditions, runway maintenance, and/or time of day."
Pilots decide which is the safest path to approach the airport. The most common plans for SFO and the other major Bay Area airports are the West Plan and Southeast Plan (see charts). According to FlySFO, "95 to 98% of the time, winds blow from the west or north at SFO. Northerly and westerly winds at SFO mean that aircraft have to depart and arrive facing into the wind towards the north and west. This operational flow is called the West Plan. But less than 5% of the time, when winds blow from the southeast at SFO, aircraft must depart and arrive facing south or east. This operational flow is called the Southeast Plan."
So Alameda's occasional loud plane problem is fairly simple. Sometimes there simply are more SFO-bound planes than usual flying over Alameda because of weather conditions. Think of it as a variation on Bob Dylan's "Subterranean Homesick Blues." You don't need a weatherman to know which way the wind blows.