Lunar New Year officially a state holiday, Alameda restaurants on PBS, nuclear power plant decommission hearings, and Raiders property up for auction.
Lunar New Year now a state holiday
This year, for the first time, the Lunar New Year will be marked as an official state holiday after Governor Gavin Newsom endorsed the legislation. Although it falls on a Sunday, State employees can take the day off—along with Juneteenth, Native American Day, and Genocide Remembrance Day—in lieu of receiving a personal holiday.
Sunday, January 22, marks the second new moon after the winter solstice and heralds the Year of the Rabbit. It's always a popular holiday, and an important one to many Asian communities with large populations in the Bay Area, especially the Chinese community, along with Thai, Korean, Vietnamese, and Filipino communities.
Around the Bay Area, several events will mark the New Year, which will be celebrated over 15 days. Activities include public art, performances, Choy Suns passing out red envelopes, tea ceremonies, street fairs, and of course, the parade on February 4. Learn more from SF Chronicle's Datebook and the Chinese New Year Festival & Parade website.
Three Alameda eateries to be featured on 'Check, Please'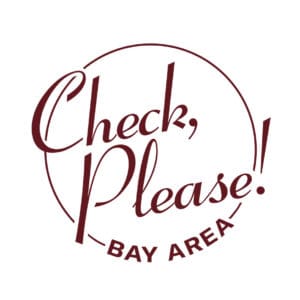 Host Leslie Sbrocco returns to KQED in 2023 to chat with a new batch of local guests on Check, Please! Three of the episodes feature Alameda restaurants—Alameda Comedy Club on January 19, Spinning Bones on February 2, and The Park Street Tavern on February 16.
On each episode of the James Beard and Emmy Award-winning program, which airs on KQED Thursdays at 7:30 p.m., three Bay Area residents recommend their favorite place to eat, and the other two guests visit anonymously to check it out. After trying each other's picks, they join host Sbrocco to discuss, debate, and dish on their dining experiences.
Alameda Comedy Club, at 2431 Central Ave., offers many yummy little surprises, from Street Corn Dip with cotija cheese and house-made tortilla chips to three different charcuterie and cheese boards, and Crispy Prosciutto and Asparagus Flatbread with mushrooms, garlic cream, and balsamic truffle reduction. And of course, there's dessert—check out the Churros dusted with cinnamon sugar and chocolate sauce or Banana Foster Fritters with caramel sauce.
Spinning Bones, at 1205 Park Street, is a rotisserie restaurant that specializes in roasted meats with bold flavors. The menu also includes shareable appetizers, vegetarian side dishes and veggie burgers, and healthy salads with vegan dressings if that's your thing. There's a kid's bento, too. The dessert menu has several yummy choices, one of which is a chocolate peanut butter torte with oatmeal-peanut butter crust, chocolate ganache, and sea salt.
The Park Street Tavern menu emphasizes fresh ingredients and flavors from the Mediterranean, but it's also well known for its luscious holiday meals and banquets. If you're craving an appetizer of pancetta-wrapped prawns or crispy calamari, you won't be disappointed. But you'll also find favorites like Delmonico steak, pan-seared salmon, an 8-ounce filet mignon and a variety of delicious pasta dishes on the menu.
Locals love these places. Let's see what the TV hosts have to say.
PG&E holding hearings on nuclear power plant shutdowns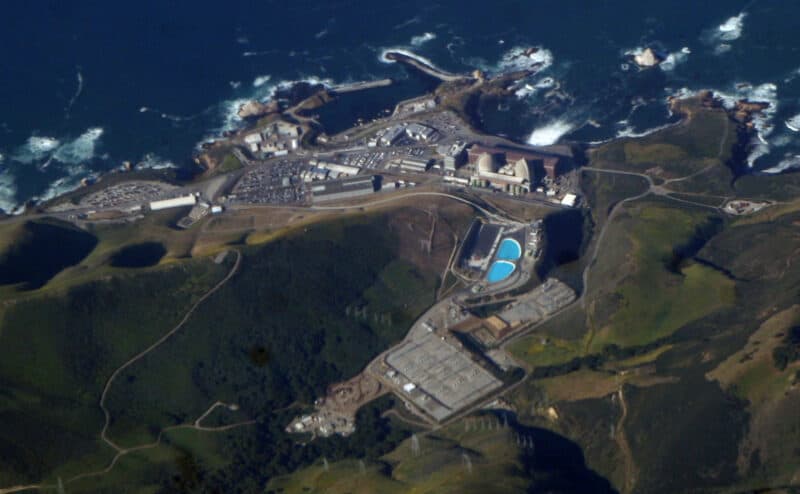 Pacific Gas and Electric Company (PG&E) is decommissioning a couple of nuclear power plants and we're all invited to give them our opinions. The power company and the California Public Utilities Commission (CPUC) are hosting a public hearing about PG&E's 2021 Nuclear Decommissioning Cost Triennial Proceeding application.
Two hearings are scheduled:
January 26 at 6 p.m. online at adminmonitor.com/ca/cpuc/, phone number: 1-800-857-1917, passcode: 1767567#s
January 31 at 6 p.m. in person, at San Luis Obispo County Chambers, 1055 Monterey St., Room D170, San Luis Obispo, California.
At the hearings, members of the public can make comments, raise concerns and speak with a CPUC Administrative Law Judge regarding this application. But there's no need to wait for the hearings—the commenting has already begun on the CPUC public comments web page.
One commenter from Oakland wrote, "I believe California's nuclear power plants should be kept running, and that we should streamline the permitting process to facilitate the building of additional plants, especially small, modular, factory-made modern designs. Energy abundance is good, the harms and risks of nuclear power are trivial compared to those of fossil fuel combustion, and we desperately need zero-carbon sources of electricity."
Another commenter, from San Leandro, shared a much different point of view: "Per Union of Concerned Scientists: 'California's Diablo Canyon Power Plant sits near several earthquake fault lines. One of these—discovered in late 2008—is a mere 2,000 feet from Diablo Canyon's two reactors and could cause more ground motion during an earthquake than the reactors were designed to withstand.' (11/13/2013). Enough said."
Raiders HQ and training facility going to auction for $35.8M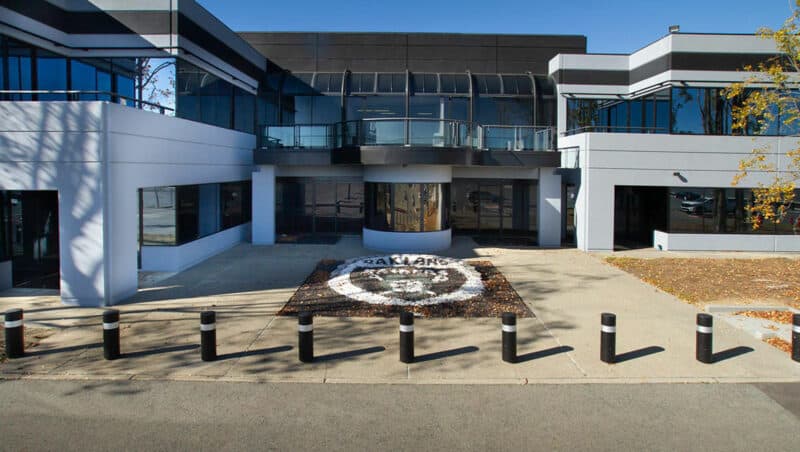 When the Raiders decamped for Las Vegas, they left behind a big hole in the Alameda community. For many years, the team's headquarters and training facility were located along Harbor Bay Parkway. Now that they're gone, the property will be offered at auction in July, with a minimum opening bid of $35.8 million. For that price, the winning bidder will acquire the two main buildings—100,000 square feet and 18,240 square feet— plus several outbuildings on an 11-acre plot of land.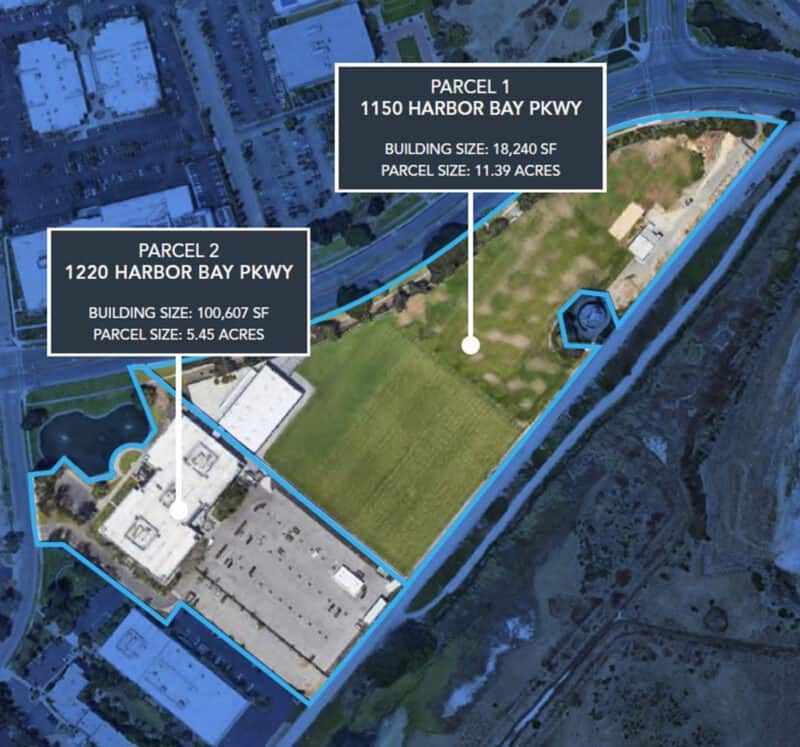 Each building has its own amenities to offer. The HQ building has two elevators, a locker room, media and media production rooms, several private offices and conference rooms, restrooms, two indoor whirlpools with a steam room, a large fenced and gated rear parking lot with electric vehicle charging stations, a loading dock, and many other features. The Training Facility offers indoor fitness space, restrooms, an exterior pool, and an expansive grass field with a maintenance building at the rear of the property.
No word on what Raiders memorabilia or gear might included in the deal, but the fountains and sculptures are still there. If you think this might be the right opportunity for you, (maybe the Oakland Roots?) visit Harbor Bay Parkway Properties for more information and to get your bid form.