City seeks new ACM, Urban Forest Plan update, Dignity Village meeting, and AHS basketball wins.
City hiring new Assistant City Manager

Now that Jennifer Ott has taken the reins as Alameda's City Manager, the City is accepting applications for the position of Assistant City Manager. The position was previously held by Gerry Beaudin, who left to be Pleasanton's City Manager.
Do you have what it takes? The ideal candidate, according to the City's recruitment web page, is: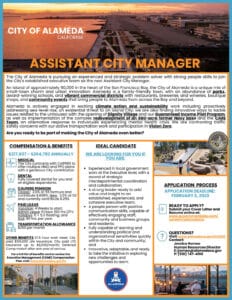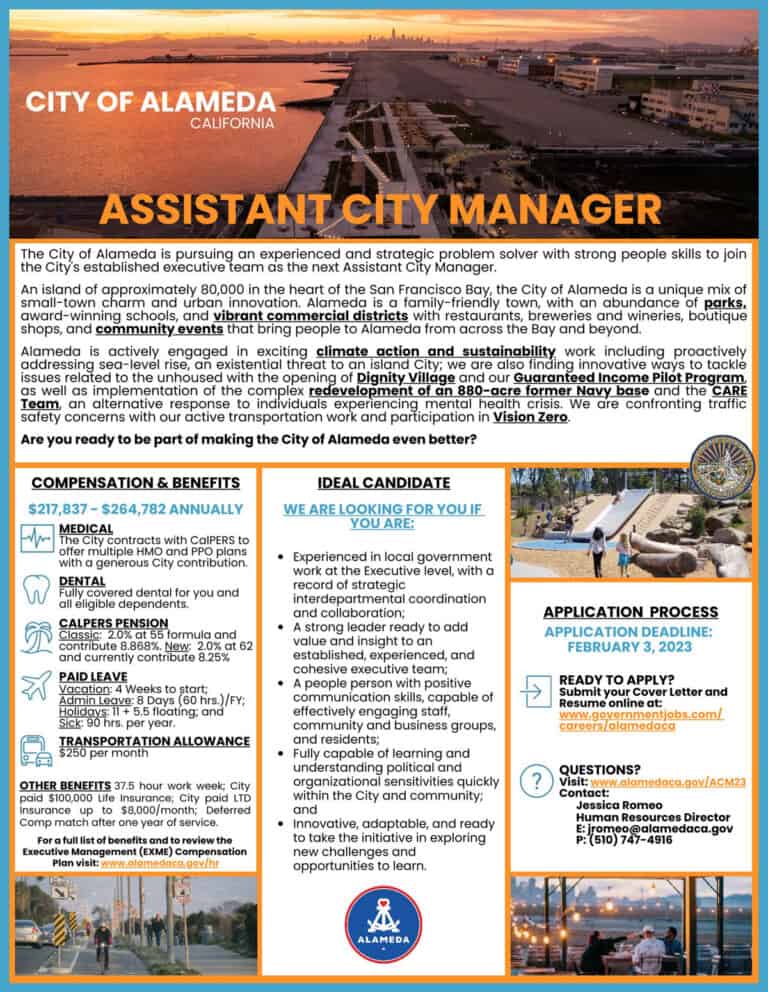 Experienced in local government work at the executive level, with a record of strategic interdepartmental coordination and collaboration.
A strong leader ready to add value and insight to an established, experienced, and cohesive executive team.
A people person with positive communication skills, capable of effectively engaging staff, community and business groups, and residents.
Fully capable of learning and understanding political and organizational sensitivities quickly within the City and community; and innovative, adaptable, and ready to take the initiative in exploring new challenges and opportunities to learn.
An advanced degree such as a master's in public administration or related field is preferred. A bachelor's degree is required. Read more about the position at the City's Assistant City Manager job page.
Salary range is $217,837 to $264,782 annually, based on a 37.5-hour work week; placement within the range is dependent upon qualifications.
Does this sound like your next job? Submit your resume and cover letter at: http://www.governmentjobs.com/careers/alamedaca. Filing deadline is February 3 at 5 p.m.
If you have questions regarding this position or the application process, contact Jessica Romeo, Human Resource Director. Call 510-747-4916 or email [email protected].
Urban Forest Plan update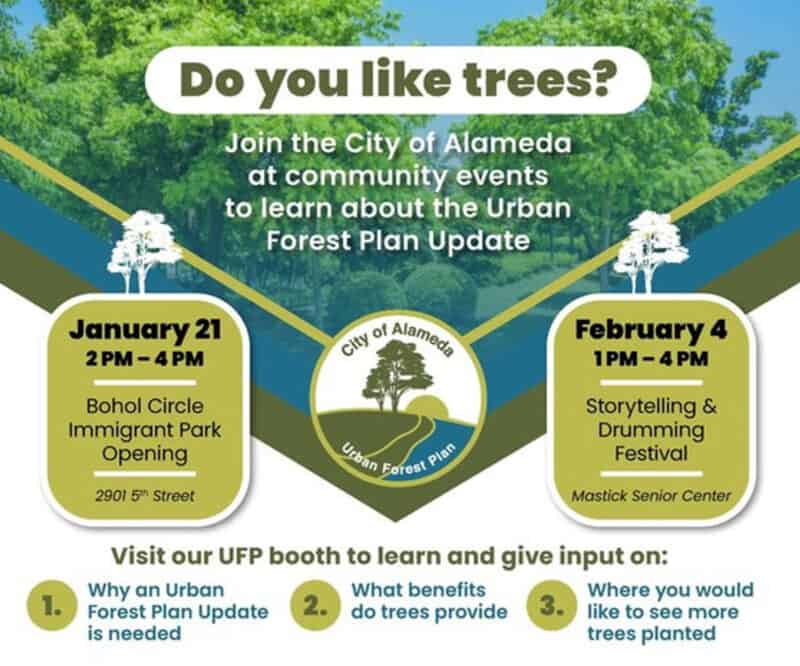 Alameda is kicking off development of an update and expansion of the 2010 Master Street Tree Plan as an Urban Forest Plan (UFP). Expanding the urban forest was identified as an action item in the City's 2019 Climate Action and Resiliency Plan (CARP).
Visit the City's UFP booths to learn more and share your views at two upcoming events:
The City wants to know your views on why an updated plan is needed, benefits that trees provide, and where you would like to see more trees planted.
The timing is acutely relevant, given the number of trees—including older ones that have become a beloved part of our landscape—that have been irreparably damaged or knocked over by recent storms and flooding. Most Alamedans have become even more keenly aware of how much our urban forest means to us.
Fast Facts about Alameda's urban forest (before adjustment for current storm damage):
There are 25,962 total trees in the City-managed tree inventory
The City's tree inventory is comprised of 301 unique species
The London plane sycamore is the most common City tree, comprising 15.8% of the inventory
Citywide canopy cover is 10.4%
Canopy cover by census tract ranges from a low of 3% to a high of 21.1%
Visit the City of Alameda Urban Forest Plan web page to learn more about the UFP and sign up for updates and future events.
Dignity Village community meeting on Zoom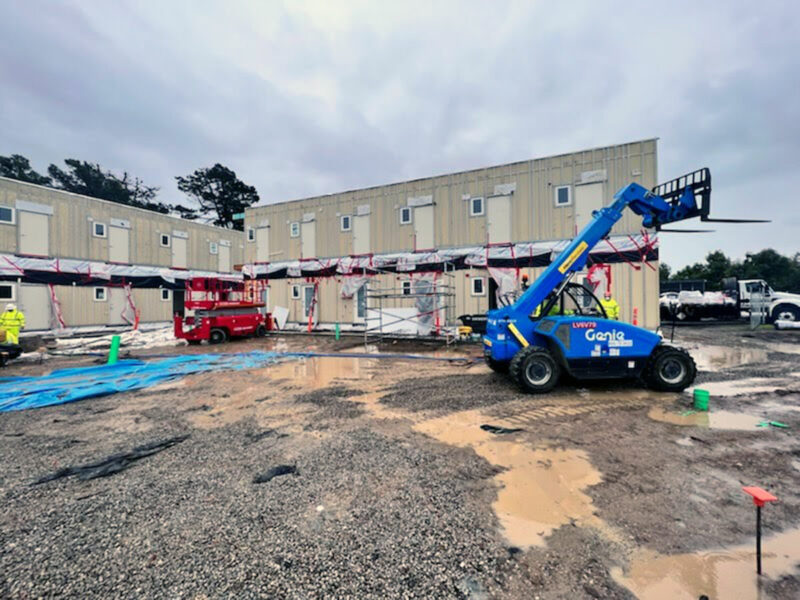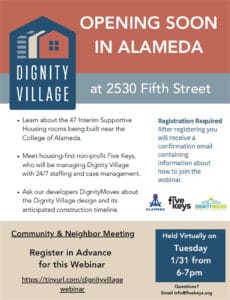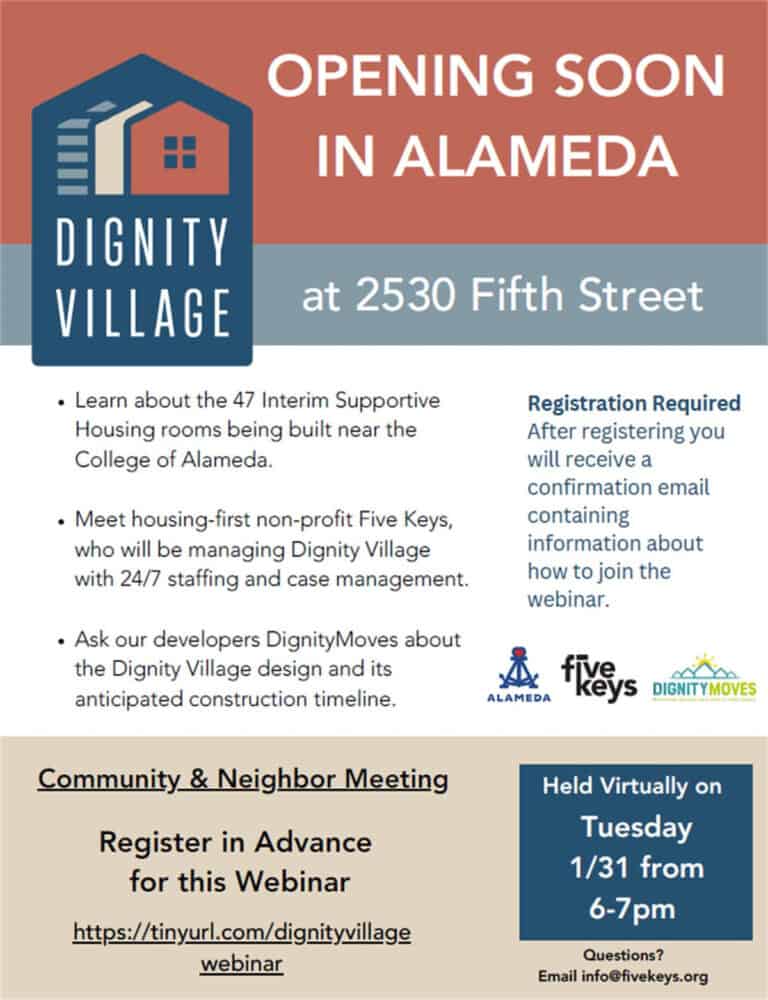 Dignity Village, a two-story, 47-unit multifamily property located at 2350 Fifth St., near the College of Alameda, will be opening soon and is holding an online community meeting on January 31, 6 to 7 p.m., on Zoom.
The purpose of the webinar is to provide information about the new housing complex and introduce the nonprofit Five Keys, who will be managing the property. The project developers, DignityMoves, also will be on hand to answer questions about the Dignity Village design and its construction timeline.
To attend the meeting, register online in advance. After you register, you will receive a confirmation email with information about how to join the meeting.  If you have any questions, email [email protected].
Hornets celebrate basketball wins over Jets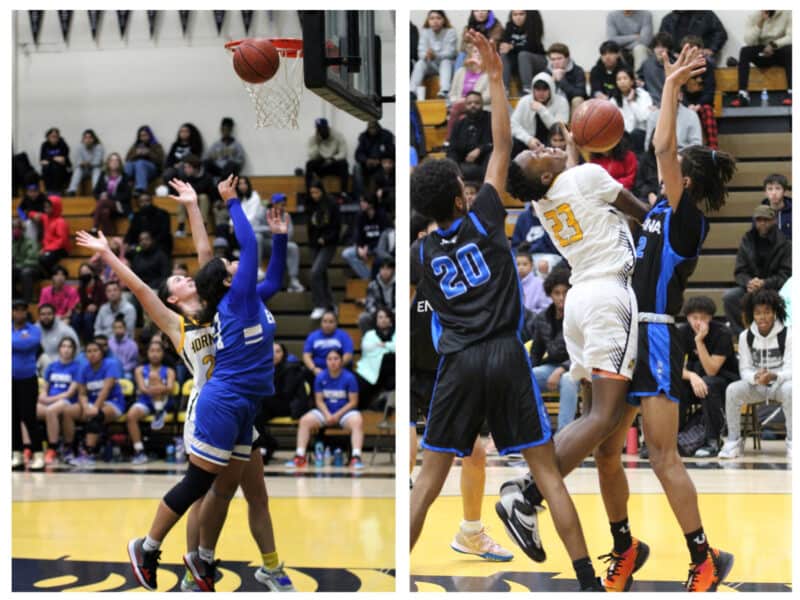 It was a good weekend for Alameda High School basketball, as the Hornets emerged victorious in both boys' and girls' games against the Encinal High School Jets on Saturday, January 7. The Hornets beat the Jets 54-43 in the boys' game. In the girls' game, the Hornets also beat the Jets, 67-43.
For the time being, local school sports fans will have to focus on basketball and other indoor sports, as the Alameda Unified School District announced on social media that all outdoor playing fields would be closed through at least January 16, 2023.