Prepare now before heavy rains and high winds cause flooding, debris, and other damage.
Updated Jan. 3, 5:00 p.m. to add SF Bay Ferry cancelation. Second update Jan. 3, 5:45 p.m. to include AC alert with second sandbag station info.
The rains that brought flooding to parts of Alameda over the weekend are set to return Wednesday morning, January 4, and continue into Thursday. This major storm also brings a forecast of high winds that could prove dangerous as saturated soil increases the likelihood of downed trees.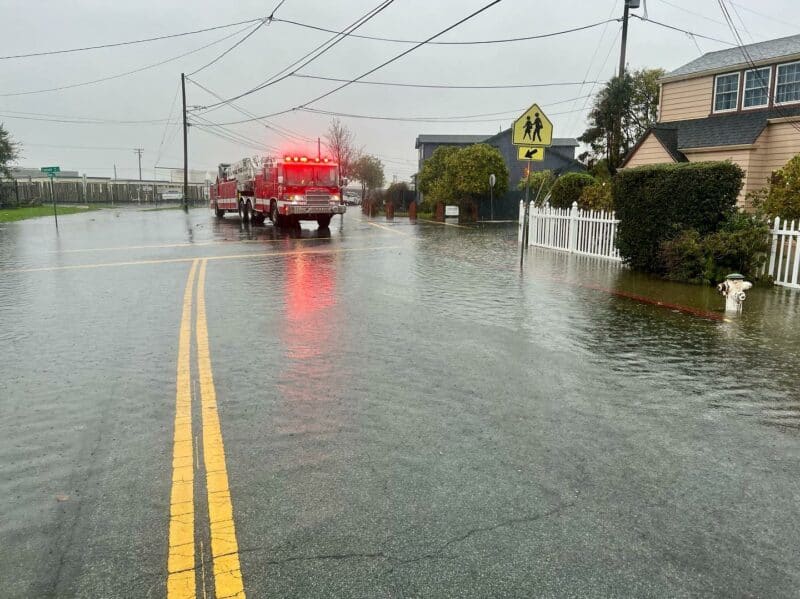 On New Year's Eve day, December 31, the Alameda Post weather station measured over 5 inches of rain. That's more rain than Alameda receives in a typical December. The cause? An atmospheric river system carrying moisture from across the Pacific Ocean. On Wednesday, another atmospheric river system is due to hit, marking the third such occurrence since December 26. Since the ground is already saturated from those earlier storms, it is unable to absorb more water, so the result is very likely to be flooding, especially in low-lying and poor drainage areas. The National Weather Service (NWS) has issued a flood watch from 4 a.m. Wednesday until 4 p.m. Thursday.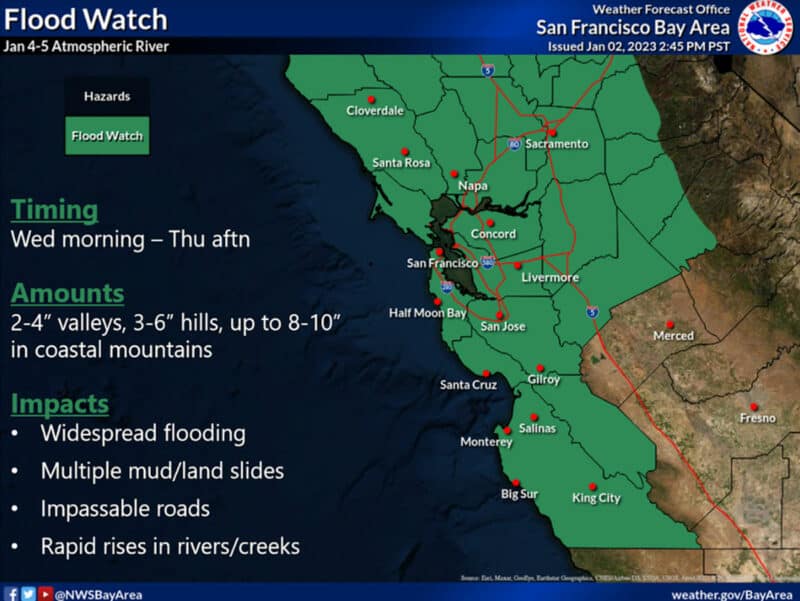 This round of soaking rain will be accompanied by high winds. The NWS has also issued a high wind watch from 4 p.m. Wednesday until 10 a.m. Thursday, with 20 to 30 mph sustained winds, and gusts of up to 50 mph. Higher elevations may see gusts approaching 70 mph.
The NWS is referring to this as a "prolonged wind event," noting that the combination of high winds and saturated soil increases the possibility of downed trees and power lines. Widespread blackouts are anticipated. The NWS is urging caution in the face of these potentially damaging winds.
"People should avoid being outside in forested areas and around trees and branches," the NWS forecast warns. "If possible, remain in the lower levels of your home during the windstorm, and avoid windows. Use caution if you must drive."
On Tuesday afternoon, WETA announced the San Francisco Bay Ferry will not operate service on the Harbor Bay or South San Francisco ferry routes on Wednesday, January 4, 2023 due to storm impacts.
Be prepared
The Post will continue to monitor the situation as the storm approaches. For current conditions, visit the Post weather page. To receive emergency alerts and advisories via text and email from the City, sign up for AC Alerts. The Alameda Fire Department also provides localized updates about incidents and evacuations via the Zonehaven system. Find your zone and sign up for alerts.
The City has been working to resupply sandbags for the public at City Hall West Courtyard; check for updates and information about a potential second location for sandbags on the City's Facebook page. Also see the guide to how Public Works prepares for storm season, and what you can do to help.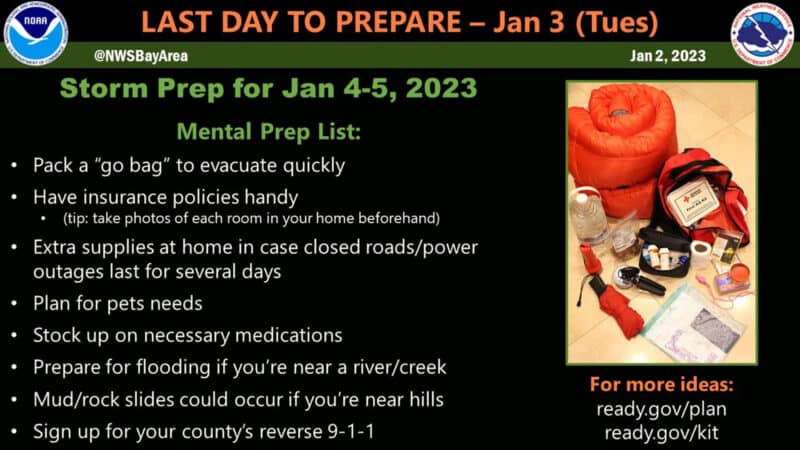 Now is a good time to check your emergency preparedness plan. Remember, be prepared, be smart, and be safe.
Update: on Tuesday afternoon, the City issued an AC Alert with the following information:
Call 510-337-8340 to report flooding and other needs. Call 911 for life/safety emergencies. Check alamedaca.gov/alerts for updates. Sign up for emergency text and email alerts at acalert.org.
Prepare: Heavy rains and strong winds may cause flooding and power outages. Charge devices and electric vehicles. Have non-perishable food, drinking water, and medications available. Plan ahead to make sure pets are cared for.
Sandbags: A limited supply of sandbags will be available on a first-come, first-served basis Wednesday morning in two locations: behind City Hall West on the 900 Block of W Midway between Saratoga and Lexington and the lower parking lot of Washington Park. Please pursue alternative resources if possible.
Road Closures: Harbor Bay Parkway remains closed in both directions due to flooding.
Power Outages: Call Alameda Municipal Power at 510-748-3900 to report an outage. Outage updates will be shared on social media.
Safety: Stay off roads when possible during heavy rains and strong winds. It is never safe to drive through flooded intersections. Don't underestimate the depth of water.
Scott Piehler hosts and produces Alameda's only weekly news digest podcast, the Alameda PostCast. Reach him at [email protected].