2022 ended with a deluge of extraordinary size, flooding homes and streets around Alameda during the last weekend of the year. The Alameda Post weather station recorded 5.28 inches of rain on Saturday, December 31, even though the storm was finished by 6 p.m. Another 1.17 inches of rain had fallen the previous day. During the month of December, Alameda received just under 14 inches of rain, a welcome change from dry winters of the past several years.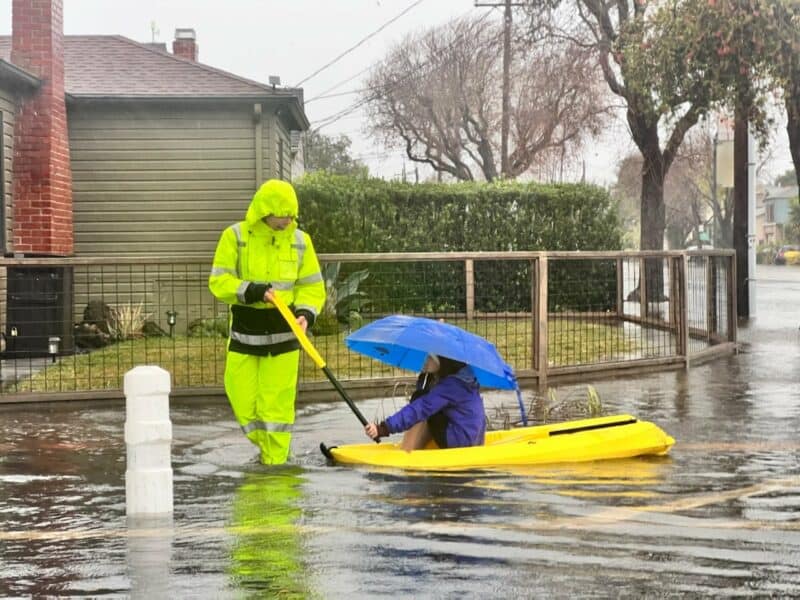 On Saturday, rain came down at a rate of more than two-thirds of an inch per hour for part of the storm, quickly overwhelming storm drains and causing flooding. Some tried to make the best of the situation, using personal watercraft to get around. Most stayed off the roads, or stayed home clearing several inches of water from their basements as many residents reported.
Both the City and the Alameda Fire Department posted to social media over the weekend, alerting people to flooded streets and road closures, including the intersection of Webster Street and Willie Stargell Avenue, and all of Harbor Bay Parkway. Pictures posted online showed flooding along Shoreline Drive, Fernside Boulevard, and on Bay Farm Island, as well as a wayward dock in a lagoon.
The self-service sandbag station located at 950 West Mall Square near City Hall West was depleted by 2 p.m Saturday, with the City advising residents to source sandbags from Home Depot instead. It is not yet known when it will be replenished. Updated 2:50 p.m., Monday Jan. 2, supplies are again available to the public from the station at 950 West Mall Square. Updated 9:30 p.m., Monday: All supplies are again depleted.
The rain stopped shortly after dark, and the skies cleared up in the evening, before the fireworks show at midnight. On New Year's Day, much of the flooding had receded, but parts of Harbor Bay Parkway and Island Drive remained closed for the entire weekend.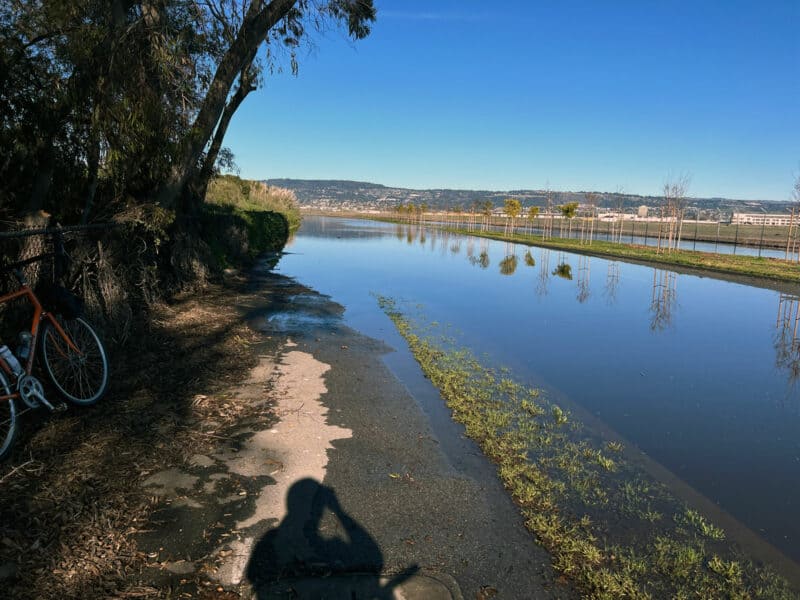 On their page of information about storm preparedness, the Public Works Department explains how they prepare for storms. To help prevent flooding, the page suggests that people call (510) 747-7900 if:
There is a pile of leaves and/or other debris in the parking lane,
A culvert, inlet, or storm drain appears clogged up with leaves and/or debris,
A street tree appears weakened, diseased, or dying, or
You see malfunctioning traffic signals, downed trees or branches, and/or flooding into a traffic lane.
More rain is expected almost every day this week, including more heavy rains from another atmospheric river during Wednesday and Thursday.
Adam Gillitt is the Publisher of the Alameda Post. Reach him at [email protected]. His writing is collected at AlamedaPost.com/Adam-Gillitt.