"She's moving! She's moving!"
As Jenn Levine biked the final few blocks of her 2,800-mile ride from Michigan, family members, friends, and neighbors gathered at Crab Cove on Sunday afternoon to track her progress and earnestly await her arrival. Her son, Jacob, announced her real-time location and speed to the growing crowd.
Jenn Levine, who has lived with epilepsy for much of her life and recently overcame cancer, embarked on the journey to celebrate Jacob's recent graduation from college in Michigan and to mark a new chapter in her life, all while raising money for the Epilepsy Foundation. As this article is written, the fundraiser has reached only 29% of the goal. She also started a GoFundMe to underwrite the trip, which also has not yet reached its target.
"I'm very proud of her!" said Tracie Reames, a longtime family friend. "She's one of the most amazing humans in my life. This is a dream come true for her, nearly five years in the making."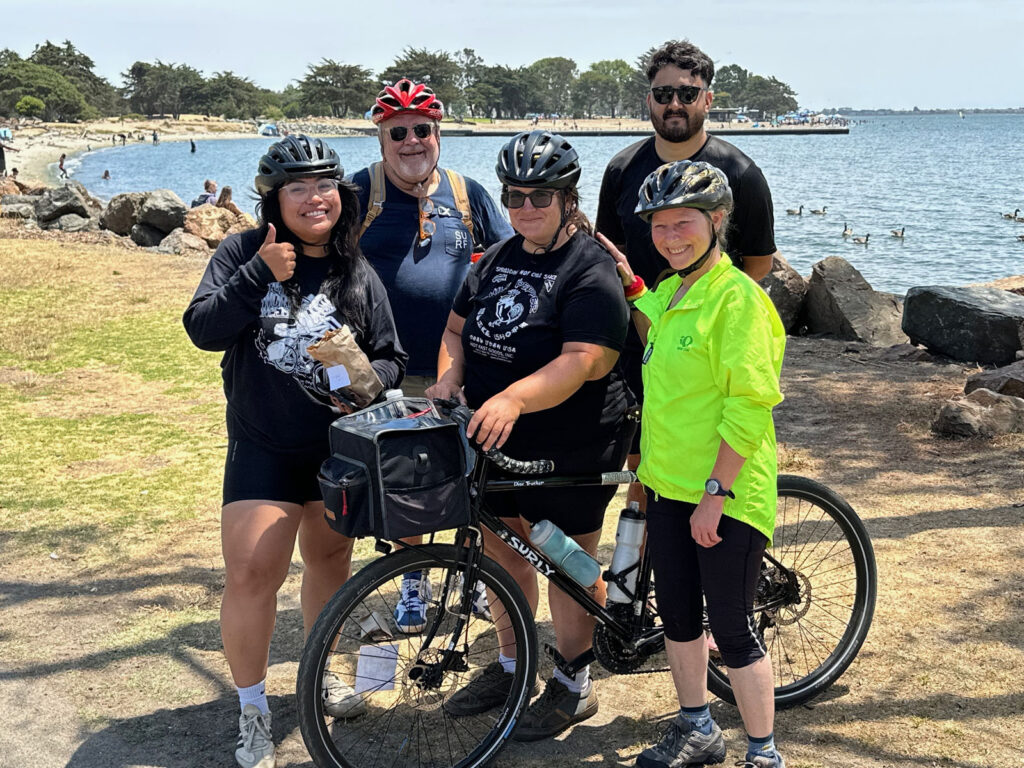 The crowd cheered and clapped as Jenn rounded the corner from McKay Avenue. "All I want is ice and pop. And a shower!" she quipped, after coming to a stop.
Jacob and his sister, Miriam, had accompanied their mother for most of the journey, driving several miles ahead with their dog, Ari, to carry gear and provide a constant presence in case of any emergencies. Both took turns relaying stories about their trip, which, at times, became harrowing and dangerous.
The travelers had a near-miss with two tornados near the Colorado-Kansas border, where high velocity winds blew Jenn off her bike, they recalled. "I could feel the car tilting!" Miriam said. They were forced to hunker down in a hotel, where they assessed the situation. In Nevada, they encountered hordes of Mormon crickets. The bright red insects emitted "an awful noise," Jacob said, and the smell of their rotting corpses was so bad that the siblings couldn't even turn on the car's air conditioning for fear of letting the stench inside. Jenn mentioned that the crickets made the roadways slick, and the ones that were still alive would often hop through her bike's spokes.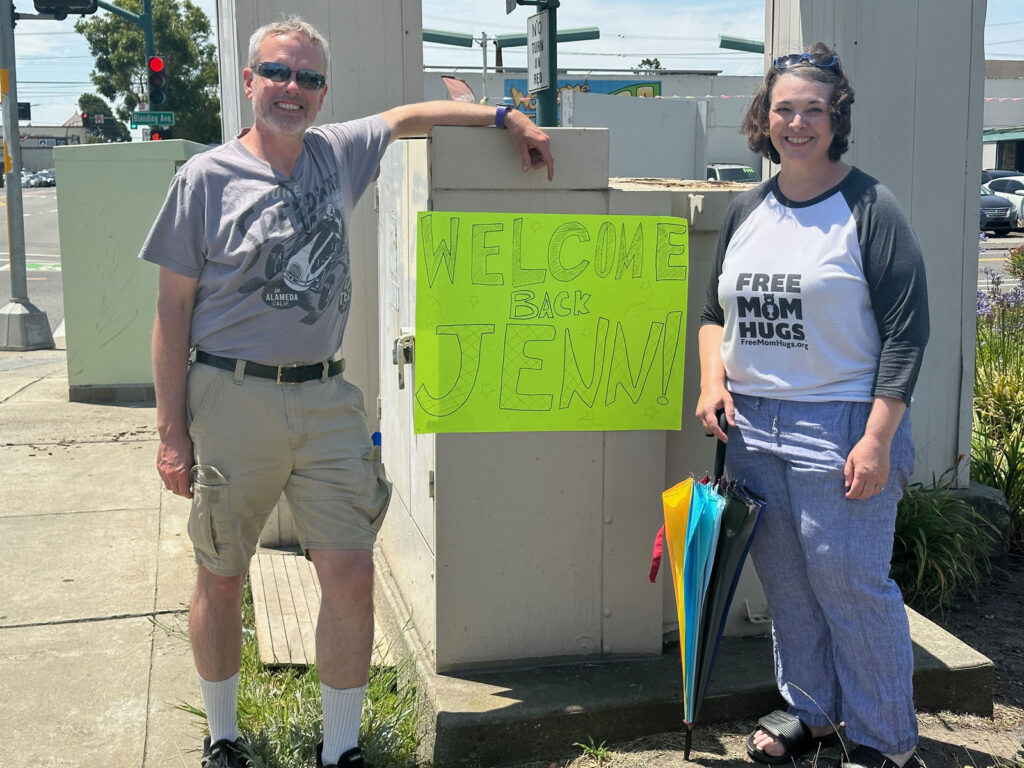 At that moment—as the family shared stories of the ride—a group of passing cyclists recognized Jenn and stopped to embrace and congratulate her. Jane Magid, a cyclist who rode with Jenn between Richmond and Alameda, looked on with pride.
"Jenn has gone through so much, and it was physically and emotionally difficult to get here," Magid said. "And she's triumphant!"
For her part, Jenn is already looking ahead to the fall, when she begins her dream job as a religious school director for Temple Israel of Alameda. But she had a final reflection on her achievement.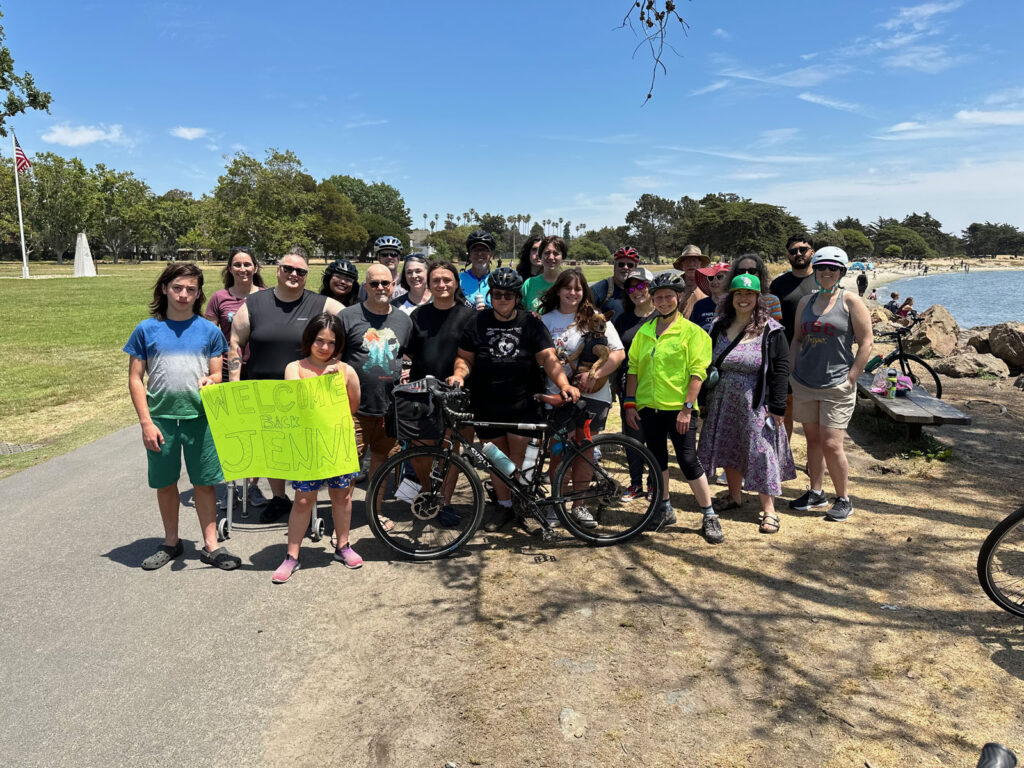 "What stops you is fear. Your mind," she said. "I challenged myself to do things that scared me, and I wanted to inspire people to not be afraid. Now I know I can do anything. The sky's the limit!"
Ken Der is a contributing writer for the Alameda Post. Contact him via [email protected]. His writing is collected at AlamedaPost.com/Ken-Der.