Traffic detours continue as East Bay Municipal Utility District (EBMUD) contractors install 24-inch steel pipelines in Alameda to connect the new crossing to existing transmission mains, improve the hydraulic connectivity between Alameda and Oakland, and ensure reliable water to the island as part of the Inner Harbor Pipeline Crossing project.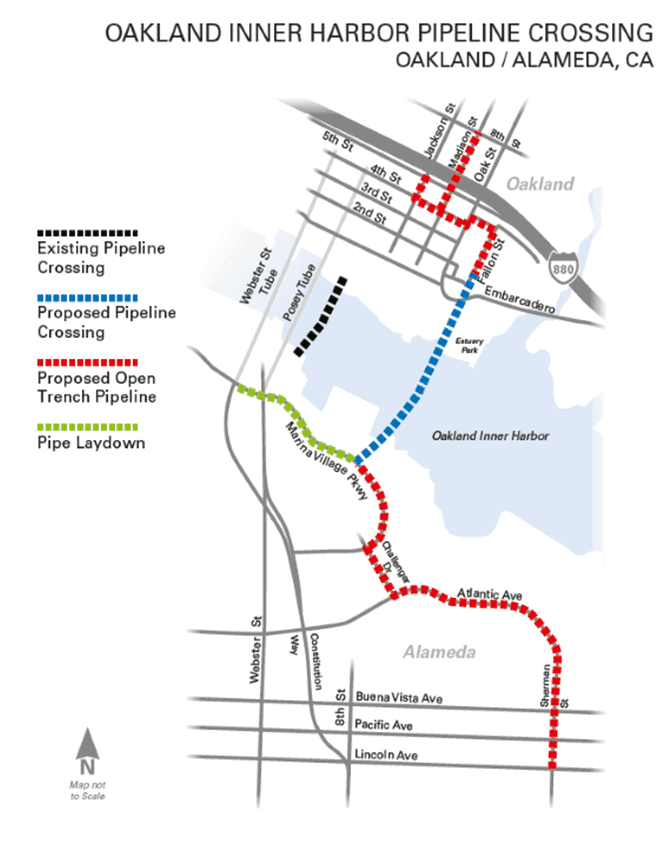 Starting May 16 for approximately five to six weeks, parts of Marina Village Parkway will be closed to through traffic for excavation work and construction. This includes:
The section of Marina Village Parkway between Tynan Avenue and the first driveway east of Tynan Avenue.
The eastbound lane of Marina Village Parkway at 1201 Marina Village Pkwy. and Tynan Avenue.
Eastbound drivers will be detoured using Mariner Square Loop, to Willie Stargell Avenue, onto Webster Street, to Atlantic Avenue, and onto Wilma Chan Way to access Marina Village Parkway eastbound.
Westbound Marina Village Parkway will remain open for traffic. Tynan Ave is open for travel Westbound.
For more information on the Inner Harbor Pipeline Crossing project and overall schedule, visit the EBMUD Oakland Inner Harbor Pipeline Crossing web page.