Public City Council workshop chooses City's objectives for the future
On Monday, March 6, City Council held a public workshop to develop a vision and key priorities for a three-year Strategic Plan. The Strategic Plan will summarize where the City wants to go in the near future and how it plans to get there.
Council settled on the following key priorities, which if addressed, would improve the quality of life in Alameda:
Housing and Homelessness.
Climate Change and Sea-Level Rise Resilience.
Community Safety and Services.
Fiscally Responsible and Inclusive Governance.
City staff will now prepare specific project ideas to address these priorities and inform the upcoming fiscal year budget.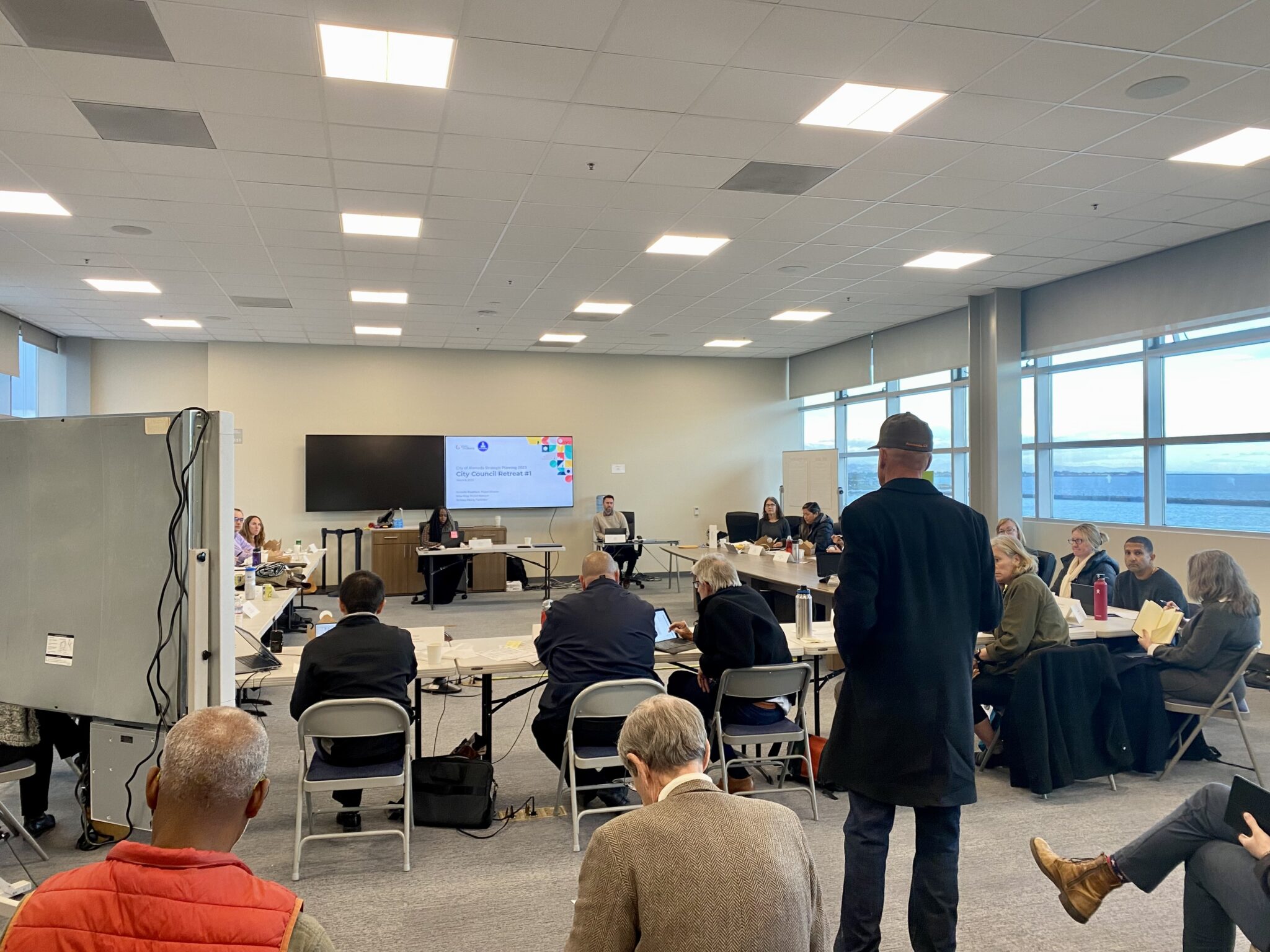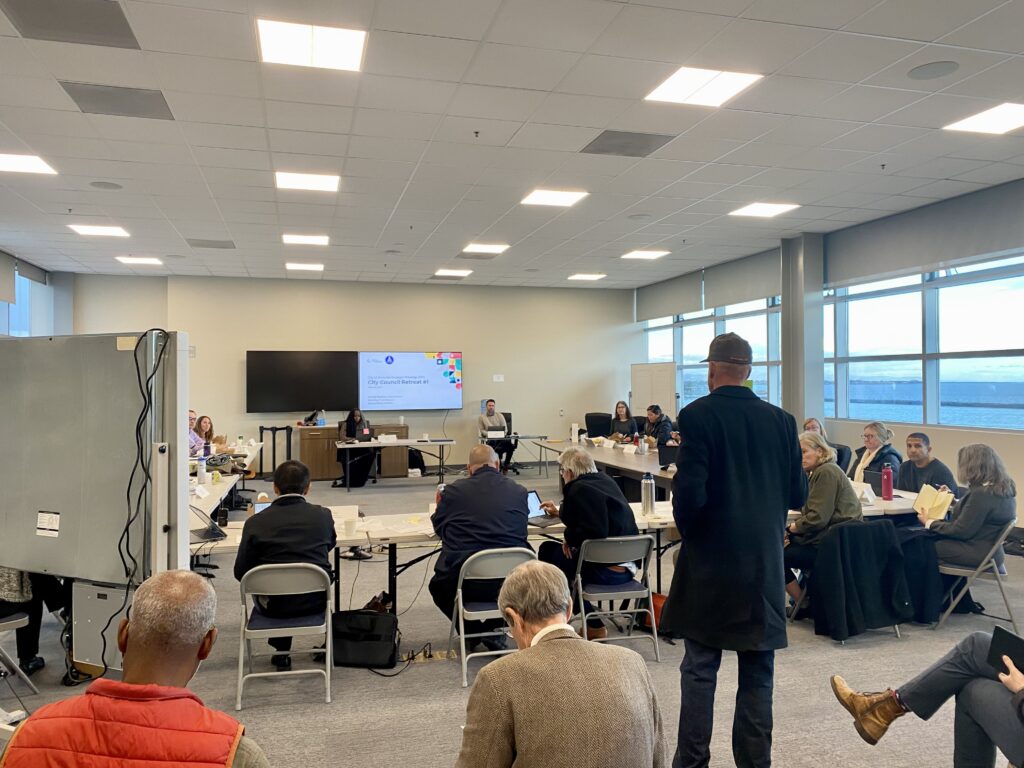 Draft Vision Statement
The City contracted CivicMakers, a strategic planning consultant, to review background documents, interview Councilmembers, and meet with the City's executive management team. CivicMakers then crafted a Draft Vision Statement, which was presented for Council feedback:
Alamedans of all ages, cultures, and backgrounds feel supported and engaged in community and civic opportunities to continually make Alameda a better and safer place to live.
Alameda Point is becoming a fully activated community, contributing to the economic, cultural and recreational landscape of the entire city. Residents walk, bike and take public transit to more destinations on the island across the Bay Area, reducing local traffic congestion and accidents.
Alameda is more resilient to climate change and sea level rise, external factors that uniquely impact its island community. Alameda residents and businesses feel prepared and trust in local agencies to keep them safe during future natural disasters, including earthquakes, and flooding.
New and existing households feel welcomed and can afford housing that meets their needs. Housing is available for homeless individuals and families who have access to ongoing social service support. Residents are proud to have beautiful, clean green and blue spaces for play and recreation, and businesses, restaurants, and public events and art that reflect the vibrancy of their neighborhoods.
Overall, there is a collective feeling of pride and hope for the island, especially for the well-being of its youth. Alameda celebrates its many assets—housing, business, transportation, recreation, and infrastructure—that contribute to the long-term betterment of Alameda residents and environment.
Council feedback
In response to the Draft Vision Statement, Mayor Marilyn Ezzy Ashcraft said her first priority was housing, followed by rising sea levels. She suggested that transportation, infrastructure, and sea-level-rise issues overlap because getting people out of cars is vital to addressing climate change. She said adequate personnel is needed to improve safety.
Vice Mayor Tony Daysog wanted to add historic architecture and schools to the list of assets. Councilmember Trish Herrera Spencer said that the City's most important asset is its people. She wanted to improve public participation in government and see the crime rate reduced. She also wanted to see adequate places for cars to park and sufficient lanes for smooth traffic flow.
Councilmember Tracy Jensen felt that transit, safety, and housing should be pillars of the City's vision, with sustainability underlying all pillars. She wanted to determine how best to maximize the City's existing resources and prioritize all residents, including welcoming newcomers.
Councilmember Malia Vella felt that the Vision Statement should start by discussing the community, because residents are the first priority.
Priorities and objectives
Council chose Housing and Homelessness, Climate Change and Sea Level Rise Resilience, Community Safety and Services, and Fiscally Responsible and Inclusive Governance as its top four priorities. From a list of possible objectives that could support these priorities, only five were supported by at least three out of five Council Members:
Adequately staff public safety officers by paying competitive salaries and benefits and providing appropriate technology and tools.
Make homeownership affordable.
Reduce greenhouse gas emissions.
Promote green infrastructure, including an urban forest.
Build a safe, comprehensive, integrated, and efficient public transit, bicycle, and pedestrian infrastructure, including groundwork for a BART station and bicycle/pedestrian bridge.
What's next
Staff will now draft a list of projects to address the top priorities of the three-year Strategic Plan, which Council will consider at a retreat in April. Once Council selects specific projects, staff will develop works plans and integrate projects into the upcoming fiscal year budget.
Contributing writer Karin K. Jensen covers boards and commissions for the Alameda Post. Contact her via [email protected]. Her writing is collected at https://linktr.ee/karinkjensen and https://alamedapost.com/Karin-K-Jensen.