Council Approves All Good Living Foundation Lease and $16M Financing for Aquatic Center
On September 19, City Council workshopped the Draft Three-Year Strategic Plan, which attracted robust public comment. Council also voted to lease the former site of the Alameda Food Bank on Thau Way to All Good Living Foundation and approved $16 million in financing for the new Aquatic Center.
Draft Strategic Plan
Council held a work session to consider the City's Draft Strategic Plan and provide feedback to staff, in order to finalize the plan before presenting it for approval in November. The three-year plan (fiscal years 2023-2026) outlines projects to further the Council's priorities and shape Alameda's future.
Council met in April to review and prioritize an initial list of projects. Staff then launched a community engagement effort of eight events from May through June and worked with City employees and executive managers to refine project lists and timelines. Staff incorporated input received into the Draft Strategic Plan, including a Vision Statement, priority areas, and projects.
The Strategic Plan attracted the most public comment of the evening. Christopher Buckley of the Alameda Architectural Preservation Society (AAPS) noted that the AAPS was especially surprised that the Draft Plan did not reference Alameda's historic neighborhoods or mention historic preservation. Key AAPS requests included exploring increased affordable housing while preserving historic resources and ensuring that state-required objective design review standards effectively protect historic buildings. Other speakers and correspondents seconded the AAPS requests.
The Alameda Citizen's Task Force (ACT) Board, among others, similarly asked to assess Alameda Point's historic buildings and prioritize their rehabilitation and adaptive reuse.
City Manager Jennifer Ott responded that there are projects in the Plan to address historic resources, including rehabilitating the Veteran's Building and identifying reuse opportunities for the Carnegie Building. She added that money is already budgeted to rehabilitate some of the "Big Whites," the historic homes at Alameda Point. She offered to add a statement about protecting historic resources and listing such projects under the heading.
Denyse Trepanier and Cyndy Johnsen of Bike Walk Alameda expressed concern about delays for the Central Avenue Safety Improvement Project and Safe Routes to School Infrastructure. Ott responded that both projects are on schedule to begin construction in 2024. Mayor Marilyn Ezzy Ashcraft, Councilmember Trish Herrera Spencer, and several public members advocated for improved tree protection.
Shelby, Tod, and Councilmember Herrera Spencer objected to the plan to incorporate the feedback received at this meeting and return to Council to seek approval of the Strategic Plan as a consent calendar item, typically a non-controversial item requiring no further discussion.
Councilmember Malia Vella countered that there had been considerable opportunities for public input and deliberation over what was feasible given the time frame and resources. Mayor Ashcraft agreed, saying, "We need to move forward."
City Manager Ott concluded she felt confident that staff could incorporate the final input and return the Strategic Plan for approval, likely at the first meeting in November.
Lease to All Good Living Foundation
Council voted to authorize a lease to All Good Living Foundation (AGLF) for City-owned property at 1900 Thau Way adjacent to Jean Sweeney Park. Alameda Food Bank (AFB) has leased the site since 2007. However, in December 2022, AFB ceased using the site, having shifted its operations to Alameda Point. The property includes a portable building owned by AFB, which they will donate to AGLF.
AGLF is a local nonprofit organization working to help the Bay Area's most vulnerable children so no child goes without essential necessities. AGLF will use the property to administer its activities for 59 months with no opportunity for extension due to limitations imposed by the State of California Surplus Lands Act. AGLF will pay a $500 security deposit and $1 per year in rent. In addition, AGLF will improve the landscaping to beautify the property. The City is forgoing market rate rent in exchange for AGLF's work to benefit the community.
One public speaker asked what impact AGLF's operations would have on the adjacent neighborhood. Chris Tam, Executive Director of AGLF, responded that clients would not come to the site; instead, AGLF would use the site as a storage facility to distribute supplies to schools.
Acting Planning, Building, and Transportation Director Allen Tai said that although the property is zoned as Open Space, the Alameda Food Bank's use of the site was grandfathered in. A new tenant can move in so long as the building is not demolished.
Councilmember Herrera Spencer argued that the community should have a say in the subsequent use of the property; if it is to be used by a nonprofit, it should be chosen by a competitive process.
Economic Development and Community Services Manager Lois Butler responded that AGLF is a strong community collaborator with a history of helping homeless students. Butler said the City considered the Village of Love but found they would not fit within the space. She added that the City didn't offer a Request for Proposal because only a social service similar in operation to the Alameda Food Bank could even use the facility.
Council voted 4 to 1 to authorize the lease, with Councilmember Herrera Spencer dissenting.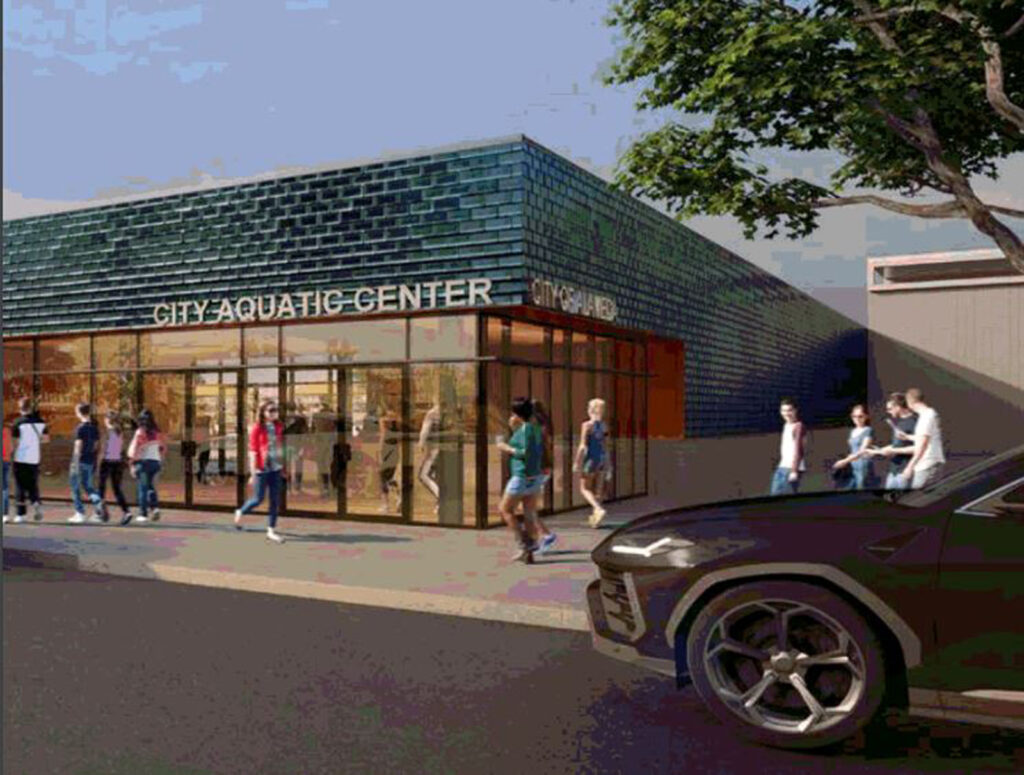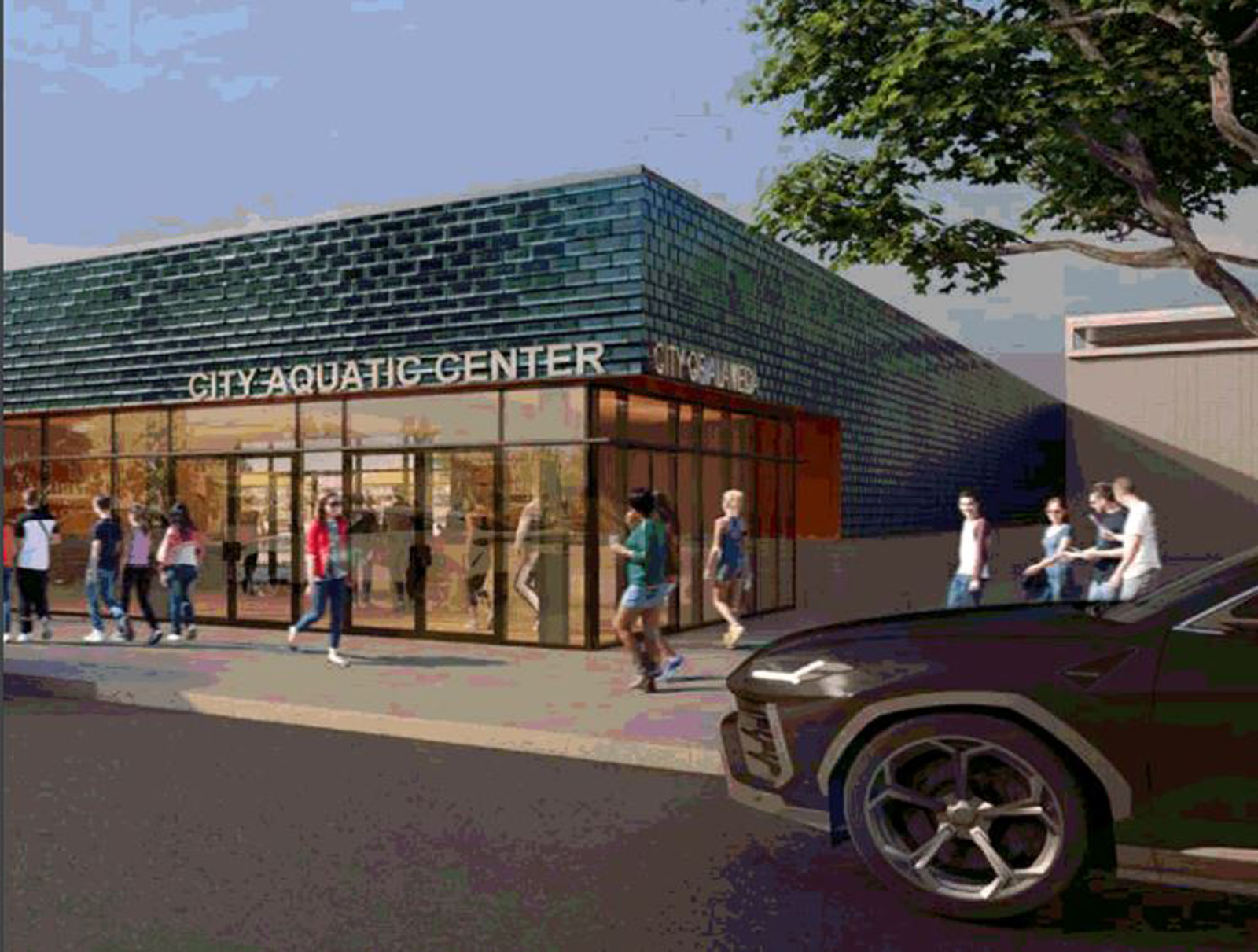 Aquatic Center financing
Council unanimously approved $16 million in financing for the new Aquatic Center planned for Jean Sweeney Park. In February, the Council had authorized funding for the Center, estimated to cost $30 million, with $15 million from the General Fund and the remainder through the issuance of long-term debt. The financing will cover $15 million toward the Aquatic Center and up to $1 million in costs to issue the bond. The City's police facility at 1555 Oak Street will serve as bond security, being the only City facility worth the required amount and not currently bonded.
Staff will now solicit community input on the Center's design, including the size of the competitive pool. The City expects to start designing the Center in the winter of 2023, with construction beginning in the summer of 2025 and work completed by the fall of 2026.
Contributing writer Karin K. Jensen covers boards and commissions for the Alameda Post. Contact her via [email protected]. Her writing is collected at https://linktr.ee/karinkjensen and https://alamedapost.com/Karin-K-Jensen.