No changes to races so far; more than 50% of Alameda County ballots yet to be counted.
Alameda County Registrar of Voters released updated numbers for the November 8 General Election at 4:45 p.m. today, November 10. These new numbers do not change the standings of local races. The numbers released by the County included few from Alameda, so it remains unclear who has won most City contests. The most recent tallies are listed at the end of this article.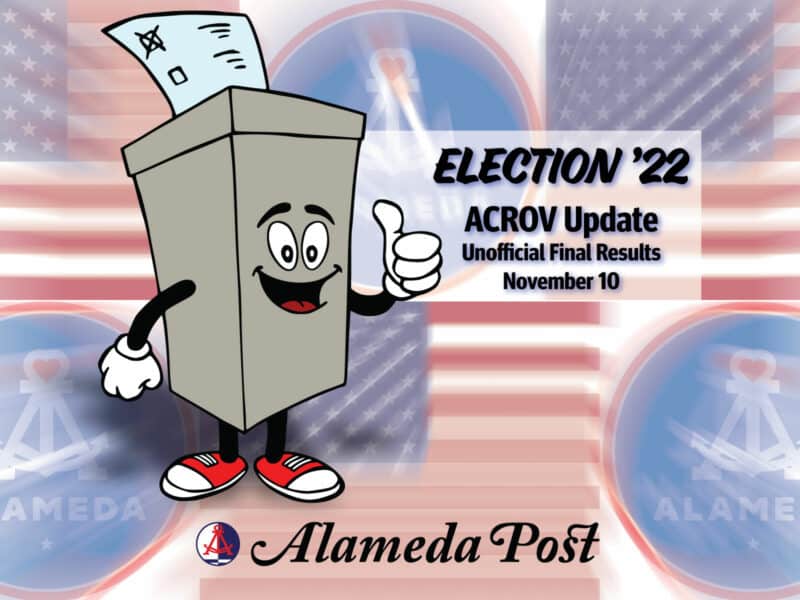 This tally includes the votes cast at Alameda County polling places on or before Election Day plus 36,000 additional vote-by-mail ballots that have been counted. That brings the total to 175,399 counted. The County states that 374,252 mail-in ballots have been returned so far. That means just under 47% of mail-in ballots have been counted at this point. Overall, countywide turnout for the election appears to be approximately 43% of registered voters.
Alameda's incumbent Mayor Marilyn Ezzy Ashcraft continues to hold more than a 15-point lead over the previous mayor, Councilmember Trish Herrera Spencer and looks likely to return for a second term. If her lead holds up, she would be the first incumbent to win re-election in decades.
In the City Council race, incumbent Tony Daysog leads all challengers by nearly 10 points. Outgoing Alameda Hospital board member Tracy Jensen is alone in second, at least six points ahead of the other three candidates, all of whom are within three-tenths of a point of each other. Two seats are available; if Spencer is elected mayor, the third-place finisher would complete her term on City Council. Daysog appears confident with his lead, and issued a press release on Election Night stating, "All indications are that my re-election effort is going well" and thanking voters.
For the race for two seats on the AUSD Board of Governors, incumbent Gary Lym and Ryan LaLonde hold double-digit leads over the other two candidates. Of the two city ballot measures, Measure E is still very closely divided, with current tallies showing 50.7% in favor. Measure F is leaning towards approval, with almost 56% of votes counted choosing yes.
Around the County, former Alameda Vice Mayor Lena Tam continues to hold a ten-point advantage over current Oakland Vice Mayor Rebecca Kaplan to replace Wilma Chan as County Supervisor, but the District Attorney's race is far from decided, with Terry Wiley ahead by just three percent. For the AC Transit board, Sarah Syed's lead looks insurmountable, leading Stewart Chen for Ward 3 by more than 30 points, as does Joel Young's lead over Alfred Twu for member At-Large.
Alameda County posted to their Twitter account that the next release of election results will take place Monday afternoon. More information about city and county races is available from the Alameda County Election website. Stay with the Alameda Post for ongoing coverage as the results are tallied.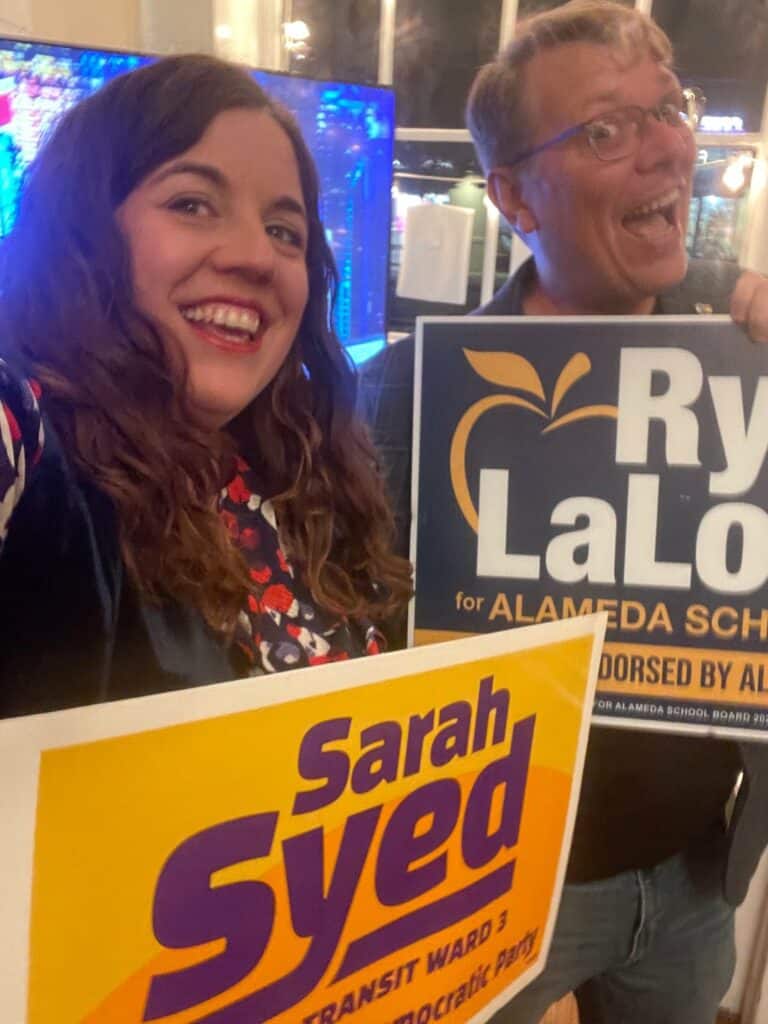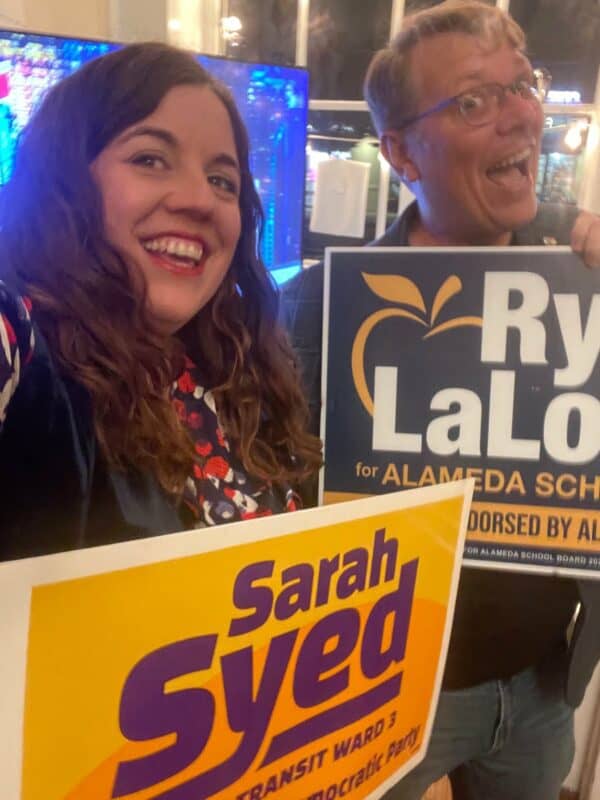 Counted Ballots as of 4:45 p.m. November 10, 2022
City of Alameda election results
Alameda Mayor
Marilyn Ezzy Ashcraft – 54.6%
Trish Herrera Spencer – 38.9%
Barack D. Obama Shaw – 6.5%
Alameda City Council
Tony Daysog – 30.4%
Tracy Jensen – 21.4%
Paul Beusterien – 15%
Hannah Groce – 14.8%
Jim Oddie – 14.7 %
Bill Pai – 3.6 %
AUSD Board
Gary Lym – 39.2%
Ryan LaLonde – 27.7%
Leland Traiman – 17%
Maria Elena Moreno Van Maren – 16.1%
Measure E
50.7% yes / 49.3% no
Measure F
55.9% yes / 44.1% no
Alameda County election results
County Supervisor Third District
Lena Tam – 55 %
Rebecca Kaplan ­– 45%
Alameda County DA
Terry Wiley – 51.5%
Pamela Price – 48.9%
AC Transit Ward 3
Sarah Syed – 65.5%
Stewart Chen – 34.5%
AC Transit At Large
Joel Young – 60.7%
Alfred Twu – 39.3%
Adam Gillitt is the Publisher of the Alameda Post. Reach him at [email protected]. His writing is collected at AlamedaPost.com/Adam-Gillitt.