Architectural observations, a lawsuit, a fire, and a tragic death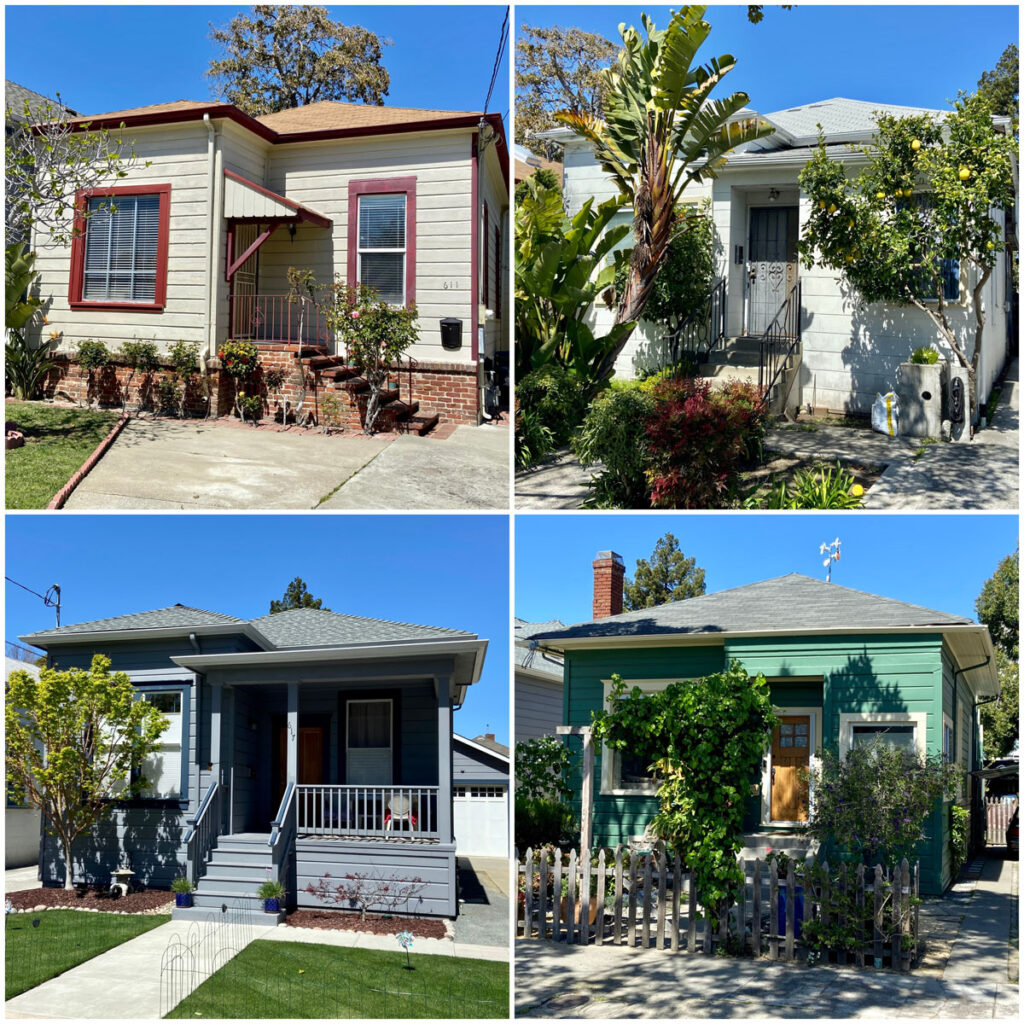 Aughinbaugh's cottages
Standing outside the former home of Gideon Aughinbaugh, I looked around and noticed something. The three houses to the right of 611 Taylor Avenue all looked quite similar in size and proportions. Looking it up later in George Gunn's book on Alameda's Victorian-era architecture, I found that not only did Aughinbaugh build his own house at number 611, he also built the homes at 613, 617, and 621 Taylor Avenue. These four cottages were all built in 1879, which gives us a glimpse into the life of Gideon Aughinbaugh after his partner William W. Chipman died in 1873. As the years went on and the city he co-founded grew, he probably had less land for his fruit tree business, and became more involved in real estate and buildings. Aughinbaugh was a carpenter, and probably built these cottages himself, with help from hired hands. (See Part 1 of this story to learn how Gideon Aughinbaugh and William W. Chipman came to purchase the Alameda peninsula in 1851 for $14,000.)
Abate the nuisance
Another discovery related to Aughinbaugh's real estate holdings comes from an article published in the Alameda Weekly Argus on January 26, 1887. On that day a case commenced in Superior Court, with a suit being brought against Gideon Aughinbaugh, Ella Aughinbaugh, Ah What, Ah Guey, Gang Yong and Gee Ging, to recover $5,000 damages. The plaintiff, P. L. Gochnaner, was the proprietor of a butcher shop, situated on Webster Street between Railroad (Lincoln) and Pacific avenues.
The plaintiff claimed that Gideon and Ella Aughinbaugh, as owners of a house next to his building, had rented said building to the Chinese men who were in the business of running a wash house. The plaintiff went on to state that "during the past six months the Chinamen have kept up a constant noise by the beating the clothes and other means during each night, from early in the evening until the hours of one and two o'clock in the morning, to the annoyance and distress of the complainant and his family, who live over the butcher shop." (Note: the terms "Chinamen" or "Chinaman" are derogatory/racist terms that were used at the time, and are recorded here only for historical accuracy of the quote).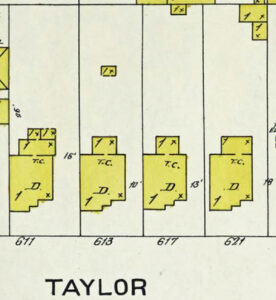 Gochnaner, a butcher, continued his complaints by saying "the defendants have caused, allowed, and permitted sickening and offensive fumes and odors to accumulate and exist about the premises" and that he has "lost many of his customers who will not come to his store on that account." Since his requests had been thus far ignored, Gochnaner asked the court for the nuisance to be abated and also for the sum of $5,000 in damages. How the suit was resolved is not known, but this story is interesting in at least a couple of ways. It gives us some insight into the kinds of business situations Gideon Aughinbaugh and his daughter Ella found themselves in during this period, as well as reminding us of the derogatory words used when referring to people of Chinese ancestry at the time.
Underinsured saloon
Another difficult situation involving Ella Aughinbaugh occurred in September of that same year. On September 28, 1887, the San Francisco Examiner reported a fire at the saloon of John Edwards in Alameda. Located on Central Avenue opposite the Terrace Baths (near Sixth Street), the building was owned by Ella Aughinbaugh. The fire was thought to have started in the rear of the building, which burned to the ground early on the morning of September 27. Initially, no water was to be had for fighting the fire because it was the custom of the water company "to shut the water from the mains every night at 11 o'clock." The building was a total loss, along with all of its stock and furnishings. The building was valued at $1,200 but only insured for $800, while the stock and fixtures were valued at $700 but only insured for $400. Needless to say, this was a big financial loss for Ella Aughinbaugh and the saloon owner John Edwards.
Death calls while at prayer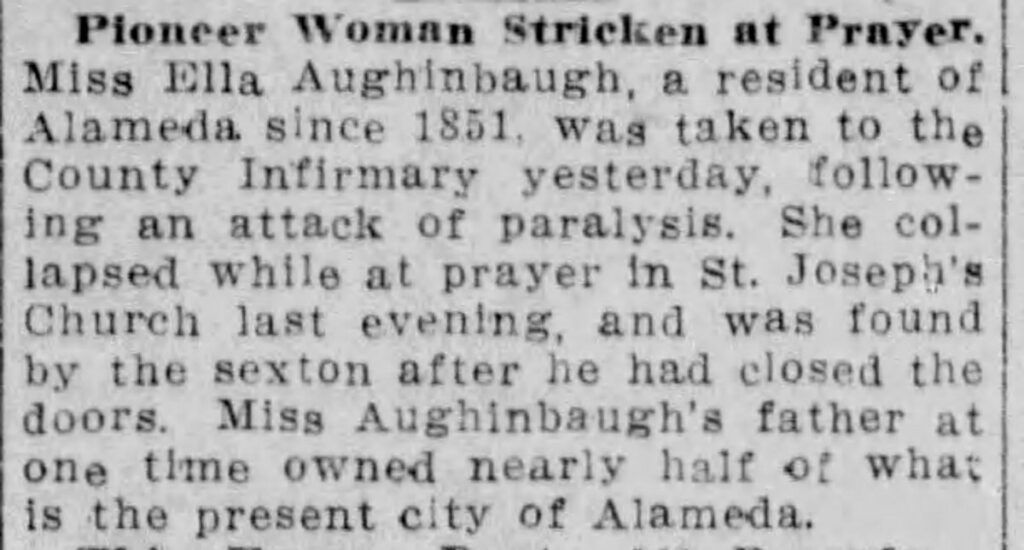 Gideon Aughinbaugh died in July of 1897, apparently by an intentional overdose of morphine (again, see Part 1). Ella pressed on alone for the next 15 years, doing her best to manage what was left of her father's assets but often finding herself struggling with poverty. There is no record of her ever marrying or having children. Death came for Ella one night when she was locked inside a church. A December 12, 1912 article in the Sacramento Bee, headlined "Pioneer Woman Stricken at Prayer," described what happened. According to the article, "Miss Ella Aughinbaugh, a resident of Alameda since 1851, was taken to the County Infirmary yesterday, following an attack of paralysis."
Apparently Miss Aughinbaugh had entered St. Joseph's Church for her evening devotions, but found herself locked in after the church was closed up for the night. As the sun set on a chilly December evening, Ella's cries for help went unheard. Finally, later in the evening, her desperate calls were noticed by passersby, but by then she was suffering from "paralysis, nervous shock and cold," according to the story in the Bee. She was rushed away by "auto ambulance," but passed away within hours while under care at the infirmary. Ella had few assets to leave behind. A friend and neighbor, policeman R. B. Tappan, offered to ensure her a proper funeral, given her lean circumstances. To this day, it is not known where she was buried.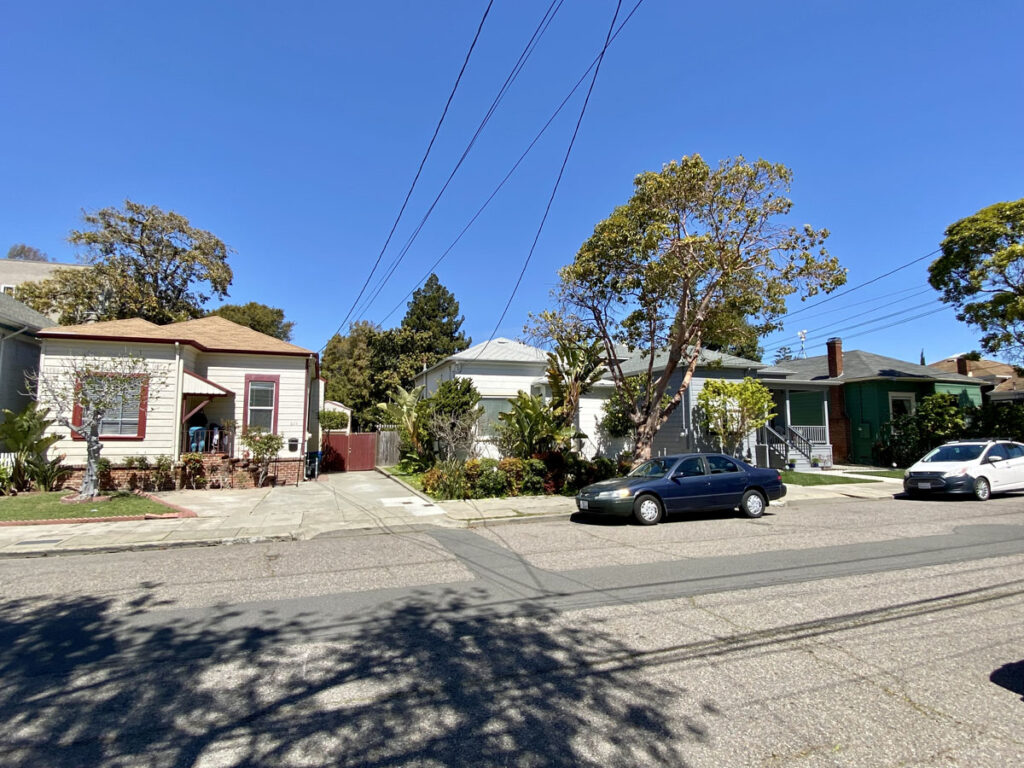 And so the story of the Aughinbaughs comes to a close. A man who brought his wife and daughter west to San Francisco in 1849—and ended up co-founding a city on a sandy, marshy, oak-dotted peninsula—is little remembered today. But he played a big role in creating the city we call home, and his daughter Ella carried on, managing the remains of his holdings until her own tragic end in 1912. Both died in poverty, but we remember them today as pioneers, and count them among our Alameda Treasures.
Contributing writer Steve Gorman has been a resident of Alameda since 2000, when he fell in love with the history and architecture of this unique town. Contact him via [email protected]. His writing is collected at AlamedaPost.com/Steve-Gorman.