Gretchen and Arthur Lipow active in art, philanthropy, and teaching before and after moving into the home.
"Jim Smallman's philosophy regarding historic houses is that we are all temporary guests on this earth, and the houses will outlive us all," historian Woody Minor wrote in "The Patient Preservationist," an article about Jim's restoration of 1837 Clinton Ave. in the Alameda Architectural Preservation Society newsletter. "As such, it is our duty to keep these homes as authentic structures, true to their original concept." It was Jim's philosophy and hard work that delivered the home at 2242 San Antonio Ave. to its next caretakers, Gretchen and Arthur Lipow, in such good condition.

Arthur Lipow's early life and philanthropy
In our last chapter we learned a little bit about Arthur Lipow, who was an academic and historian. He was born in 1935 and grew up in Southern California, receiving a B.A. in sociology from UCLA in 1955. He then studied at UC Berkeley, where he received a Ph.D. in political sociology in 1969. It was there in Berkeley that he met his future wife, Gretchen Kittridge, when they both became involved in the Free Speech Movement. They would eventually go on to marry other people and raise families of their own, all the while remaining friends.
In the 1970s Dr. Lipow moved to England, where he was a member of the Labour party. He was active in the European Nuclear Disarmament (END) movement, and took on leadership roles in such groups as "Charter 88," a British constitutional reform movement that attempted, among other things, to enshrine a bill of rights in Britain. He organized an international conference in Ethiopia in 1992, sponsored by the United Nations Educational, Scientific and Cultural Organization (UNESCO) and the United Nations Development Project (UNDP), to further cooperation between institutions of higher learning, North and South. Dr. Lipow would spend the better part of 30 years working overseas, dedicating himself to writing, teaching, and social justice.
Gretchen Lipow's early life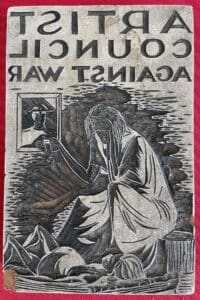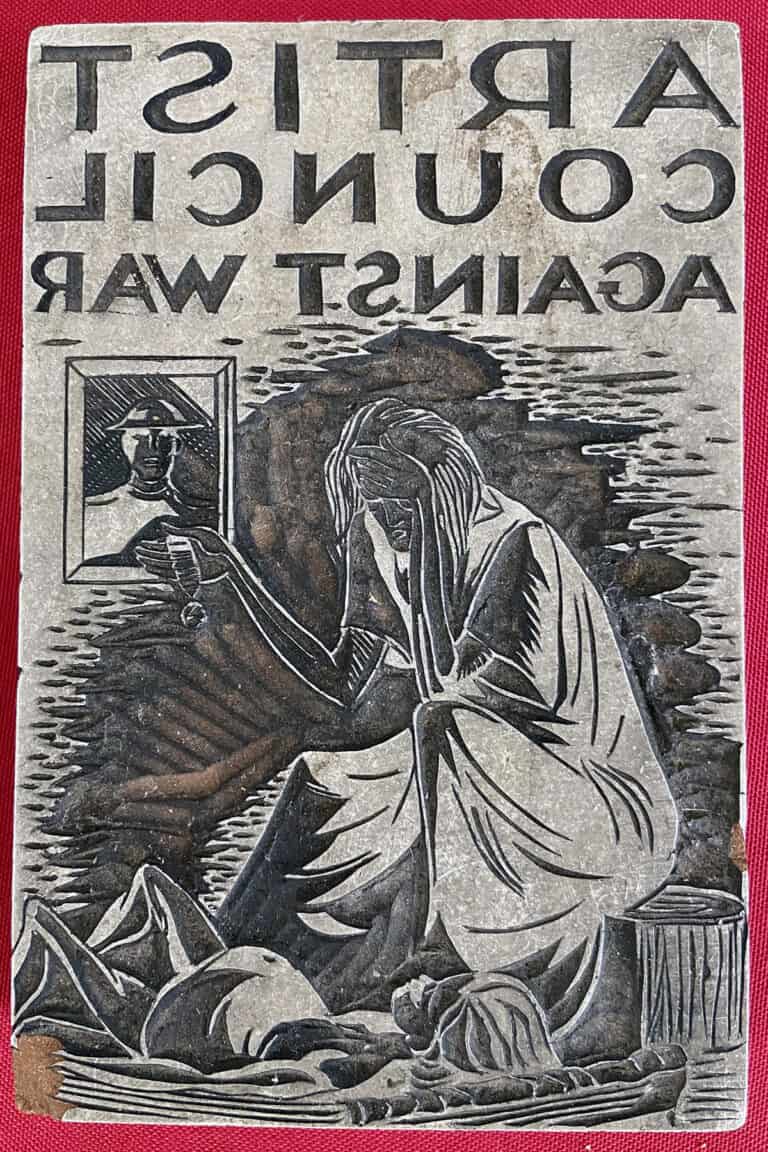 Meanwhile, Gretchen's life also had been dedicated to teaching. She eventually became district director of the California Teachers Association, but her earliest memory of education was at the Treasure Island School for children of artisans working on the World's Fair, which ran from 1939 to 1940. Officially known as the Golden Gate International Exposition, the fair was held to celebrate, among other things, the opening of the San Francisco-Oakland Bay Bridge in 1936 and the Golden Gate Bridge in 1937. Gretchen's father, David Kittridge, was an artist who was hired by Mexican muralist Diego Rivera, who had a commission to paint a large mural at the fair. The piece was called "Unión de la Expresión Artística del Norte y Sur de este Continente", which was translated and simplified as "Pan American Unity."
The Kittridges were living on Russian Hill in San Francisco at the time, and Gretchen and her father would take the ferry over to Treasure Island each day so that he could work on the murals and she could attend school. It was there that her love of learning began. As Gretchen learned to love the classroom, her father David worked up on the scaffolding, helping paint the colorful mural that eventually spanned a distance of 74 feet long by 22 feet high—Rivera's largest contiguous work. The mural was created during the 1940 season as part of the "Art in Action" program, when over 30,000 people viewed it as it was being painted.
After the fair was over, the mural's 10 steel-framed panels were removed and installed at City College of San Francisco, where they have remained on display ever since. However, by special arrangement with CCSF and the San Francisco Museum of Modern Art, the mural is currently on exhibit through 2023 in the museum's free-to-the-public Robert's Family Gallery on Floor 1. For more information on the free exhibit, visit the SFMOMA Pan American Unity website. Moving this 21-ton mural was a major undertaking, and after its run at SFMOMA it will be returned to CCSF to be installed in a new performing arts center. For a detailed panel-by-panel tour of Pan American Unity, visit the Rivera Mural website.
Gretchen attends a wedding for the ages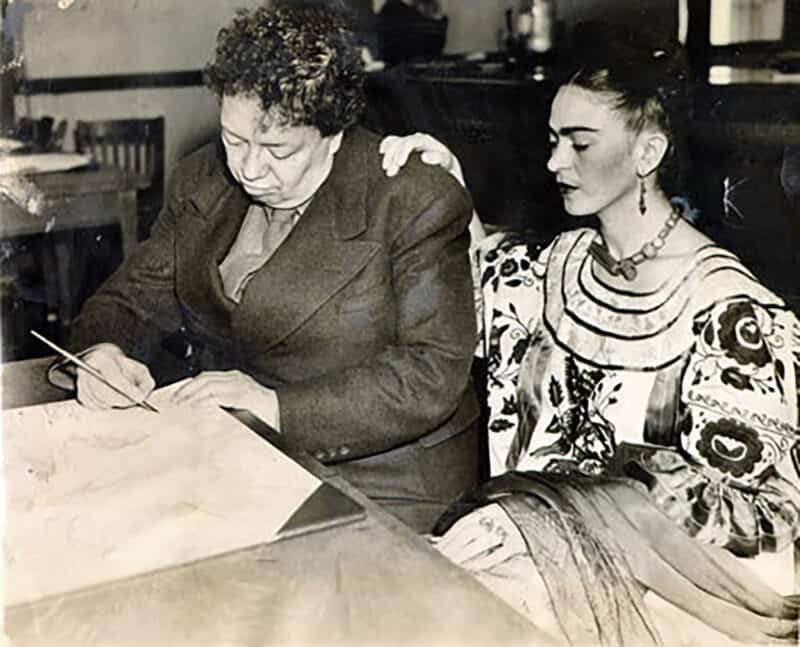 Diego Rivera (1886-1957) and his wife Frida Kahlo (1907-1954) are among Mexico's best known artists. Frida and Diego first married in Mexico in 1929, and later spent time in San Francisco in the early 1930s, staying at 716 Montgomery St., in the studio of Rivera's old classmate, artist Robert Stackpole. By 1940, Frida and Diego were divorced, but when they were both back in the Bay Area for Diego's work on Pan American Unity, they decided to re-marry at San Francisco City Hall. The Kittridges were invited to the wedding ceremony, which Gretchen attended with her mother Ella and father David.
Gretchen was only 4 years old at the time so she barely remembers it, but she was indeed present at the wedding of Frida Kahlo and Diego Rivera at San Francisco City Hall on December 8, 1940. The day was even more special because it was Diego's 54th birthday. Frida was 33 at the time. Therein lies the connection between 2242 San Antonio Ave. and these two famous Mexican artists. Once you start digging into the history of an old house, you never know what you'll find.
Gretchen's teaching career
From these early artistic and educational experiences, Gretchen Kittridge—who married and became Gretchen Mackler, and eventually remarried and became Gretchen Lipow—would live a life dedicated to teaching and equal opportunity for all. One of her passions has been teaching English as a Second Language (ESL), so that non-English speakers have the opportunity to learn and not be left behind. One of the first schools where she taught was Longfellow Elementary School on the West End of Alameda. Ms. Lipow was instrumental in setting up the ESL program there, and was involved with the hiring of bilingual teachers.
She incorporated art and computers into her teaching methods, was active in the teacher's union, and spent the last 10 years of her career at Island High, a continuation school. A continuation school is for students who are at risk of not graduating, but the smaller class sizes made them attractive to other students as well. Ms. Lipow used her considerable experience and talents to nurture and graduate as many students as she could. Along the way, she also found the time to raise her own three children—two boys and a girl.
Arthur and Gretchen marry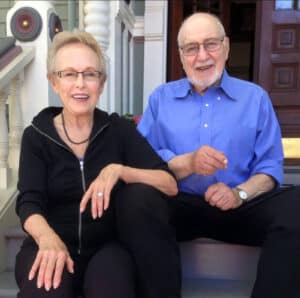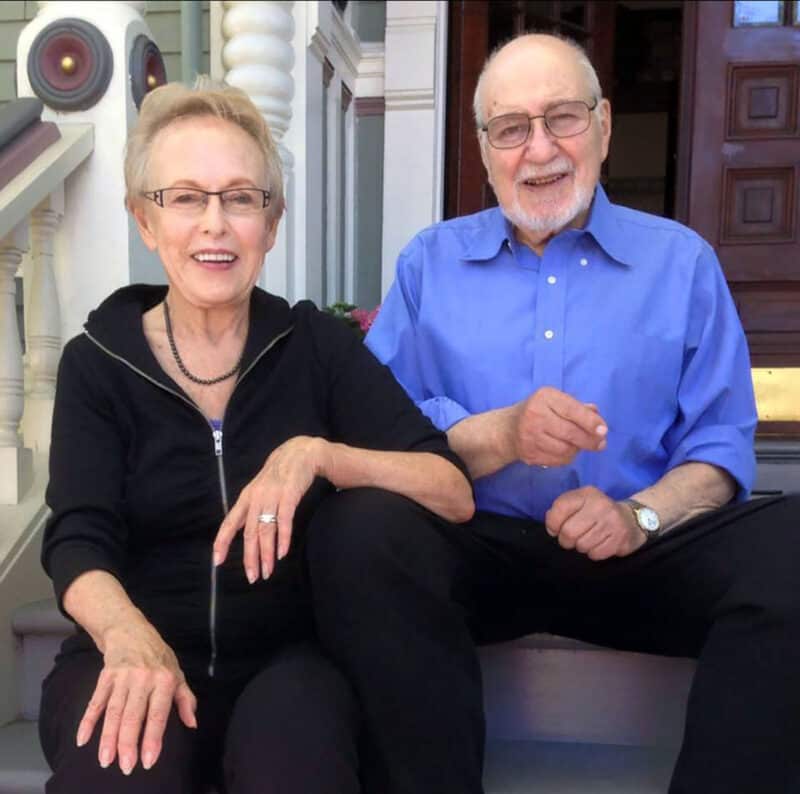 Dr. Arthur Lipow published five books during his long career, and upon his retirement in 1998 returned to the United States. Arthur also had raised three children of his own, but they were all grown by this time. It was back in the Bay Area that he and Gretchen Mackler, as she was then known, got married and began looking for a home for themselves and Arthur's collection of more than 10,000 books on such subjects as history, sociology and politics. 2242 San Antonio Ave. fit the bill perfectly, so they purchased the historic home in 1999 for $725,000. Gretchen and Arthur would live happily in this home for many years, as they became involved in local issues and politics. They co-founded the Alameda Public Affairs Forum in 2004 and the Center for Global Peace and Democracy in 2007.
After almost 20 years of happily married life, Dr. Arthur Lipow passed away on January 6, 2016, with his wife Gretchen by his side. He was 81 years old and had lived a very full and active life. He left behind a wife, three children, three stepchildren, two grandchildren, three step-grandchildren, and many friends and admirers. And so, much like Mollie Fargo, who lost her husband E. A. Fargo in 1892, once again a widow at 2242 San Antonio Ave. was faced with grieving a lost spouse and facing life without him.
Up next
As the story of 2242 San Antonio Ave. continues with part 12, we'll see what Gretchen Lipow has been up to these past years since the passing of her dear husband Arthur, learn about what changes she's made to the house, who's living in it now, and who came up with the idea of naming it "The Fargo House."
Contributing writer Steve Gorman has been a resident of Alameda since 2000, when he fell in love with the history and architecture of this unique town. Contact him via [email protected]. His writing is collected at AlamedaPost.com/Steve-Gorman.