Learn how Utah Construction created South Shore, a whole new part of Alameda, in the 1950s.
In July 1955, a large vessel appeared in the waters of San Francisco Bay just off Alameda's south coast. The monster belonged to Utah Construction. Historian Imelda Merlin writes that in a single month alone, this dredge used two miles of pipe six feet in diameter to pump 1 million cubic yards of sand into rows upon rows of ditches the company had excavated along the shore.
The dredge forced enough sand into these conduits to fill the San Francisco Bay waters right up to the sea wall that had defined the city's south shoreline. Merlin tells us that the new sand "covered springs on the beach." This forced water into the basements of homes along Alameda's coastline.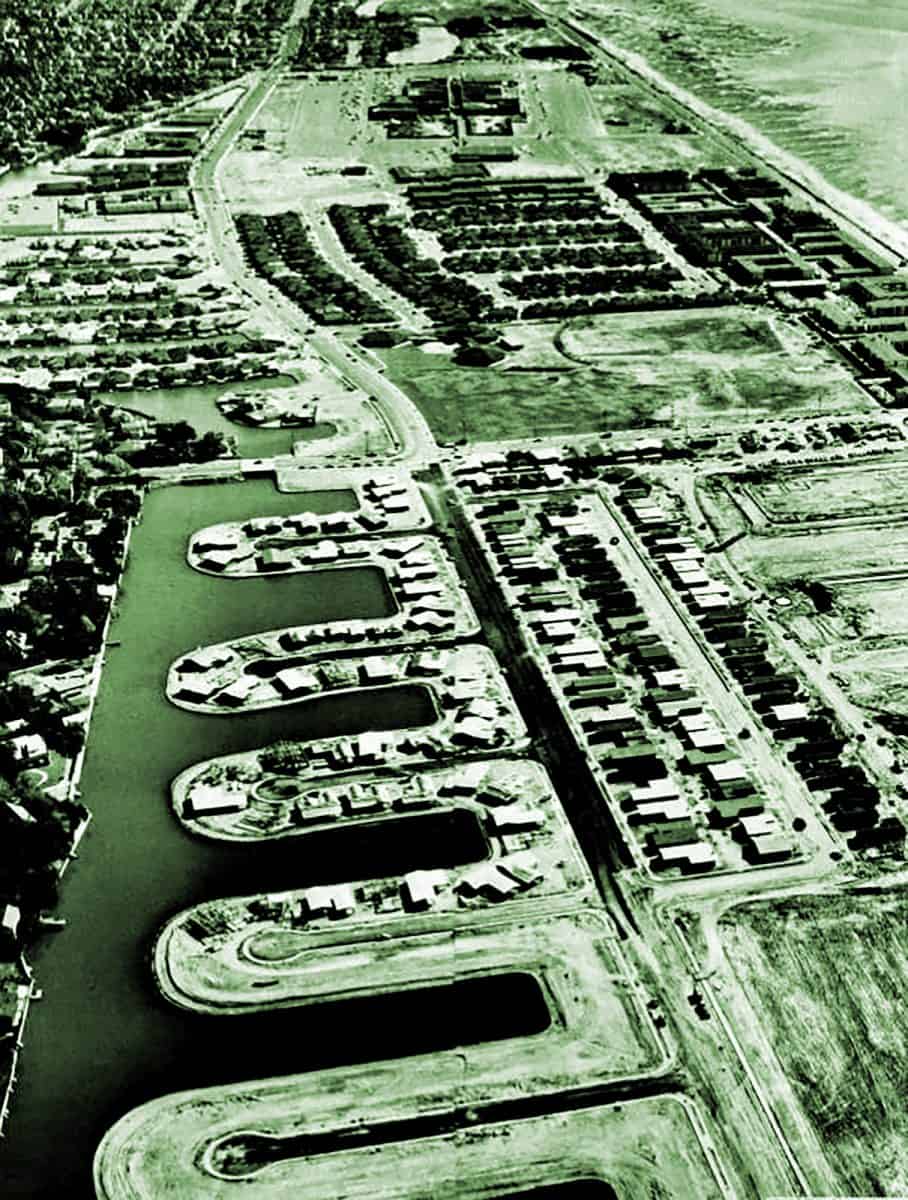 To relieve the flooding, Utah agreed to excavate two lagoons 250 feet wide along the sea wall on each side of Grand Street. Instead, Utah Construction's lagoons, pictured above, ended up measuring only 125 feet wide at the most. Utah built tongues of land, called 'boas' into the lagoons to accommodate houses. This aerial view shows the lagoon west of Grand with five of the seven "boas" that Utah created for those homes. Looking toward Grand the 'boas' under construction are Sandy Hook Isle, Larchmont Isle, Windermere Isle, Arlington Isle, and Rock Isle. The map below shows a Google satellite view of the lagoons today.
The eastern lagoon contained four more 'boas:' Windermere Isle, Sandalwood Isle, Pond Isle and Glenwood Isle. Landfill required to accommodate Alameda Hospital at Willow Street divided this lagoon into two pieces, the easternmost portion stretched to Oak Street. In all, this project interrupted the lives of residents on 15 streets stretching from Ninth Street in the west to Oak Street in the east.

Alameda's Changing Shoreline
Saturday June 25 — The Creation of South Shore
Join Dennis Evanosky to tour Alameda's South Shore and learn how Utah Construction created an entirely new part of the island in the 1950s. We will meet for a two-and-a-half hour walking tour at Otis Drive and Grand Street at 10 a.m.
Learn more about this controversial project this Saturday. Award-winning historian and Alameda Post editor Dennis Evanosky will lead a walking tour through the "made land" that makes up today's South Shore. Meet at Grand Street and Otis Drive at 10 a.m. for this two-and-one-half-hour tour.
Reach Dennis at [email protected]. His writing is collected at AlamedaPost.com/Dennis-Evanosky.