The first time I ran after having a baby, it was windy. A West End Alameda, exposed Ballena Bay, gray, sunset kind of windy. I bundled up the baby, put on my best jacket, and convinced my wind weary husband to go.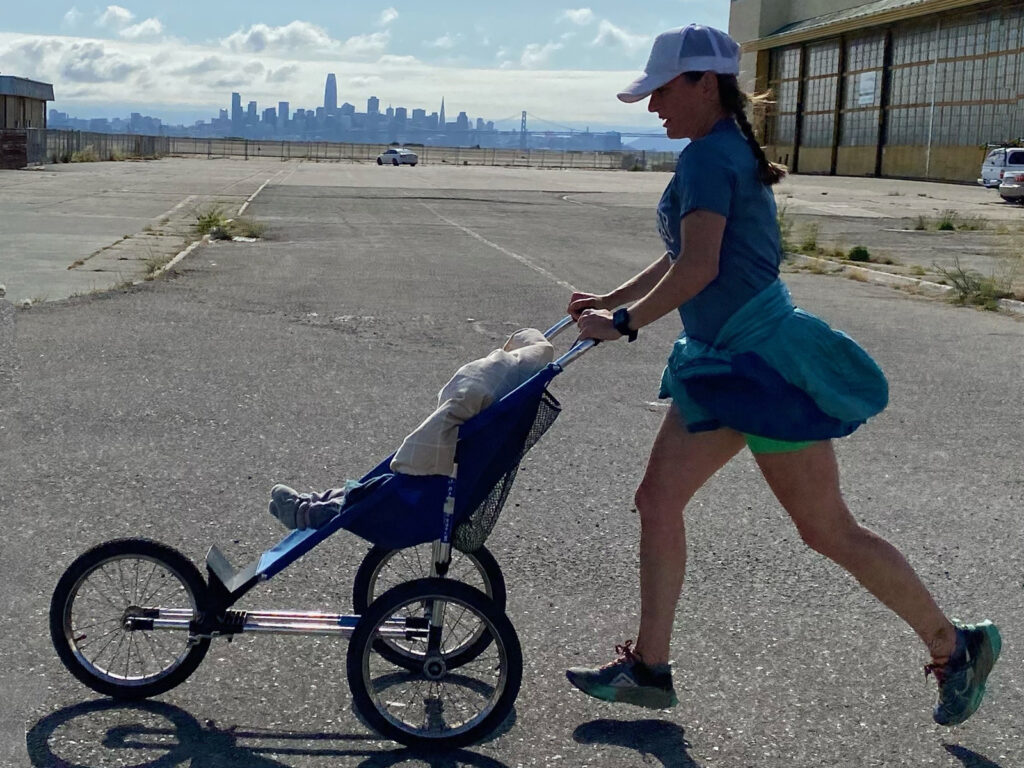 "Come on," I urged him. "We can always turn around."
The closer we got to the end of the row of homes on Ballena Boulevard that were serving as a windbreak, the more excited I became. We could barely hear each other but my husband's eyes said it all: "I'm going back."
Baby wailing, my husband tucked him into his jacket and turned the stroller towards home.
I leapt into a trot, testing my new post-childbirth body. My face stung, eyes burned, back ached. I took the trail along the water, heading southward and facing the island with the wind at my back. Crossing the road, I climbed a little hill to stay on the sandy trail. I looked at my watch, caught the minute-per-mile pace, and laughed. The wind tossed my hair around. Plodding along the trail, I turned back towards the city along the marina's clanging boats. There was a sun setting somewhere behind the thick fog and clouds. My heavy chest pulled me forward. I've never felt physically worse or more exhilarated.
A quiet freedom underscored the realization—I still love this.
Now, when I run or walk I feel what seems to be pure gratitude. The physical changes have melted away over time. I am not the athlete I was in some ways but I am more joyful than ever. Being forced to accommodate this body's capacity and limits strengthens my spirit.
I was so inspired by this rebirth that I went on to create a Mother's Day running event this past May. The intention of the event stays with me even now, on each run, with the baby or without. And since rebirth might have nothing to do with an actual baby, I think my insights can apply to anyone who has battled an injury or setback:
The speed or distance are not as important as the spirit that you bring.
You can always turn around—but you usually don't. Once you start, you push, pull, sweat, and pee your way through more miles than you imagined you could.
Thank you, body. Thank you for what you CAN do. Thank you.
Here are a few more practical ways to get the best out of your body, especially for new moms:
Pump/feed right before you go. Because why torture yourself?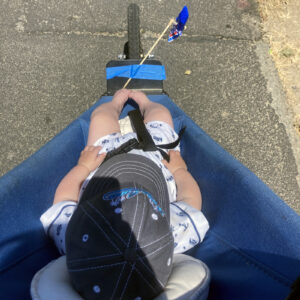 Walk a mile, run a mile. Or any interval that feels good. Especially with a stroller. You might go further if you have a built-in break to feed babe, cuddle babe, drink water, not die, and maybe have a snack.
Run or walk on your own when you can. Sometimes it feels more spacious.
Running groups for moms can connect and inspire you. Women's Run Club East Bay meets Thursdays at 6:30 a.m. at Signal Coffee on Central Avenue, between Park and Oak streets. Check out more on their website and at @wrceastbay on Instagram. The No Excuse Moms group of Alameda has lots of meetups each week for running and fitness. See more on their Facebook page and at @nem_alameda on Instagram.
Sign up for an event that makes you feel excited. My next event is Wharf to Wharf because it's a doable distance for me and I love Santa Cruz for beach vibes and hanging with my running girlfriends afterwards.
We all need a little support along the way. If you're not into groups, you can always just talk to the stroller moms out on the Shoreline Trail. And if you're one of the moms I talk to on the trail, please know I don't mean to come off as aggressive, I just want you to know I see you.
Editor's note: This is the first column from our newest contributor, Lena Jones, who will write about running in Alameda. Welcome to the Post!
Contributing writer Lena Jones is an event producer adventuring with her family in Alameda and beyond. Contact her via [email protected]. Her writing is collected at AlamedaPost.com/Lena-Jones.