It's been said that writing about music is like dancing about architecture, but what about dancing about sculpture? That is precisely what Tara Pilbrow and Maurice Ramirez have set out to do in Uplift, a series of five short dance films "celebrating the talent and diversity of the Alameda arts scene." What might that look like? Pilbrow, the founder of Tara Pilbrow Dance and Executive Director of the West End Arts District (the fiscal sponsor of the Alameda Post), emphasized that these are five dance films, not documentaries about the artists, and that each should be a work of art in and of itself.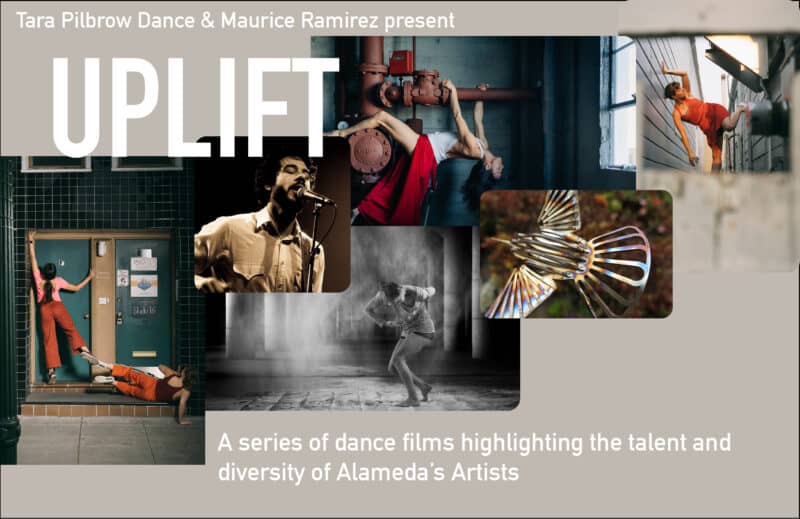 Pilbrow eschewed painters and photographers, whose media typically define an "art scene," opting instead for artists who are working in media and spaces that are perhaps untraditional. She paired them with dancers, with the goal of "getting into the vibe of the artists." For example, one of the films will be inspired by the works of former Alameda Poet Laureate Gene Kahane, described by Pilbrow as "often a little bit jaunty in their style," and whose poems are as likely to be found affixed to a tree on Bay Farm Island as they are in the public library.
"The sheer joy and pleasure of this project is that it's incredibly collaborative," Pilbrow said. "An artist of one form trying to get into the form of another artist."
Meet the artists
Two of the artists are both sculptors and furniture makers with studios at Alameda Point: Shawn HibmaCronan, whose work has been exhibited in museums from Oakland to Tokyo, and JP Frary. Frary is one of nearly two dozen "makers" who practice their crafts at Alameda Point Studios, one of the first tenants to move onto the base when the Naval Air Station was decommissioned in 1997. The nondescript building looks out on Seaplane Lagoon.
Maurice Ramirez, the videographer for Uplift and frequent photographer for the city of Alameda (as well as for the Alameda Post), hopes that in addition to giving exposure to the artists and showing off Alameda, the project will "add a sense of wonder when people see buildings that don't have a big sign on there," he said. The façade might not identify it as an artist studio, but within are people who are "making things of high quality, and doing this all their lives."
That "maker" ethos is shared by Krystal Harfert of the Makerfarm, an outdoor workspace by Ploughshares Nursery on Barbers Point Road. A self-described "artist, producer, educator, chicken mom," Harfert creates costumes and other fiber arts, as well as being a photographer and cinematographer.
The fifth artist whose work is the inspiration for Uplift is Ben Winter, a singer/songwriter and co-founder of PHOENIX, the shared workspace and mixed use venue that rose from the ashes of St. Vincent de Paul's Redux gallery and thrift store. "All the talent in the world is in Alameda," Winter wrote on the PHOENIX website. "We just have a hard time finding each other." Pilbrow said that Winter "invests in being Alameda, to continue to make art and continue to make that work in Alameda."
Stay tuned
Uplift is still early in development, with filming just begun on two of the pieces. Sponsors for the project are still being sought, and will be given recognition in the credits, Pilbrow said.
Contributing writer Michael Singman-Aste covers local arts for the Alameda Post. Contact him via [email protected]. His writing is collected at AlamedaPost.com/Michael-Singman-Aste.