Get ready to let the good times roll with CHELLE! and Friends as they bring the vibrant energy of Mardi Gras to the island of Alameda on February 18. This unforgettable evening of dance and music will transport you to the streets of New Orleans, with a mix of jazz, funk, soul, R&B, gospel, swamp pop, rock, and Mardi Gras Indian music that will leave you feeling sweet, spicy,  and good all over.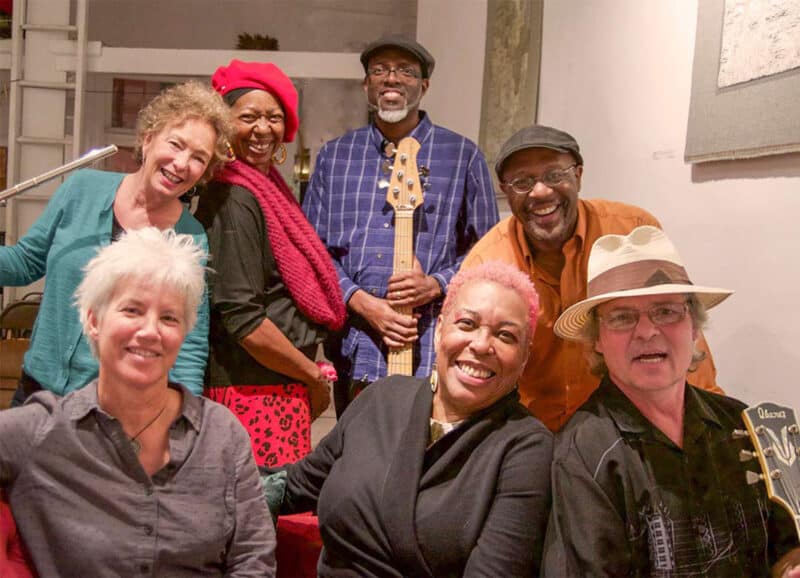 CHELLE! and Friends are known for their unique blend of musical styles that creates a sonic gumbo sure to please all music lovers. Whether you're a fan of traditional jazz or contemporary  R&B, this talented group of musicians has something that will get you up on your feet and dancing. CHELLE! and Friends are fronted by New Orleans native—and Oakland's own "Queen of  New Orleans"—Michelle Jacques. She is joined by some of the most distinguished and  accomplished musicians in the San Francisco Bay Area, including the driving voices of Rhonda  Crane, Jay Lamont, and Bryan Dyer, along with Donna Viscuso on woodwinds, Eric Swinerman on guitar,  Kevin Scott on bass, and Michaelle Goerlitz on drums.
To fully experience the magic of Mardi Gras, be sure to dust off those feathers, bust out your  beads, shine up your sequins, and get ready to party! The doors open at 6 p.m., so be sure to  arrive early to grab a bite to eat and a drink to go with it. Stephanie Dalton of Steph's Good Food will be serving up mouthwatering Gumbo (traditional and vegan) and the bar will offer Hurricanes and tropical cocktails for purchase. Bring your appetite for food, drink, dancing, and fun!
Don't miss out on this unforgettable evening of music and celebration. Laissez les bon temps  rouler! Let the good times roll, and party with CHELLE! and Friends at the Mardi Gras celebration of the year. Get your tickets now before they sell out. Discounts are offered for group purchases of six or more tickets; use the code "mardiparty" at checkout.
The Rhythmix Mardi Gras Party with CHELLE! and Friends takes place at Rhythmix Cultural Works, 2513 Blanding Ave., on February 18, 7 to 9 p.m. Purchase tickets and get more information at the Rhythmix website.
Contributing writer Colin Epstein is an artist and performer who covers local arts for the Alameda Post. Reach him at [email protected]. His writing is collected at AlamedaPost.com/Colin-Epstein.