Encinal High School wows audiences with The Wolves.
Encinal's production of The Wolves, written by Sarah DeLappe, begins before it begins. Like real soccer matches, there were signs on the walls cheering individual players, parents selling snacks, and loud music coming out of a speaker. And like real sporting events, the songs were carefully chosen to motivate the players, anthemic, celebratory, in this case all about girl power. There's nothing like pre-game swagger.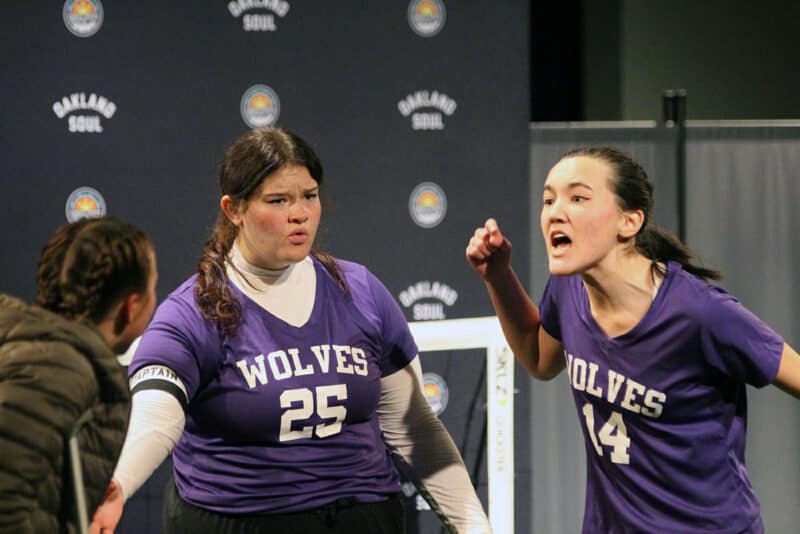 But the truth of the play, directed wonderfully by Encinal actor alum Lachelle Morris, is that these kids are not in charge. Instead, they are young people doing the hardest work possible—trying to grow up in a confusing world while learning and playing the beautiful game. And we, sitting literally on the edge of the grass, get to watch and listen and learn from them just how heroic you need to be to make it and how it sure helps to have teammates.
For a play just 90 minutes long, with a small set of characters—indoor soccer plays 6, not 11— the breadth and depth of topics covered by the players talking/arguing during warm-ups is staggering: current events, history, contraception, personal hygiene, interpersonal relationships, soccer hierarchy, collegiate athletics, yurts and birds. And yeah, they play a little soccer as well, kicking the ball deftly back and forth when not stretching.
The effect is that we get to eavesdrop into their world, hearing real teens, played by real teens, speak their truth in authentic language. More than once the F-word is used, kids talk over other kids, and there are tears and plenty of OMG moments. These voices are beautifully genuine. But these kids also are athletes and competitors, so there is friction over who gets to start, who's being recruited. And these actors, mostly underclass persons, are brilliant in their portrayal.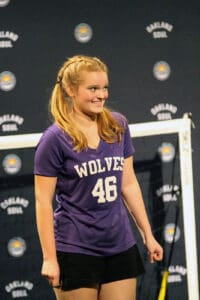 Caitlyn MacAskill, goalie in real life for Encinal's varsity women's soccer team, plays the captain and is the closest thing to an adult on or near the field. She's believably authoritative in the way leaders need to be, cajoling her teammates to get physically and mentally ready for upcoming games. Samantha Crenshaw plays the newcomer/outcast, and her awkwardness is genuine and charming. Ava Diener is terrific as the person whose job it is to check her fellow players when they're wrong or rude. Amelia Ericson shows sass and arrogance as No. 7—all the characters are identified by number rather than name—then pivots to humility when she is injured.  Special kudos go to Senna Garcia, the understudy who stepped in, script in hand, and engaged with everyone with energy and skill.
Seeing this play in the context of the men's World Cup, where large crowds fill massive stadiums while millions watch on television, was meaningful. This is how it all begins, with young people, moms and dads getting up early on Saturdays to trek to a field to compete. But more importantly, and deeply worthy of praise, is the fact that this story told by these young actors, led by a new director, is vital and real and true and remarkable. It's also courageous.
As they argue and share and challenge one another, we see how much they want to be happy, and how hard that is. One moment in particular, performed solo by Jamie Bowles as the goalie, is riveting and crushing. Struggling with something inside, they kick and throw balls into the net, then end up on the grass whimpering and then screaming. It is not a tantrum we are witnessing, but someone in pain, someone not okay, someone needing help.
The Wolves was among the finest performances I've ever seen on an Encinal stage, or any stage in this town, played by young or old.
Gene Kahane is the founder of the Foodbank Players, a life-long teacher, and former Poet Laureate for the City of Alameda. Reach him at [email protected]. His writing is collected at AlamedaPost.com/Gene-Kahane.