The pumpkin spice lattes have come out of hibernation, heralding Halloween season. And to get you in the spirit, Erin Crociani's spooky art haunts the Alameda Island Brewing Company.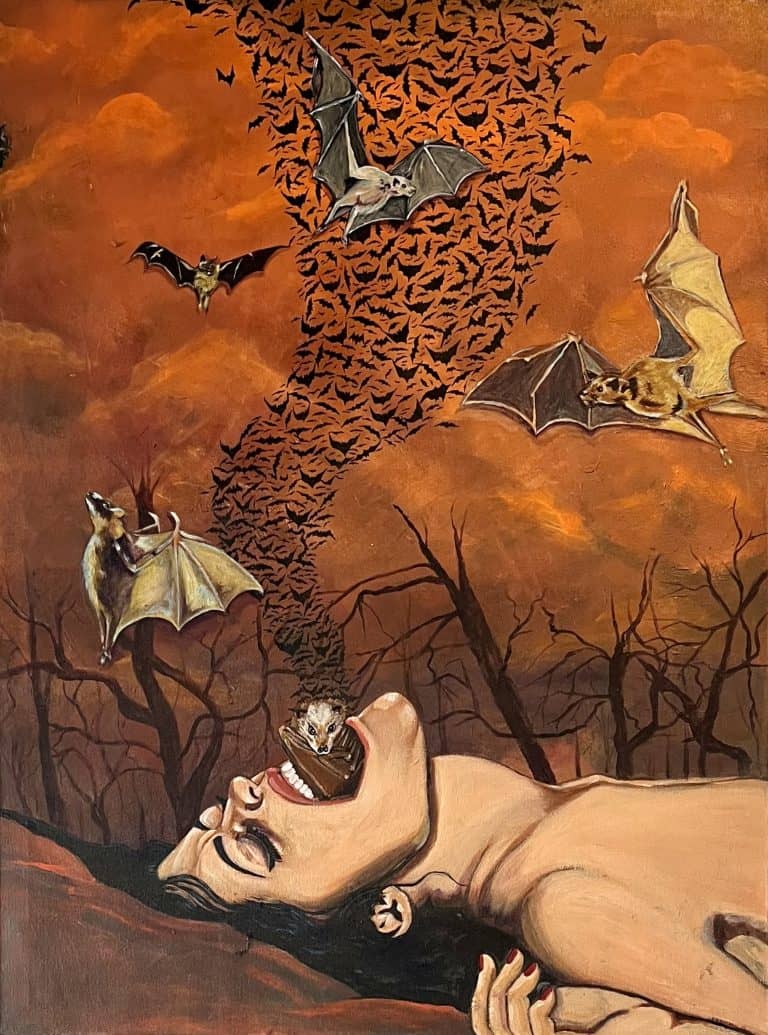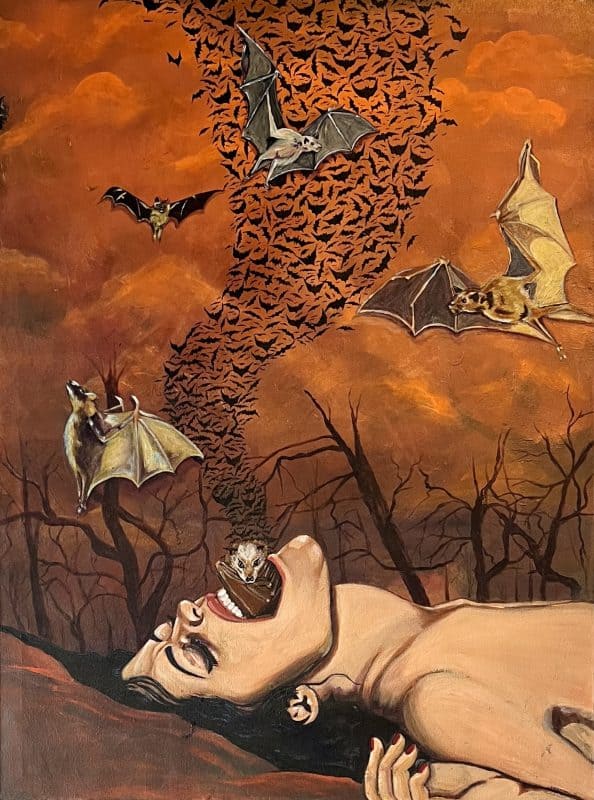 Anxiety
Of the 18 pieces in the show, three large, acrylic on canvas paintings dominate, each processing a catastrophe from the personal to universal. That includes "Breathe" (2016), in which a woman lies supine against a barren, wasted landscape. Her back arched and throat engorged, she exhales countless bats into the burnt umber sky. Here Crociani recounts the stifling anxiety she felt after purchasing a home that was overrun by vermin, her husband reminding her to keep breathing. "I was choking, trying to get the air out," she said. The artist means no disrespect to bats, and she actually has about twenty of them tattooed on her body. "Bats are my spirit animals," Crociani says, explaining her affinity. "They go on instinct, blind and fluttery. I go by my heart, instinctual, blinded by everything else around me."
Isolation
Another piece draws upon more universal trauma. Savage and somewhat grisly, "Quarantine" was painted in March 2020, reflecting the "brutal isolation" of the initial COVID-19 Shelter in Place. Bloodshot, disembodied eyeballs stare. "Everyone was so on edge and watched everyone else," Crociani said. "Don't cough. Don't move. Stay six feet apart." The piece captures the depression many felt when facing the new normal of a pandemic. Ultimately, Crociani feels hopeful. "It put things into perspective," she said. "Who is on my side. Who can I count on. …It changed my relationships. Family and friends mean a little more."
Murderesses
You have probably heard that Lizzie Borden allegedly gave her father and stepmother forty whacks each with an ax, but what of Countess Elizabeth Báthory de Ecsed, aka Countess Dracula? This Hungarian noblewoman was tried in 1611 for the torture and murder of more than 600 girls and women. Crociani painted portraits of both, in egg tempera with gold or silver leaf on wood, intending them to be the beginning of a larger series of murderesses. The artist does not intend to glorify homicide, but "when people think serial killers, they think white men," she said. "These are both very powerful women, who got away with a lot."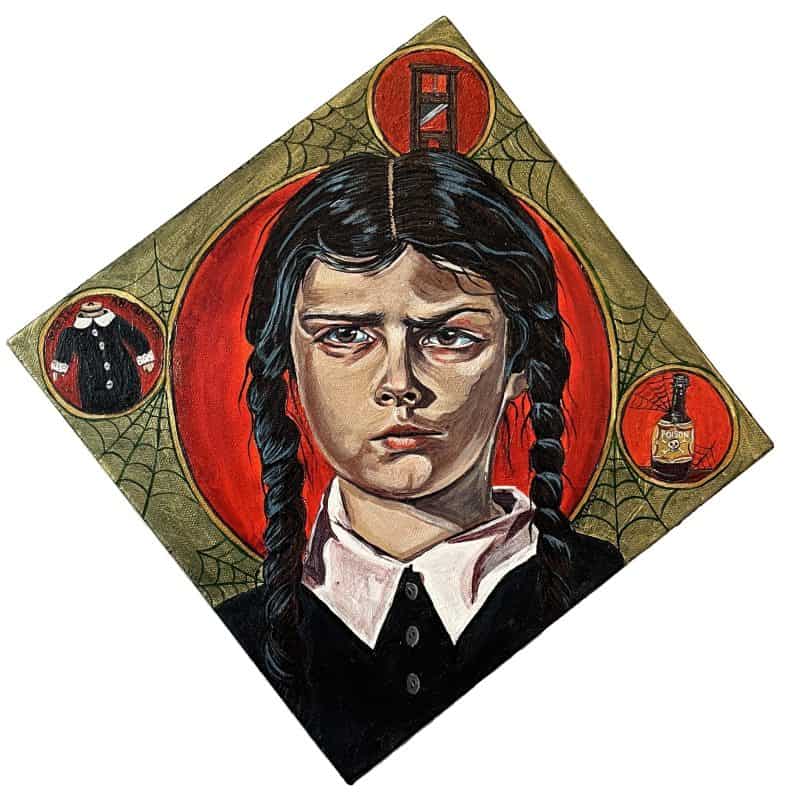 Whimsy
In a lighter vein, Crociani captures America's mysterious and ooky TV maniacs, the Addams Family, in a triptych of Morticia and her children. Each character is flanked by items with which they are associated, like shield elements on a coat of arms: Morticia with her beloved carnivorous plant Cleopatra, Pugsley with his octopus Aristotle, and Wednesday with her headless doll Marie Antoinette. At once sweet and menacing, they embody the Addams family motto: Sic Gorgiamus Allos Subjectatos Nunc, We Gladly Feast on Those Who Would Subdue Us.
Along with those family portraits, Crociani's most recent works on display are small colored pencil drawings, 5 inches by 7 inches and 8 inches by 10 inches. Crows, owls, ghost, cat, bats, ghosts, shadows, and other things that go bump in the night — each is matted and framed and modestly priced, and would be a perfect gift for the holidays, including "Goth Christmas," Halloween.
Crociani's work will be on display through the end of October. Alameda Island Brewing Company (1716 Park St.) is open Tuesday through Saturday noon to 10 p.m., and Sunday noon to 9 p.m.
Contributing writer Michael Singman-Aste covers local arts for the Alameda Post. Contact him via [email protected]. His writing is collected at AlamedaPost.com/Michael-Singman-Aste.