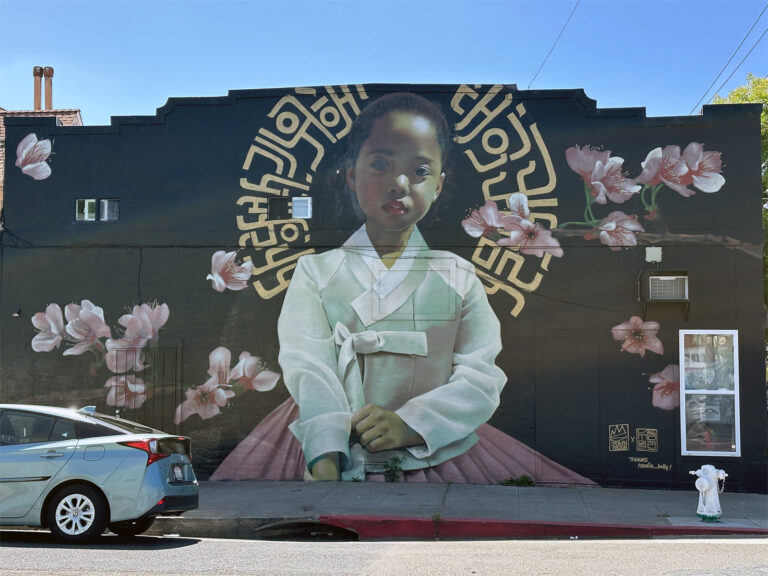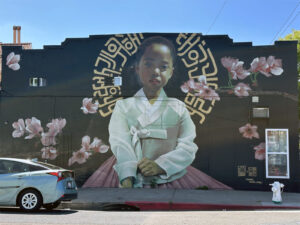 Glenn Case's work first came to my attention when I spotted his window painting for A. T. Weber early last year. After painting several iterations of their Lincoln Avenue windows, his latest work, a full-size mural featuring a Black Rosie the Riveter and other symbols of industry, has been getting a lot of attention from neighbors. It's located on the other side of the building, along St. Charles Street. Impressively, it is the second full-size mural on the block, joining the beloved mural of a young Korean girl dressed in a traditional garment on a building on the corner of the Bay Street side of the block, facing Island Savoy Market.
Glenn grew up all over the country and started his career as an artist by going to school for film and theater set design. He was working in Seattle when he met James Crespinel, who became his mentor. Now he calls the Bay Area home, and produces 25-30 original murals and artworks each year, including large projects such as the one he just completed this past week in Alameda, signage for Amoeba Records in Berkeley, memorials, and private works in homes. More examples of his work are available from his website, where you may also contact him about commissions.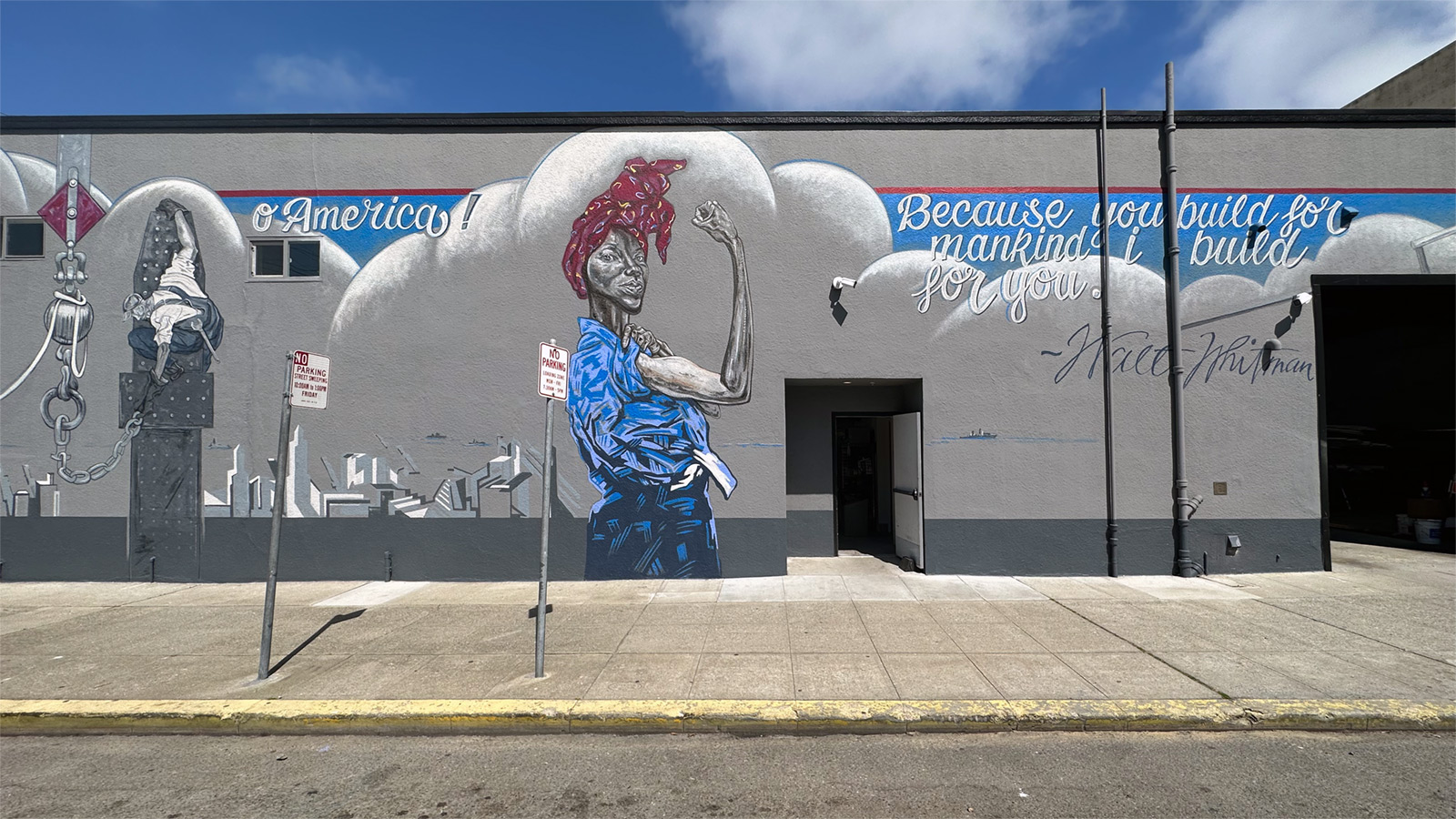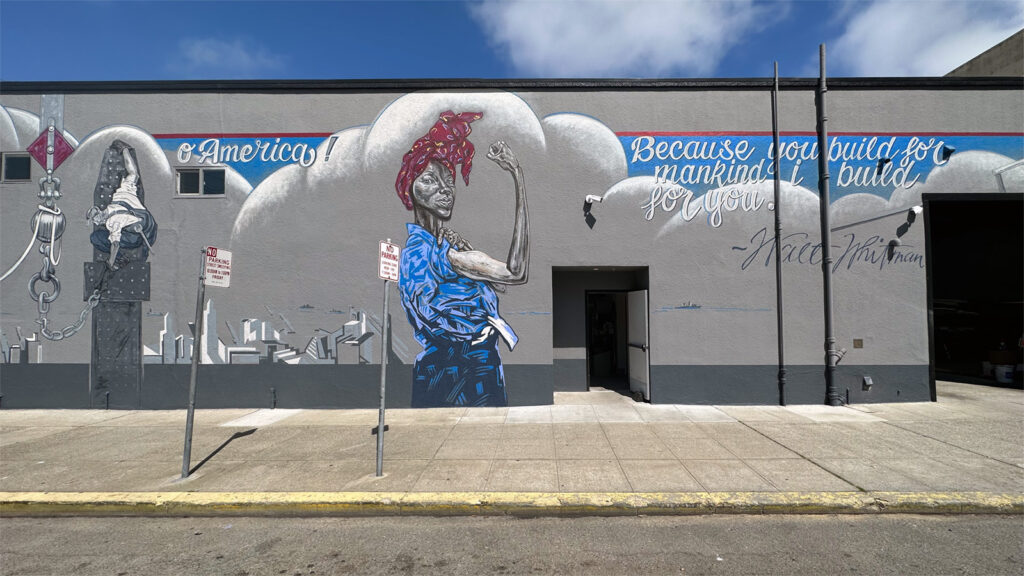 He claims artists like Case Maclaim and their photorealistic style as general inspiration for his work, but points to a variety of other inspirations for his latest mural. "I always loved Norman Rockwell's work. I took that as an illustration point style wise. I looked at his work and I looked at some historical resources of labor—particularly some of the photographs from the 1930s of the Bay Bridge being built—mixing that all in with a little bit of Communist propaganda posters. I'm definitely using Rosie as a springboard. A Black Rosie in particular, signifying local labor."
I'm always excited to see new public art in our city, whether it's a product of the Public Art Commission, which I chair, or underwritten by a local resident or business, like A. T. Weber. This mural is a particularly interesting work, featuring a plethora of details and references and meanings for the viewer to absorb. Anything would have been an improvement over a plain gray wall, but Glenn's inspired art provides a real opportunity not only to beautify the neighborhood, but also to give viewers something to think about. Here are his answers to 5Q4: Glenn Case.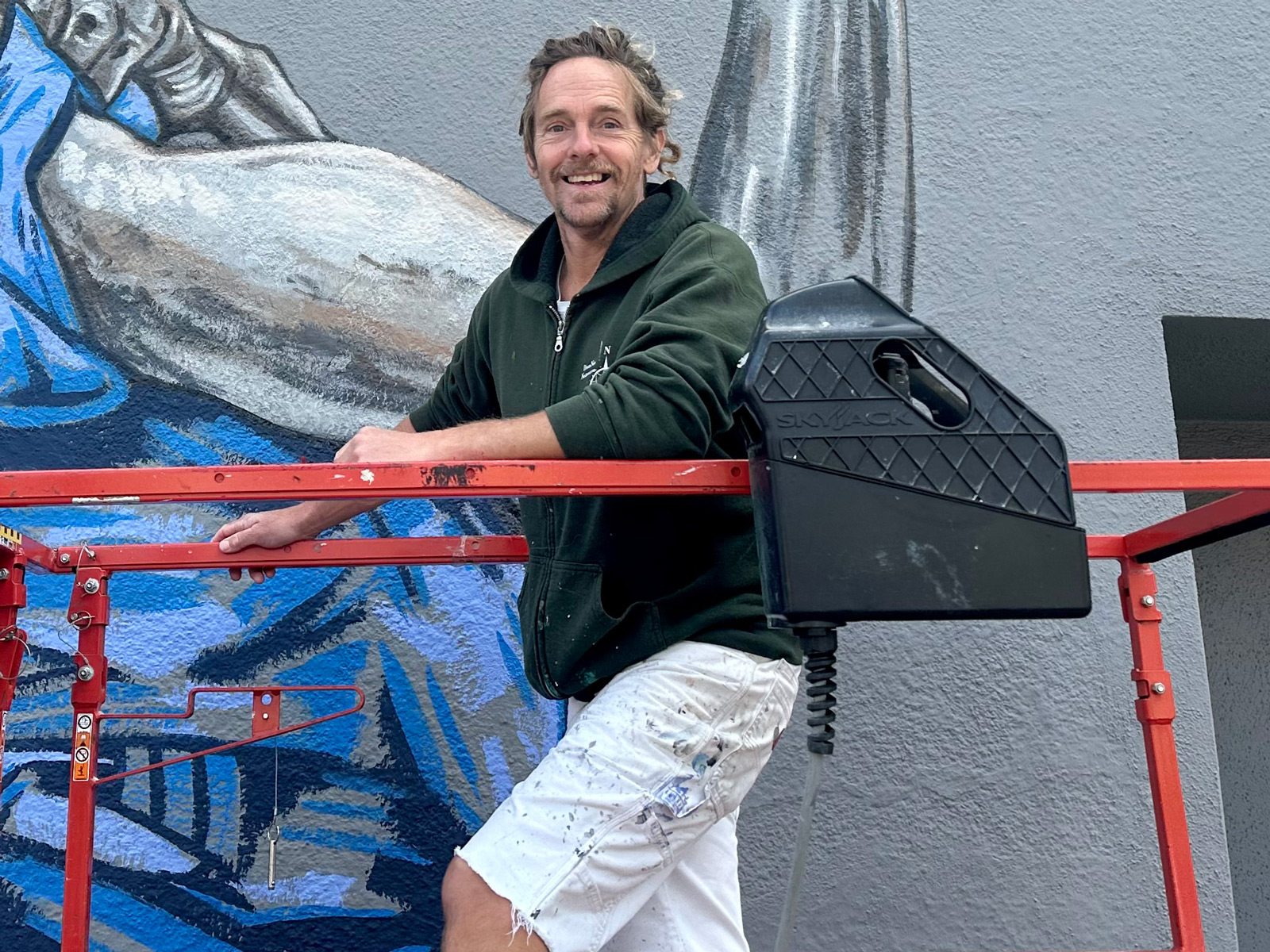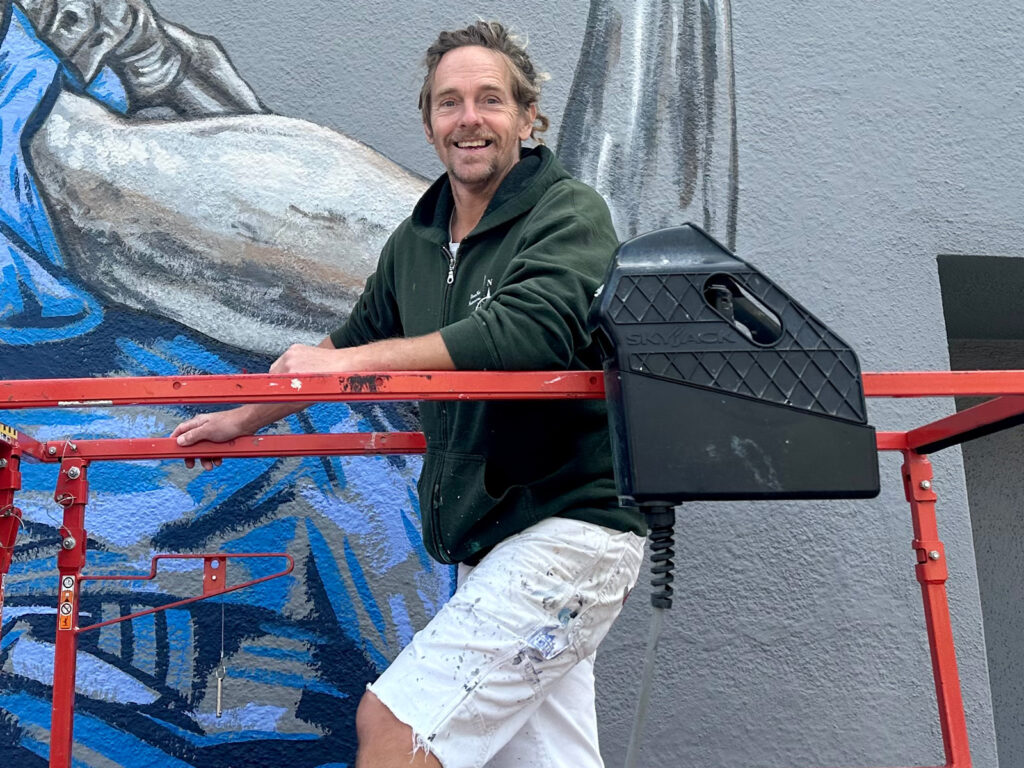 At what moment did you discover that you wanted to be an artist?
I've always been thrilled by shape and color, the elements of design. My earliest memories are those of how my environment affected my senses… my memories are very visual and cinematic. I do recall an afternoon with a giant sheet of craft paper and markers and crayons my mom surprised me with, sprawled out on the kitchen floor, just in bliss. Going for it!
Who was the most influential person in helping you to achieve your goal?
Besides my family—which is full of artsy folk, especially my mom—I want to mention James Crespinel, my mentor in the early 2000s back in Seattle. We painted together in his downtown studio, and went and did large building murals all over… well before social media and all the current hype around large mural work. I earned my chops, clambering high across cityscapes, setting up scaffolds and rigging equipment, and watching his skill in awe—the paint strokes of a master painter who had worked for decades painting all the hand-painted billboards of the '70s and '80s. What a blessing to get to learn from him. Unforgettable!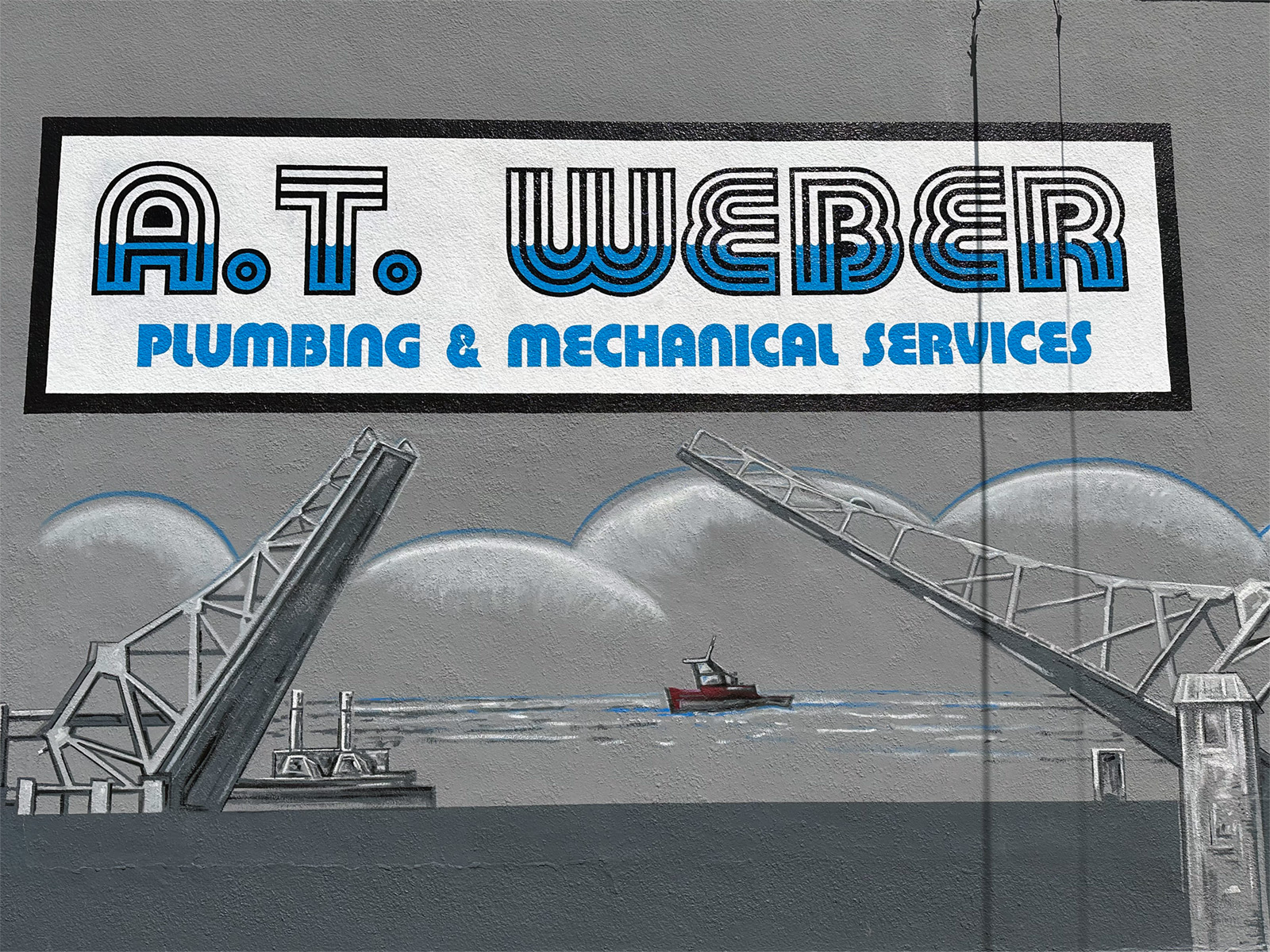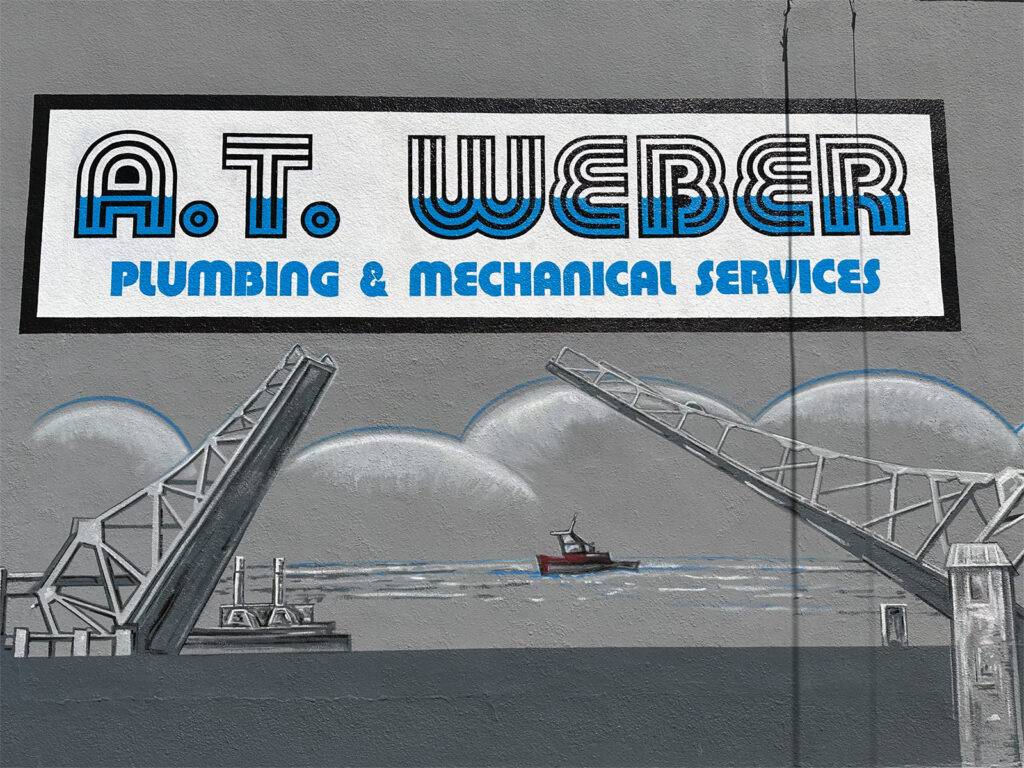 Tell us about the best—or a best—experience you had as an artist.
A couple years back I had the opportunity to paint a poolside mural for a hotel down in Merida, Yucatan. The Mexican hotel owners are young and creative and we have become friends. This was an amazing 10 days.
Conversely, tell us about a pretty bad experience.
I flew to Seattle from my home in Australia to do a mural I had been organizing for weeks. Once I got there, I discovered that the client had not been prepared as expected. This was a real waste of time and effort, and in the end I just flew back to Australia. Good lesson, though.
Any advice to folks out there hoping to pursue a life in the arts?
Make sure you have a few skills in your bag before imagining a commitment to a life as an artist. Hollywood loves to portray the artist's life in a romantic or glamorous way, but generally it takes a lot of guts to make a go of it. It's real work.
Adam Gillitt is the Publisher of the Alameda Post. Reach him at [email protected]. His writing is collected at AlamedaPost.com/Adam-Gillitt.