Anniversary Celebration features East Bay Artists Exhibit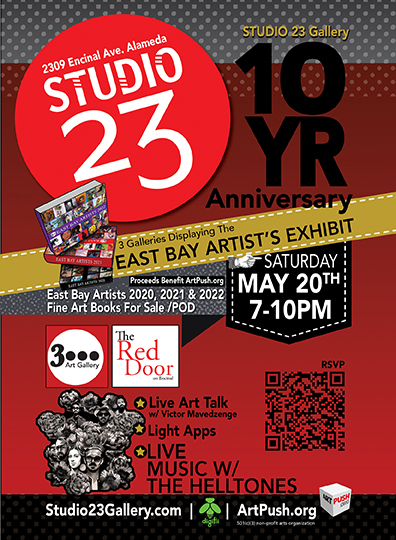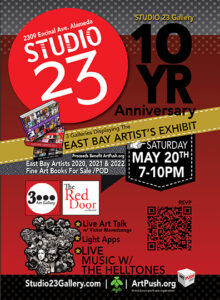 Alameda's own Studio 23 Gallery is gearing up to celebrate a momentous milestone—its 10-year anniversary. A decade ago, in 2013, Studio 23 embarked on its artistic journey with a show titled "Show Me Your City." Now, a decade later, the gallery is ready to commemorate this special occasion in grand style.
To honor this milestone, Studio 23, 3Dot Art Gallery, and The Red Door have joined forces to present an impressive exhibition featuring artists from their celebrated East Bay Artists Books. This special event promises an evening filled with captivating art, live music, delectable appetizers, and an engaging artist discussion panel.
Age: All Ages
When: Saturday May 20, 2023. Doors open at 7 p.m.

Artist Discussion Panel with host Victor Mavedzenge 7:30 to 8:30 p.m.
Live Music w/ The Helltones 8:30 to 9:15 p.m.
Three Open Galleries: Studio 23, 3 Dot, and The Red Door 7 to 10 p.m.

Where: 2309 Encinal Ave.
Cost: Suggested Donation (sliding scale) $5 to $20. Donations will continue to support ArtPush art events, projects, and workshops. Paypal or Venmo to ARTPUSH.
Contact: Email

[email protected]

or call 415-580-2300 (leave voice message)
Dress: Artist Business / Artist Casual / Artsy Fartsy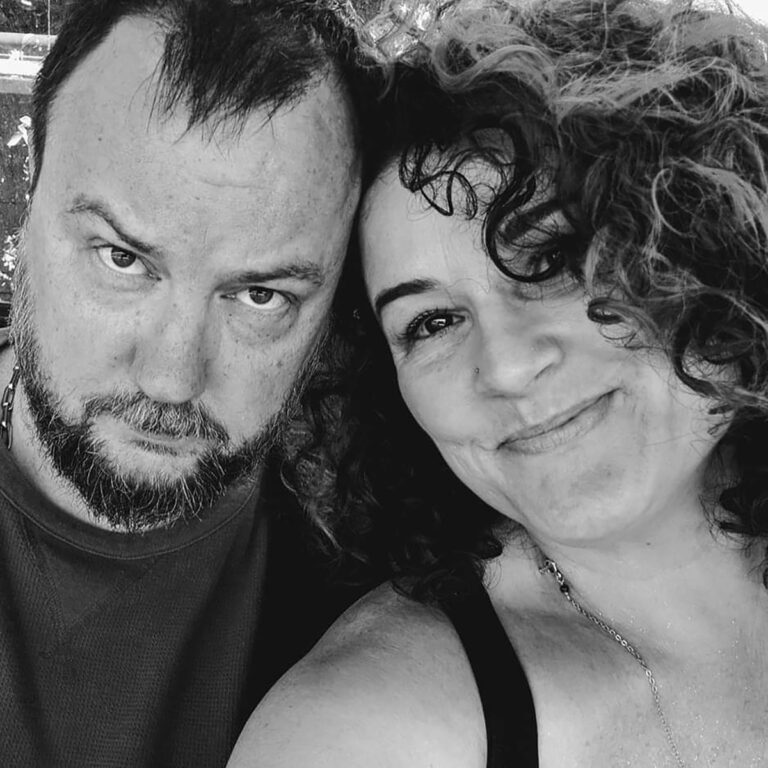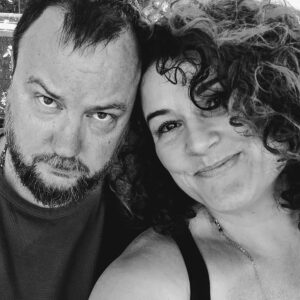 Jessica and Wesley Warren founded Studio 23 a decade ago, setting the stage to support a vibrant art community in Alameda. This dynamic duo, who had only recently made Alameda their home, began by organizing sketch Meetups, inviting artists from all corners of the East Bay to join them in their creative endeavors.
Studio 23 soon emerged as a hub for artistic expression, inspiring the Warrens to encourage other artists to open their own studios nearby. This collaborative effort gave birth to a diverse community of artists, each with their own unique backgrounds and artistic styles.
The Warrens' marketing acumen and artistic prowess propelled Studio 23 to new heights. They spearheaded multiple events, including the popular Second Friday Art Walks in Alameda and Jingletown, skill-building workshops, music and film events, the annual Alameda Summer Art Fair & Maker Market, and the popular Black Light Art Show. Additionally, they launched the captivating 2nd Friday Art Talks, featuring in-depth interviews with artists featured in these eclectic art compilations.
They used their platform to support causes close to their hearts, including the Creative Art Program, a collaboration of ArtPush and Girls Inc., as well as fundraising initiatives for Friends of the Alameda Animal Shelter (FAAS), Ukraine, Standing Rock protest, the Ghost Ship Fire, and more. Studio 23's influence has reached far beyond Alameda, attracting artists from across the country to this vibrant community.
Initially self-funded, the Warrens' endeavors received a tremendous boost when a group of artists formed ArtPush to facilitate fundraising and amplify their impact. Amid the challenges posed by the pandemic, when traditional open studio art shows were not possible, ArtPush responded ingeniously. They published a series of books starting in 2020, showcasing the works of 100 diverse artists each year, commencing with the East Bay Artists collection. The artists featured in the books are the foundation for the evening's exhibit. The East Bay Artists books from 2020, 2021, and 2022 are available for purchase from BookBaby Bookshop.
Kicking off Saturday's festivities, local artist Victor Mavedzenge will take the stage for a live art talk. Joining him will be a lineup of exceptional guests, including the legendary TheArthur Wright, known for his groundbreaking work utilizing bleach as a medium, who will share insights into his unique artistic style. The event also will feature Maddie Aub, an artist, traveler, and spiritual explorer, as well as Matthew Felix Sun, whose turbulent blue strokes evoke a profound sense of melancholy.
Studio 23's 10-year anniversary celebration is not to be missed, whether you're an avid art collector, an occasional admirer, or simply seeking a memorable night out. This event serves as a vibrant homage to the thriving art community of the East Bay and the multitude of talented artists who call it home.
Join Wes and Jess and Studio 23 in this extraordinary celebration of art, music, and community, of their 10-year journey. The event promises to foster connections and ignite the passion that unites us all—the relentless pursuit of creativity. The Alameda Post joins residents of Alameda in expressing heartfelt gratitude to the Warrens for their unwavering commitment to the well-being of the community through art. Studio 23's incredible legacy continues to inspire and nurture the artistic spirit, fostering a sense of belonging and creativity among artists and enthusiasts alike.
Adam Gillitt is the Publisher of the Alameda Post. Reach him at [email protected]. His writing is collected at AlamedaPost.com/Adam-Gillitt.