As I glided back towards land in my kayak after about two hours out on the waters of Big Break Regional Shoreline, I started to notice that the shoreline looked different. A couple of hours earlier, the kayak launch site had been a little muddy, but firm enough to walk on and easily launch the kayak. But now the tide was reaching its low point for the afternoon, and there was a lot more exposed bay mud. I paddled in as quickly as I could, hoping to drive my kayak as far as possible up towards shore. It soon grounded on the mud below the water, though, and as I stepped off, my leg sunk into the muck up to my knee.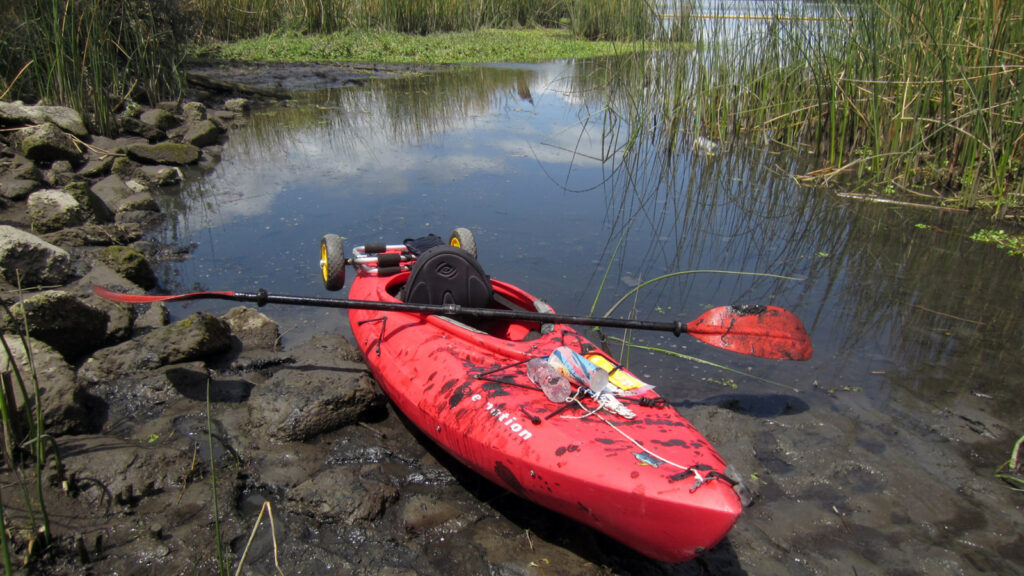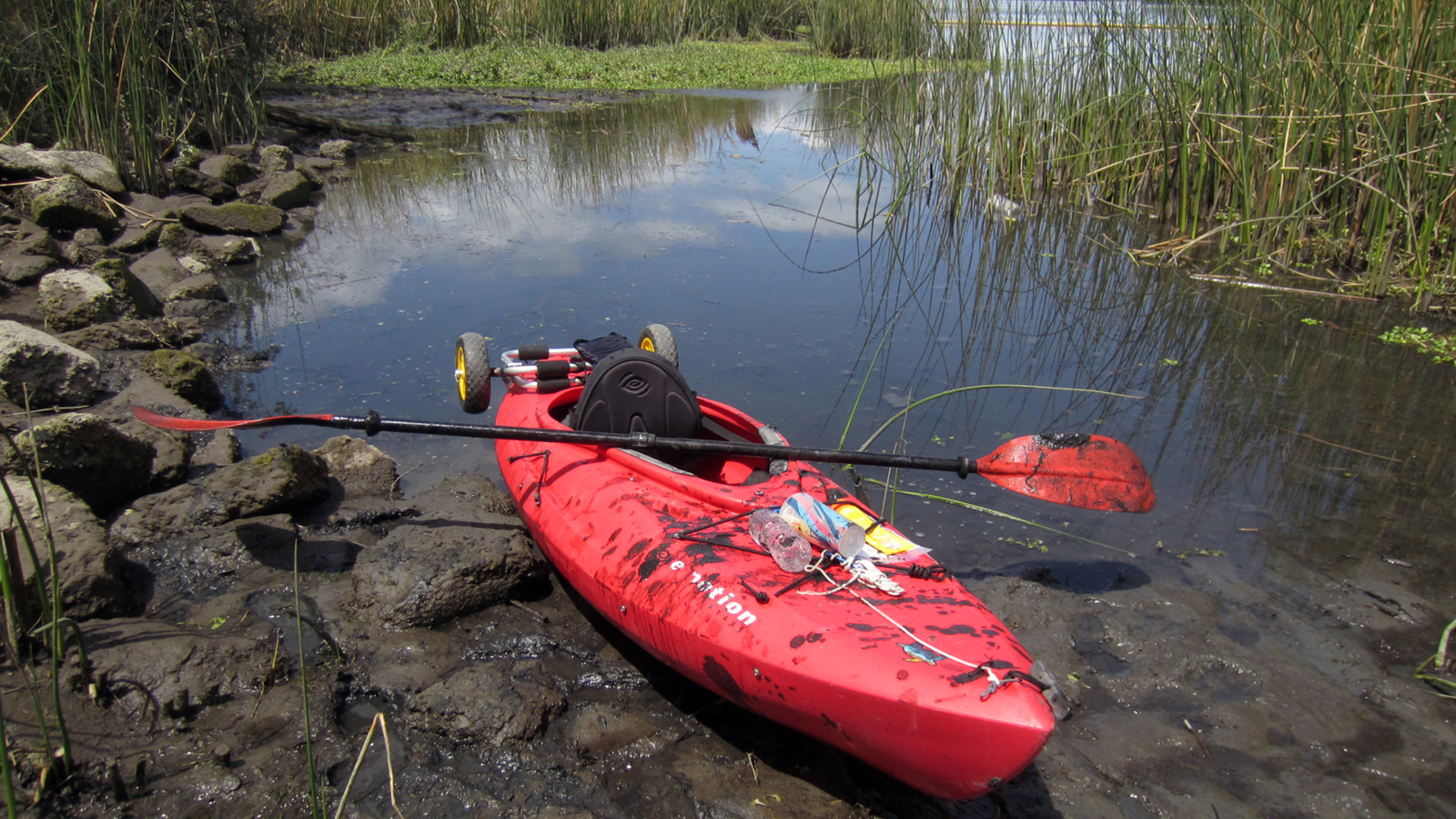 I tried to pull my foot out, but it was like trying to draw a plunger out of a sealed tube. The stickiness of the mud combined with the vacuum created by the seal meant that anything that sank into it was not easily coming out. This can actually be a serious situation, and many people have died stuck in bay mud at low tide as the tide came back in and drowned them. In fact, a tragedy like this happened recently in Alaska and was reported by the Associated Press (and featured on KRON).
Stuck in the mud
My leg was stuck fast, so I leaned over and reached my arm in, just far enough to grab my foot under the mud. By pulling up hard on my river sandal, I was eventually able to break the seal a bit, and allow some air to enter. This allowed me to finally pull my leg out, which was now covered in black mud, along with my arm. But what to do? I couldn't step onto the mud again, I couldn't paddle, and waiting for the next high tide could take four to five hours.
I tried pushing on the mud with my paddle, but it just sunk in, too. In desperation, I sat atop the front of my kayak, straddling it. From this position I was able to push myself forward inch by inch as my feet sank into the mud, but less so since I wasn't putting all my weight on them. After much struggle, I finally made it to shore, where I spent the next half-hour trying to clean myself and my gear up as best I could before heading back to the car.
In retrospect, I should have checked the tide tables, because I'd had a previous experience like this and should have known better. In my defense, however, I thought that because this was an official kayak launch ramp, it would be accessible at all tide levels. And the visitor center staff had given me no warning or heads-up about this danger when I checked in with them that morning. Nevertheless, every outdoorsperson and boater has to be fully responsible for their own safety, so this was another lesson learned.
EBRPD's most northeastern park
The unexpectedly difficult ending to my day at Big Break Regional Shoreline did not dim my enthusiasm for the place. Exploring the California Delta has long been on my list of things to do, with Big Break at the top of my list of potential kayaking sites. Nestled among the Oakley wetlands, it's the East Bay Regional Park District's most northeastern park, and is a great place to learn about all things Delta. Visitors can learn about the California Delta at the visitor center, read interpretive signs along the trails, walk on the 1,400-square-foot Delta Discovery Experience map, fish or birdwatch from the 100-foot observation pier, and kayak or canoe on the waters of Big Break and beyond.
Early history
The Julpun, a Bay-Miwok tribe, lived and thrived along these shores for many generations. It is estimated that people have inhabited this area for over 4,000 years. By the 1770s, European expeditions started to arrive, including Spanish explorer Juan Bautista de Anza in 1776. They were followed by American and French trappers, and in the early 1800s many of the Julpun were forced into the Spanish mission system. Mexican independence led to the abolishment of the mission system and the start of the rancho system—large ranches granted to retired soldiers. Eventually most of those ranchos were sold to Americans. A local example of this is William W. Chipman and Gideon Aughinbaugh purchasing the Alameda peninsula from rancho owner Antonio Maria Peralta in 1851.
Gold rush
The California Gold Rush of 1849 produced dramatic change in the entire Delta. It sped up the transfer of land to American settlers, and spurred widespread wetland "reclamation," or drainage. As California's population boomed, many unsuccessful gold-seekers settled in the Delta region to farm its rich soils. They built towns and levees, drained wetlands, and grew potatoes, beans, onions, asparagus, and Bartlett pears. By 1930, reclamation had created 57 human-made islands, encompassing 555,000 acres. Today, agriculture is still the primary land use, especially for growing corn, other grains, tomatoes, pears, and specialty crops. Big Break is named for a 1928 break in a levee that flooded an asparagus farm, creating a bay along the shoreline. The levee was never repaired, and today the old farm lies beneath the waters of Big Break.
But what is the Delta?
The California Delta, also known as the Sacramento-San Joaquin River Delta, collects half of all the freshwater in the state. The Sacramento River flows from the north, where it originates in the Klamath Mountains. Flowing south for 400 miles, it eventually meets up with the San Joaquin river, which originates in the High Sierra. Together, these two mighty rivers create the California Delta, as their waters flow toward the Pacific Ocean and start to mix with saltwater. This mixing of freshwater and saltwater forms the largest estuary on the west coast of the Americas, and a rich environment for wildlife. About 500 plant and animal species inhabit the region.
The Delta today
Today the Delta is not only a center of agriculture, but also a place for recreation. In addition to the residents who live in its towns and cities, thousands of visitors flock to the Delta each year for boating, fishing, camping, hiking, hunting, birdwatching, and to enjoy its history, food, and hospitality. Towns such as Isleton and Locke feature a wealth of history related to the Chinese settlement of the area, and many old buildings from this period have been restored.
Back to Big Break
Despite my muddy experience at Big Break on my first visit, I had such a good time exploring the waters and seeing wildlife that I planned a trip for the very next weekend, this time with my wife Edie. And this time, I'd make sure the tides were favorable. We decided to spend the night before in the area, so that we'd already be nearby for a morning paddle the following day. That would also give us some time to explore the Delta cities of Isleton and Rio Vista. We camped at nearby Brannan Island State Recreation Area on a Friday evening, and were on the water at Big Break Saturday morning at high tide.
My muddy experience the week before gave me the knowledge of what to avoid this time, and we spent a perfect couple of hours on the water, enjoying 85-degree temperatures, low winds (always important when kayaking), and abundant wildlife sightings. Even if you don't kayak or canoe, a trip to Big Break is worthwhile to enjoy the peaceful shores, walk the trails, check out the visitor center, and see the local wildlife, including egrets, great blue herons, and river otters. The Big Break Regional Trail also connects with the Marsh Creek Trail, which makes its way for eight miles along Marsh Creek into Brentwood, in eastern Contra Costa County.
An easier return this time
As we glided back to the kayak ramp after two wonderful hours on the water, I was relieved to see that the ramp was still in good shape. The water level was high enough and there was little chance of getting stuck in the mud this time. In addition, this visit was even better than the previous week's in that we spotted a number of heron nests that I had missed on my previous visit, and Edie sighted a couple of river otters along the shoreline—one of which I was able to photograph. All in all, it was a great little getaway to the Delta, another Bay Area Treasure.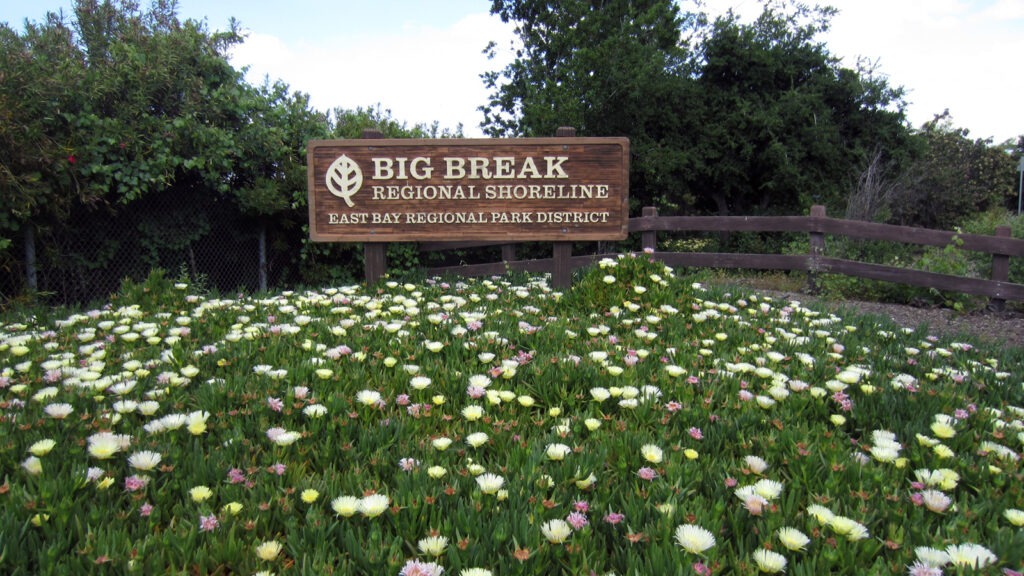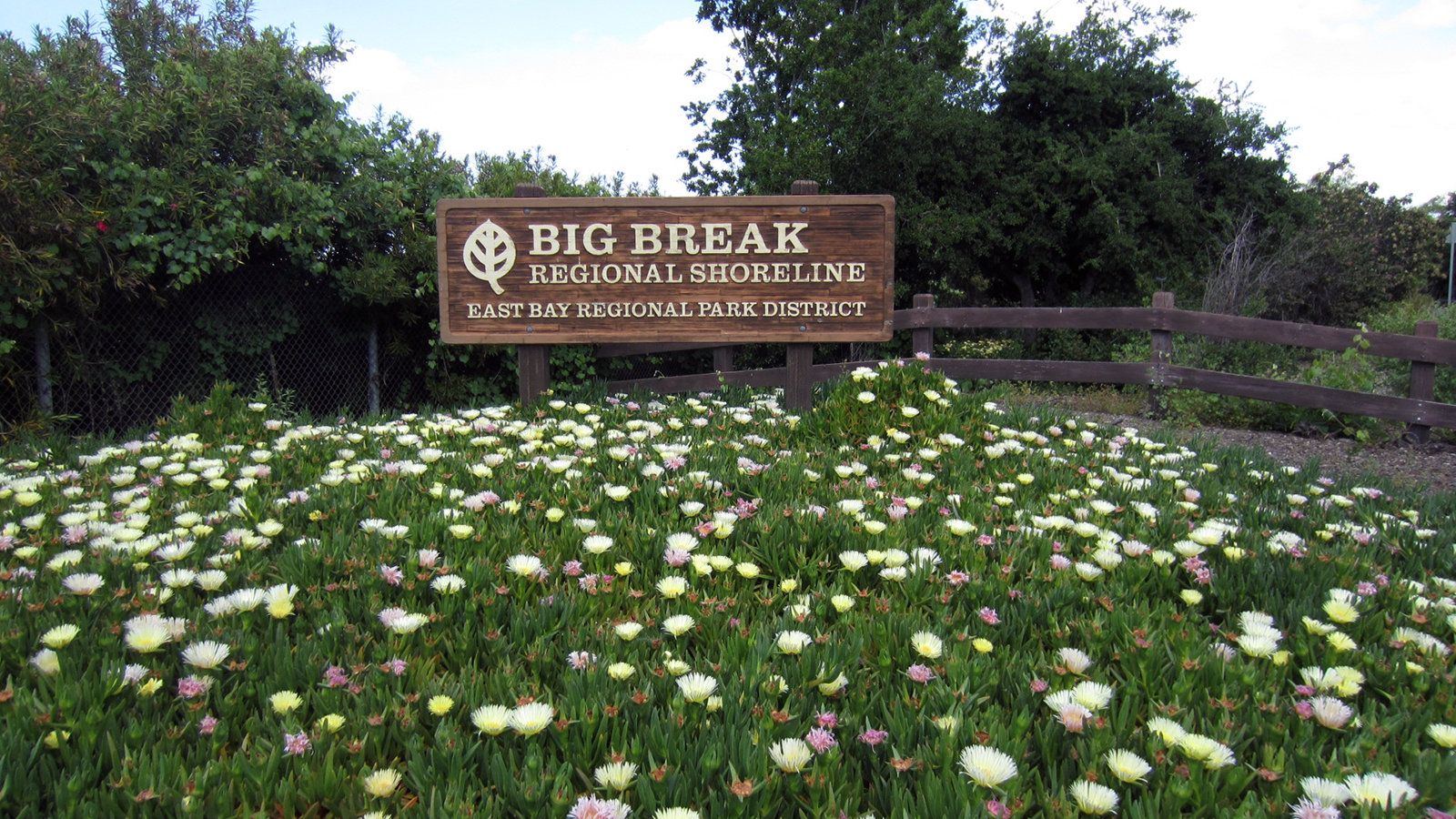 If you go
Big Break Regional Shoreline is 45 miles from Alameda, and is open June through September 8 a.m. to 7 p.m. (closes at 6 p.m. in October), November through February 8 a.m. to 5 p.m., and March through May, 8 a.m. to 6 p.m. The Visitor Center is open Wednesday through Sunday, 10 a.m. to 4 p.m.
Parking and entrance are free. Loaner kayak carts are available free of charge, for rolling your kayak down to the water (a 10-minute walk from the parking lot).
Big Break Regional Shoreline is located at 69 Big Break Road in Oakley. Download a park map and brochure online. For more information, call 510-544-3050 or visit the park website.
Contributing writer Steve Gorman has been a resident of Alameda since 2000, when he fell in love with the history and architecture of this unique town. Contact him via [email protected]. His writing is collected at AlamedaPost.com/Steve-Gorman.