Of the four holiday seasons I spent with my eccentric Italian American step-family, the season of 1968 was the strangest.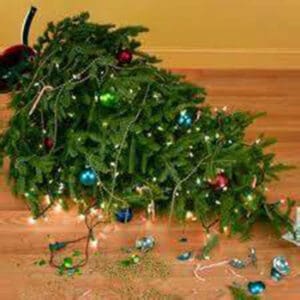 It started on Christmas Eve morning, when I was summoned from my front lawn mowing to the expansive kitchen of my Nonna Kate's beautiful Broadway Victorian. To my amazement, I witnessed her tearfully praying to a frozen zucchini, which supposedly bore the image of a religious icon. Later that night, a heavily inebriated Nonna was injured by a drunken dinner guest, whose impromptu living room square dance and errant do-si-do propelled Nonna into the Christmas tree, spraining her knee and demolishing the tree.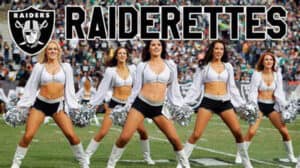 During that night's bibulous "Feast Of the Seven Fishes," Cousin Donna, a gorgeous 18-year-old Oakland Raiderette cheerleader, announced that she had invited her boyfriend, a handsome Raiders linebacker named Russ, to Christmas dinner the next day. She also told the shocked assemblage that she would be accompanying Russ to the upcoming AFC Championship game at Shea Stadium in Queens, New York, where the Oakland Raiders would face the New York Jets and fabled quarterback "Broadway Joe" Namath.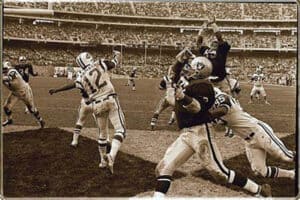 Because Nonna was nursing a massive hangover and a sore knee on Christmas Day, she had to delegate the Christmas dinner preparation to Aunt Margaret. But Aunt Margaret was too upset by her daughter's travel plans to prepare dinner, so she delegated dinner to the only other cook in the family, the perennially grouchy Uncle Mingo. Although Uncle Mingo was concerned with his young niece's trip, he was also an avid Raiders fan, and relished the opportunity to meet and feed a member of the team. Christmas dinner was postponed one day, until December 26.
That morning, Uncle Mingo was on the phone, delegating to me. I was to ride my bike to Nonna Kate's and help him to prepare a menu of tossed romaine lettuce with vinaigrette and cambozola cheese, arancini, and osso buco with Jardiniere sauce.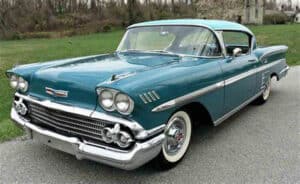 When I got to Uncle Mingo's basement apartment, he was red-faced, flustered, and breathing heavily. He handed me the keys to his 1958 Chevy Impala and said, "Go up to see Tim the butcher at the New Island Market (Where Stanford Healthcare is now) and get 12 veal shanks, and two heads of Romaine. Then go to the Alameda Delicatessen (where Viva Taqueria is now) and get me half a pound of Cambozola, half a pound of Parmigiano Reggiano, a box of arborio rice, some sweet butter, a square of focaccia, and a tiramisu.  Then come back and raid your Uncle Dante's wine cellar for three bottles of Soave and three Valpolicella. Got it?"
Having the excellent memory of a 16-year-old, I had it. I started his teal-blue Impala, gunned the big V-8 engine, roared down the driveway, turned right, and sped up Broadway, almost running the four-way stop at Encinal Avenue. I loved the power of the big car, so I floored it and made the left at Central Avenue doing a tire-squealing 30 mph. I roared into the parking lot at the New Island Market and slammed on the brakes with another satisfying screech of the tires.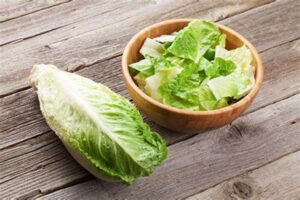 Tim had Uncle Mingo's order ready, as did the Alameda Delicatessen. I roared back into his driveway. He ran from his apartment and grabbed the bags. I followed him into his kitchen and noted that all his prep was done. He had a hot cast-iron skillet on his old Norge stove, and two baking pans filled with mirepoix. He deftly dusted the veal shanks with flour, and quickly browned them in the skillet. He then placed the shanks in the baking pans, seasoned them, drizzled them with Soave, covered the pans with foil, and placed them in a low oven, for a slow braise.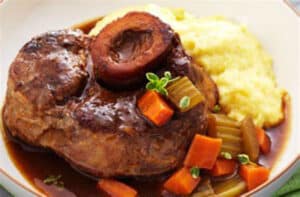 As the kitchen filled with delicious aromas, Uncle Mingo used a similarly skilled procedure to prepare the arancini. Within 30 minutes, the delicate balls of risotto were in the fridge, firming up for frying. The romaine was washed, trimmed, dried and refrigerated, and the cambozola diced. All that was needed was the arrival of the guest of honor.
The whole family was standing in Nonna's kitchen when Cousin Donna and Russ arrived. She looked spectacular, in tight white jeans and a black leather jacket, her gleaming jet-black hair hanging straight down her back. The tall, husky, crew-cut blonde linebacker was dressed like he was going camping, in faded blue jeans and an old Pendleton shirt. The contrast was striking.
Cousin Donna began introducing him to the family. "…. And this is Uncle Mingo, and the big lump next to him is Cousin Gil, who I call The Fat Wonder."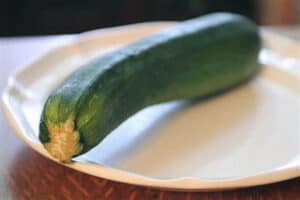 "Quit picking on Gil!" yelled Nonna. "He says that someday he'll be a writer, and tell all about  us, and then he'll write my biography, called 'Sugar and Spice!'"
"Like hell!" laughed Uncle Mingo. "He'll call it 'The Crazy Old Lady Who Prayed to Zucchinis!'"
Russ laughed and said, "She does that too? My ma prays to a russet potato, she says it has Moses on it. Now there's two crazy old ladies!"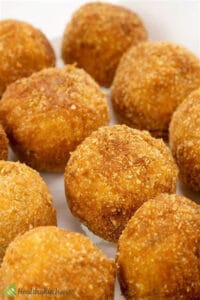 Nonna Kate glared at Russ with a malevolence that can best be compared to that of Norman Bates, the homicidal maniac in the movie Psycho, when he looks into the camera and says, "She wouldn't even harm a fly."
Aunt Margaret felt the chill in the mood, and said, "Let's all sit at the dining room table and have a nice glass of wine while Mingo and Gil get dinner."
"I hate wine!" Russ bellowed. "I want a glass of milk."
As Aunt Margaret ran back to her house for the milk, Uncle Mingo and I went downstairs to his apartment for the food. "I tell ya, Gil, the guy's oobatz (crazy)," he said. "No manners."
Because of the icy atmosphere at the table, we elected to serve everything at once, like a buffet. Russ continued his descent into dating oblivion by reciting a clumsy anecdote. "You guys will like this one," he said. "When I told my ma that me and Donna was gonna have osso buco tonight, she says—now get this—'Well, aren't you gonna marry her first?' Ha! She thought that me and Donna was gonna…"
"They get it, Russ!" interrupted Cousin Donna, with embarrassment.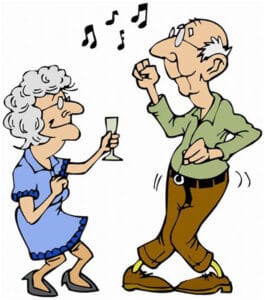 Russ's seamy innuendo had clearly upset Uncle Dante as well. Angrily, he barked, "Donna, I got a friend named Nunzio Baldini in Brooklyn. When you're in New York, if anyone bothers you, you call Nunzio at Patsy's Restaurant, tell him you're Dante Giusto's daughter, and he'll send his crew to save you."
Russ looked very uncomfortable as the ice in the room turned to a glacier. My step-dad, Bobby, tried to warm things by asking,"Hey Russ, what does your coach tell you guys before a big game like the AFC Championship to get you ready to play?"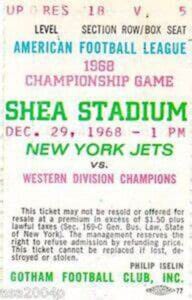 Russ thought for a moment, then said, "Well, he tells us that we were all hired to play football and win football games, and if we play good and score the most points, we'll probably win."
Dad looked at Russ vacantly and commented "Wow, that's profound."
Russ quickly answered, "No, I think the coach is German."
Uncle Mingo was tired of Russ and barked, "Okay, everybody, dig in!"
Russ shoveled some salad onto his dinner plate and exclaimed, "This salad gots cheese in it!"
Uncle Mingo poked me and whispered "Gots? The grammar from this schmuck!"
Russ poked at the salad, ate a bit of cambozola, grimaced, took a sip of milk, and stated "This milk is off. I want an iced tea."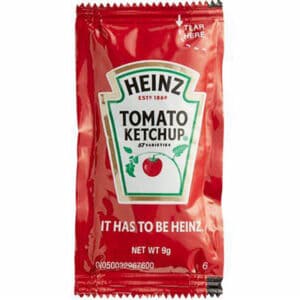 Aunt Margaret shrugged, muttered something, and stood up to go back home and make iced tea. A distressed Cousin Donna rose to go with her. Russ watched them leave and yelled "Make it extra sweet!"
He then committed a fatal faux pas. With Uncle Mingo watching, he tasted the arancini,  licked his lips, fished in his shirt pocket, and pulled out a handful of ketchup packets. He tore a couple open, then liberally squirted ketchup all over his dinner.
Uncle Mingo grew red faced, and his temper detonated. "Oh, BS! Are you for real? Ruining my beautiful food with that?"
Russ looked bewildered and barked, "What's your problem, Mingo? I carry ketchup and pour it on everything!"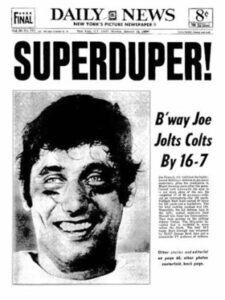 Worried about Uncle Mingo's weak heart, I calmed him by loading two plates with food, and saying, "Let's go downstairs and eat." The rest of the family just sat at the table in stunned silence.
In his apartment, Uncle Mingo's anger subsided after I tasted the meal and told him, "Uncle Mingo, the salad is amazing, the arancini are light, greaseless and perfect, and the osso buco is magnificent."
He  nodded gratefully, smiled a sardonic grin, then said, "Actually, it's better this way. Now I don't have to tell that moron that I bet on Broadway Joe to have his revenge and beat the Raiders this Sunday and then to go on and win the Super Bowl!"
On Championship Sunday, Uncle Mingo gloated over his winnings, and a subdued Cousin Donna watched the game on TV with us. There was never a mention of Russ.
The NFL conference championship games this Sunday pit the Kansas City Chiefs against the Cincinnati Bengals in the AFC, and the San Francisco 49ers against the Philadelphia Eagles in the NFC. Winners of those games will face each other in the Super Bowl on February 12, 2023.
Gil Michaels picks the Niners at [email protected]. His writing is collected at AlamedaPost.com/Gil-Michaels