The Tap Dancing Christmas Trees have been lighting up Alameda for nearly 30 years, and Lori Cassels has been a fan of the tinsel-toed tappers for the 17 years she has lived on the island. So when the idea came to her to make a documentary about the dance troupe, it was like a light bulb lit up—a flashing, green Christmas tree light bulb.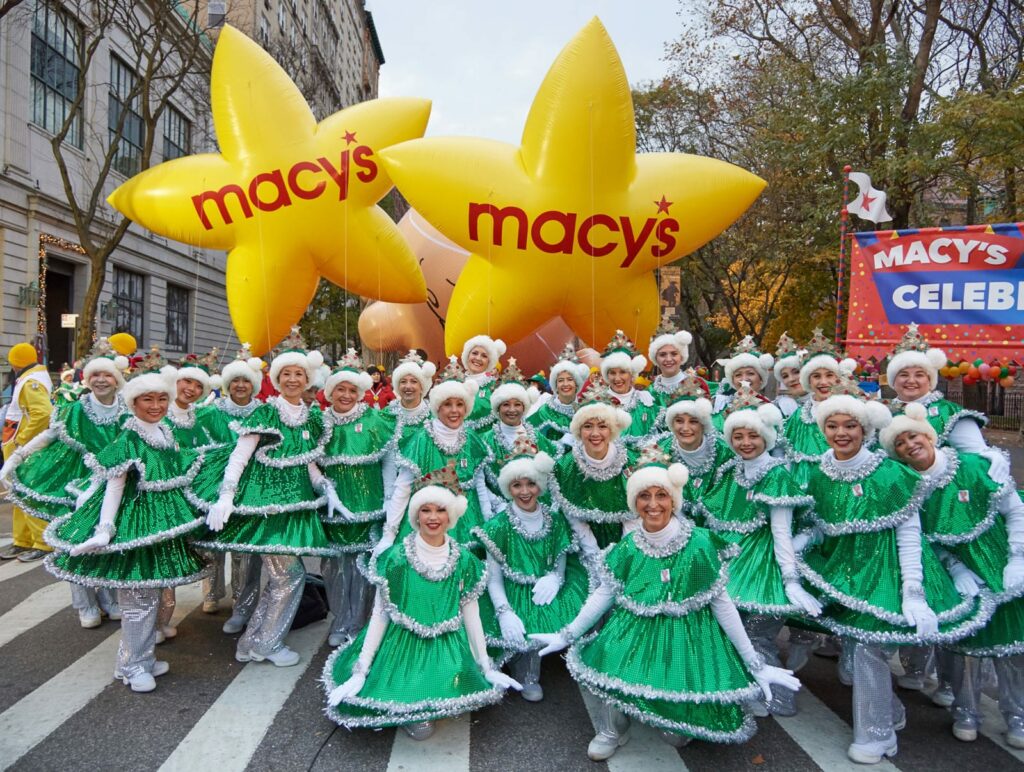 "They bring me joy," Cassels told the Alameda Post. "When I first moved to Alameda in 2006, I'd watch them come up Santa Clara Avenue and do the mayor's tree lighting and I remember being enthralled. Every time I knew they were going to be somewhere, I'd go there. So I'm a groupie, a fan."
Through her years of living in Alameda, Cassels has become friends with members of the Tap Dancing Christmas Trees. One night at dinner, a friend who is a "Tree" was telling her about this year's Macy's Thanksgiving Day Parade performance and how there are three generations of dancers involved. "That should be a documentary," Cassels thought.
The retired teacher for the blind and visually impaired was also inspired by Patti Cary, who created the film Alameda earlier this year. Cassels said she figured, "If she can do it, I can do it. So that was kind of my inspiration for the documentary."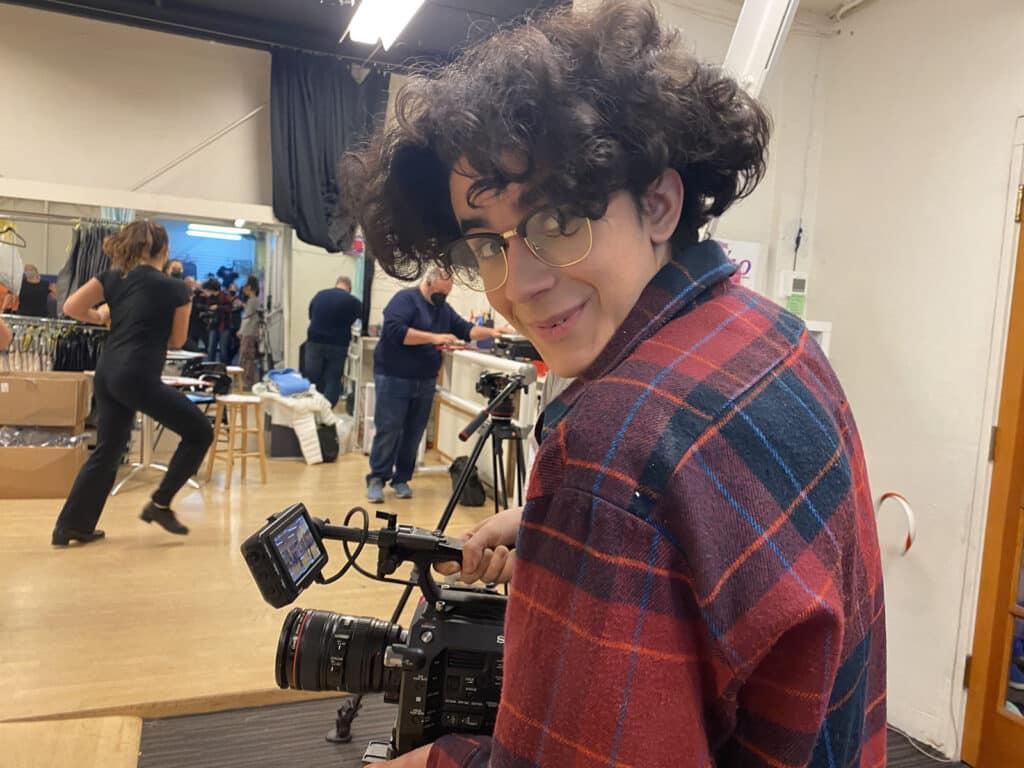 Students on the Set
Once Cassels decided she was going to make the film, she teamed up with Shaun Daniels of Castaway Creative, a video production company and facility on Bay Farm Island. The producer is also a big fan of the Trees, whom he calls "almost overwhelmingly adorable." He recommends everyone catch a tap performance after dark because it's particularly delightful when their costumes light up. Through Daniels' nonprofit, Students On The Set, local Alameda high school students have signed on to work on the documentary.
Daniels started Students On The Set (SOTS) three years ago. He wanted to create a program that gives young people hands-on video and digital film experience.  "We teach the real-world basics of production and working with clients in business, civic and artistic arenas," the nonprofit's website states.
At the beginning of the school year, Daniels goes around to every high school and college digital media class in Alameda to advertise the program. SOTS has worked with students from Alameda and Encinal high schools, and Alameda Community Learning Center. So far, 11 students are involved in making the Tap Dancing Christmas Trees documentary.
Cassels' current focus is on fundraising. The goal for the project is $20,000. So far, only individuals have donated to the GoFundMe, but Cassels and Daniels are hoping local businesses will want to get involved as well.
"We'd be open to any Alameda businesses who'd like credit in the documentary," she said.
Though they have a long way to go before reaching their fundraising goal, Daniels and the crew of students have already begun filming.
"We're kind of going on faith that the citizens of Alameda would love this idea enough to help us support it," said Daniels.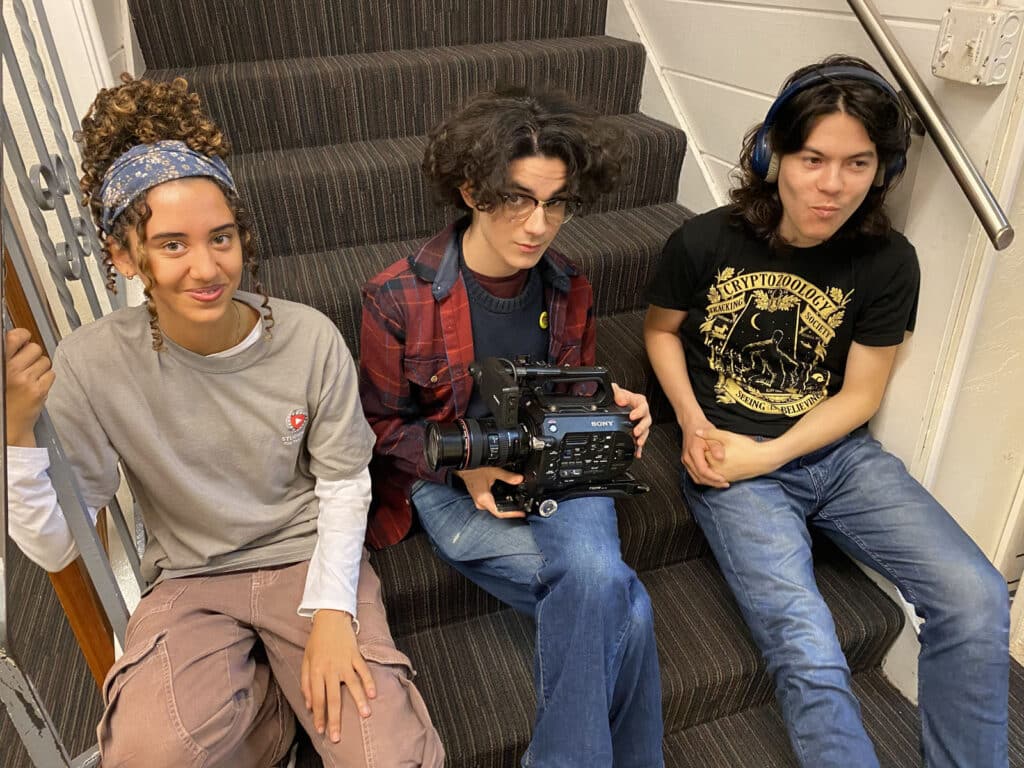 Capturing movie magic
The crew already has filmed rehearsals leading up to the Macy's Thanksgiving Day Parade as well as a parade in Castro Valley. They're set to attend three other future performances as well.
Cassels and Daniels plan to feature the Macy's Thanksgiving Day performance in New York as the central event in the documentary. But Cassels also wants to dig into the history of the Tap Dancing Christmas Trees. What's the secret to the group's longevity? How did Pamm Drake first conceive of the trees? Who's behind the costumes? What is the process for becoming a tree, from sapling to full-grown fir?
"It's gonna be a lot of fun to tell this story," said Daniels. "As with all documentaries, you don't really know what it's going to look like until you're done shooting. So I'm looking forward to the interviews. I'm looking forward to putting together all the pieces to tell the story of the trees. It's gonna be a fun ride. And I'm really happy to be including the young talent that we have in our high school classes in Alameda."
When the currently untitled documentary is finished, Cassels would like to send it to festivals.
"These Christmas trees are representing our little city to the nation," said Daniels. "They're now a fixture at the Macy's Thanksgiving Day Parade. It's like they put Alameda on the map."
"America needs to smile a lot more," Cassels added. "So this is me trying to tell the story of this joyous group."
Kelsey Goeres is a contributing writer for the Alameda Post. Contact her via [email protected]. Her writing is collected at AlamedaPost.com/Kelsey-Goeres.