Bear's-Eye View of Alameda for May 24, 2023
Last year, I went out and covered the official opening of Bohol Circle Immigrant Park located at the very end of Fifth Street behind Target. You can check out my November 20, 2022 report on the opening with lots of pictures.
This past weekend, my human companion was involved in helping produce Rhythmix Cultural Works' Asian-Pacific Islander Festival so I got to take a very quick spin through the event.  There was a lot of really cool stuff going on, including a food truck serving traditional Sri Lankan dishes.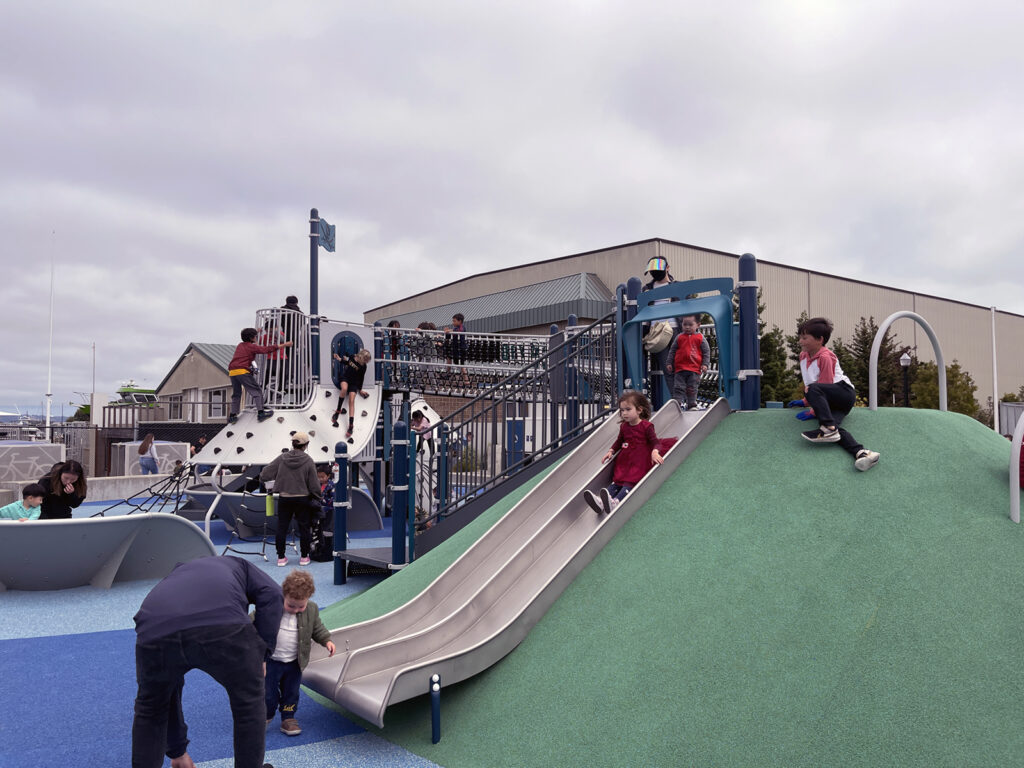 The equipment in the Kids Zone got a real workout with tons of kids climbing, swinging, sliding, and teetering—as in teeter tottering.
There were performers representing several of the cultures that make up the Asian Community. You can see them in action in these two videos.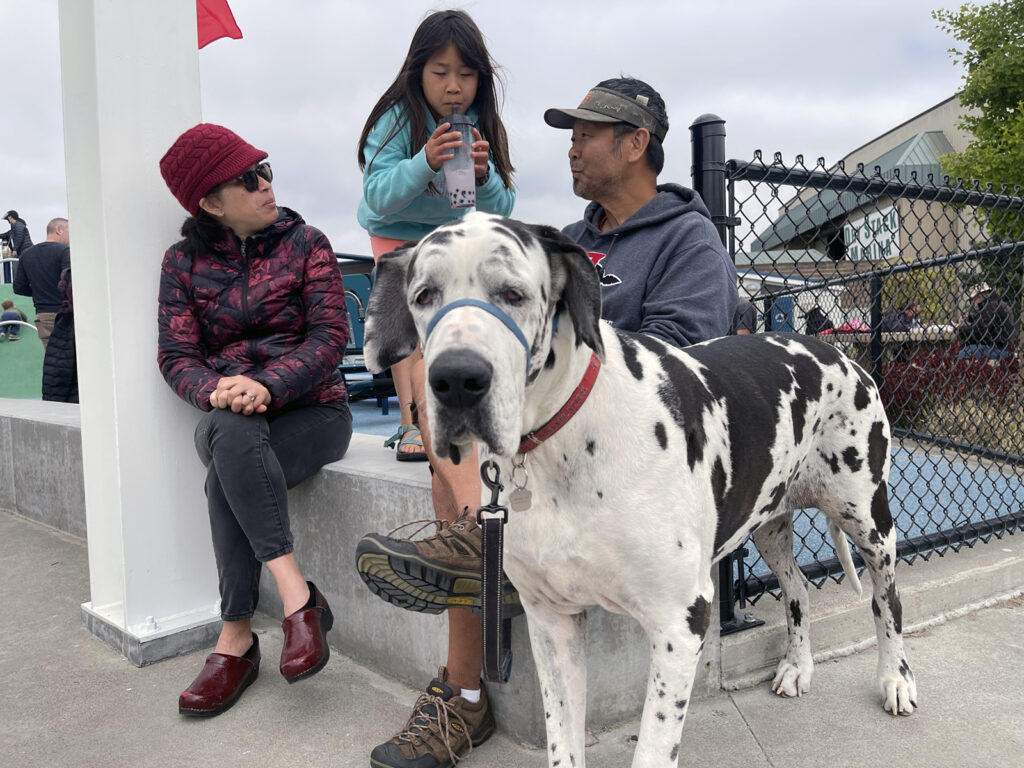 Fortunately, there were very few dogs and no squirrels, so I wasn't on the edge of sanity the whole time, but I did freak out when I saw a dog that was bigger than me.
One of the vendor cars pulled into the park by driving over one of the bollards that folded down to allow for vehicle access. Well, it was fully loaded and had a low undercarriage clearance. As the van drove over the bollard, it hit the oil pan and a gallon of automobile oil poured out. Alameda Fire Department was called in and, within 30 minutes, all was well with the festival. Thanks, AFD, for the great clean-up effort!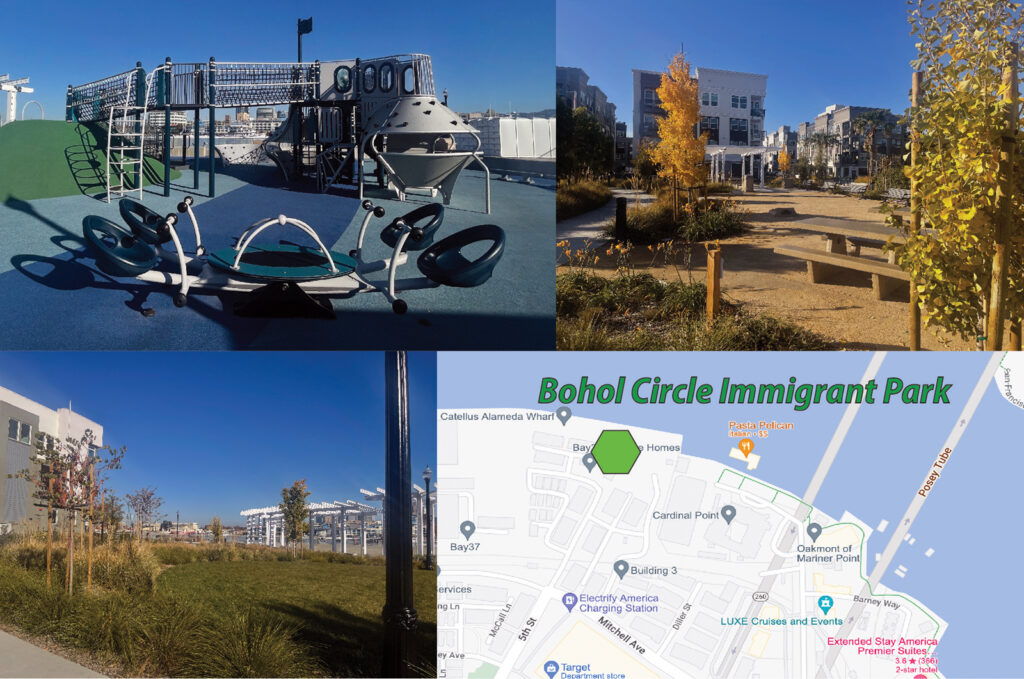 Bohol Circle Immigrant Park provides visitors with a killer view of the Jack London Square side of the estuary.
There were other things happening on the island. Some good and some not so good. Since I want to end on a positive note, I am going to deal with the negative stuff first.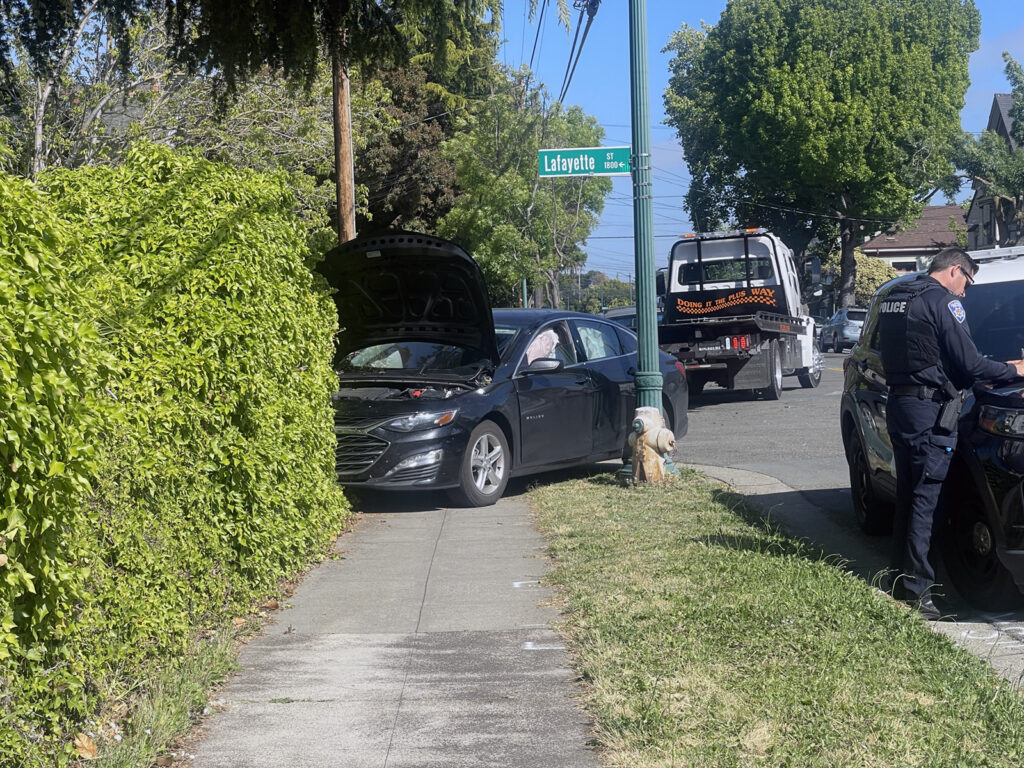 I couldn't quite figure out how the dark blue Malibu wound up on the sidewalk at the corner of Buena Vista Avenue and Lafayette Street, but I do know the car missed running into the light pole by inches. The driver was very lucky considering all the airbags deployed.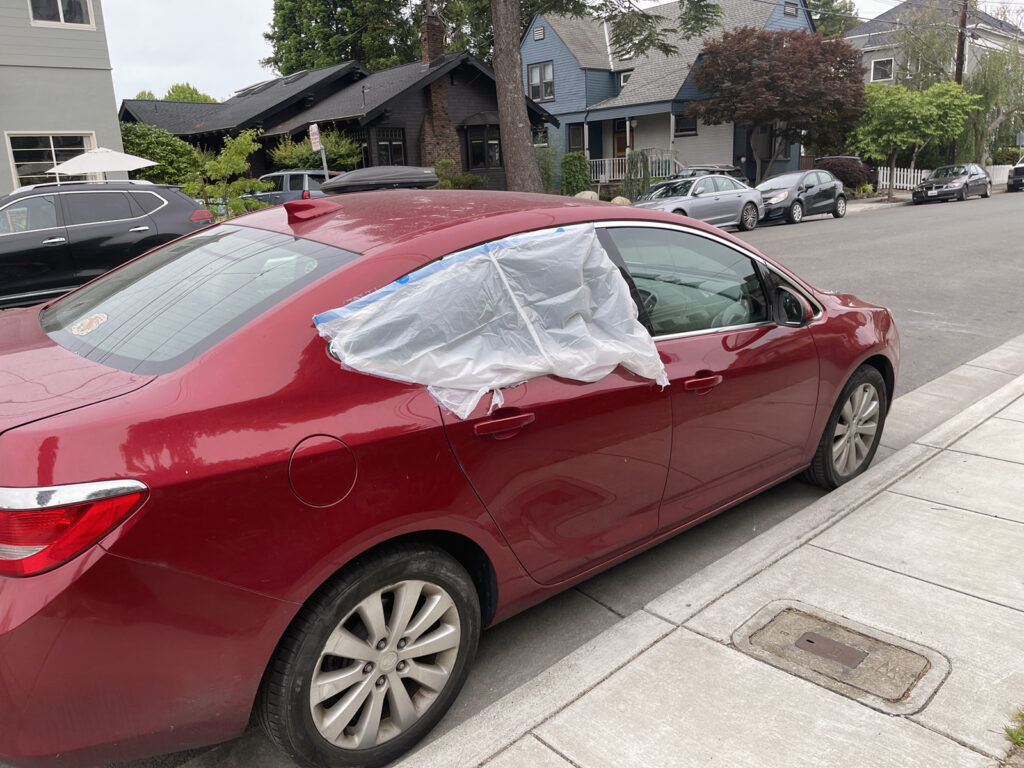 And it looks like the red car that was parked on "The Ave" was the victim of a smash and grab. Just as a reminder, don't leave anything on the seats where someone can see and make you the victim of a crime of opportunity.
We are definitely into spring, judging by the hundreds of blooming plants and the graduation signs that are starting to pop up, and it looks like the guys are working at 1619 Central again.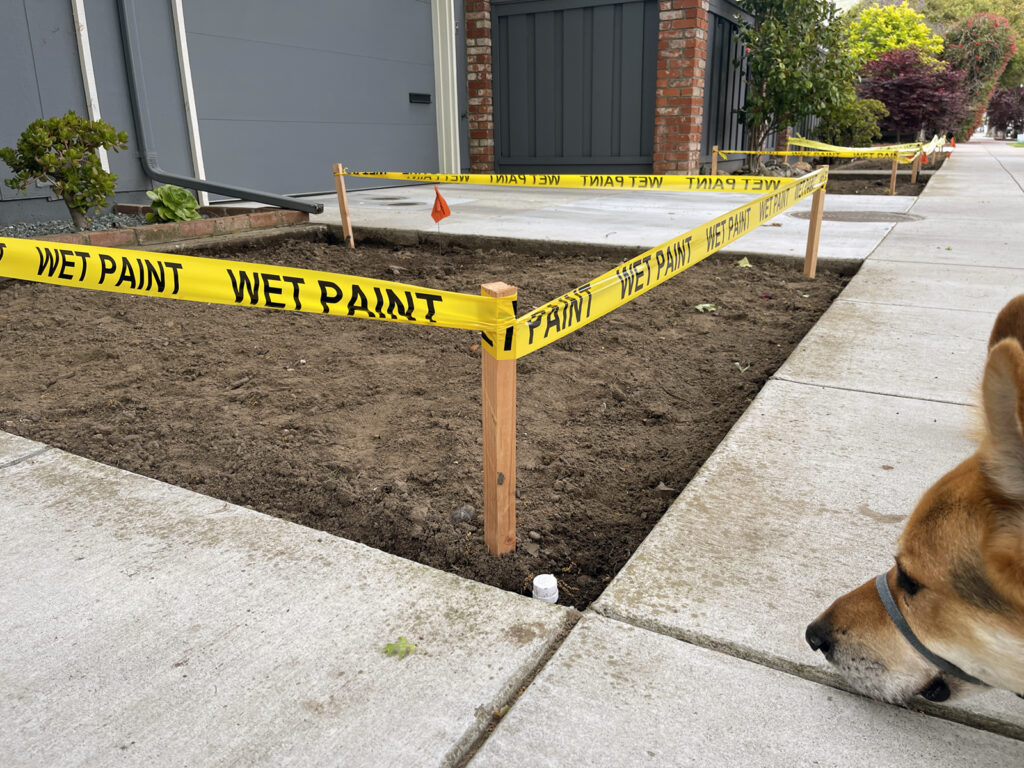 I was walking by a landscaping project on Alameda Avenue, around Benton Street I think, and was really confused. I kept looking for the wet paint. The guys must have gotten the yellow tape at a great price.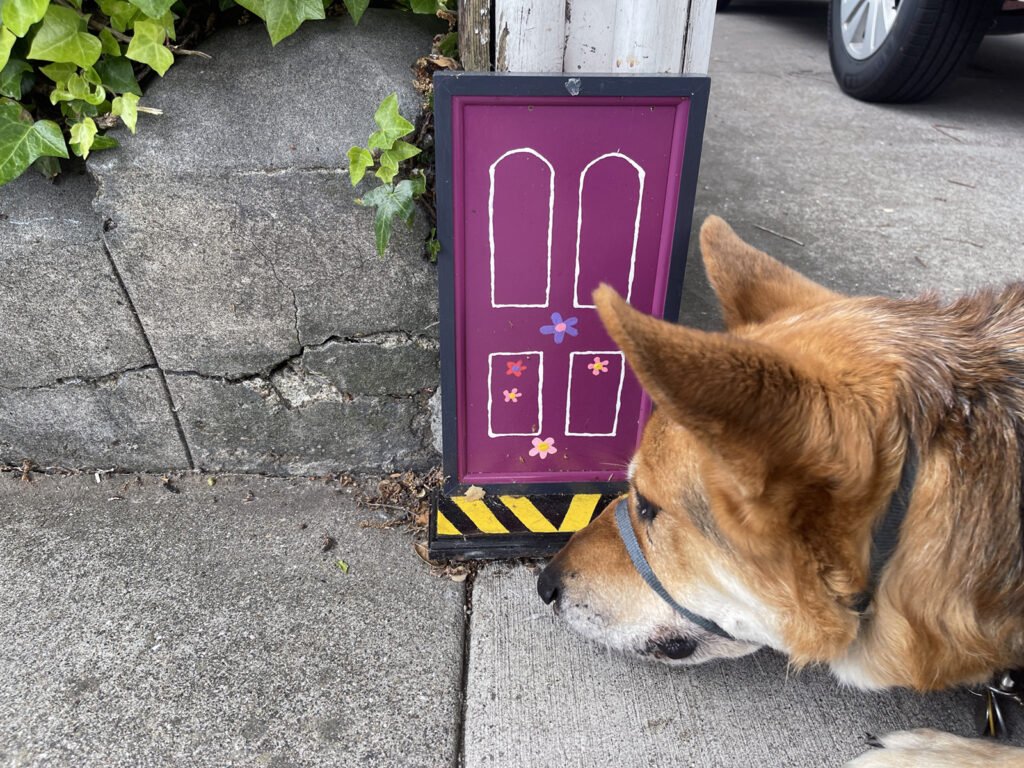 On the same walk, I found a huge fairy door. Judging by the size of this door (it's bigger than my whole head), fairies are getting bigger. Must be that weight people put on during COVID.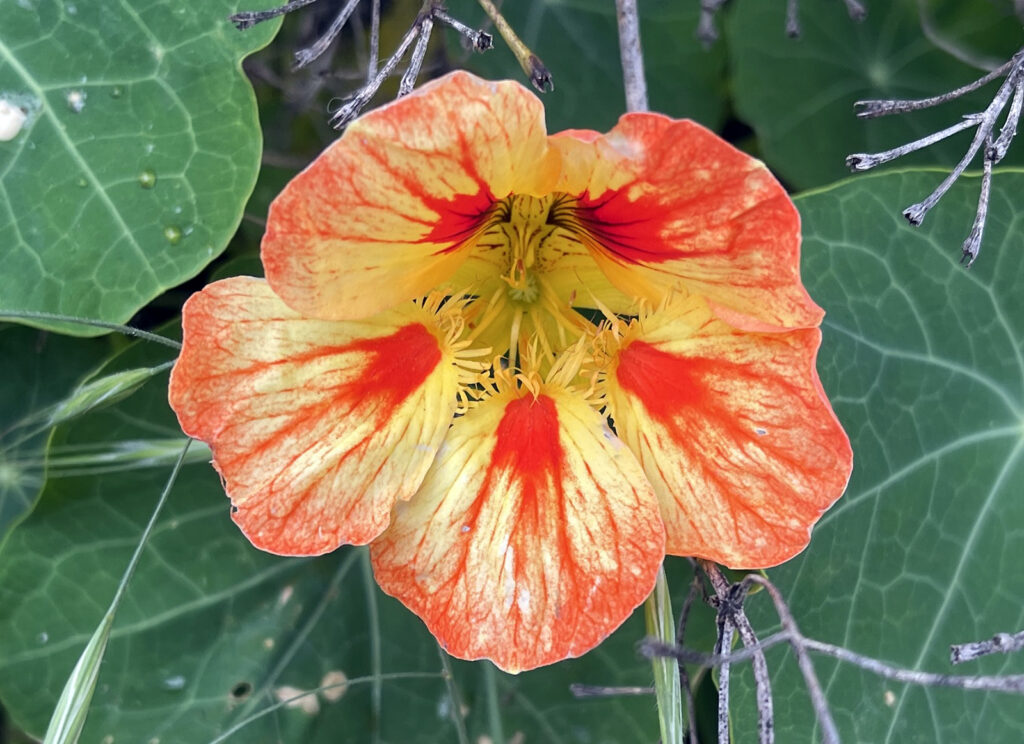 I am going to close out this week's report with a picture of a beautiful nasturtium. I really love this plant and the many colors that show up in the different subspecies. [Editor's note: Did you know nasturtium flowers are as tasty as they are beautiful? Try adding a few to a salad sometime for a peppery treat!]
Next weekend is Memorial Day weekend. Be sure to do something to honor those that gave their lives to protect us.
Mouf, Roving Reporter
Bear's-Eye View of Alameda
Mouf and his human companion can be reached via [email protected]. Their stories are collected at AlamedaPost.com/Jeff-Cambra/. All photos by Jeff Cambra.