Bear's-Eye View of Alameda for February 5, 2023.
SPOILER ALERT: This report has nothing to do with Molly Ringwald. Whoever that is.
For the last couple of months, I have been watching the progress on a basement addition to this big old Victorian-era house on Alameda Avenue. First, the crew dug out the basement with something called a Bobcat, which looked nothing like a cat at all. Then, a bunch of steel rods were connected into a grid, and finally, the wood forms were installed.
On Thursday, there were two cement trucks in front of the house, and I knew the big day had come. I was able to capture the cement going into the pumper thing and then out to the forms using a long hose. It was awesome… and loud.
This morning, I checked the sky before heading out, and it looked like the sun was going to break through. So, my human companion passed on bringing the umbrella. Boy, was that the wrong call. About a mile out, the sky opened up and dumped on both of us. Normally, I enjoy a walk in the rain, but that downpour was a "flaps down" weather occurrence and my ears were back almost the entire walk. My human companion got soaked to the bone.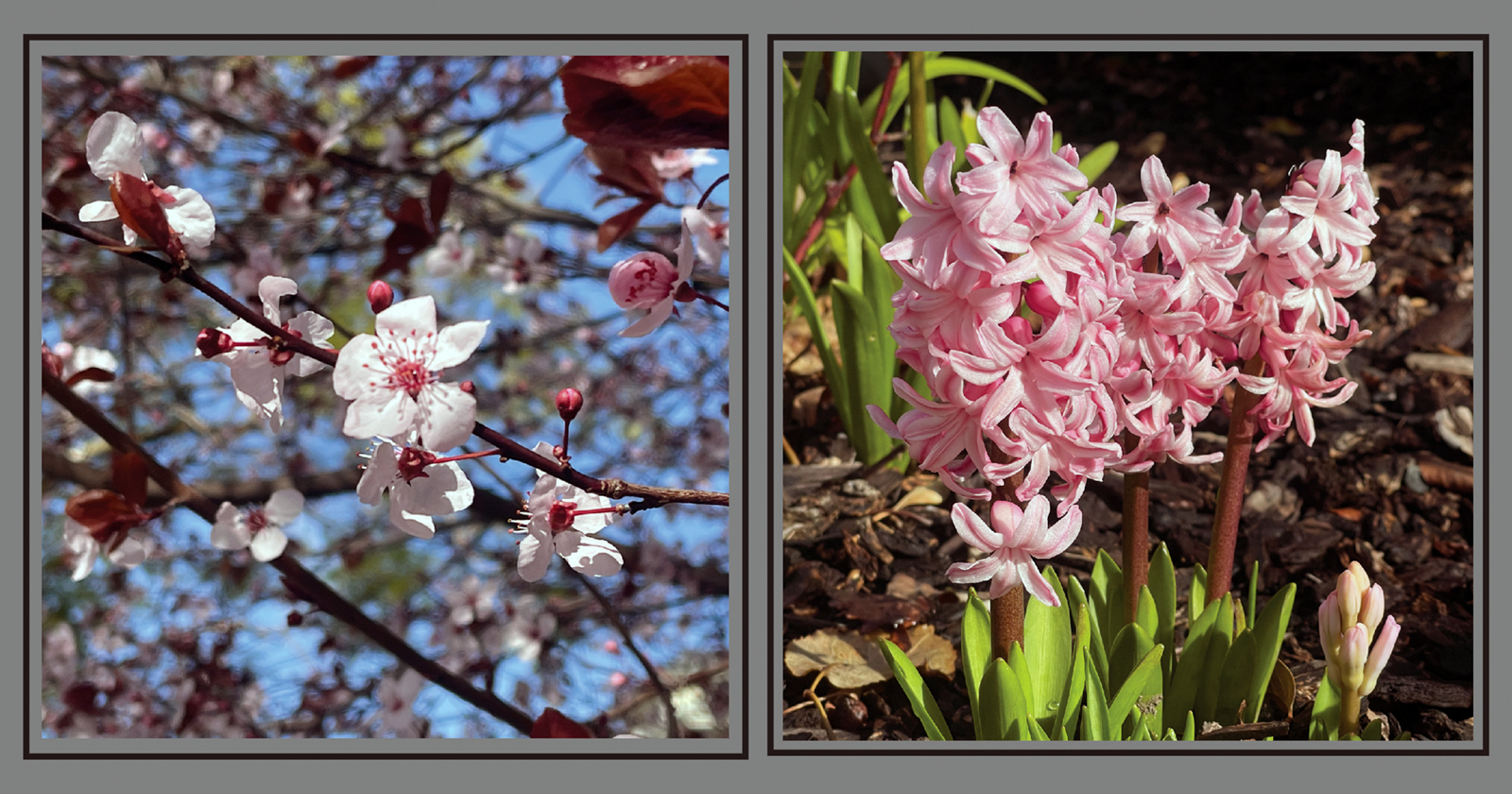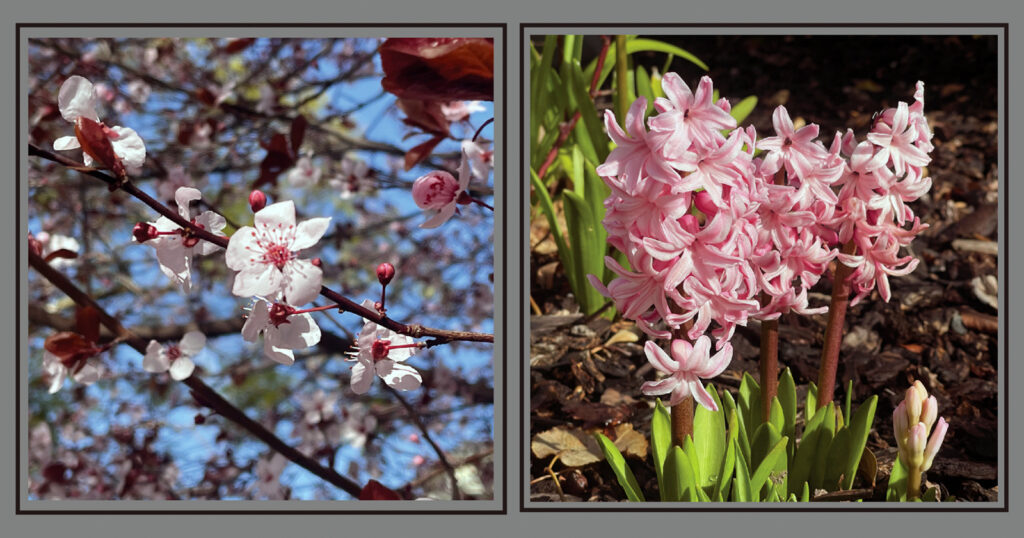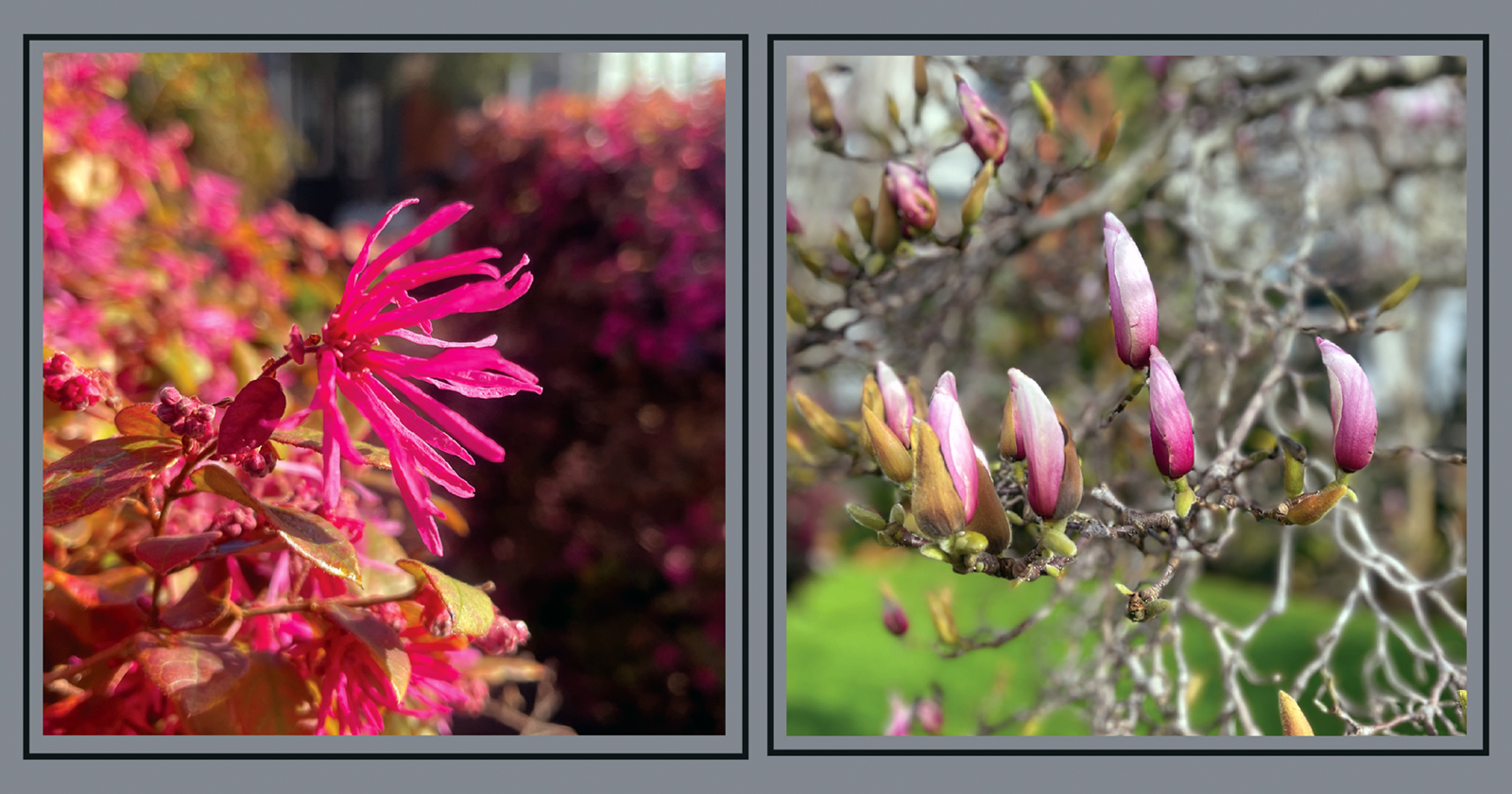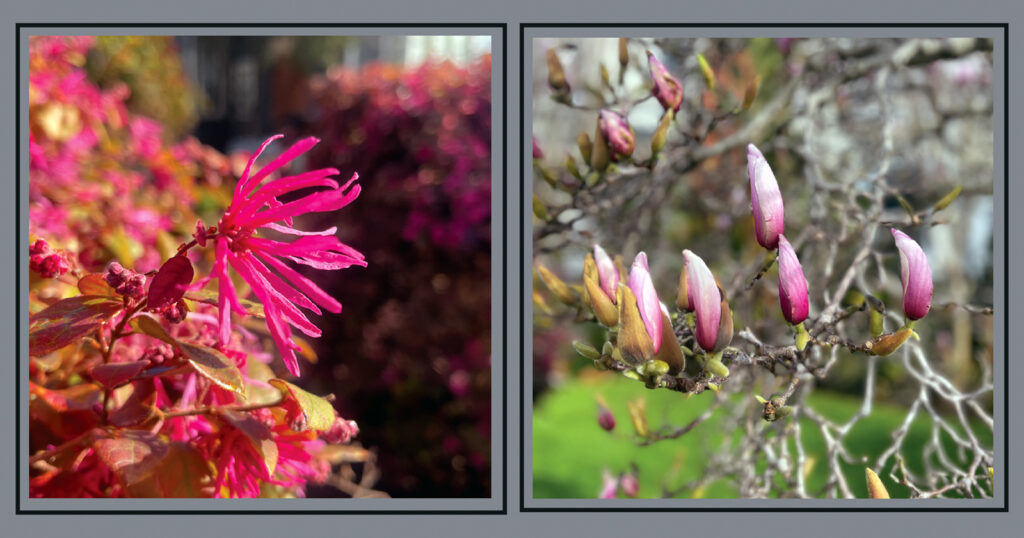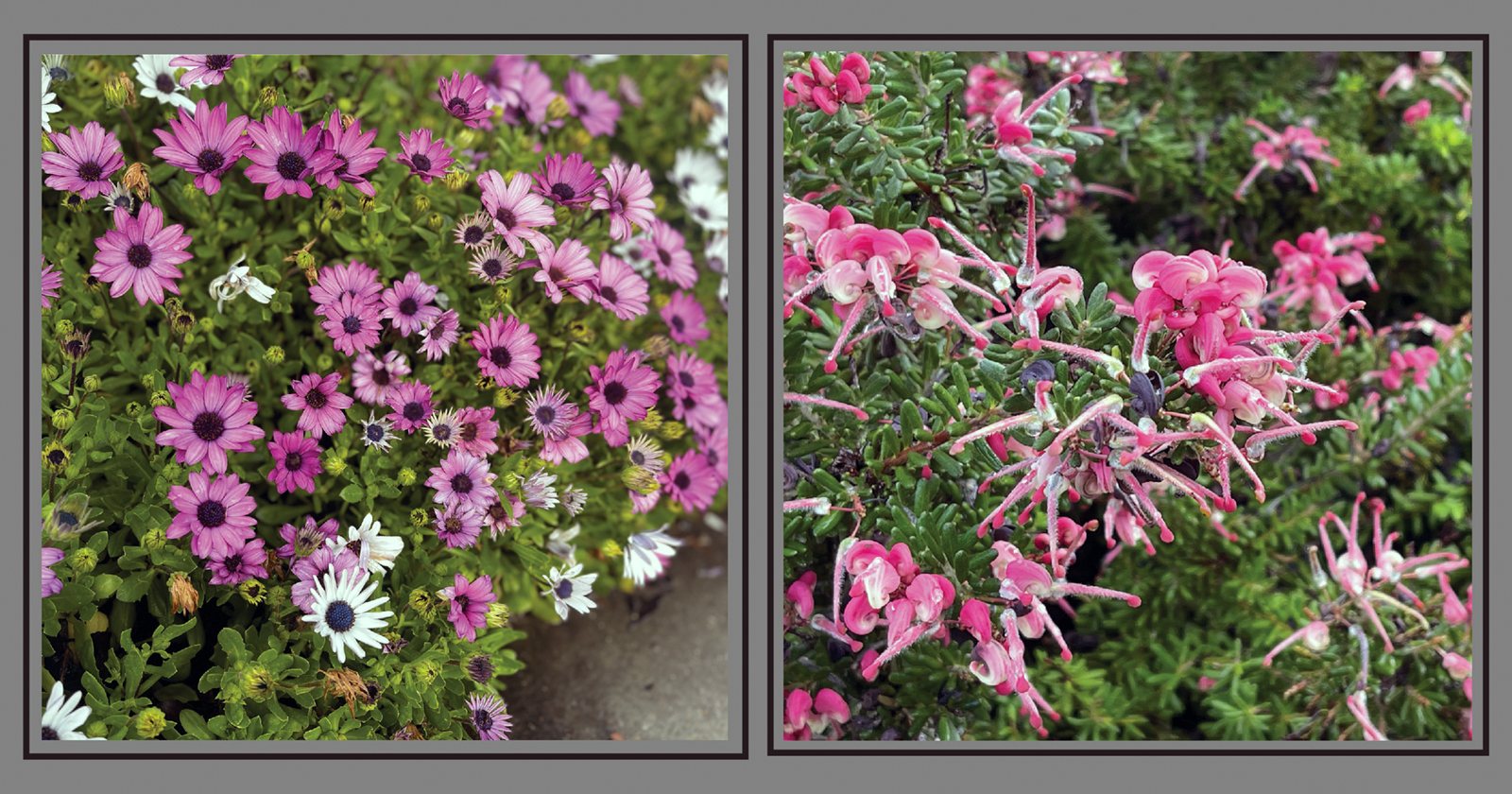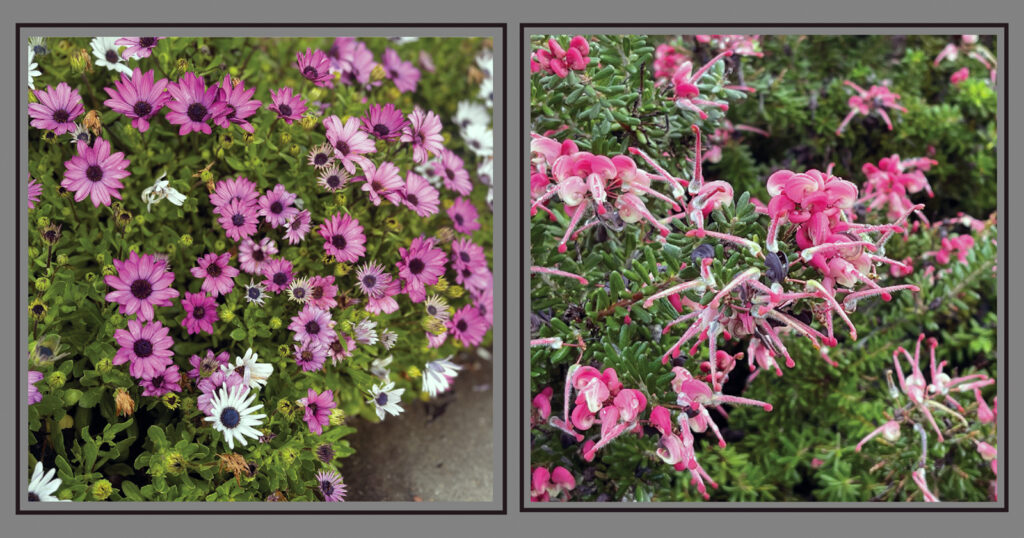 As I walked around Alameda this week, I noticed a lot of winter bloomers showing off their colorful flowers. Pink-ish seems to be very popular color in many gardens. Thus, the headline for this week's report. I have included a few images of what I found interesting.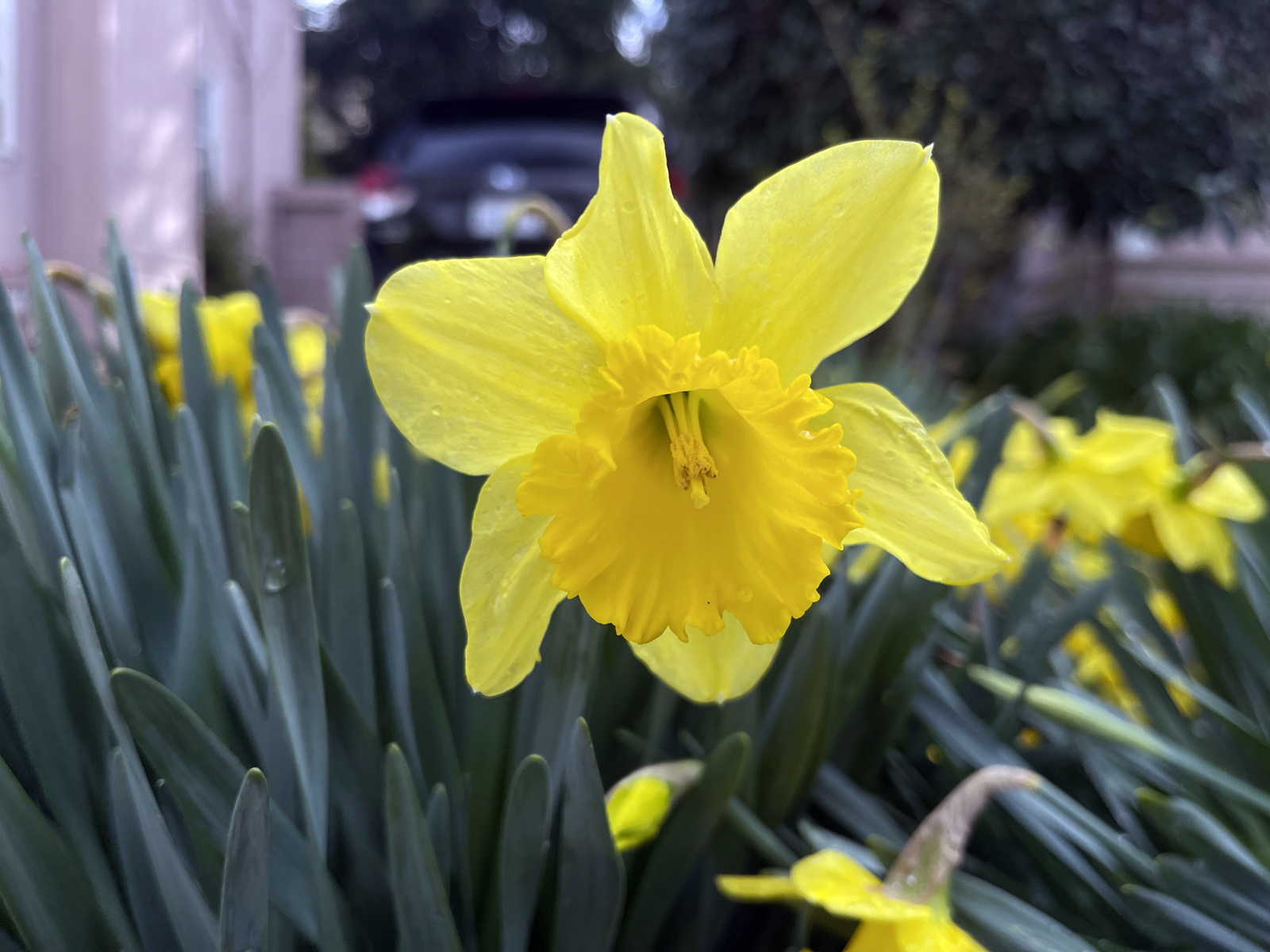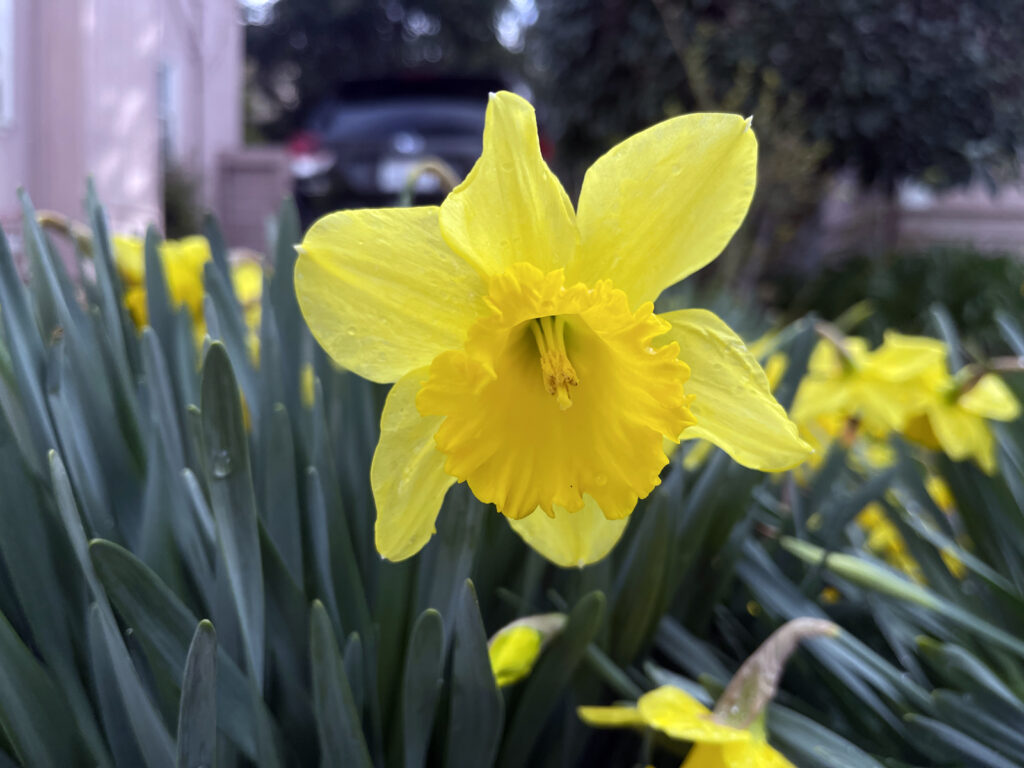 And keeping with the botany topic, after learning the difference between daffodils and narcissus, I decided to go find some real daffodils, and found a bunch popping up on Paru Street at Central Avenue.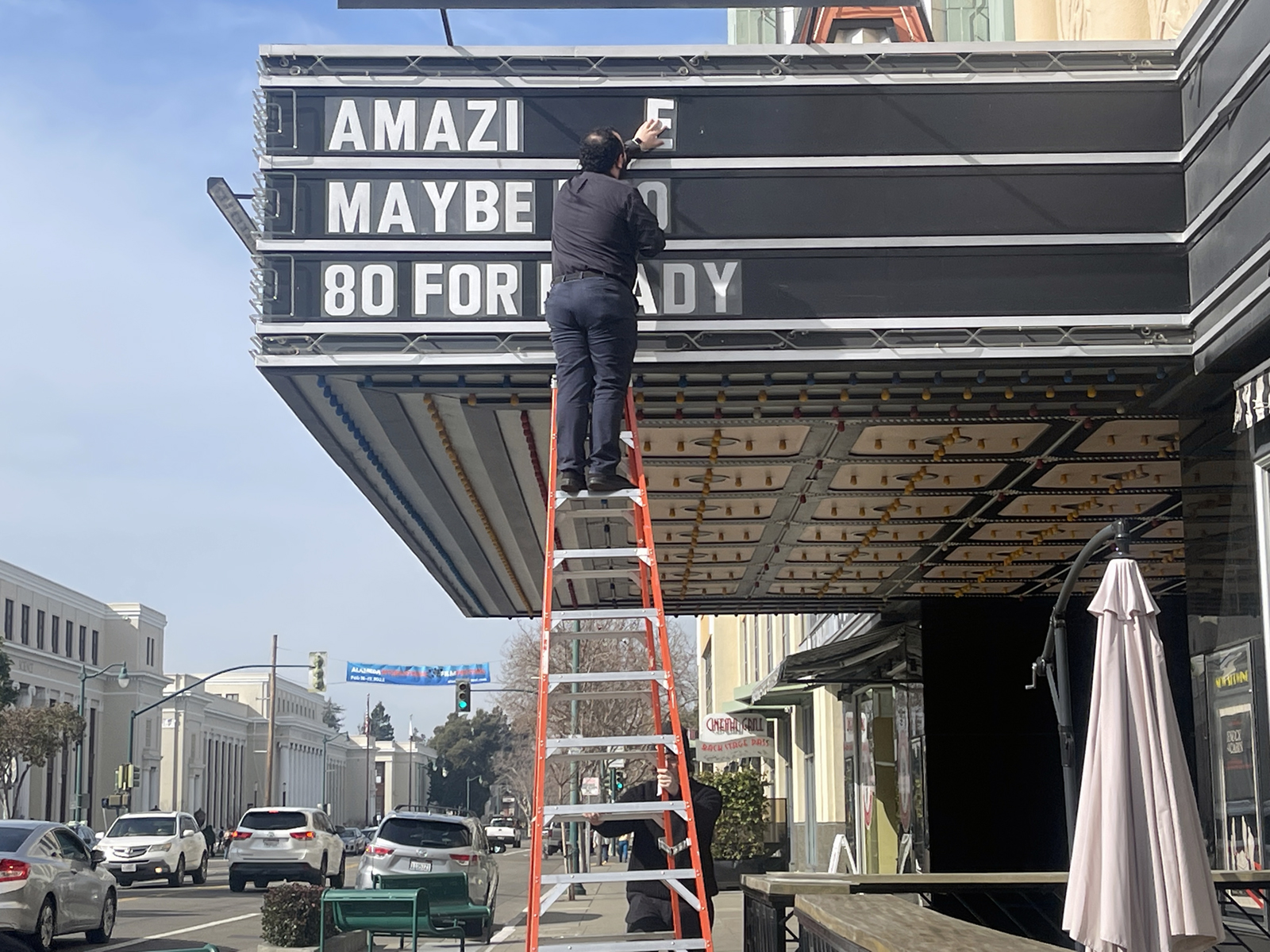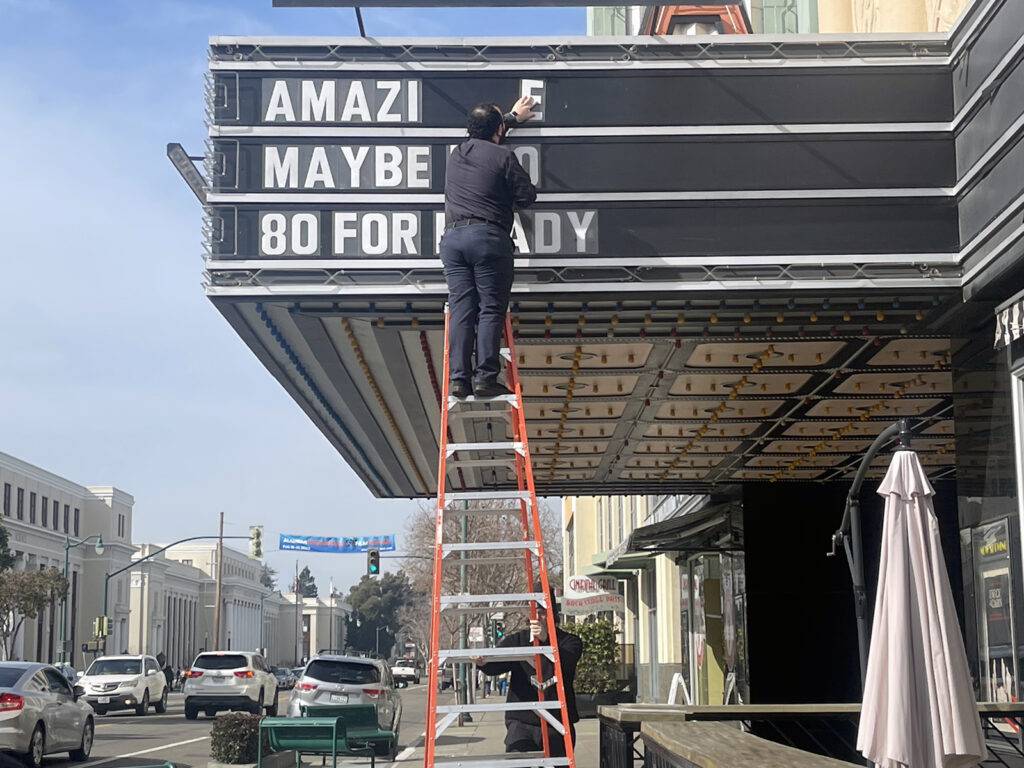 On the movie front, this week the Academy announced the nominations for the Oscars, so movies were on my mind. Personally, I like the Animation category. I passed the Alameda Theater as they were changing out the marquee announcing the new showings. You can see their schedule here.
I am not making any recommendations, but I do find it timely that there is a movie called 80 for Brady about the Superbowl and Tom Brady when both are in the news.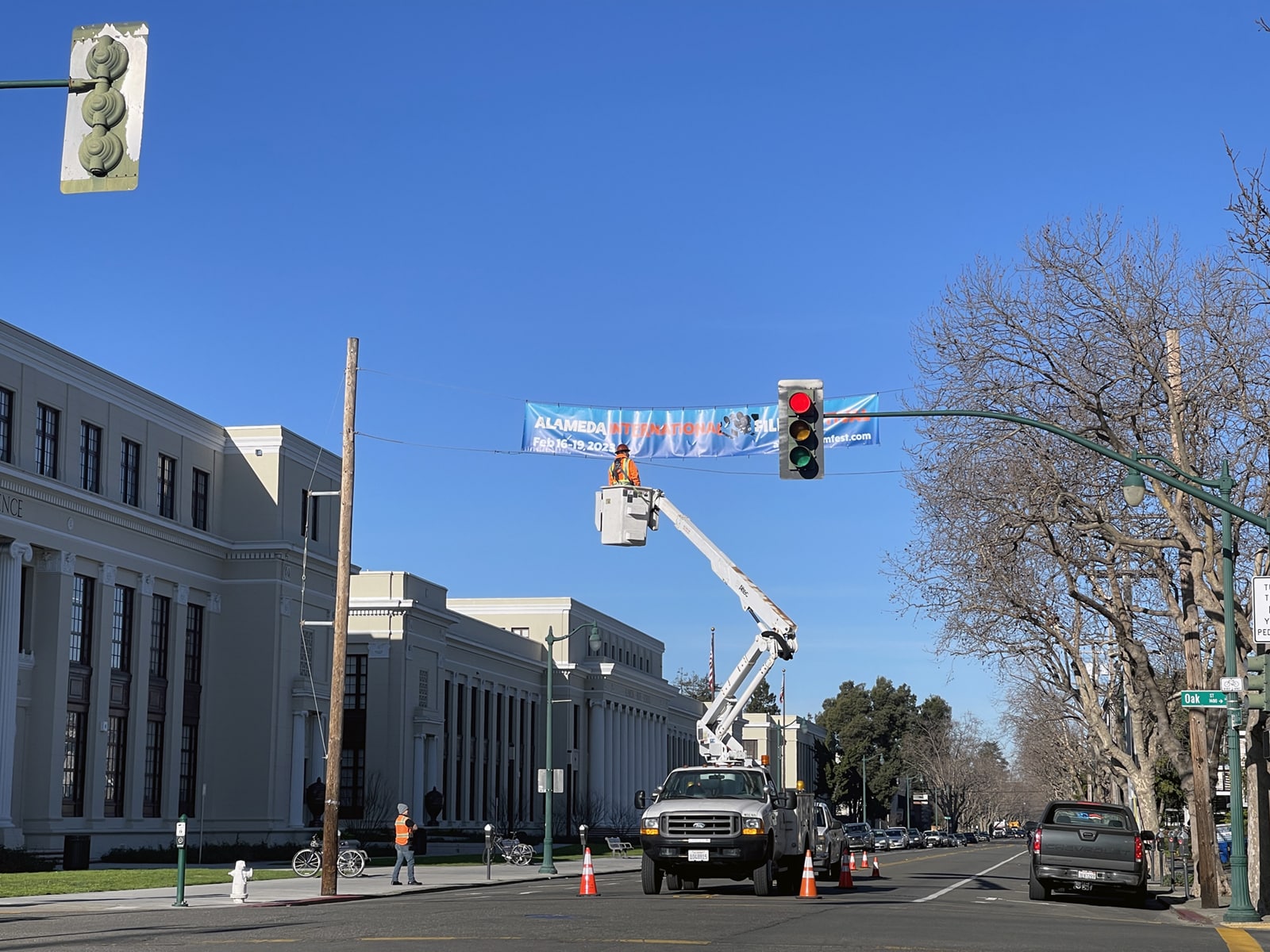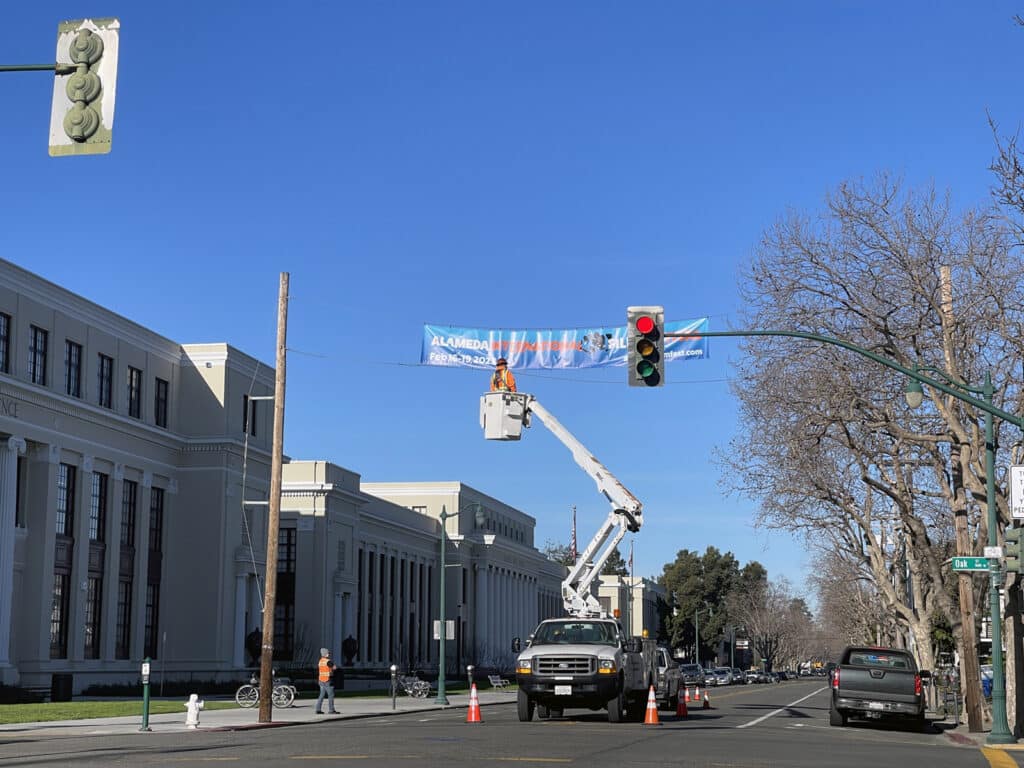 The City of Alameda Public Works folks were putting up the banner for the Alameda International Film Festival that is coming up this month. You can get all the info from their website.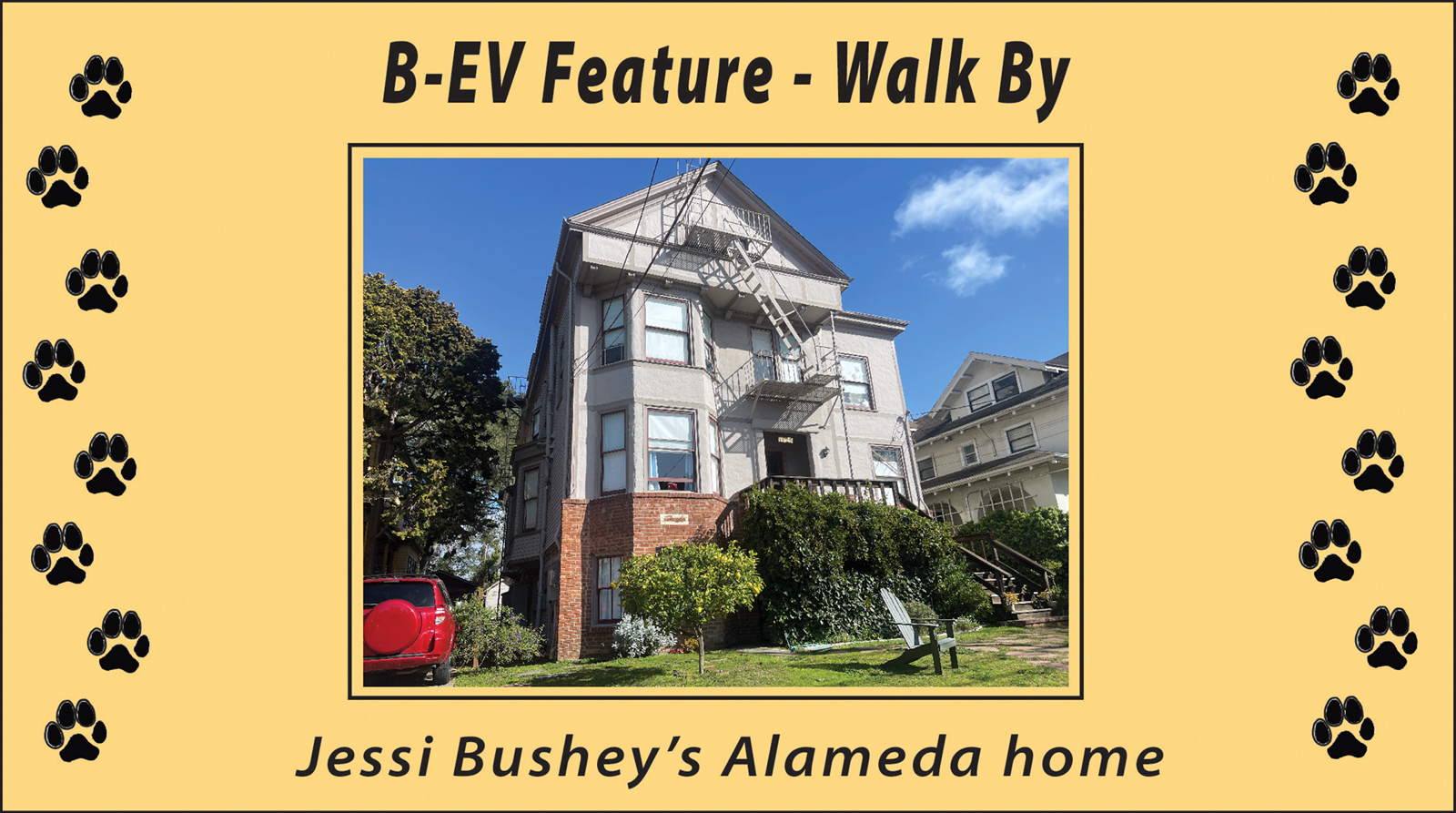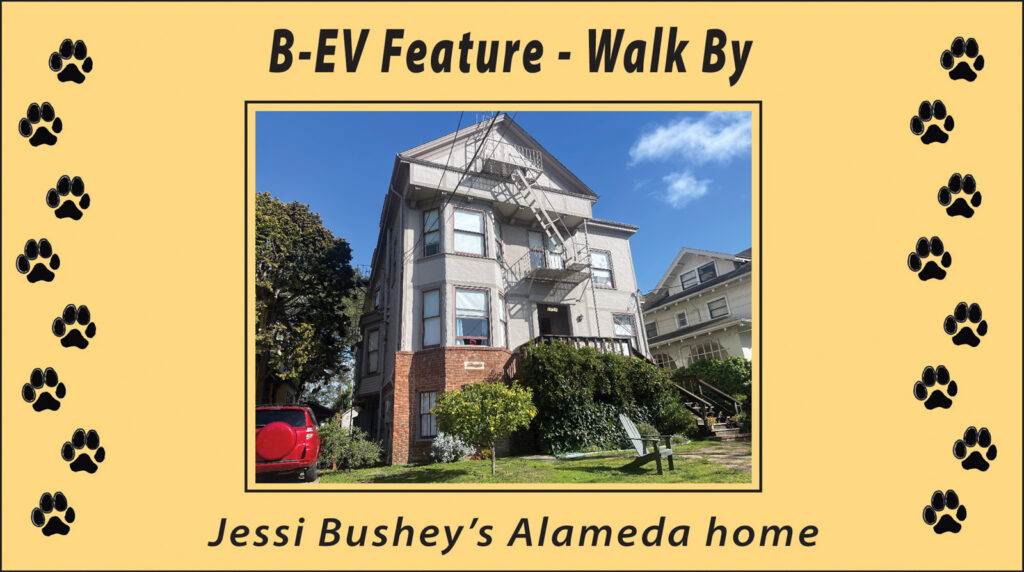 This week's walk by feature is for Jessi Bushey who asked me to walk by 1625 San Jose Ave. and snap an image of their house. Here you go Jessi.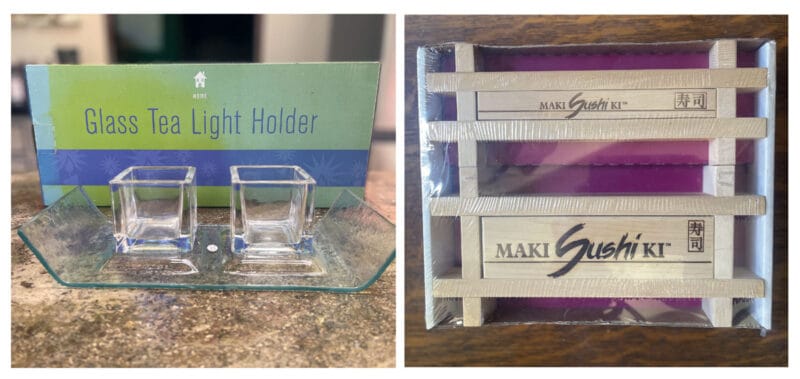 I've also brought back both the sushi maker and the tea light set since nobody made arrangements to have me deliver either one to their Alameda address. Any takers? Email my human companion at [email protected] if you are interested. We deliver.
I am getting very excited because my "Gotcha Date"—which I also take on as my birthday—is coming right up. I am getting ready to order the cake this week!
Mouf, Roving Reporter
Bear's-Eye View of Alameda
Mouf and his human companion can be reached via [email protected]. Their stories are collected at AlamedaPost.com/Jeff-Cambra/. All photos by Jeff Cambra.