…like seven inches from the midday sun." – Bear's-Eye View of Alameda for June 26, 2022
These are some of the lyrics from Smooth, by Carlos Santana with vocals by Rob Thomas of Matchbox Twenty.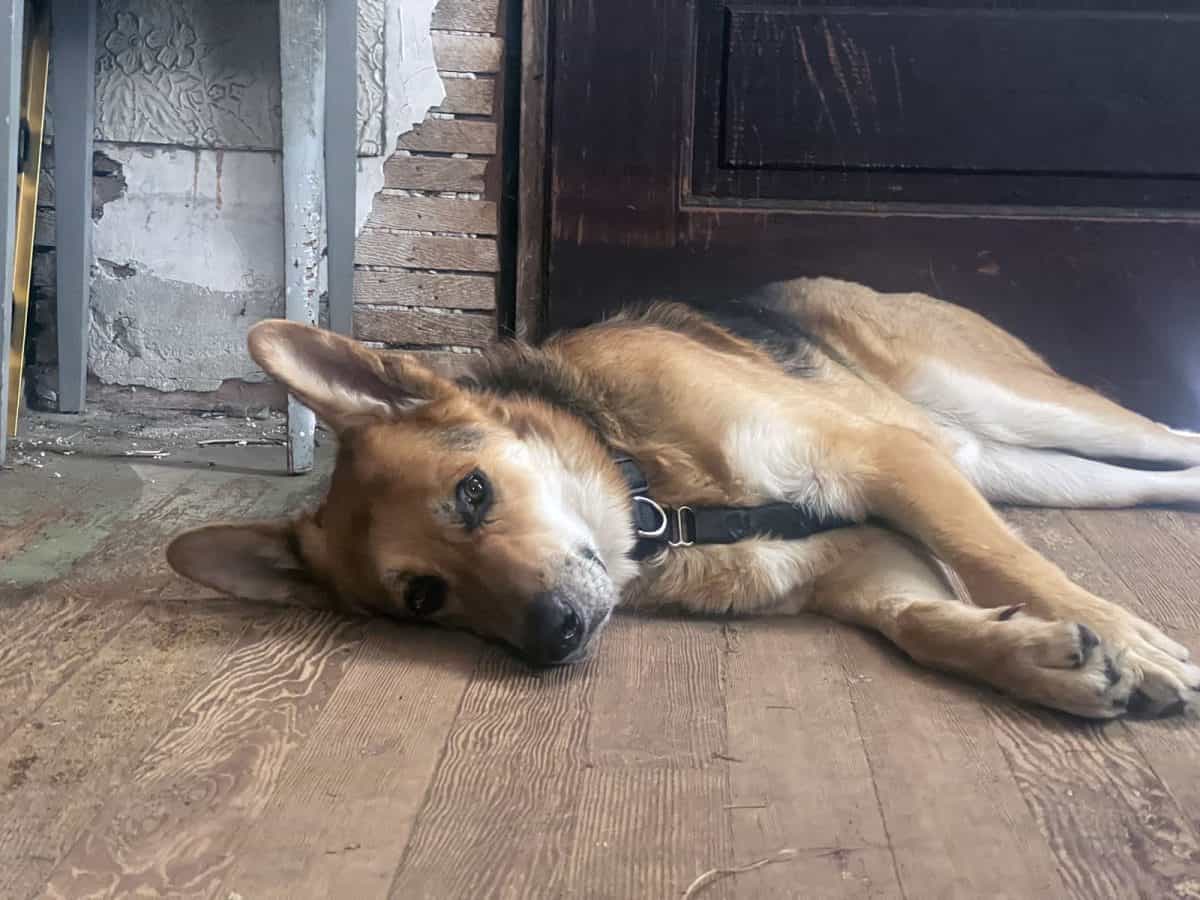 I don't know how tall Mr. Thomas is but, he got that 7ʺ part right. I felt sorry for some of the smaller dogs I saw walking last Tuesday when Alameda temps hit the 90s.
At 90+ degrees, not only is the air temperature hot, making it hard to get cool by panting, but the sidewalk is really toasty as well. It is hot on our pads, and the heat radiates off the concrete making it even hotter. I spent most of those days doing short walks on Alameda's tree lined streets to try and keep cool.
One of those early morning walks found me on Lafayette Street near Encinal Avenue where a huge mature street tree just keeled over. Fortunately, it missed all the cars that were parked in the vicinity.
Upon further investigation, it was determined the tree went over because it was rotten to the core. Not in the morality sense, but rather literally since the center was hollowed out.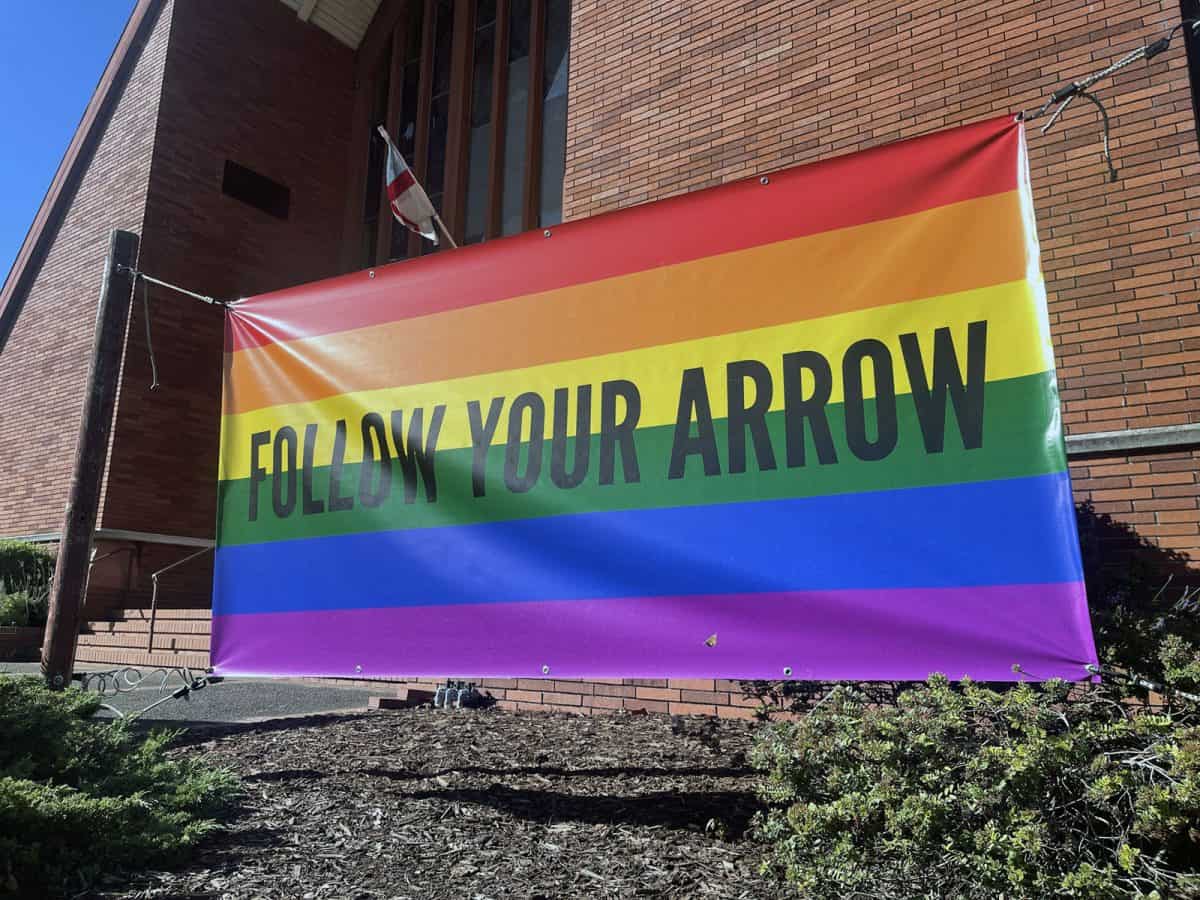 This is the last report for June, and I just want to do a final shout out to all of those that celebrate PRIDE. As the sign says, "Follow Your Arrow."
To say that my human companion's electronics are old would be an understatement. He finally ditched the Panasonasaurus TV that weighed a ton and an adding machine that needed a paper tape roll.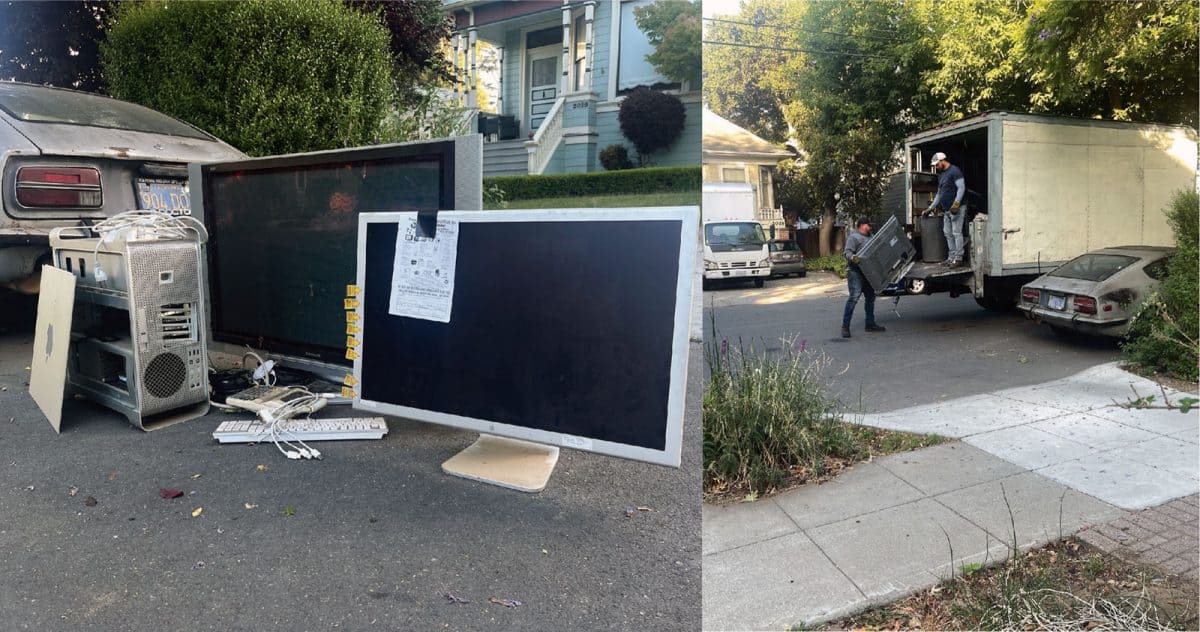 Things got serious when the workers asked if he wanted them to take his old 1971 Nissan 240Z with over 950,000 original miles on it. I cracked up. It's in need of a bunch of work, and when I ask when is he going to dump it, he says he looking for an auto body guy that does restorations.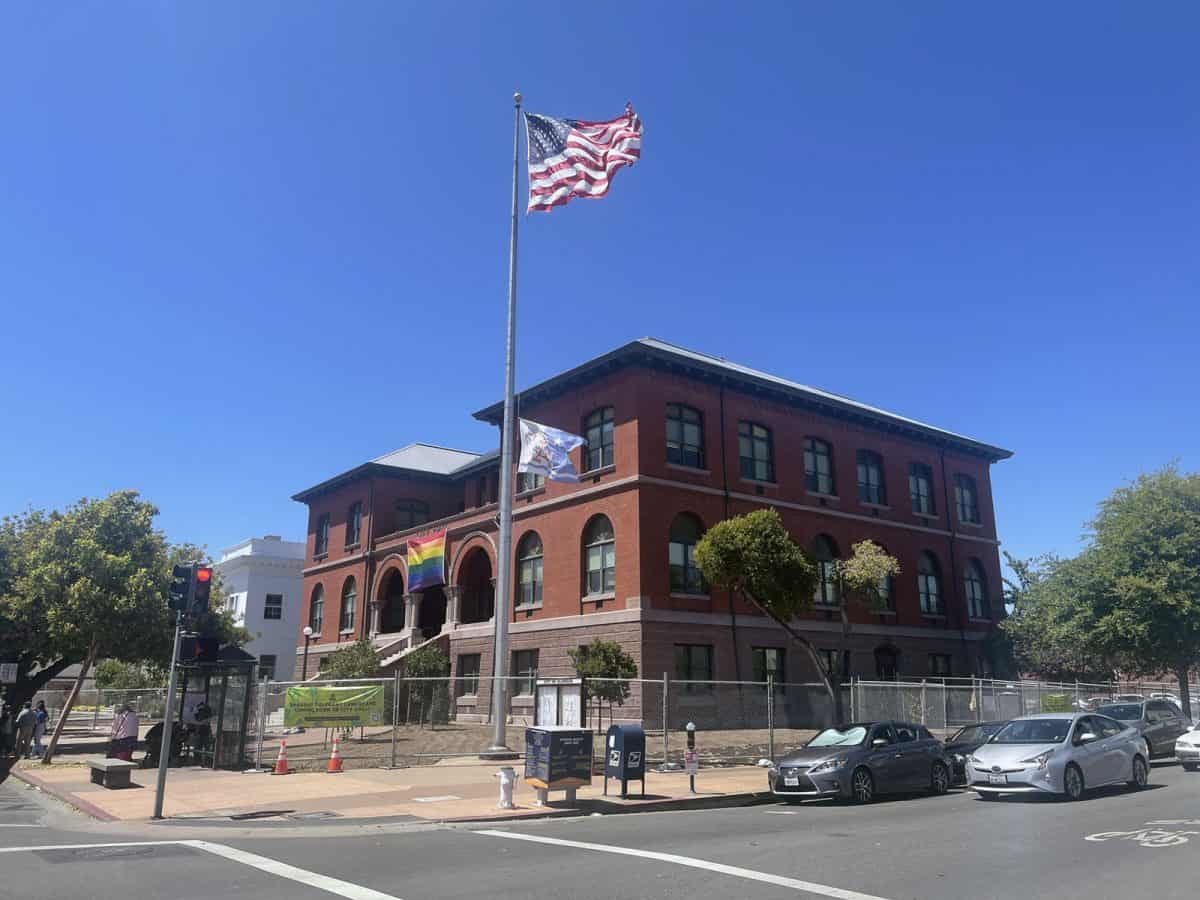 On a sad note, the City flew the Alameda flag at half-mast to make the passing of Eleanor Treadwell, who was a city employee from 1959 to 1973. She was also the widow of Police Captain Arthur Treadwell. Rest in peace Ms. Treadwell.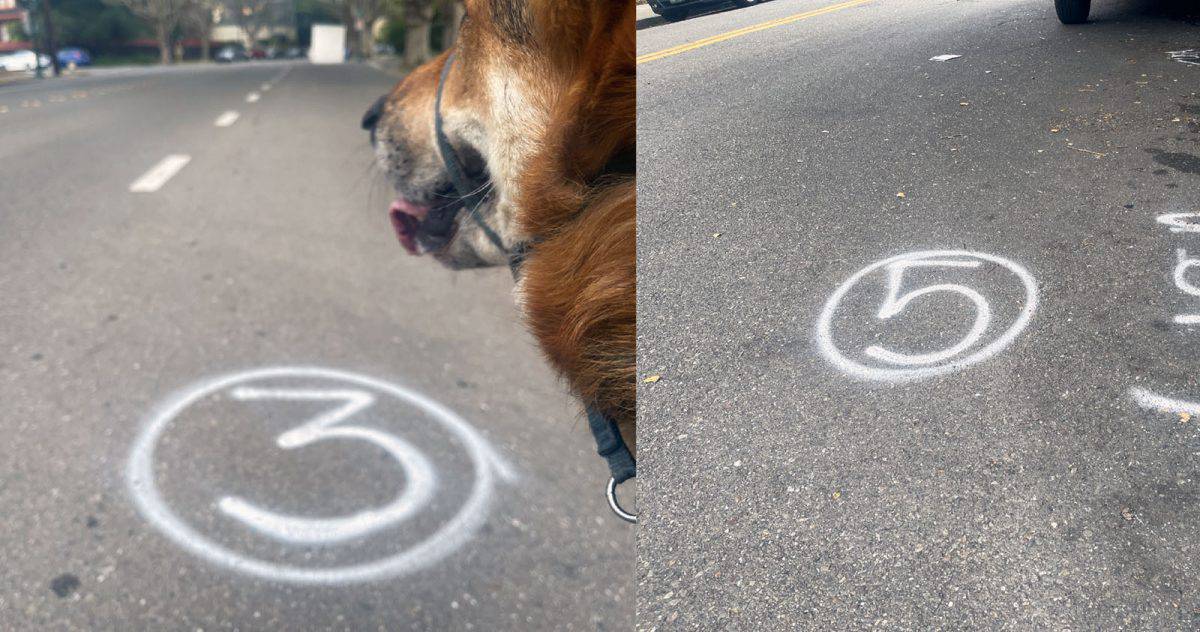 Can anyone tell me why there is a 3 in a circle on Central Avenue near Chestnut Street and a 5 on Central Avenue at Union Street?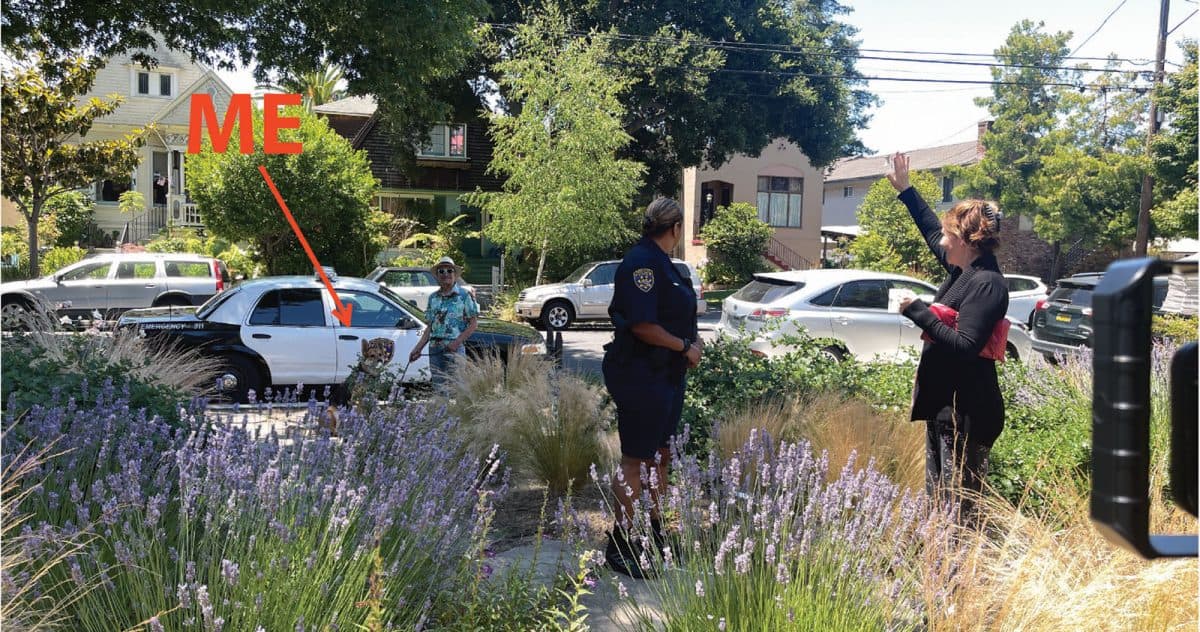 Here is some very exciting news! I made a cameo appearance in a shoot that took place last week. Check out the still that I was able to pull from the dailies.
I am the handsome German Shepard mix next to my human companion in the Panama hat way, way in the background. Hope I don't wind up on the grooming room floor.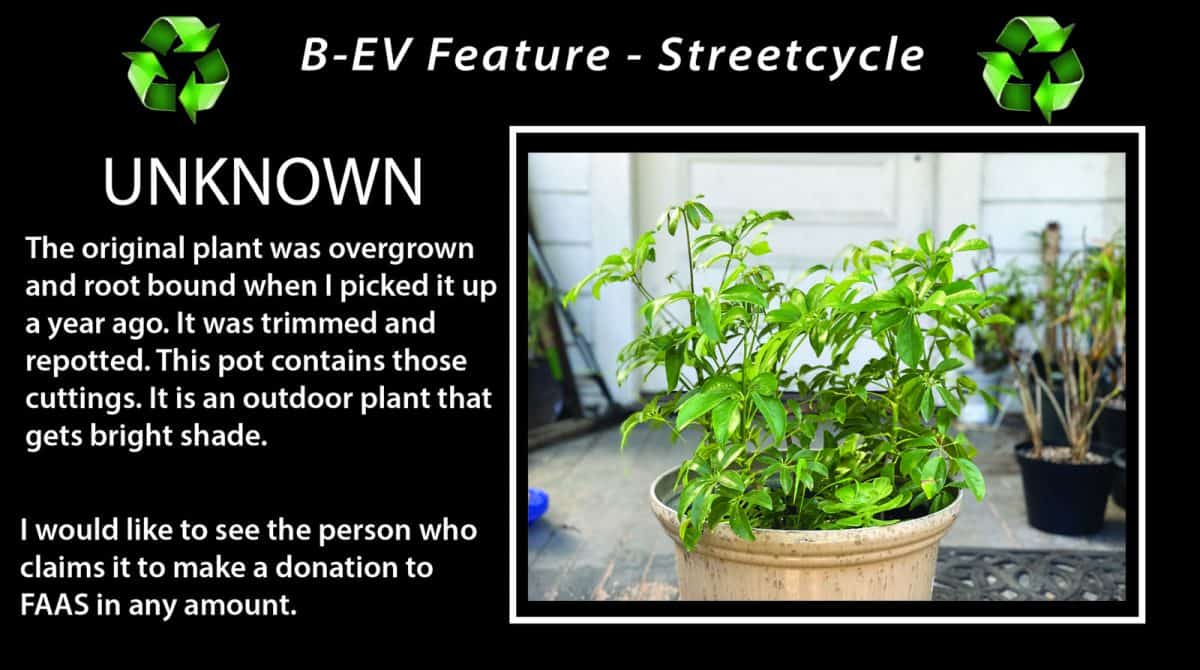 Finally, nobody claimed the nice plant I saved a while back. It is very healthy and green. Any takers??
Have a great week everyone!
Mouf, Roving Reporter
Bear's-Eye View of Alameda
Mouf and his human companion can be reached via [email protected]. Their stories are collected at AlamedaPost.com/Jeff-Cambra/. All photos by Jeff Cambra.