Alameda Food Bank's Distribution Center at Alameda Point is an All-Choice Shopping Experience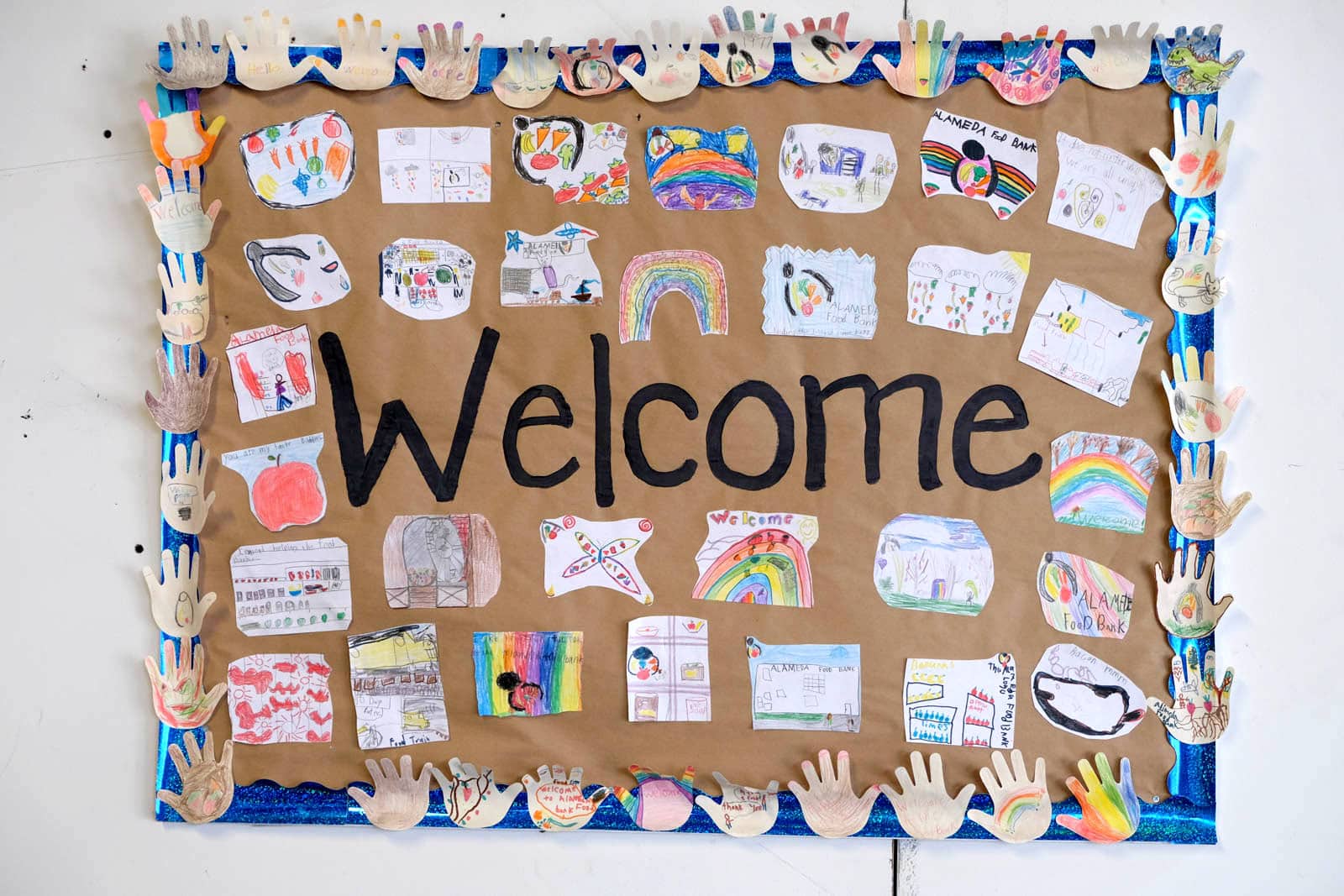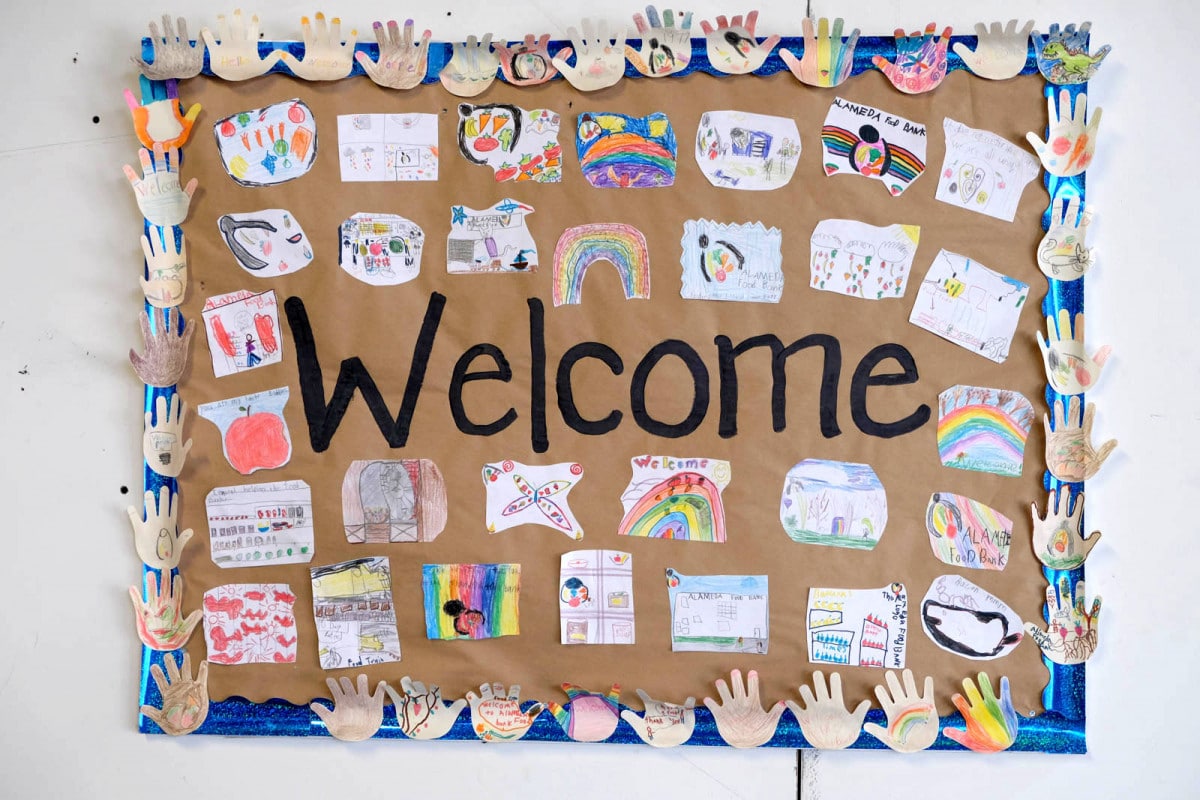 One of the first things you see when you walk into the Island Community Market is a colorful welcome sign at the check-in desk, made by second graders from Saint Philip Neri School here in Alameda. Framed by paper handprints of the young students who created it, the warm greeting underscores both the generosity of our community and the positive experience that Alameda Food Bank executive director Cindy Houts and her staff of 250 volunteers have created for those who get food there.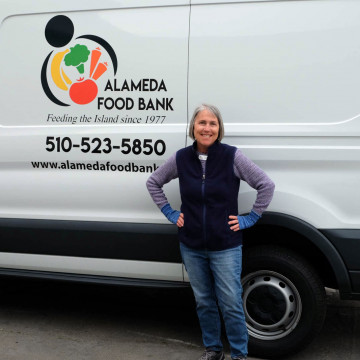 "When we opened up here last July, we made a conscious effort to make it more like a market, and we renamed it the Island Community Market," said Houts, who joined the Food Bank as executive director in 2015. "So when a person says, 'I'm going to the market,' it's not like saying, 'I'm going to the food bank.' It just feels more normalized."
Clients now check in, get a cart, and shop throughout the store at their leisure, as they would in any other grocery store.  There are well-organized aisles of canned and dry goods, a beautiful selection of fresh produce, a self-serve deli fridge, meats and plant-based protein, eggs, pantry items, cookies, crackers, chips, and more. And to top it off, there's Peet's coffee (the roasting plant is located on Bay Farm Island). This bountiful market came to exist, to some extent, as a result of the COVID-19 pandemic.
The Island Community Market is open Monday, Wednesday, and Friday, noon to 4 p.m., at 250 Ranger Avenue in Alameda. For information on volunteering, donating, or getting food, visit alamedafoodbank.org.
Growth Driven by Pandemic
The Food Bank's former distribution center, a small portable building at the corner of Atlantic and Constitution near the western edge of Sweeney Park, "tried to preserve the dignity of clients with an 'all-choice' shopping experience," Houts noted. But that all came to an abrupt end when the number of local residents needing help mushroomed from about 800 families in 2019 to more than 8,000 in 2020.
The food bank had to quickly move to its current location, a 10,000-square-foot warehouse on Alameda Point, where cars could line up for drive-through service. Volunteers handed out pre-packed bags filled with an assortment of fresh produce, protein, and baked goods.
All of this goodness is made possible not just by donations but by the hard work of volunteers. "We have 250 volunteers and they do it all," Houts said.
"During the pandemic we were one of the largest drive-through distribution sites and that was really great," said Houts. "And when the state opened up last summer, the numbers had reduced enough — even though we were still doing three times as much as before — that we felt it would be manageable to do in-person grocery shopping again." With a warehouse that size, there was plenty of room for social distancing. And of course there would have to be plenty of food on the shelves.
"We have three vans, and our volunteer drivers go to grocery stores in town — Trader Joes, Lucky's, Target, Safeway, Grocery Outlet," Houts said.  "We pick up food that they can't sell. It might be because it's just at the expiration (sell by) date, or a box might be a tiny bit dented, but it's still edible, safe, and nutritious."
Plentiful produce is Houts' specialty. "We get a lot of our produce from Food Recovery from local grocery stores, and from the Alameda County Community Food Bank," she said. "But I feel so strongly that we need to have a great quantity and quality of fresh produce that I also purchase some from a wholesale produce mart in Oakland."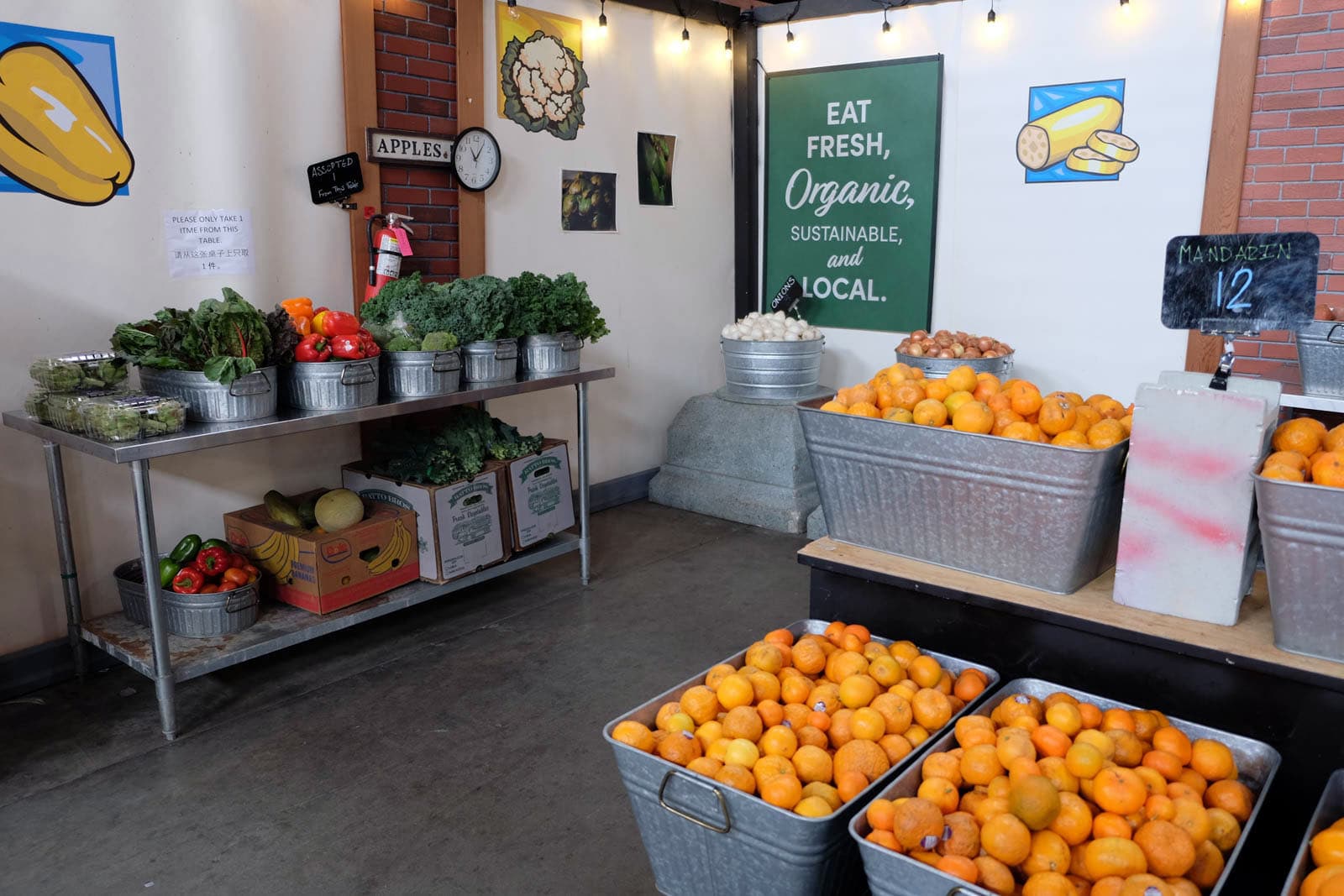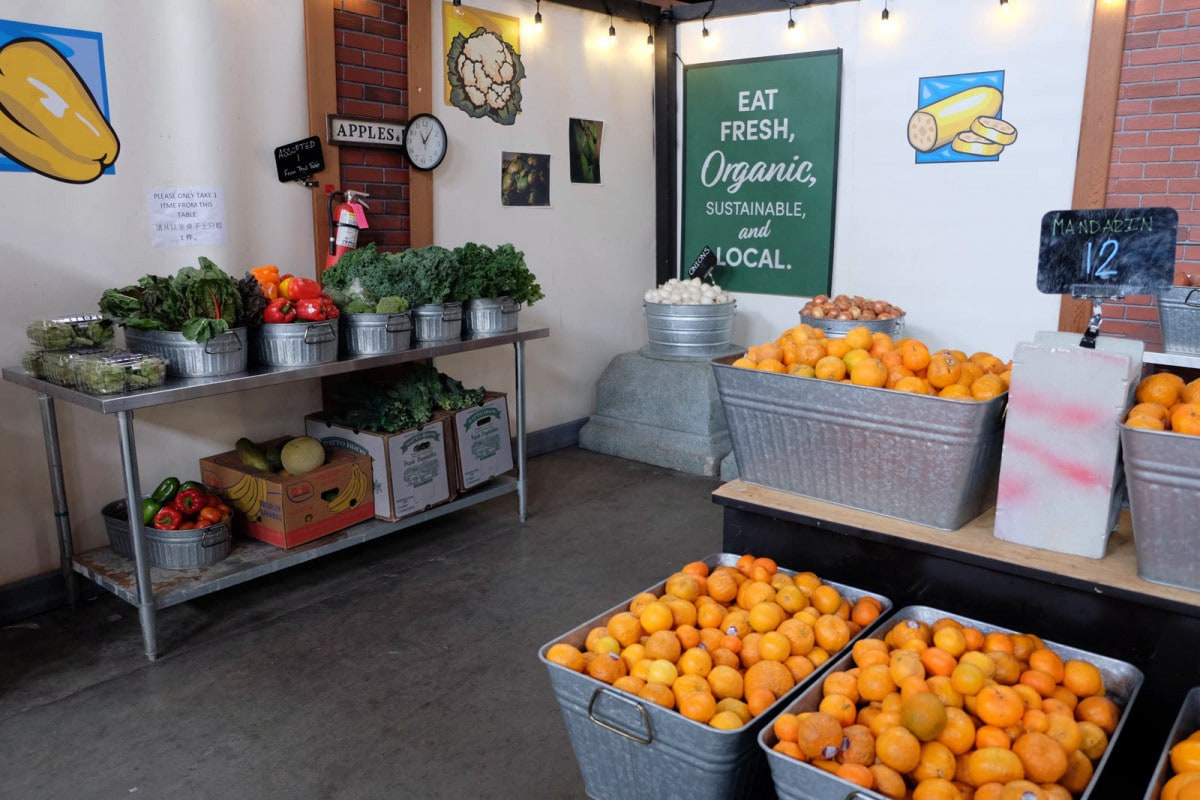 Community Funded
All of this is made possible primarily through the generosity of the Alameda community. Houts noted that 84 percent of the Food Bank's funding is provided by individuals and small organizations here in town. The other 16 percent comes from two federal grants (a Community Development Block Grant managed by the city, and FEMA funds managed by United Way Bay Area) and other corporate funding sources, Houts said.
Individual donations vary from pennies to thousands of dollars, but all are heartfelt. A 6-year-old boy sold some toys he no longer wanted and donated the proceeds. A second grader donated her allowance and birthday money. A former client sent a substantial donation with a handwritten note: "As a single mom about 20 years ago, the Alameda Food Bank was the primary source for feeding my family on a week-to-week basis. Several times during the year we got the added bonus of holiday meals from you. My kids are grown now and I am finally in a position to give back."
Paying it Forward
Houts pays it forward by seeing to it that the Food Bank gives to others. "We share food with other organizations such as City Team Ministries in Oakland, because they make a lot of meals for people in their residence program and for the homeless," she said. "We also provide food for the Dine and Connect dinners, which are hosted by different churches every Monday." The list of Food Bank good deeds goes on and on. They help to provide hot meals for the homeless in Alameda and contribute snacks to the Village of Love, a nonprofit organization that has a drop-in day center for the homeless and a safe parking site for 25 vehicles.
When items are available, the Food Bank donates supplies — toiletries, laundry soap, etc. — and snacks to the shower program at Christ Episcopal Church. And they also help our furry friends, giving pet food and supplies to Friends of the Alameda Animal Shelter (FAAS).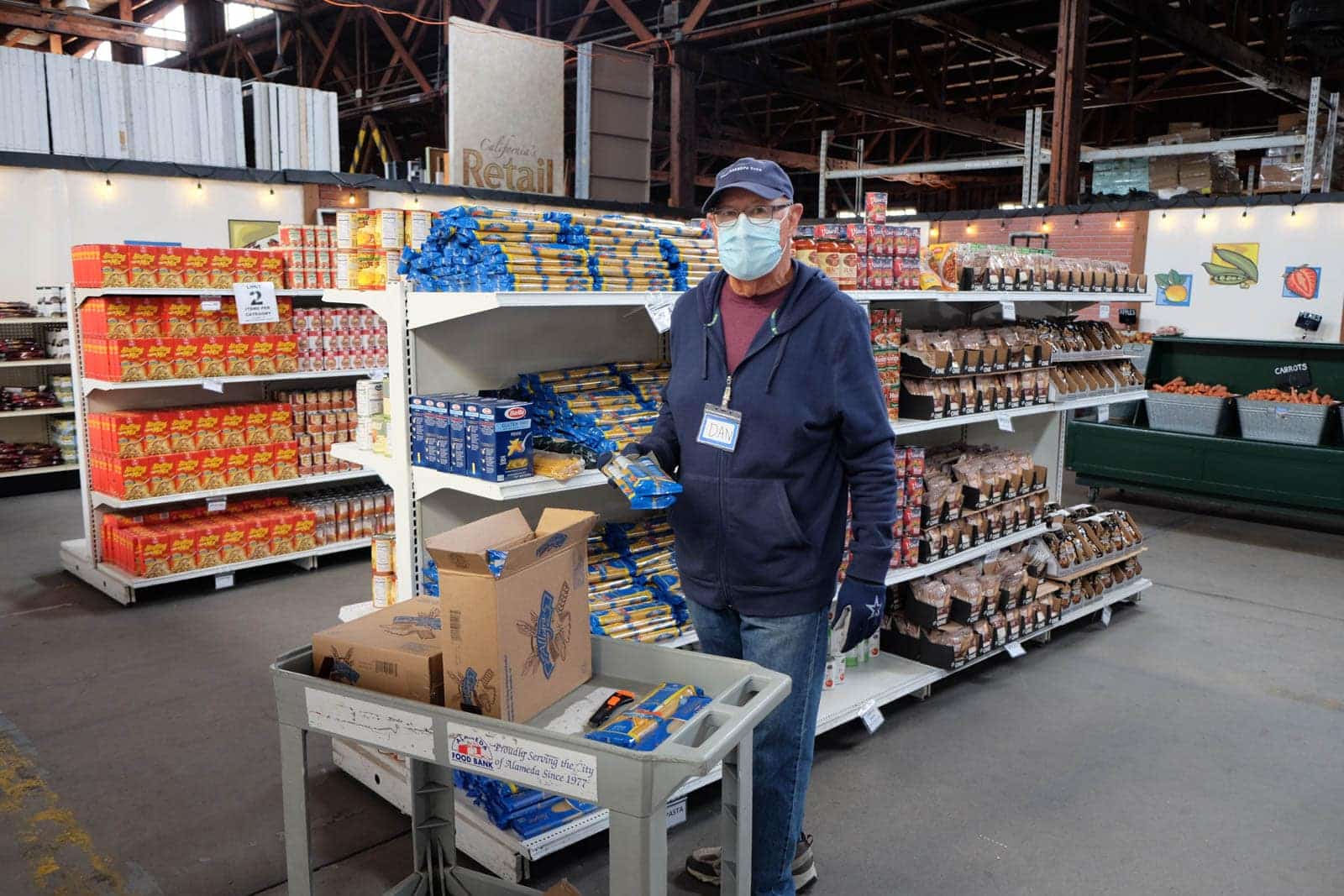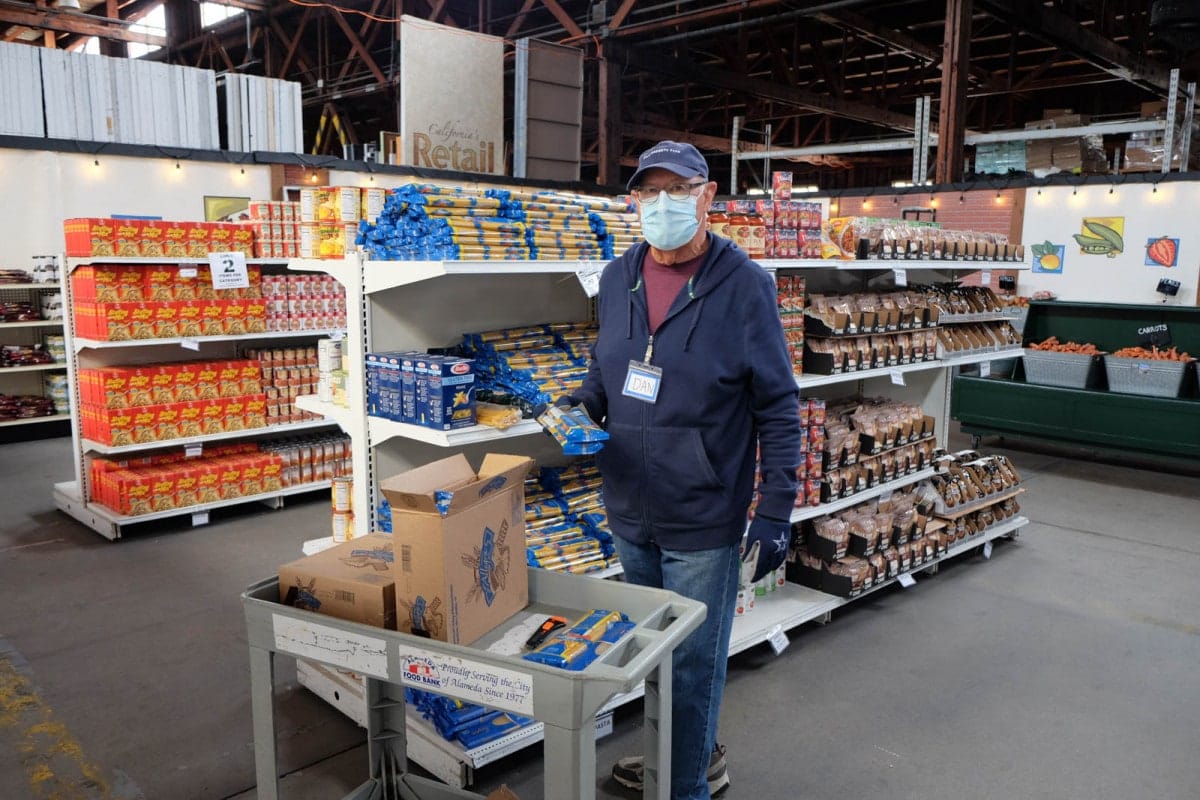 All of this goodness is made possible not just by donations but by the hard work of volunteers. "We have 250 volunteers and they do it all," Houts said. "There's no way that just four paid staff could do it, and there's no way that we could afford to pay people to do this work. They are amazing. And we have challenges here with the facility, but the volunteers are willing to show up even when it's freezing and windy and raining and cold. They're just incredible."
Contributing writer Liz Barrett writes about the community for the Alameda Post. Contact her via [email protected]. Her writing is collected at AlamedaPost.com/Liz-Barrett/.