October got off to a great start, with the fourth "Corks, Forks, Rhythm & Brews" festival Saturday afternoon at the West Mall on Alameda Point. This annual celebration of local food and beverages saw hundreds of smiling folks come together to sample the best the Bay has to offer, and all for a good cause, the Boys & Girls Club of Alameda. Even if you didn't make it on Saturday, you can still support this great event by bidding on their online auction before it closes October 5.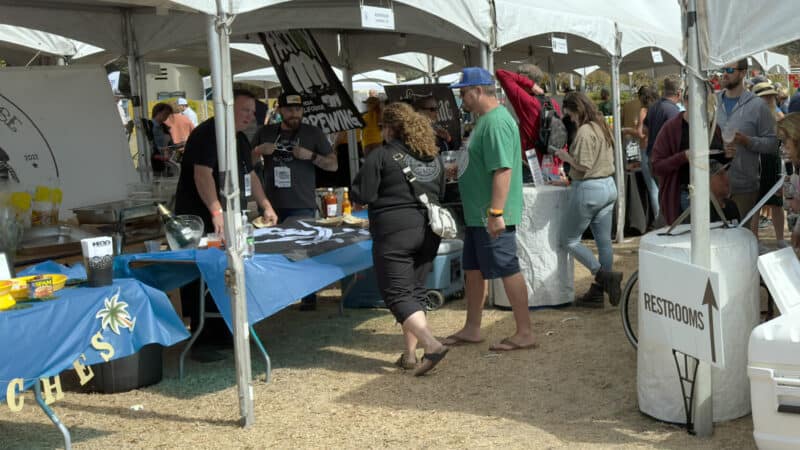 There were over sixty exhibitors highlighting food from gumbo to donuts, plus wineries, cideries, and breweries to wash it down. With that much variety, I decided to focus on the one area I have known well for quite a while: beer.
As a college student in the eighties, I was a willing participant in the first wave of what has become the Craft Beer Revolution. It's been a hobby ever since. Here on Alameda, we are fortunate to have three breweries. I spent part of Saturday speaking with Sarah Martin, sales rep for Alameda Island, Claudia Pamparana, founding co-owner of Faction, and Mark Duong, the regional sales manager for Almanac. The interviews were conducted separately, and have been lightly edited for clarity.
What makes Alameda a beer town?
Sarah (Alameda Island): "It's the lifestyle of Alameda. Laid back, reflective, the kind of vibe that brings people together. That's really what beer does."
Claudia (Faction): "We were the first brewery to open on Alameda." (2013.) "Once we opened , the community was incredibly supportive. The locals bought in big, and very quickly the local bars and restaurants wanted to be sure they were carrying our products. It's great to be well received like that."
Mark (Almanac): "The potential of Alameda, especially when you look at commercial real estate. It's accessible, unlike other parts of the Bay area. And, the Bay area itself is a beer mecca. So many great breweries. And great access to local ingredients."
Local ingredients really do make a huge difference. Beer is very much a living product. It's essentially liquid bread. So, while some styles can be aged and cellared, in general, fresher is better. And Alameda is ground zero for one of beer's most important ingredients: malt. Admiral Maltings on Tower Avenue supplies all three Alameda breweries, as well as dozens of others, including big names like Anchor and Lagunitas. So, there's yet another reason Alameda truly is a beer town.
Good island vibes, great community support, and fantastic ingredients. Still, beer lovers have a lot of choices, and it's a very connected community, where word travels fast.
What is it about each Alameda brewery that makes it stand out in a crowded field?
Sarah: "Richard Angeles, our head brewer, is Filipino, and that influence shows in our beers. We've had good success getting into area Filipino restaurants. We're not just focused on a particular style. Our motto is 'Beer for the people.' Our taproom staff reflects that. They are very welcoming, and they are a big reason I love to come to work every day."
I can definitely attest to Alameda Island's staff. Welcoming is the perfect way to describe them.
Claudia: "Each brewery is definitely different. We brew what we like, and tend not to chase trends. We stay true to our vision. One thing we are seeing now is a return to traditional lagers."
Claudia and I agreed that the recent embrace of more traditional brews was to be expected after the industry flirted with so many extreme trends over the past couple of years.
Mark: "Since Almanac began, we've concentrated on local ingredients. When we started in San Francisco, our first beers were barrel-aged sours, and we took the idea of farm to table, and applied it to beer. We called it 'farm-to-barrel.' We have added styles to our menu, but we retain our identity. When we make an IPA, we ensure it's balanced."
Balance is a word I'm hearing a lot from brewers these days. It's a welcome development after the "hop wars" that broke out when India Pale Ale (IPA) began its rise to dominance in the American market.
All industries see cycles of boom and bust. Brewing is no different. 1997 saw a consolidation after a period of wild growth. The past decade has seen smaller brewers bought out by the big names. (Are you aware that Lagunitas is wholly owned by Heineken?) Still, the thirst for craft beer continues, and if you think there are more breweries than ever, you're right. According to the Brewer's Association, in 1978 there were 89 breweries in America. In 2021? Over 9,200.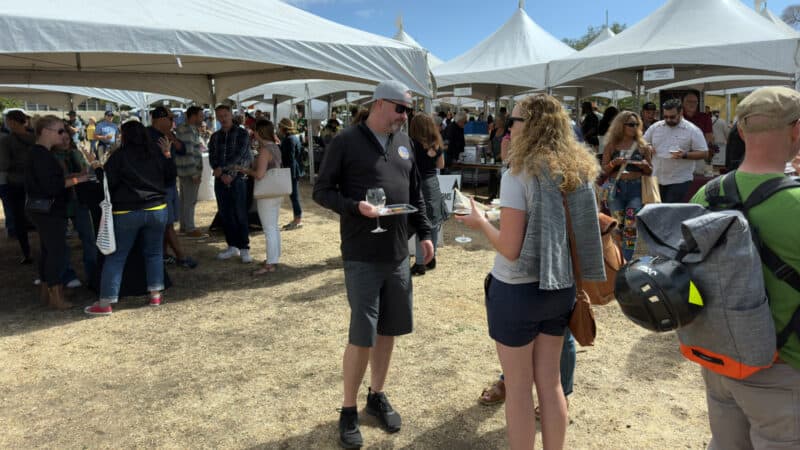 What does the future hold from your point of view?
Sarah: "We're looking to grow in the Bay area. Our partnerships with restaurants, especially Filipino restaurants, are a big part of where we're going. We've got a great team, and we're looking forward to expanding."
Claudia: "There are so many breweries, and we face an interesting challenge. The modern beer consumer is very educated. They know good beer from bad beer. In the past, folks might not have known the difference. But now? You've got to keep brewing good beer."
Mark: "Our Love Hazy IPA is our No. 1 seller at the moment, but we're seeing more of a demand for lower-alcohol beers. Even the non-alcoholic market is expanding. Like I said earlier, wherever the demand leads, we will retain our identity."
Retaining identity and staying true to what makes a brewery unique. I've literally traveled coast-to-coast stopping at breweries across the country, and that theme reverberates at all the best ones. Like a great restaurant, a brewery is a passion project. Spend some time at our island's breweries. You get to support some great local businesses and meet some really cool people. Beer folks are a friendly bunch. We come from wildly varied backgrounds and enjoy wildly varied styles, but we all have one thing in common: we're here for the beer!
Broadening horizons: two great off-island brewery finds
One of the great advantages of a festival like Corks, Forks, Rhythm & Brews is the ability to sample the wares of a huge cross-section of the community in a very short time. Two Bay Area breweries caught my attention.
Looking for gluten-free beer options? San Francisco's Otherwise Brewing started in February 2021, and is San Francisco's first gluten-free brewery. Their Calrose Crisp rice lager is a great refresher.
I spent time sampling the offerings of Oakland's Hella Coastal Brewing, and talking beer with co-founder Mario Benjamin. Their Bomba Nights stout (a collaboration with Federation), and the Hella Coastal lager were standouts to me. Hella Coastal is blazing a trail as Oakland's only Black-owned brewery, and they are on a mission. Out of more than 9,200 breweries in America, only 60 are Black-owned. Mario loves what he does, brews some great beer, and is bringing critical representation to an industry that desperately needs it. But the bottom line? The beer speaks for itself.
Scott Piehler hosts and produces Alameda's only weekly news digest podcast, the Alameda PostCast. Reach him at [email protected].