On Saturday, June 24, the Joaquin Murrieta Chapter 13 of E Clampus Vitus, a fraternal organization dedicated to the preservation of the heritage of the American West, held a ceremony to install a new plaque on the side of the Croll's Building at the corner of Webster Street and Central Avenue.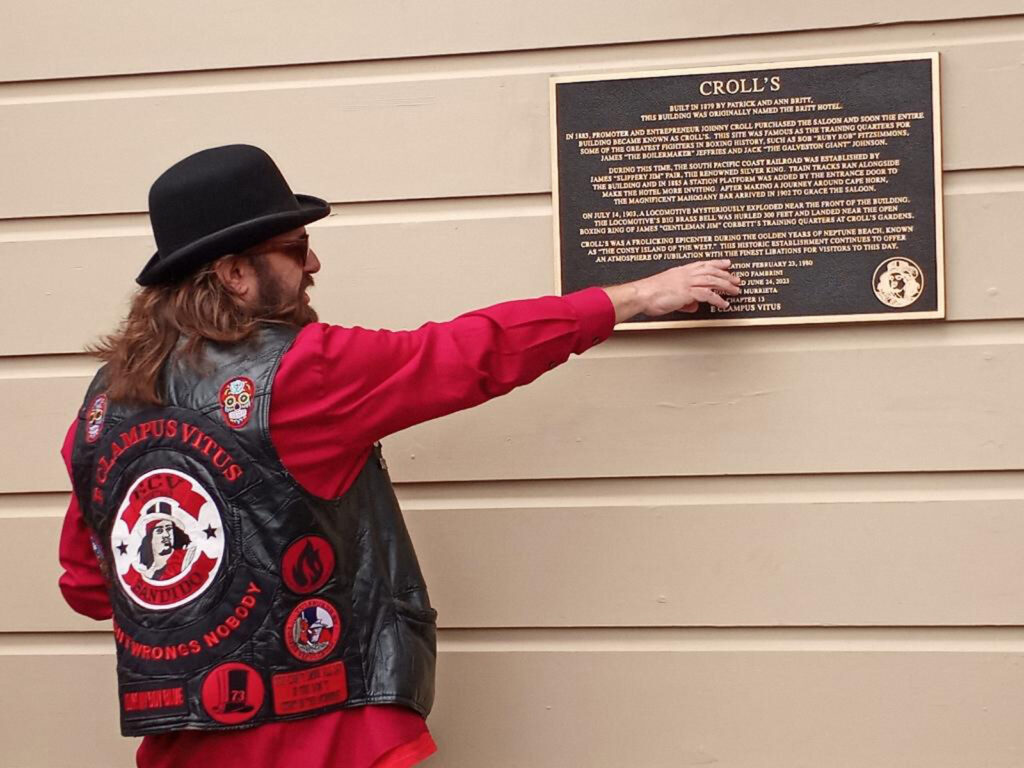 The previous plaque was installed in 1980 and stated:
Croll's
A bar since 1879.
A survivor of a locomotive boiler explosion in 1903 and the Great Earthquake of 1906, still serves patrons today. The mahogany bar, still in use, journeyed around the Horn in 1902.
In the later 1890s, boxing and professional baseball were initiated by John Croll Sr., making his sporting emporium and hotel world renowned.
Dedicated by Joaquin Murrieta
Chapter 13
E Clampus Vitus
February 23, 1980
At some point over the years, that plaque was stolen, much to the relief of Alameda Post Historian, Dennis Evanosky. Dennis had been dismayed for years by the inaccuracy of the plaque—that Croll's didn't come into existence until 1883.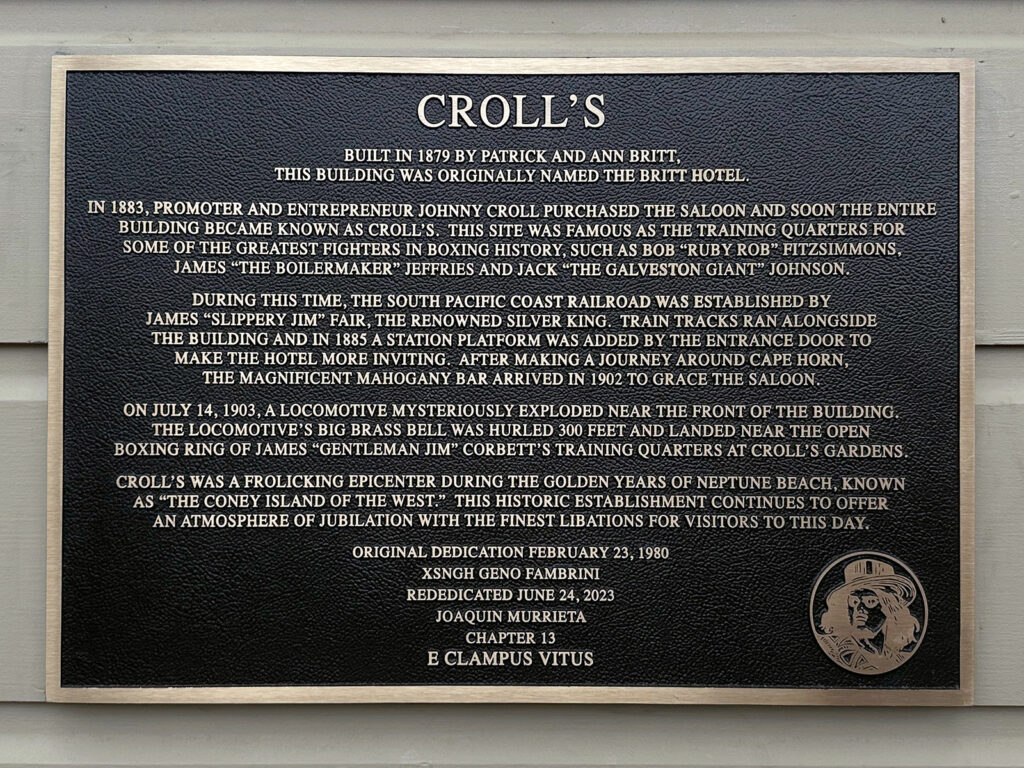 Members of the fraternal organization worked with Dennis to compose a new, accurate plaque, with the final version stating:
Croll's
Built in 1879 by Patrick and Ann Britt, this building was originally named the Britt Hotel.
In 1883, promoter and entrepreneur Johnny Croll purchased the saloon and soon the entire building became known as Croll's. This site was famous as the training quarters for some of the greatest fighters in boxing history, such as Bob "Ruby Rob" Fitzsimmons, James "The Boilermaker" Jeffries and Jack "The Galveston Giant" Johnson.
During this time, the South Pacific Coast railroad was established by James "Slippery Jim" fair, the renowned Silver King. Train tracks ran alongside the building and in 1885 a station platform was added by the entrance door to make the hotel more inviting. After making a journey around Cape Horn, the magnificent mahogany bar arrived in 1902 to grace the saloon.
On July 14, 1903, a locomotive mysteriously exploded near the front of the building. The locomotive's big brass bell was hurled 300 feet and landed near the open boxing ring of James "Gentleman Jim' Corbett's training quarters at Croll's Gardens.
Croll's was a frolicking epicenter during the golden years of Neptune Beach, known as "The Coney Island of the West." This historic establishment continues to offer an atmosphere of jubilation with the finest libations for visitors to this day.
Original Dedication February 23, 1980
Xsngh Geno Fambrini
Rededicated June 24, 2023
Joaquin Murrieta
Chapter 13
E Clampus Vitus
Unfortunately, during the ceremony, Dennis was unable to capture a photo of the unveiling, as someone jostled him just as it happened. Watch the video below from our history walking tour this past Sunday to hear Dennis tell the story of Croll's, the plaque, and the ceremony. We will be sharing more information and photos of the infamous 1903 locomotive explosion mentioned on the plaques soon.