A baseball term, the last of the booze, or the location of the City's newest park?
This past Sunday was Easter, and while this day has special and different meanings to many Alameda residents, I am going to stay with the "bunny and the beagle" meaning as the safe choice.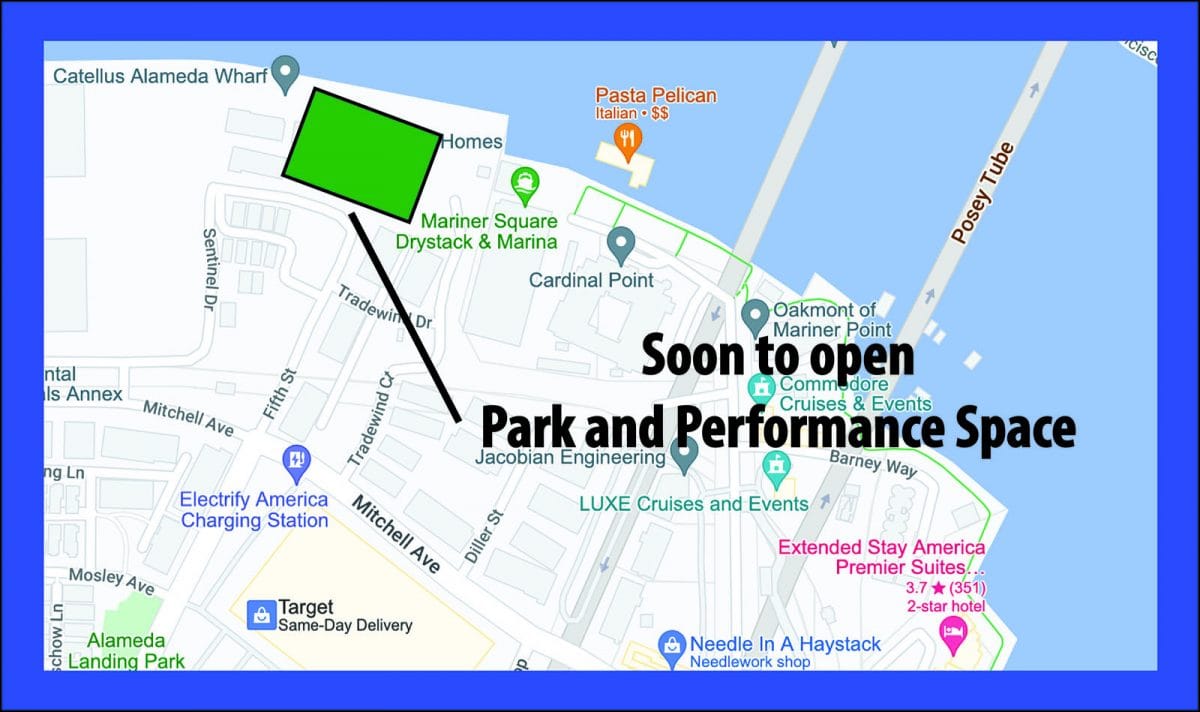 I had the chance to scoop the story about the City's newest park that isn't even open yet. And when I refer to scoop, I am referring to the release of a story before other news outlets cover it and not the canine activity of scooping up poop.
This new park and amphitheater is huge and has a magnificent panorama view of Jack London Square and the Port of Oakland. There are picnic tables, a performance space, nice bathrooms, and a great place for the little pups to play. It even has enough landscaping for us canines to sniff/explore in.
The last intel I had was that the fencing at the water's edge needed to be completed and that a soft opening might take place in May. Watch my weekly reports for the official opening announcement.
This past Sunday was Easter, and I was so happy to see that my hero, mentor, and "roll" model made it onto a Happy Easter flag, along with his feathered accomplice Woodstock.
There is a house on Central Ave that I can count on for having a great yard decoration, and this Easter was no exception. Bunnies abound in Irma and Neto's front yard.
In my regular "Walk By" feature, I did a walk by of Julie Caldwell's Alameda home. She specifically asked if the Redwood tree was still in the yard. Looks like it is still there and bigger than when she lived there.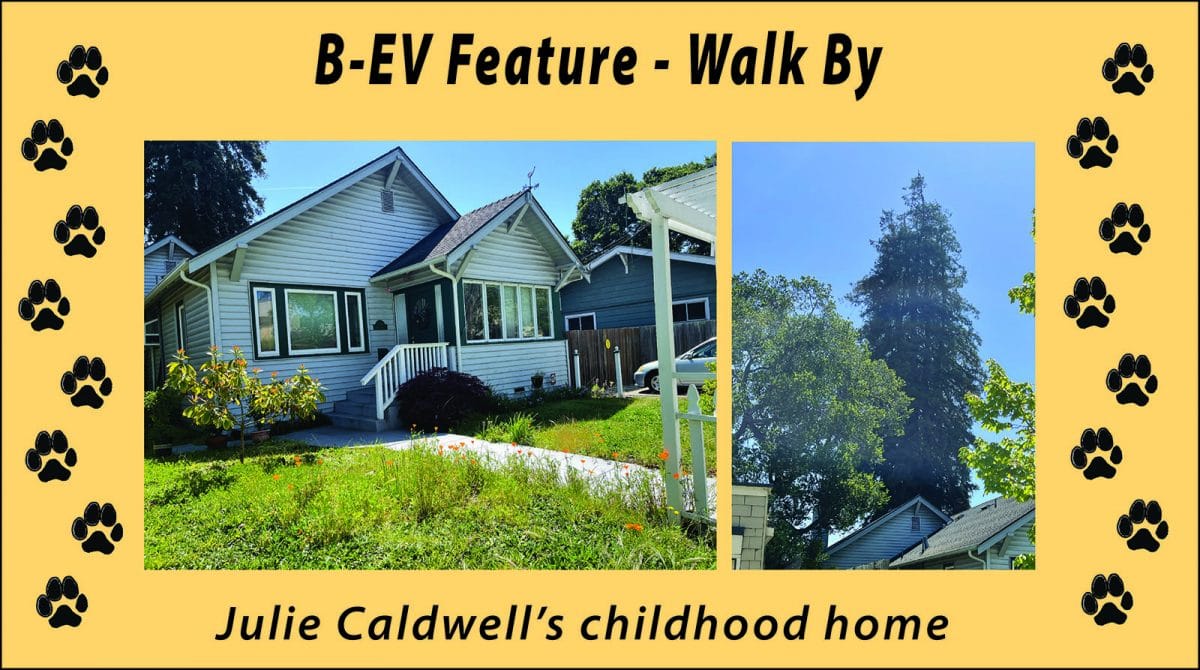 If you have moved away from Alameda and would like to see what the family house looks like today, please email my human companion at [email protected] with your address. I will get him to walk me by your place and include the picture in a future report.
The big rubber plant was not claimed last week, so the donation ask is $50 to be paid to FAAS for this large rubber plant complete with a real ceramic pot. You can claim is by emailing Jeff at the email address above.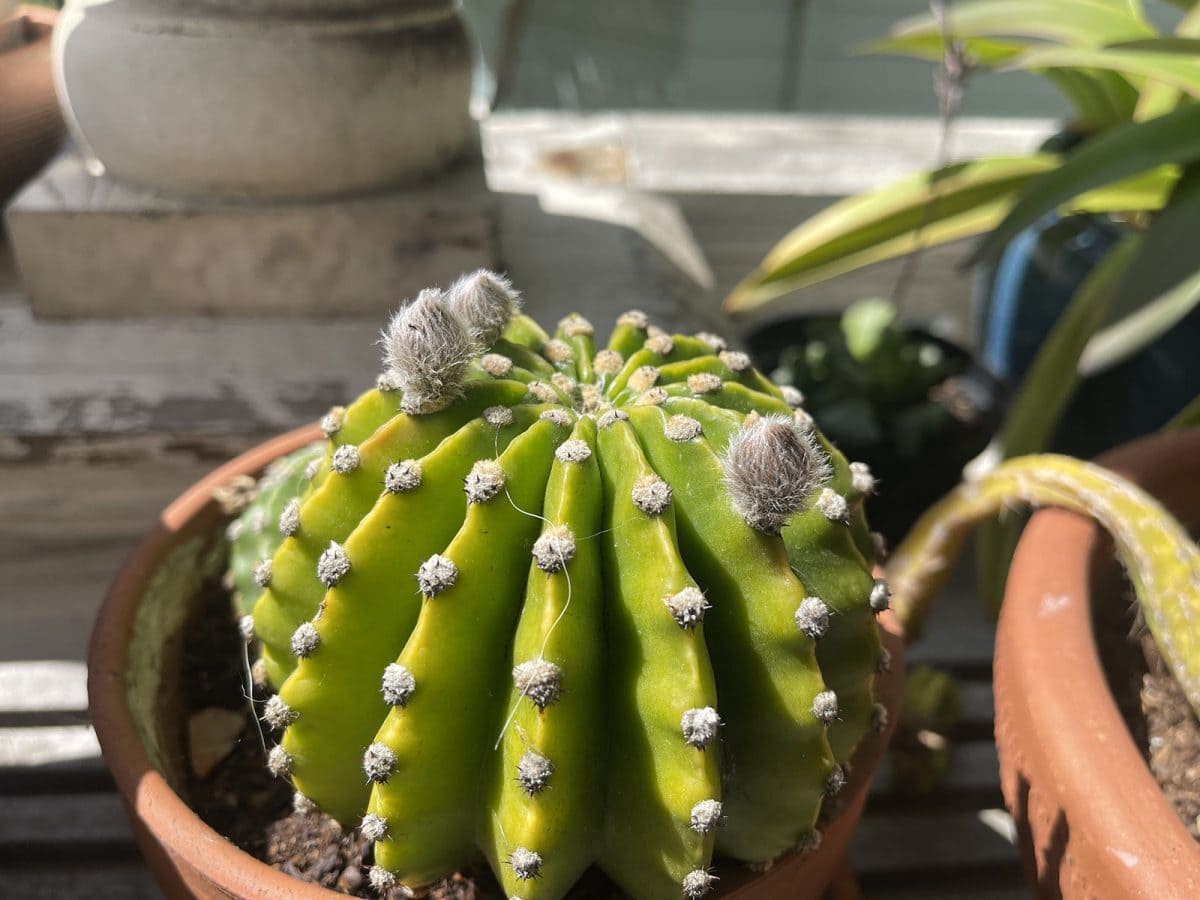 My human companion has this cactus plant that has a flower that is very unusual and lasts only for a day or two. I will be chronicling the flowering process in my weekly reports right up to the end.
Happy Bunny and Beagle Day!
Mouf
Mouf and his human companion can be reached via [email protected]. Their stories are collected at AlamedaPost.com/Jeff-Cambra/. All photos by Jeff Cambra.