I am pleased to join the chorus announcing that we have a nesting pair of bald eagles here in Alameda. Reports of bald eagles flying over or perched on structures in Alameda started to appear in December 2022. During that month, I saw a bald eagle harassing ducks at Martin Luther King Park/Arrowhead Marsh and then flying toward Alameda. Later in the month, after several hours walking around Bay Farm Island looking for the birds, I finally saw a pair overhead. They flew into a tree, and I realized that they were in a slowly growing nest. I can't describe the excitement. We have nesting bald eagles within the Alameda city limits!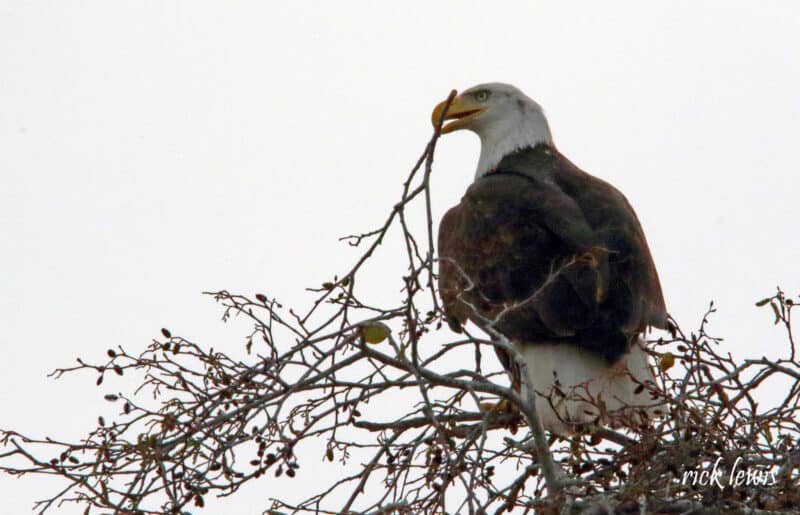 It's simply wonderful news and a testament to our healthy environment providing for our national emblem. We need to recognize the important role played by many Bay Area organizations committed to conservation and stewardship. Their unstinting work in educating about and promoting our local wildlife and wild areas has helped make this nest possible. I want to thank Golden Gate Audubon Society (GGAS), Friends of the Alameda Wildlife Reserve (FAWR), Sierra Club, Save the Bay, Bay Nature, and many others too numerous to name for their work highlighting issues critical to maintaining a healthy and vibrant environment. The efforts of the individuals in these organizations benefit both humans and wildlife throughout the Bay Area.
Bald eagle mating and reproduction
Bald eagles start nesting at 5 or 6 years old, by which time they have their adult plumage with a white head and tail, and they can live for 20 years or more in the wild. They typically mate for life and will use the same nest for many years if not disturbed. They usually nest in tall trees, preferably near water, because fish provide some of their food. The youngest breeding birds may not be successful in their first year. The female, larger than the male, usually lays two eggs and both adults incubate the eggs for about 35 days. Then both parents feed the chicks until they fledge at 8 to 14 weeks and continue to feed the juveniles as they learn to hunt for themselves. So, if these Alameda birds hatch eggs, they will be feeding chicks into the early summer. In addition to fish, bald eagles generally eat ducks, fish, and small mammals. When I see them feeding at Merced National Wildlife Refuge, they are eating ducks, coot, and geese.
What these nesting bald eagles mean for Alameda
Now that the bald eagles in Alameda are starting to build a nest and have been "discovered," their safety and well-being are the most important issues. We must all follow precautions, such as no drones, no approaching birds when they are on the ground, and no crowds near the nesting site. The nest is in a large eucalyptus on the Corica Golf Course. Golfers don't appear to bother the birds, but bald eagles elsewhere have clearly been bothered by people getting too close. These bald eagles can be seen flying throughout Alameda and from MLK, which are safer locations than a golf course for all of us non-golfers who want to see Alameda's nesting bald eagles.
I wish everyone luck looking for the bald eagles in our skies and wish the birds success in fledging one or two new eagles in 2023. Welcome to Alameda!
Rick Lewis is a longtime member of the Golden Gate Audubon Society, along with other environmental organizations. He contributes often to Bay Area and Central Valley birding groups that promote wildlife and habitat conservation. Learn more about our area's birds at Golden Gate Audubon Society. All photos © Rick Lewis.