2022 Ford F-150 Lightning XLT EV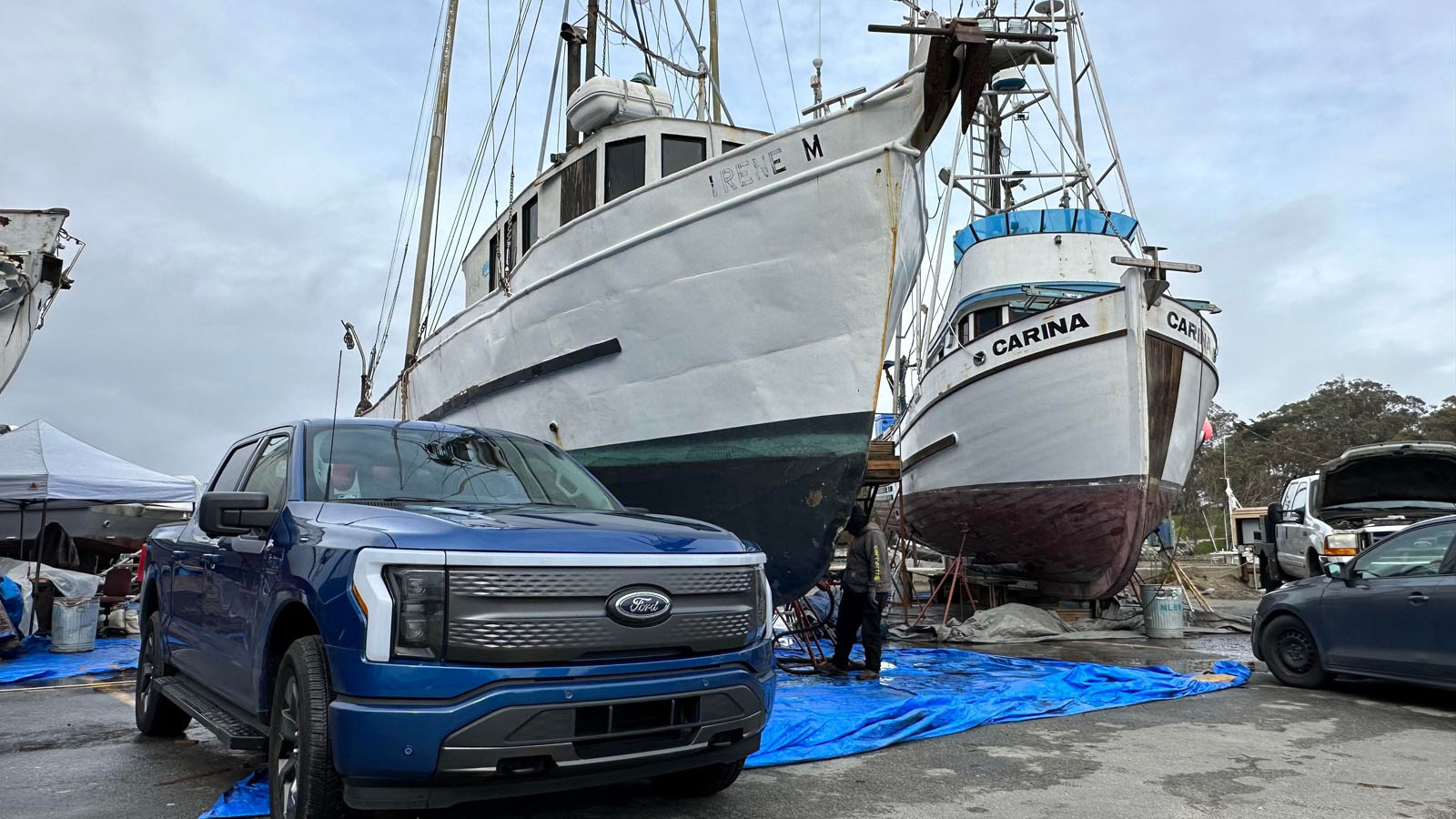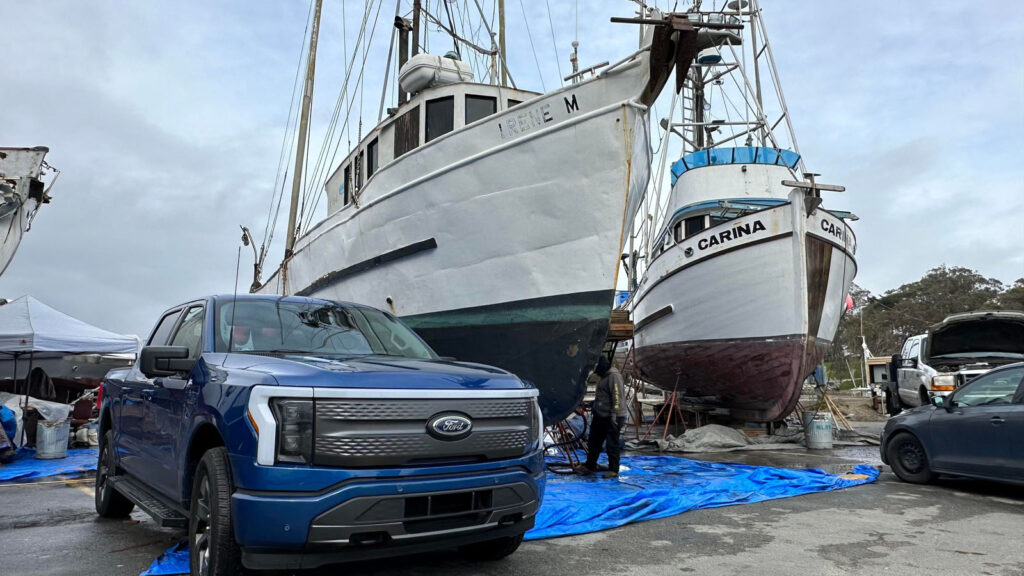 There's a reason Ford, Chevy, and Ram truck owners are so fiercely loyal. All three brands are immensely capable, powerful, and reliable trucks. Whichever one you own is likely the brand you will stick with for life. There are things to love about each brand, but Ford has the sales edge. The Ford F-Series have been the top-selling vehicles in America for several decades.
High stakes for the F-150 Lightning
I didn't think I was going to like the F-150 Lightning. I grew up in a GM household and have always driven Chevrolet and GMC trucks. But I approached the Lightning with an open mind. I know the Lightning is an important vehicle for Ford. It's the first electric F-Series truck. With so much at stake, I expected the Lightning would be a good truck, but I didn't expect it would prompt me to rethink the brand.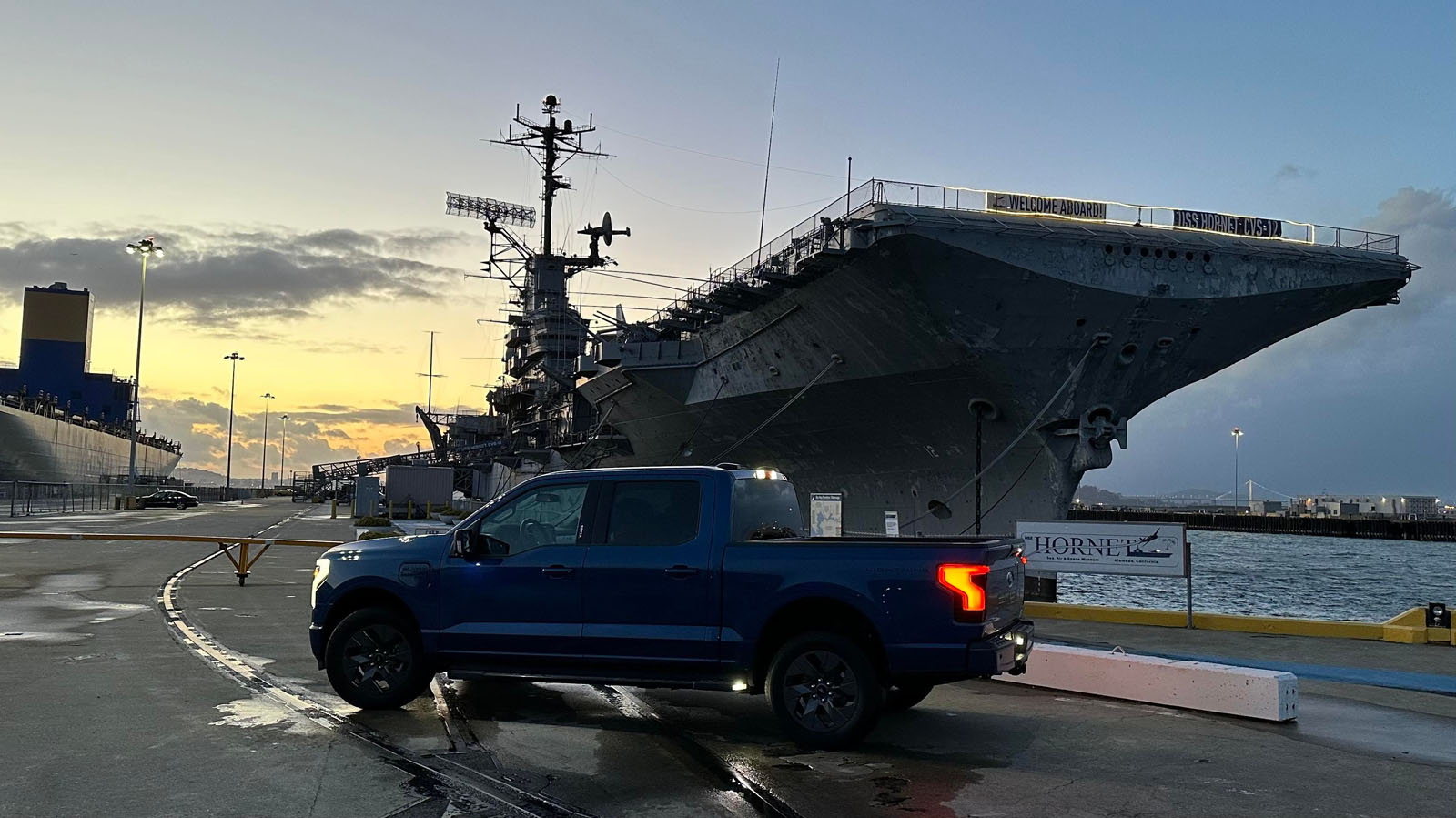 Commanding attention
The Lightning is nearly indistinguishable from a gasoline-powered F-150. The only thing that sets it apart is a unique grill, LED lighting, and blue accented lettering proudly adorning the quarter panels with the name "Lightning." That's enough to get the attention of passersby. Pedestrians stopped, turned, and stared as I drove by.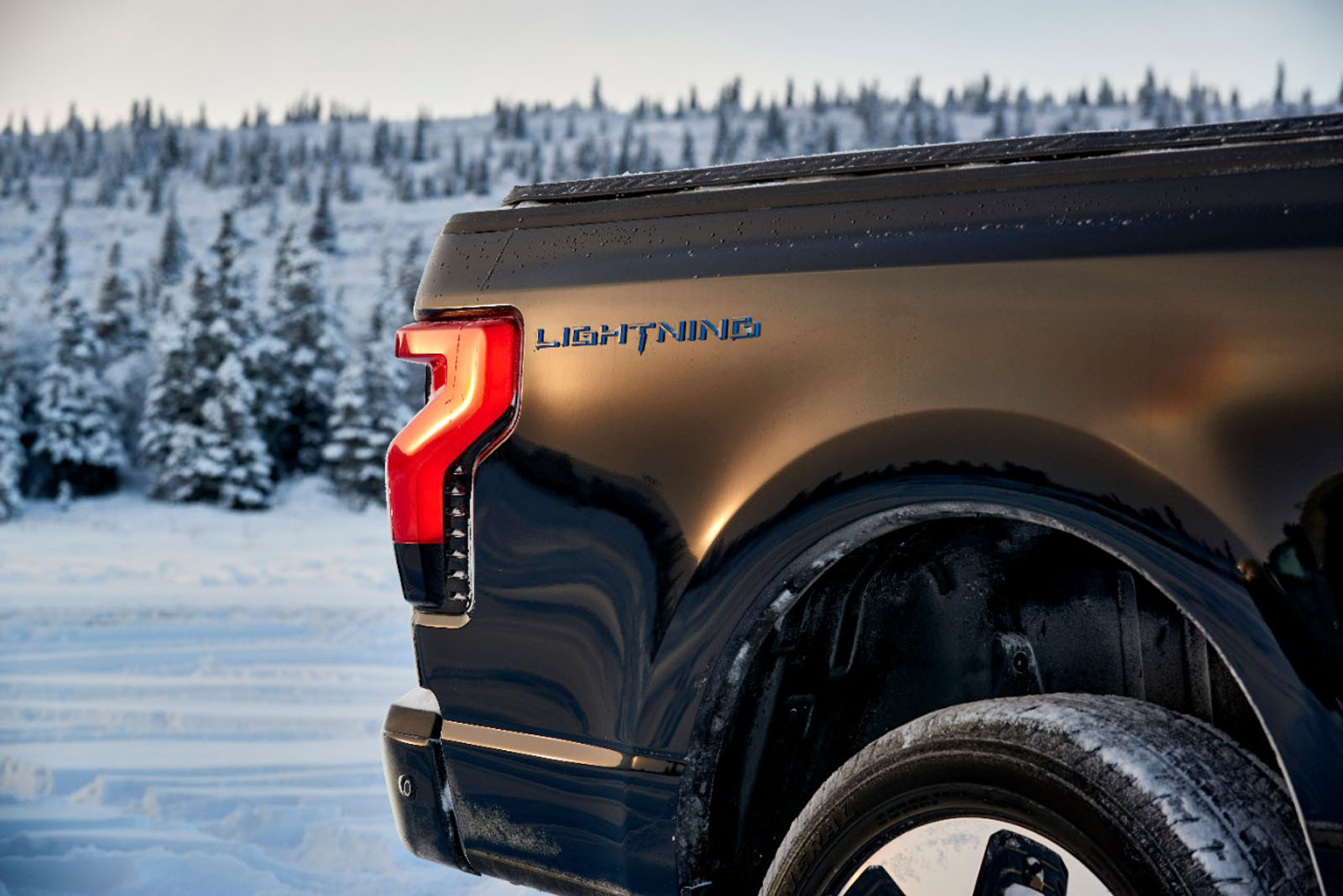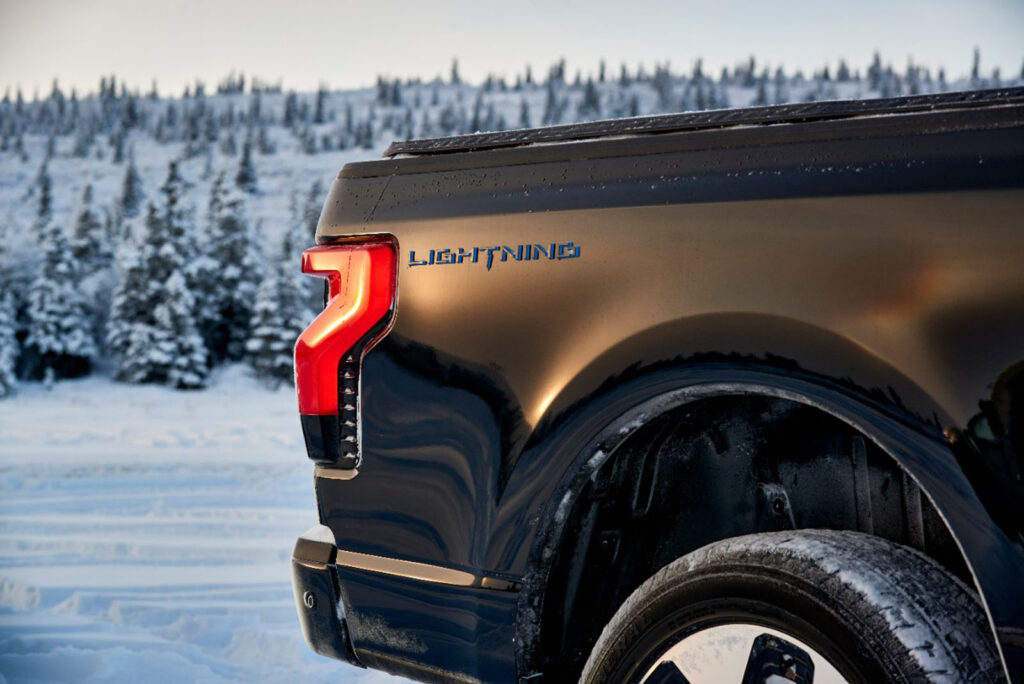 On several occasions the Lightning drew a small crowd. At one building site I visited, a group of construction workers gathered around to have a look at the new EV pickup. Opening the remotely controlled "frunk" (front trunk) drew oohs and ahs.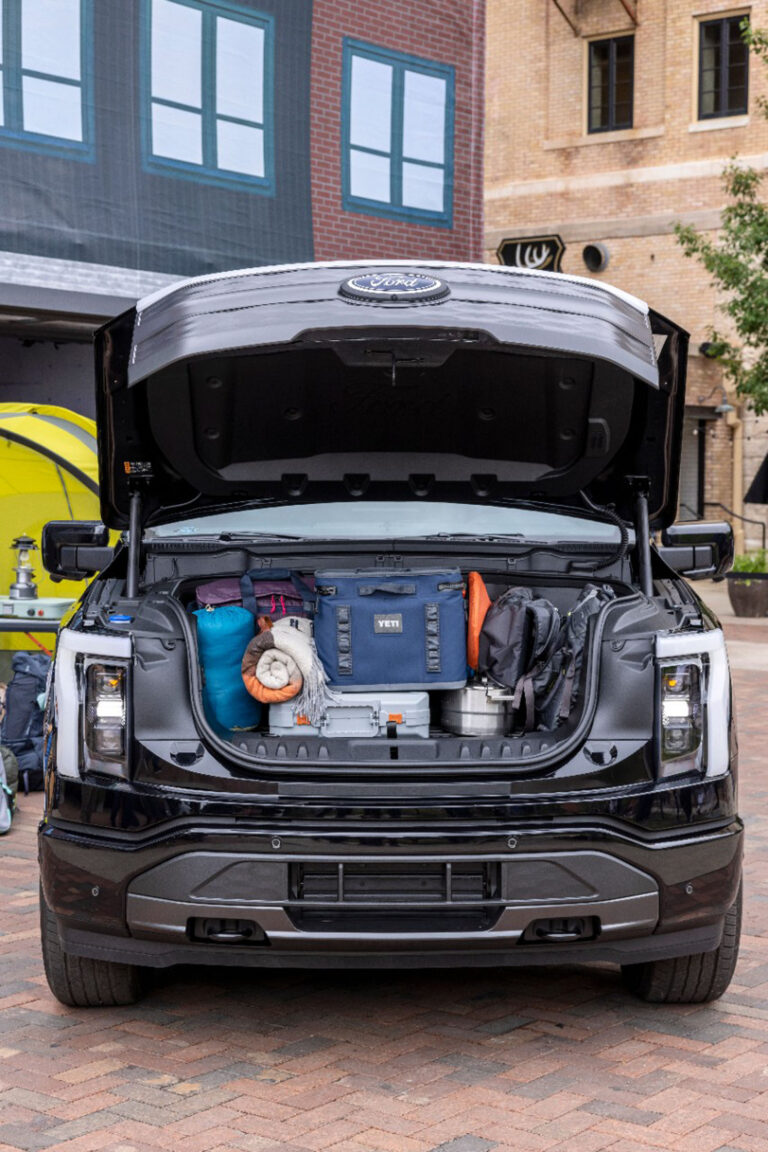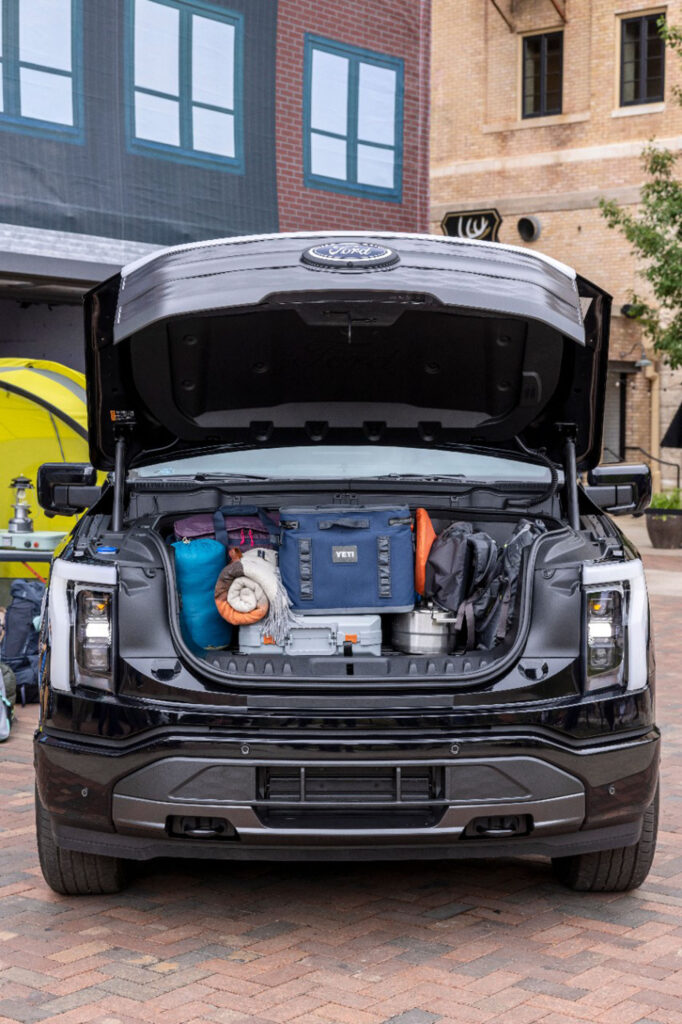 Getting into a frunk
Opening the hood reveals a generous 14.1-cubic-foot trunk packaged into the space where the gasoline engine would normally reside. Ford says it's big enough for two sets of golf clubs. I was able to fit several tool bags, a cordless drill case, and four medium-sized boxes with room to spare. Everything I would normally have to load into the cab easily fit into the good-sized frunk.
Pickup owners constantly struggle with the convenience of having an open bed and the need to secure valuable cargo out of sight from prying eyes. The frunk gives the Lightning a level of storage versatility not possible with internal combustion pickups. The frunk is cool, too. It's the one feature that gets the most attention from admirers.
Plugs aplenty
Another advantage of the electrified F-150 is electrical outlets (receptacles). The Lightning has more electrical outlets than my first apartment — a whopping ten 120v AC outlets, one 240v 30-amp twist-lock outlet, four USB-A, four USB-C, and two traditional 12v lighter plug outlets. While that may sound like overkill, I actually found it extremely convenient. There are electrical outlets sprinkled all around the Lightning, including in the frunk and in the bed out back. I ran a circular saw from one of the 120v outlets next to the tailgate and charged my cordless drill in the frunk while driving to a job site. You can even use the Lightning to power up your house in the event of a power outage. Equipped with the optional "Charge Station Pro," the Lightning can deliver 9.6kW of power, enough to run a typical home for up to 3 days.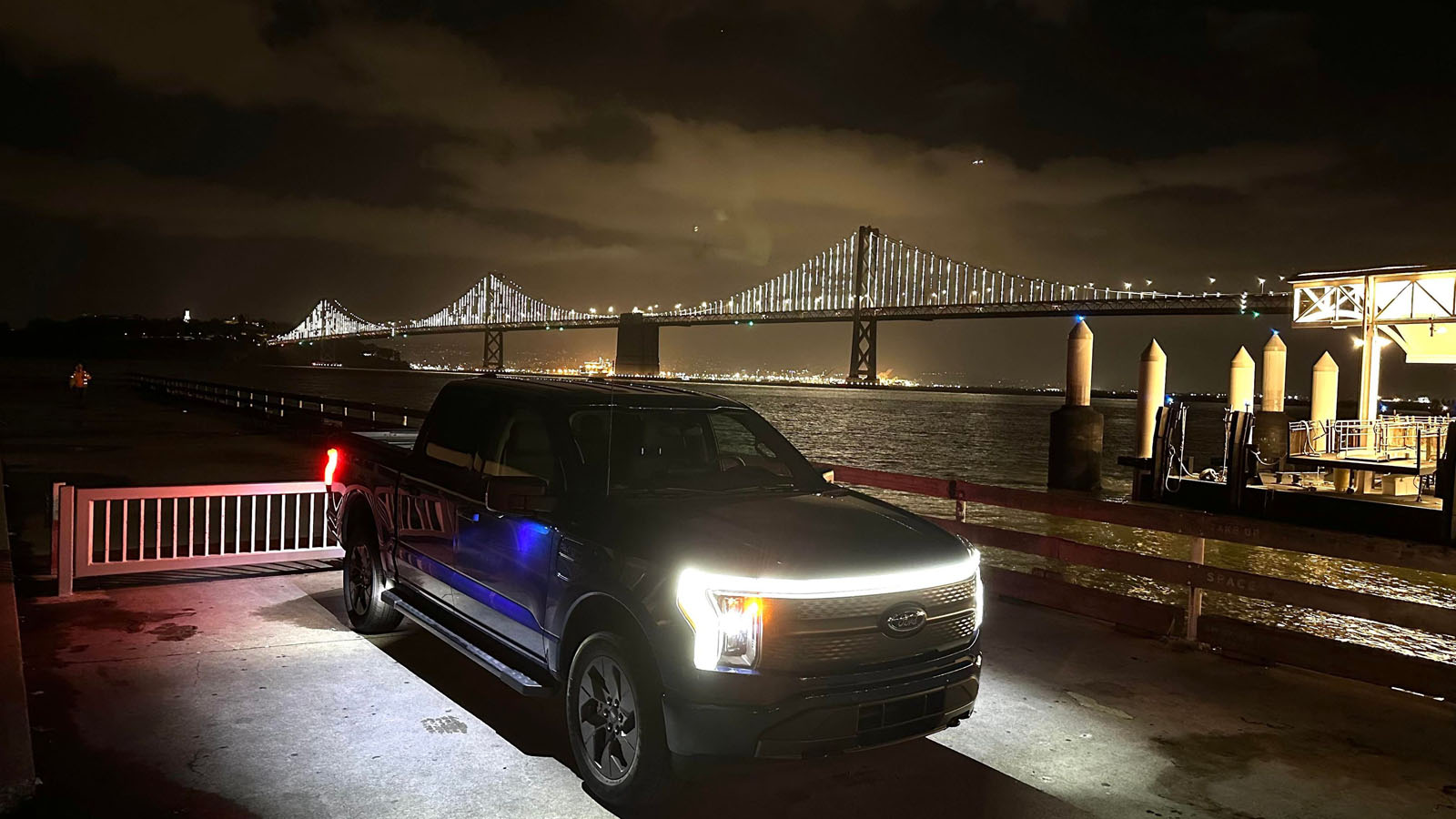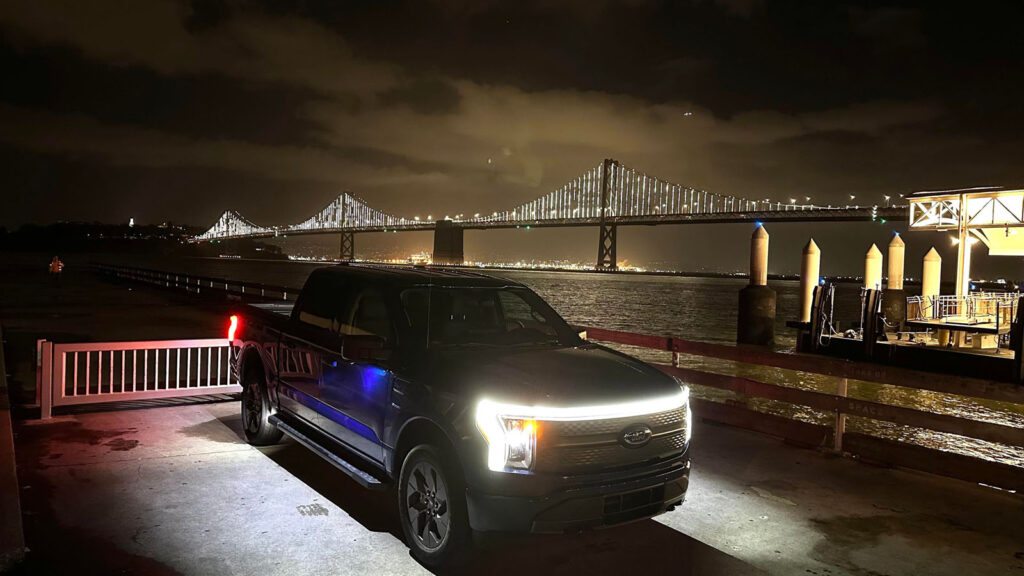 Standing tall
The F-150 Lightning is a tall truck with an overall height of over 6.5 feet, making it too tall to fit in many garages, including mine. That could be a problem for some Lightning buyers who want to charge up overnight in their garage. The bed sides are also up high. This 6-foot-3 reviewer found the Lightning too tall to reach over the bed rails. You'll need to load and unload from the tailgate, which conveniently has a power up and down function and can be controlled from the key fob.
You can't just step into the Lightning. You have to climb in. The standard side steps on my XLT example made that easy. Once inside, you have a commanding view outward. Visibility is excellent. The cab is nearly the same as all F-150s,except for a graphics-intensive instrument panel and the prerequisite power monitoring screens.
Interior comfort and trim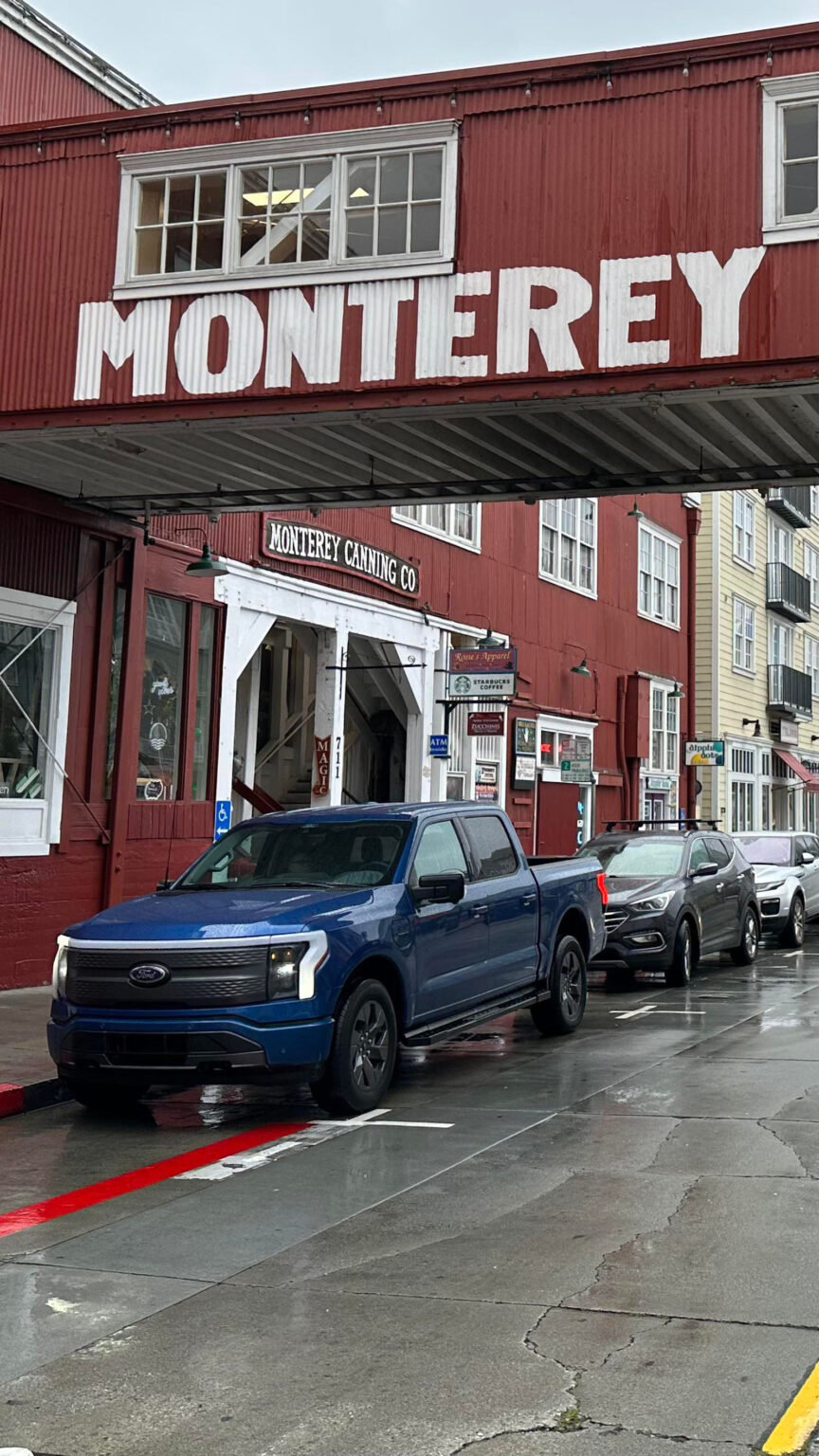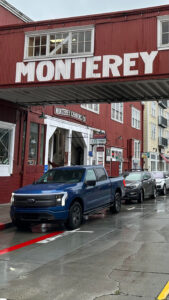 The Lightning comes only as a Super Crew with a 5.5-foot bed. The cab interior is spacious, both front and back. The Lightning is by far the roomiest of all the full-sized trucks on the market. The Lightning has generous shoulder, knee, and leg room. Shoulder room has become somewhat of a premium. Many cars and trucks have become uncomfortably narrow, especially at the B pillars where those with broad shoulders are cramped. Are you listening, GM?
The Lightning's front seats are true captain's chairs with wide armrests and plenty of room to use them. The seats are comfortable like a recliner, while also being supportive. The XLT comes standard with heated power adjustable seats, power lumbar, and a modest amount of bolstering. XLT Lightnings come with fabric upholstery. The seating surfaces look handsome and feel durable. I suspect this material will hold up better than leather over the long term. The fabric is carried over onto the dashboard which gives the interior a nicely coordinated appearance.
Like other F-150s, my F-150 Lightning had the "stowaway" shifter and fold-out work surface. My girlfriend and I used the work surface as a picnic table and enjoyed clam chowder in a sourdough bowl while visiting Monterey's Cannery Row.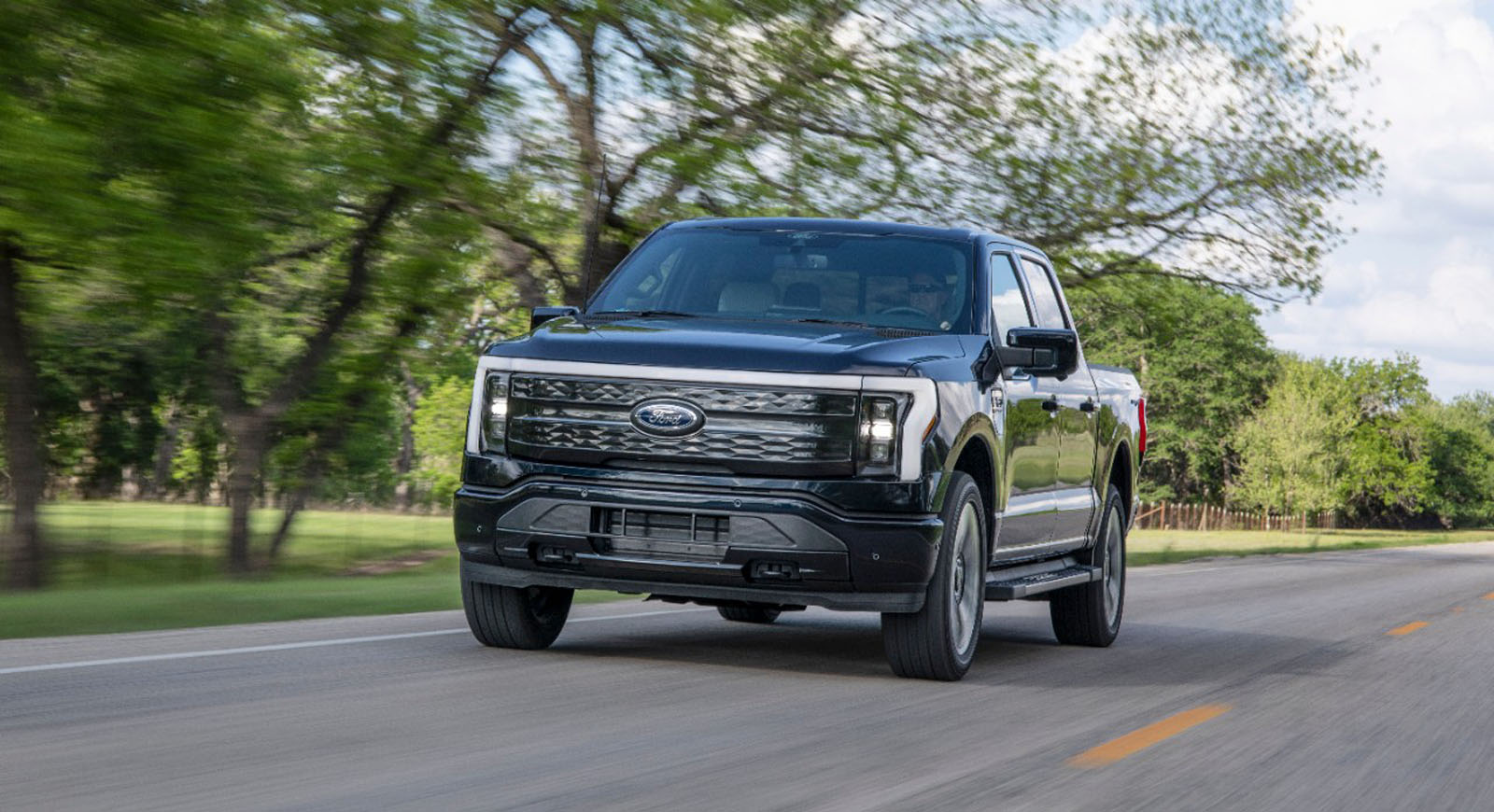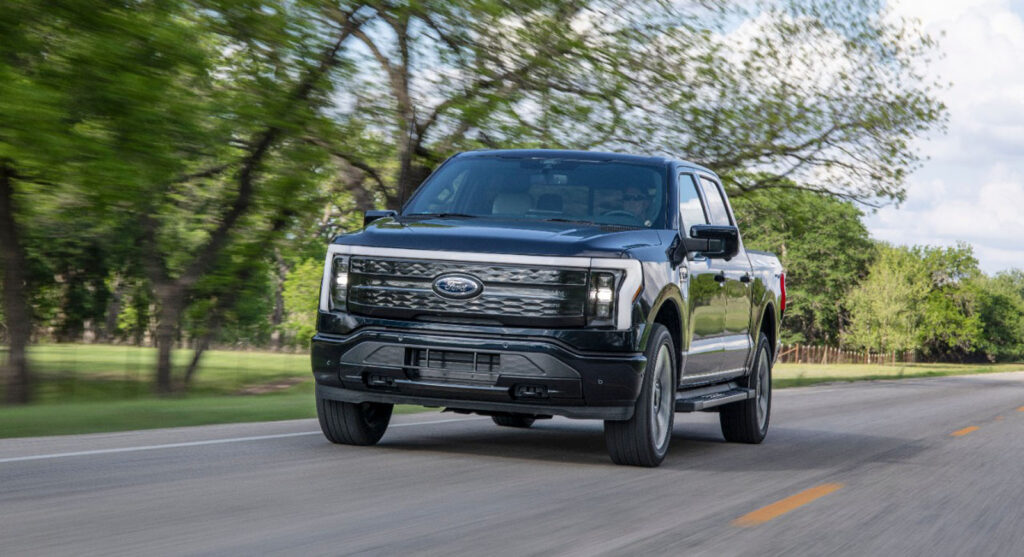 Driving dynamics
On the road is where the F-150 Lightning truly shines. The truck is quicker than I expected. The Lightning sprints from 0 to 60 mph in 4 seconds flat. That's 1.6 seconds faster than its SVT Lightning namesake. The truck also has excellent road manners. The extra weight of the batteries gives the Lightning a well-planted feeling and its low center of gravity enhances stability. A fully independent rear suspension is standard and no doubt contributes to the Lightning's outstanding job of smoothing out broken pavement and soaking up pothole impacts. The Lightning proved to be a worthy adversary to the crumbling roadways of the San Francisco Bay Area. Four-wheel-drive is standard and the ride height is sufficient to give you 8.4 inches of ground clearance. To help get you out of a pinch — or a rut — it's also equipped with an electronic locking differential.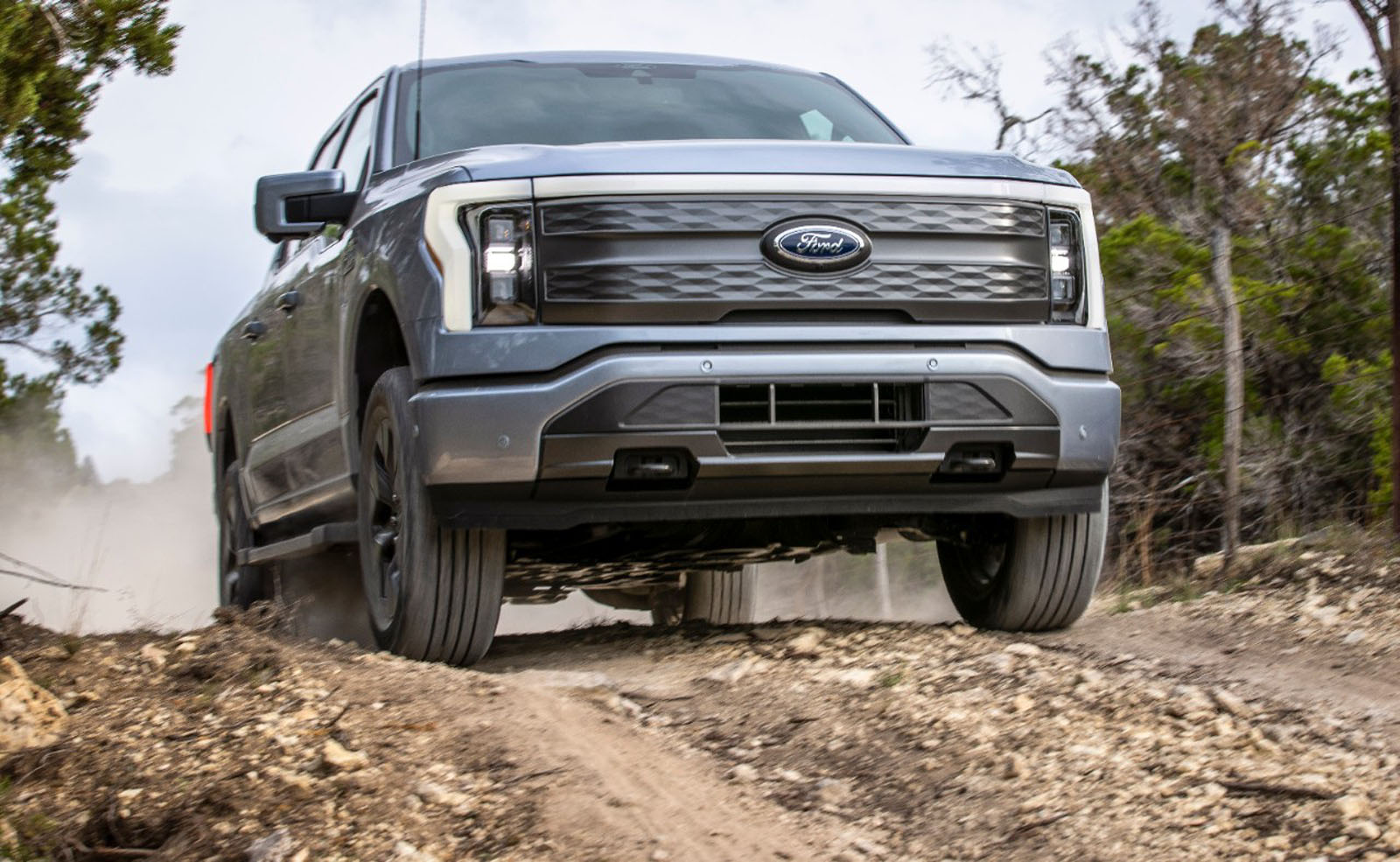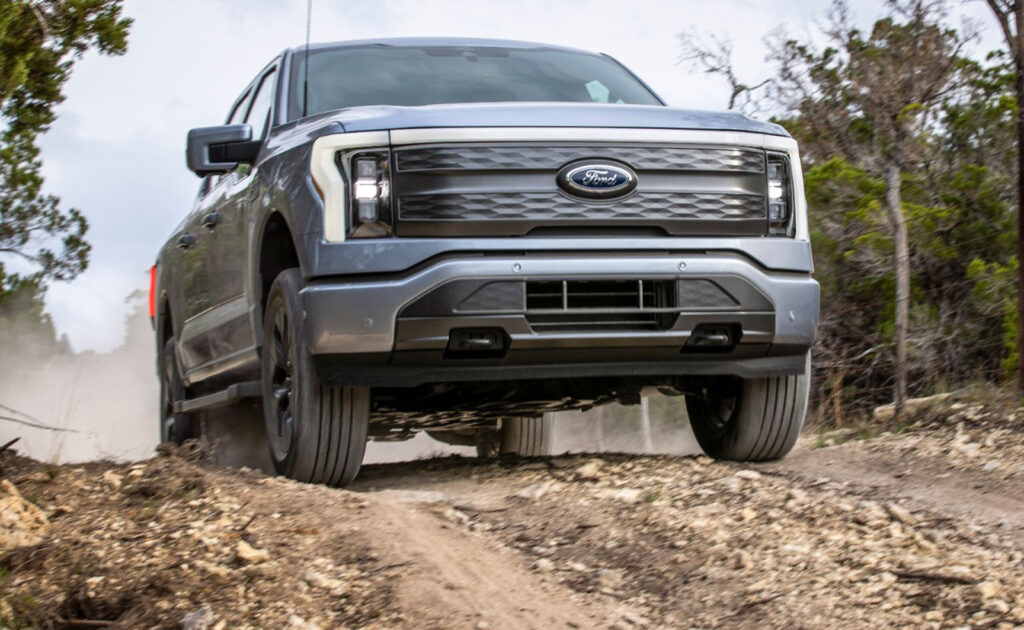 Bells and whistles
The F-150 Lightning comes in four flavors: Pro, XLT, Lariat, and Platinum. The XLT is generously equipped; in addition to the heated power adjustable seating is a heated steering wheel, infotainment system with wireless Apple Car Play and Android Auto, Sirius XM radio, a big 15.5-inch center-stack touch screen, power frunk lid, power tailgate, a host of driver's assistance features, adaptive cruise control, lane keeping and departure warning, blind spot monitoring, adaptive automatic headlights, parking sensors, cross traffic alert, and a 360-degree camera system.
But wait, there's more
I thoroughly enjoyed the one-pedal driving mode. I also appreciated that in normal driving mode the Lightning mimics a torque converter automatic and slowly creeps forward when releasing the brake from a stop. This feature in particular went a long way towards making the Lightning feel familiar. I liked the adaptive headlights; they steer into a turn. I thought of the Tucker whenever I noticed them working. A feature I found particularly enjoyable is the "Auto High-Beam Headlights" that don't just turn the high beams on and off, but vary the brightness. Perhaps the Lightning's most conspicuous feature is its signature LED lighting which includes a satisfying 360-degree departure and approach lights.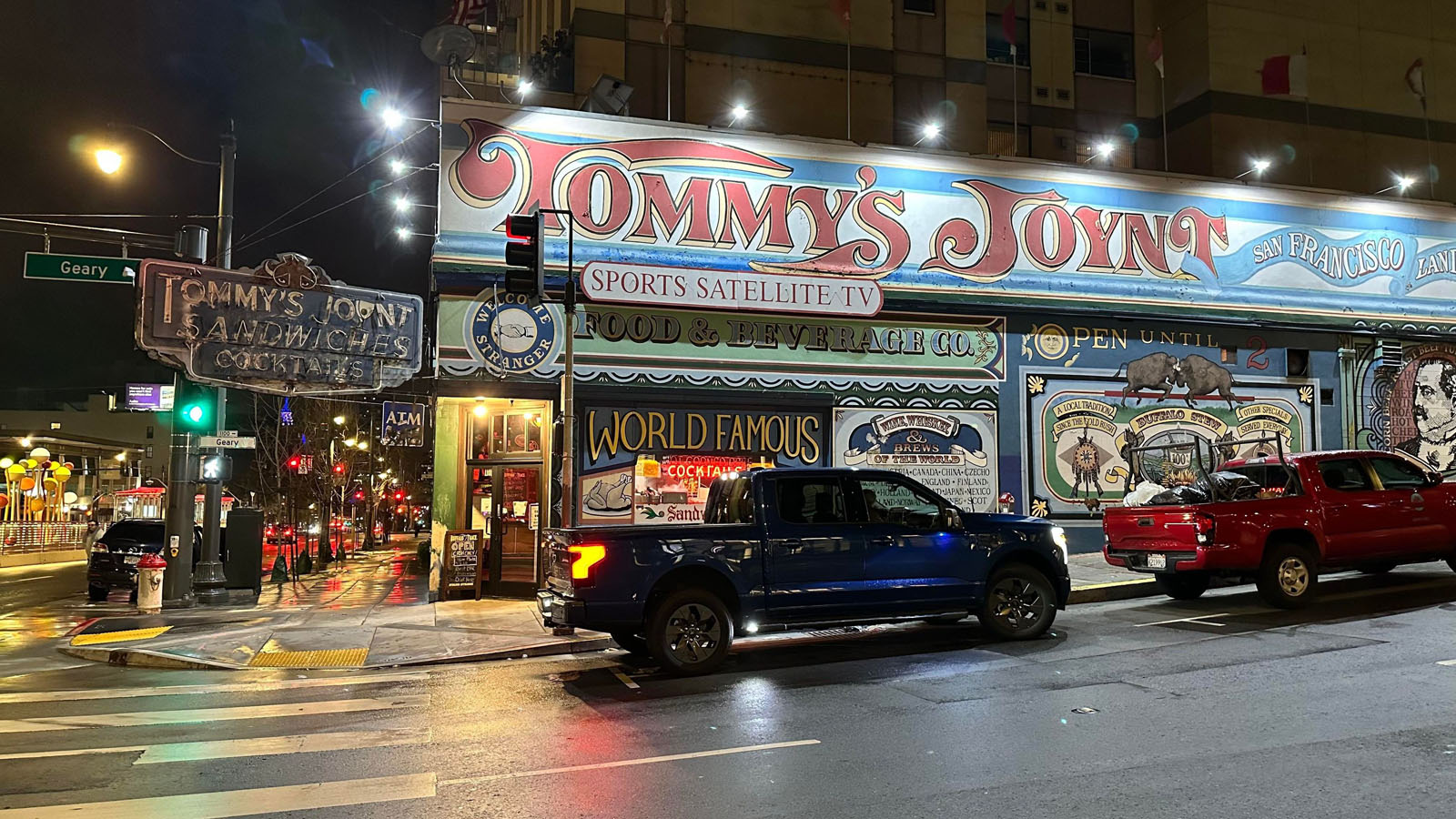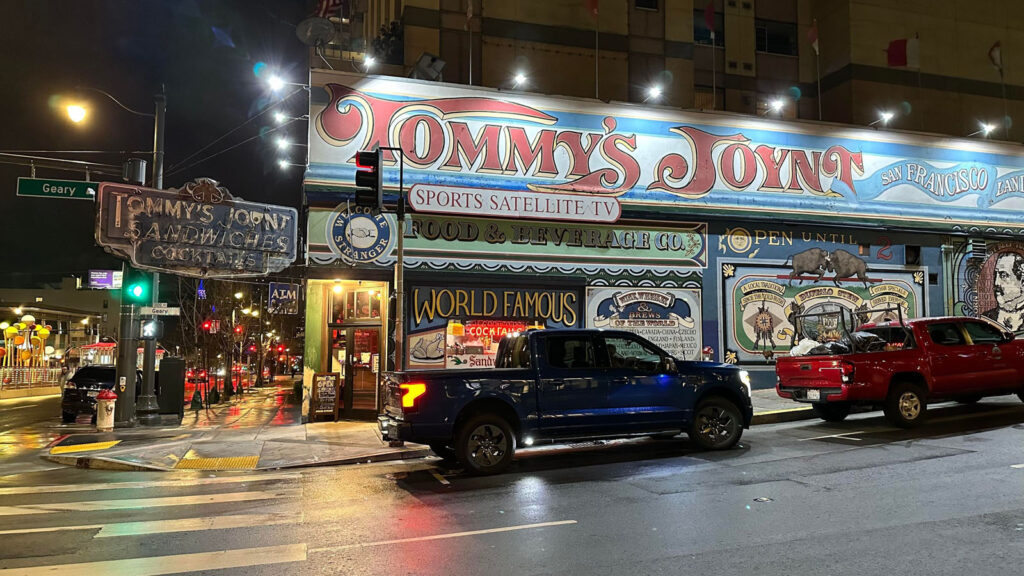 Gripes and grumbles
My list of annoyances with this F-Series truck is very small. The audio system sounded fair but fell short in accuracy and bass response, and setting radio station presets was clumsy. The "stowaway" retracting shifter struck me as somewhat gimmicky and it made a strange grinding sound when retracting, which begs the question: Why not use a selector knob or column shifter?
Drivability concerns were limited to two driver assistance features. I sometimes encountered an errant activation of the forward collision alert system when driving in a lane adjacent to a center divide. I also encountered a quirk with the adaptive cruise control when used in conjunction with "Speed Sign Recognition." On several occasions the truck erroneously detected exit ramp speed signs as the highway speed limit. When this occurred the truck rapidly decelerated to the exit ramp speed. These events were easily corrected simply by stepping on the accelerator, but I can imagine novice or distracted drivers might not react quickly.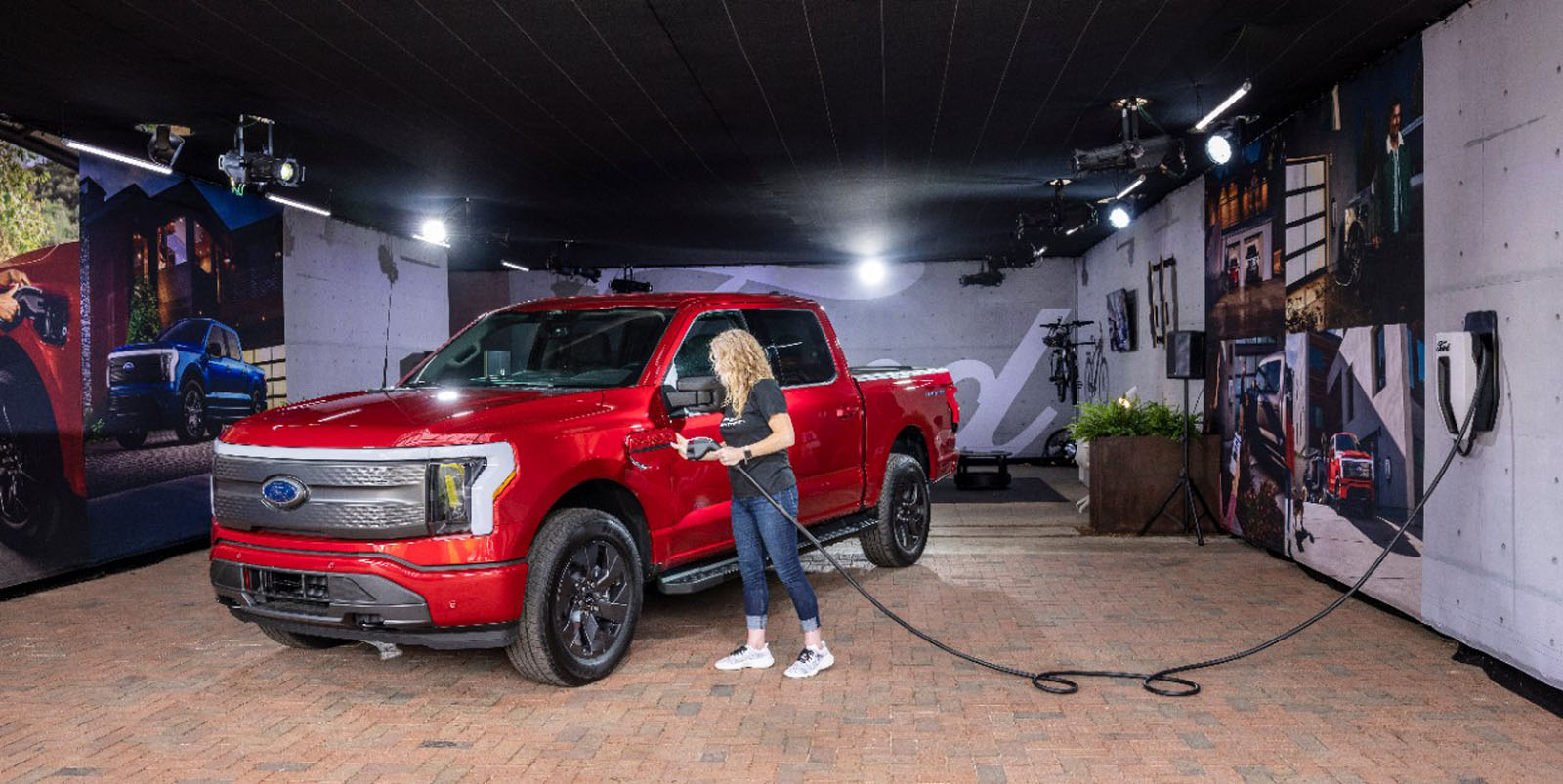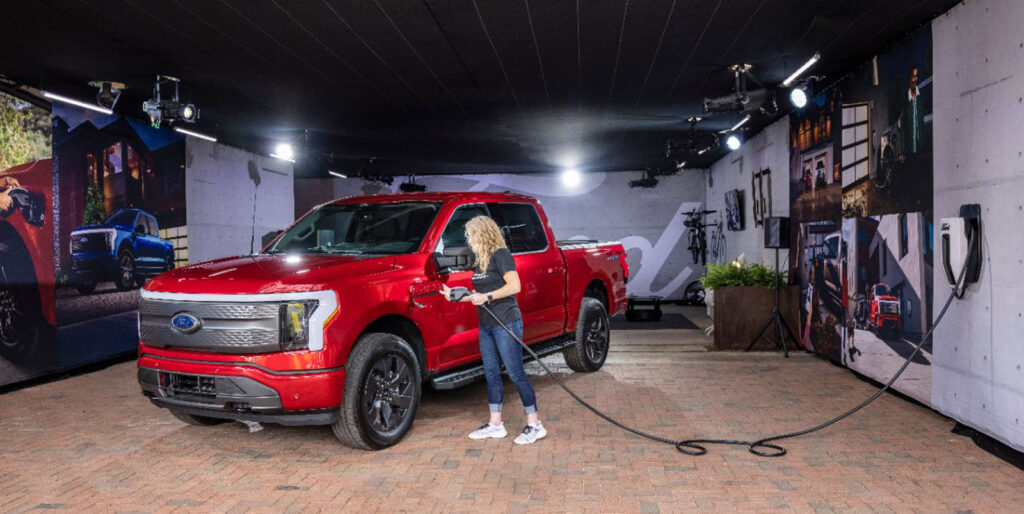 Effective range and power management
My XLT Lightning was equipped with an extended range battery. Ford claims this battery can achieve up to 320 miles of range. I was only able to drive 135 miles between charges. The reason for that isn't unique to the Lightning.
I was never able to charge above 94%, which gave me about 212 miles of range. I observed 15% to 20% fewer miles than the on-board computer predicted. I couldn't charge the electric F-Series truck at home, so I had to rely on the public charging network. At an Electrify America 150kW fast charger, I topped out at 132kW. At that rate I was able to add 60 miles of range in 13 minutes. That's great when you need to run errands around town. That's also when the Lightning is most efficient. With a level-2 home charger, expect to add 15 to 20 miles of range per hour.
EV makers generally advise not discharging your battery below 10% and not charging above 80% or 90%. Staying within that range maximizes battery life. I should note that we enjoyed mild temperatures during my late-February test, in the 50- to 60-degree range. Expect reduced range in colder weather.
When you get down to 50 miles of range, the Lightning warns you it's time to recharge. I comfortably drove it down to 40 miles of range, with warning lights blinking and charge notifications popping up. That's roughly equivalent to 20% of battery life remaining.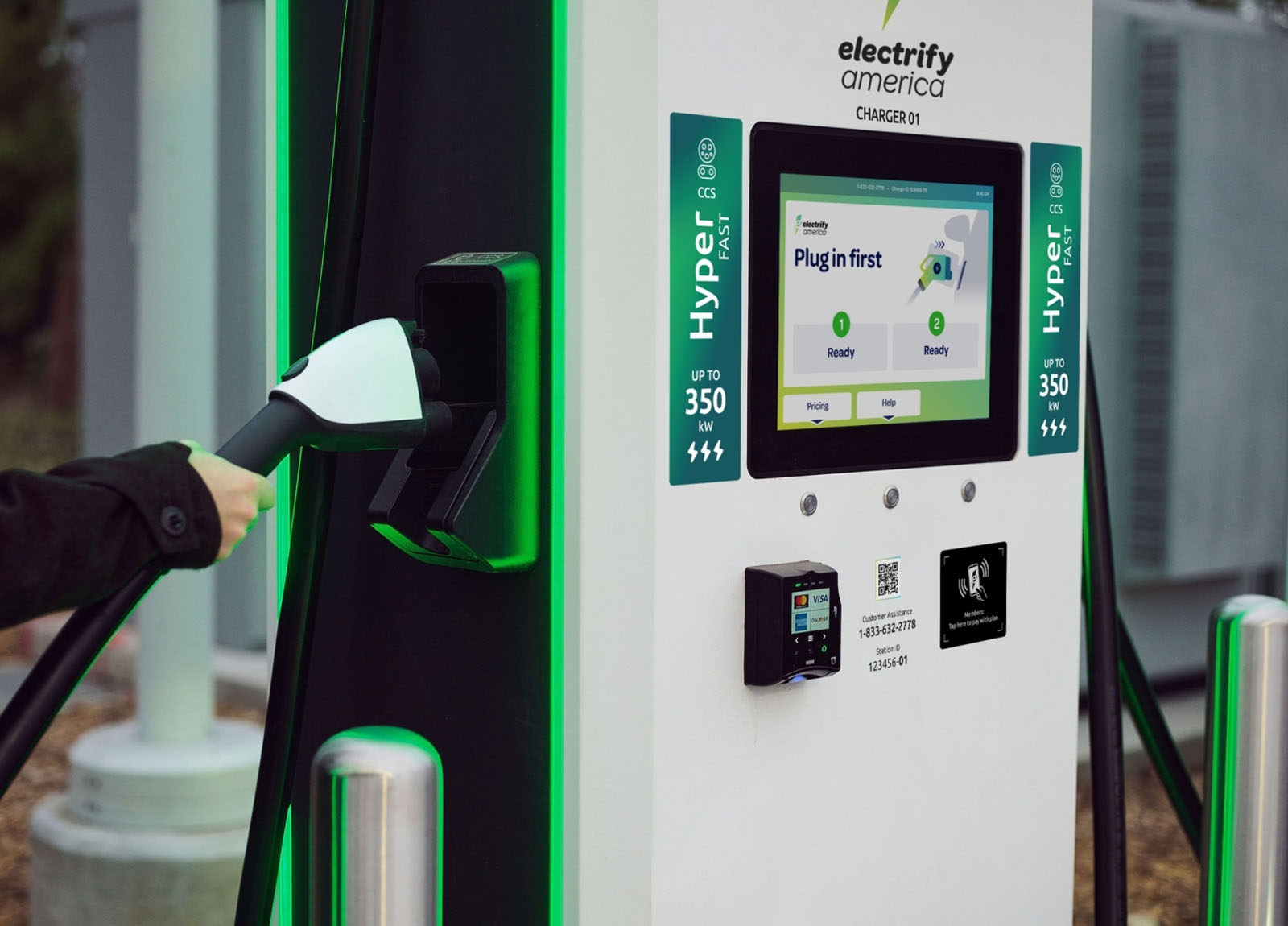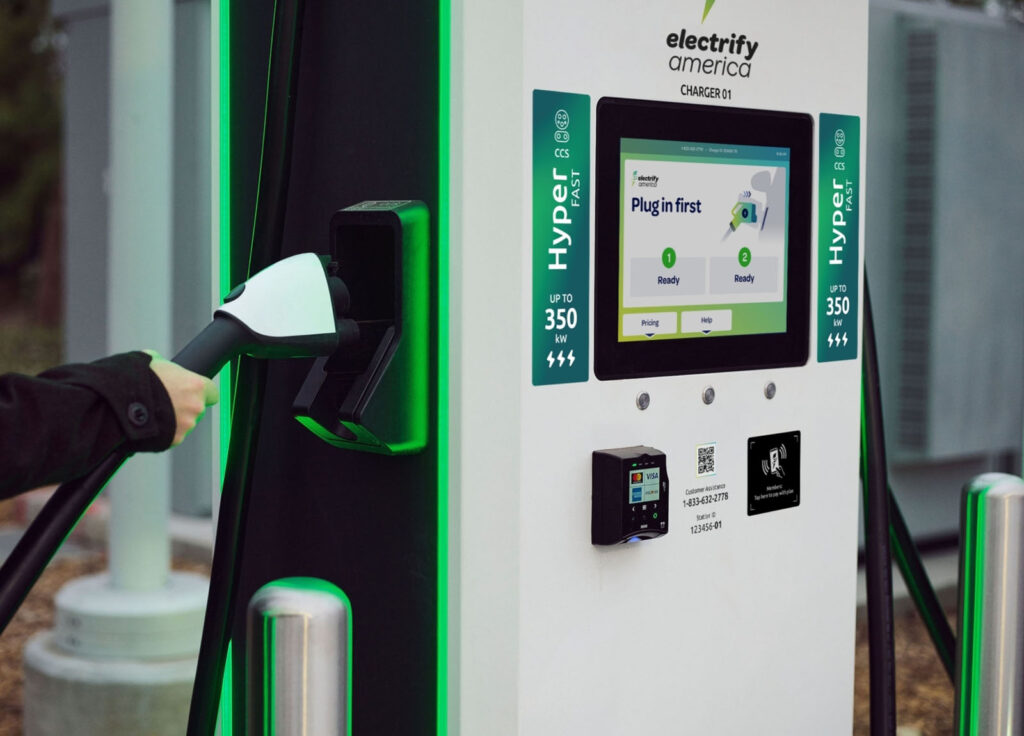 Charging frustration
Here is the disappointing truth of public EV charging: You can't fill your "tank." Using a DC Fast Charger I was only able to charge up to 80% at 150kW. Electrify America chargers step down to 50kW from 80% to 90%. From 90% to 100%, the charges step down again to about 15kW.
In my experience at a public charger I could reach 80% in about 45 minutes. If I wanted to get to 90% it would take another 40 to 50 minutes. Above 90% I only saw about 1 mile of range for every 10 minutes of charging time. These circumstances effectively limited me to using roughly 60% of the battery's capacity.
If you're going to own an EV, you really need to have a charger at your home. The public charging network is only adequate to extend your range. On two occasions during my week with the F-150 Lightning I found all the public chargers were full and had to wait in line, a line that averaged an unimaginably slow one car per hour. On two occasions, I encountered fully charged EVs abandoned on the charger, their owners too inconsiderate to move after their charging was complete. I also observed numerous charger breakdowns. Almost every Electrify America charging location I visited had at least one charger down.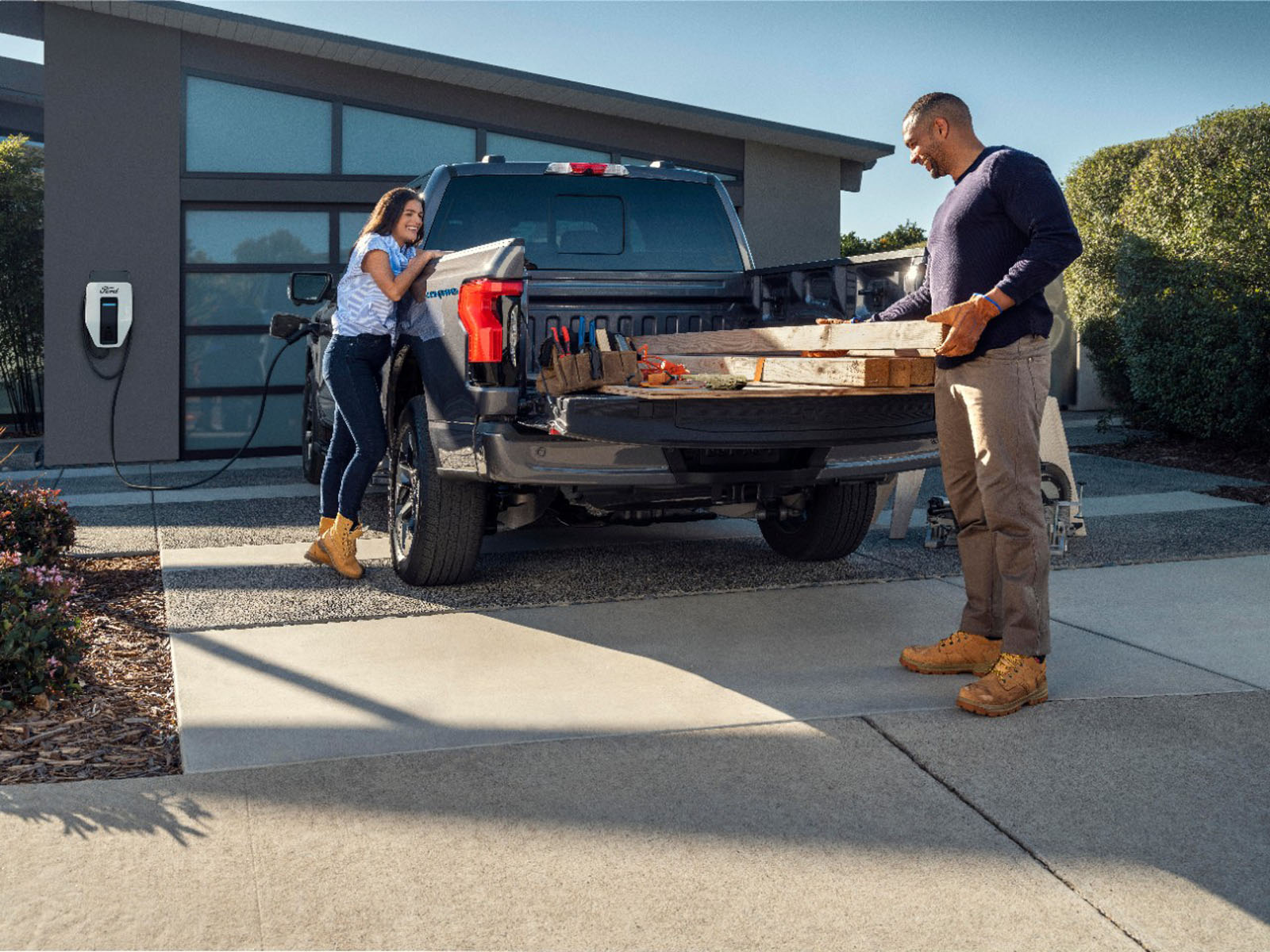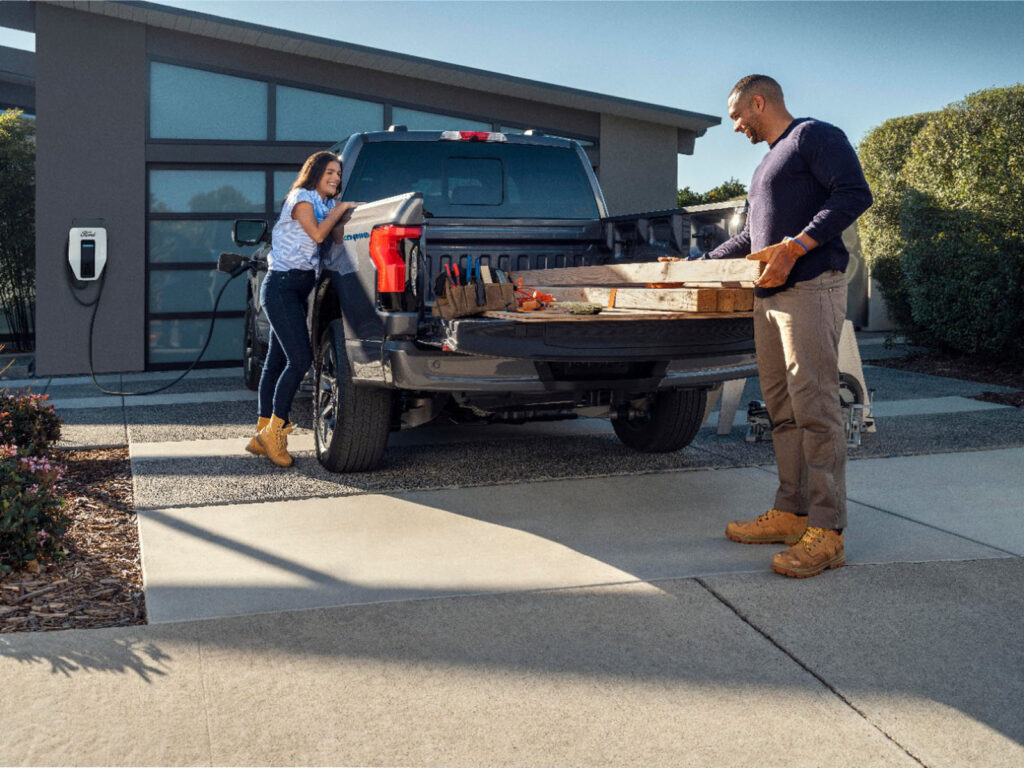 F-150 Lightning pricing and availability
The 2022 Ford F-150 Lightning Pro starts at $41,769, including destination. The XLT starts at $54,769, the Lariat at $69,269, and the Platinum at $92,669. Price as tested: $75,814.00 including destination. If you want to own an F-150 Lightning, act quickly. Ford is struggling with demand and there's a lengthy waiting list to place an order. Once your Lightning is ordered expect to wait another four to six months for delivery.
John Berg is a contributing writer for the Alameda Post.