What a year 2022 has been here at the Alameda Post! Sometimes I must remind myself it's been only a year. It feels like we have come so much further than that in this year, and I am humbled by our success.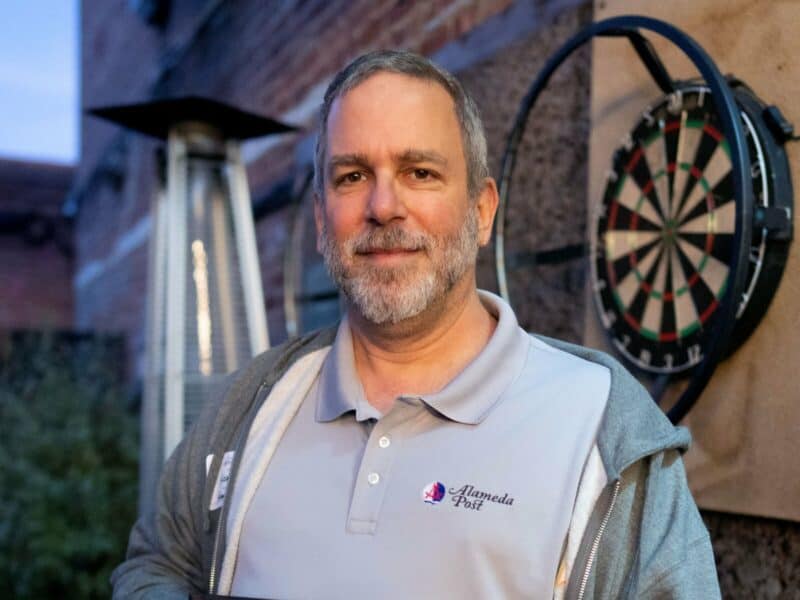 So many members of our community have pitched in to support our mission to bring you daily online Alameda news and information. Getting a nonprofit off the ground is a massive undertaking, and I am so grateful to those who stepped up to participate and put your time and skills towards our efforts. We are lucky to have a skilled and dedicated staff working daily to produce our website, podcast, and weekly newsletter, and to have the roster of stellar writers, artists, and photographers whose talented work we have the privilege of sharing with you.
I'd like to thank everyone who came to one of our history walking tours this year. We recognized from the start that Alameda's history is as important as our present. Your interest in our program of tours provided us with the capital we needed to get started, and we are looking forward to presenting a whole new range of walks with our Historian, Dennis Evanosky, around our city in 2023.
I'd also like to thank all the businesses and individuals who contributed to help us produce and present our candidate forums, both in person and as downloadable video. We saw the reward for our efforts from the high traffic we received for any election information and are even more committed to being your source for election news in 2024 and beyond.
My deep gratitude goes to the West End Arts District for being our fiscal sponsor as we waited nine long months for approval as a 501(c)(3) from the IRS. Their assistance was invaluable, and their support is very much appreciated.
Most of all, I want to thank all our donors and members, whose financial support provides us with necessary resources to pay our staff and maintain our operations. More importantly, your contributions serve as encouragement to all of us working on the Post and shows that our work is valued by our readers and our community. The level of support we have seen in our first year has been overwhelmingly positive and confirms that we are a welcome and necessary part of the community.
Since I can't shake the hand of every donor and member between now and the start of 2023, I would like to recognize you here, for your support. Thank you for believing in us!
Alameda Junior Golf Club, Alameda Theatres, Luther Abel, Dan Aljoe, Carol Alliger, Liubov Ananeva, Linda Anderson Flock, Alison Greene & Debra Arbuckle, Edward S. Atkinson, Charles A. Axthelm, Ronald P. Bachman, Patricia Baer, Bruce Baird, Cristine Baker, Philip Barry, Judy Bartlett, Susan Battersby, Catherine Bierwith, Marc Bentzen, John Berg, Paul H. Beusterien, Doug Biggs, Alice Birnbaum, Tina Blaine, Guy Blume, Anda L. Bockis, Joyce Boyd, Nancy Brandt, Betsy Brazy, Glenn Brewster, Pamela Brodie, Kevis Brownson, Pat & Martin Butensky, Karen Butter, Jeff Cambra, Rachel Campos de Ivanov, Paul Canavese, Simon Carless, Linda Carloni, Robert Carloni, Carol Anne Carroll, Eric Case, Thomas L. Charron, Christopher Clifford, Ken Cline, Alex C. Cortez, Lynn Cunningham, Diane Daley-Smith, Joseph A. Dara-Abrams, Virginia Darrow, Maureen Davis, Brock de Lappe, John Dempsey, Victoria Dempsey, Janet Deutsch, Tony Devencenzi, Patricia Devlin, Irene F. Dieter, J. Dietz, Dawna Dowdell-Dos Santos, Peri Drake, Maria Ducey, Catherine Egelhoff, Louise Eilhardt, Michele Ellson, Luzanne L. Engh, Todd Erickson, Steve Falbo, Estelle Fedan, Sheryl Fenstermacher, Elena Ferri, Paul Foreman, Mary Diane Foster, Dorothy Freeman, Susan Freeman, Colleen Cristen French, Judith Fruge, Lisa Fryklund, Reina Galanes, Christine Ganser, Martin Garchar, Bill Garvine, Delbert C. Gee, Debbie George, Melissa Godfrey, Carol F. Gottstein, Jeannie Graham, Leslie Graham, Marlene Grcevich, Elizabeth Greene, Janice L. Greene, Ake Grunditz, Kenneth Gutleben, Brent Hall, Harrison Hamill, Debby Haskell, Neil Heyden, Susan Higbee, Phillip Holt, Cindy Houts, Mark Hovermale, Karin Jensen, Victor Jin, Nancy Johnsen Horton, Christine Johnson, Nancy Joy Gordon, Christine A. Kanbergs, Frederica E. Kapp, Frances Kawaguchi, Helen Keating, Matt Kellogg, Janice Kelly, John Kepler, Marc Klein, Lance Knobel, Janet Koike, Isaac Kos-Read, Christina Kotowski, Rich Krinks, Cynthia J. La Croix, Denise Lai, Bettie Lee Laird, Lorraine Land, Megan Larson, Seamus Leahy, Bettina Leong, Daniel Levy, Sheila B. Lewellyn, Beth Lind Foote, Suzanne Lindsey, Jennifer Linton, Gaard Logan, Jennifer Lucky, Kimberlee MacVicar, Erika Mailman, Allan Mann, Karen Manuel, Sandra Marder, Peggy K. McAnaney, Joyce McConeghey, Sheila McCormick, Brian R. McDonald, Elizabeth McGaffey, Ruth M. Mesing, Judith Metzener, Calvin Marshall Mew, Taryn L. Mickus, Karen Miller, Molly Mills, Maryanne L. Mock, Marilyn Moffitt, Andrew Murdock, Shipra Narruhn, Sharol Nelson Embry, Jerrold Nussbaum, David Nykin, Susan O'Brien, Wendy O'Malley, Lauren Oliveira, William Pai, Barrett Parker, Lynn Perata, Caroll L. Perez, Karol Pessin, Alexandra Petrich, Christophe Pettus, Robert Scott Piehler, Linda J. Pirlot, Kerry Plain, Peter Platzgummer, Alan Pomeroy, Richard H. Poulson, Jim Quilici, Jennifer Radakovich, Christopher Ramirez, Shirley J. Ramos, Anita Rees, Rosemary Reilly, Kathleen Roberson, Carole Robie, Kimberly B. Rosales, Janet Rosati, Anton Ross, Frances Rothstein, Elizabeth Rush, Patrick Russi, Melissa M. Sackett, Deborah Kay Saltzman, Phil Sandri, Cheryl Saxton, Michael Schiess, Robert Schmidt, Kelly Scott, Linda Seaquist, Victoria Sedlack, Christopher Seiwald, Susan Serventi, Gerald M. Serventi, Marilyn Sharron, Elizabeth Sibley, Virgil L. & Margy Silver, Sally O. Simpson, Diane Smith, Dylan Smith, Lauryn M. Stanton, Joan Stebbins, Ellen Steuer, Marvel Diane Storm, Robert Sullwold, Brandon Svec, Irene Thomas, Brian Tobin, Susanne Trowbridge, Georgia R. Turner, Valerie G. Turpen, Kathleen Valerio, Linda Vallee, Sherrie Van Tyle, Bianca Walser, Wesley Warren, Scott Weitze, Kenneth P. Werner, Matthew Wheeland, Terry Winckler, Jennifer Wit, Jerry Yarbrough, Richard Zarlow.
Adam Gillitt is the Publisher of the Alameda Post. Reach him at [email protected]. His writing is collected at AlamedaPost.com/Adam-Gillitt.