Superintendent's assurances of improved safety precede latest incident.
Updated 7:20 p.m. December 8 to include statement from AUSD Superintendent Pasquale Scuderi calling the incident a false alarm.
Tensions remained high at Alameda High School on Thursday afternoon, when the school was locked down briefly after a third intruder was reported on campus around 3 p.m. At 3:20 p.m. the school sent parents a text message that stated: "AHS currently sheltering in place due to possible intruder on campus. Police believe there is NOT an active threat, but are keeping shelter in place while they search the campus. All students, staff are safe. Families, please avoid campus until students are released."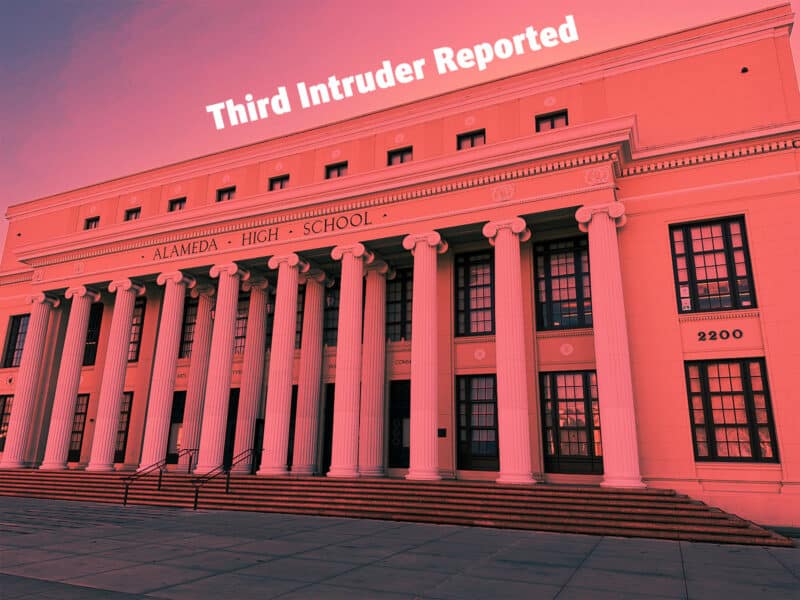 Shortly after the message was sent, at about 3:25 p.m., the all-clear was given for the school to be reopened. Lt. Alan Kuboyama with the Alameda Police Department confirmed the intrusion when contacted by the Alameda Post. "AHS reported an unknown person on campus…One of the responding officers saw a person matching the description walking away from the school as he approached."
The AUSD posted another statement online at 5 p.m. confirming the incident and calling it a false alarm. "AHS staff put the school in a shelter in place at around 3 p.m., due to a report of a possible intruder on campus. The Alameda Police Department was called and they came to help investigate," wrote Superintendent Pasquale Scuderi.
"The police arrived and conducted an investigation, which included a sweep of AHS facilities, and determined that there was not an intruder on campus, nor was there any threat.
"All students and staff were safe throughout this incident. While we are relieved that this was a false alarm, we know that many of you may feel unsettled by recent events."
The timing of this latest scare at Alameda High is extremely inopportune for the Alameda Unified School District and does little to allay anxieties about student safety. Today's intrusion follows reports of hate speech found at AHS last week, a lockdown at EHS on Monday, and two intruders to AHS on Tuesday. As the Post reported yesterday, a student in the senior class said, "I feel unsafe and nervous on campus with the knowledge that anyone can walk onto AHS."
Late in the evening yesterday, Wed., December 7, a letter from Superintendent Scuderi was posted to social media regarding the incidents that took place this week at Alameda and Encinal High Schools. In the letter, Scuderi sought to reassure parents, students, and families that the second intruder at AHS on Tuesday, who physically assaulted a female student, had been arrested by the Alameda Police Department. He also relayed a timeline of events concerning the intruder, who was the subject of several calls to APD that day.
Scuderi explained that Alameda High School was not locked down for either incident, because "in the first case, Principal Ithurburn had successfully engaged the man and brought him into his office, where he did not pose a threat to the school. Rather than raise anxieties across the campus, he decided to quietly work with APD and the Fire Department's Care Unit to get this troubled young man the help he clearly needed.
"In the second incident," Scuderi continued, "the teacher had chased the man out of the building before the campus could be locked down. Once he was off campus, headed away from AHS, and police had been called, AHS determined that he did not pose a continuing threat and let the school continue its operations as usual."
The Superintendent also explained that the incident on Monday at Encinal High School was caused by a student concealing a water bottle he wanted to use for a water fight that was misidentified.
He praised the high school students for being proactive about campus threats and notifying staff so they could handle the issues. He also suggested potential changes to increase security that may lead to short term inconveniences, such as fewer points of campus access and changes to parking provisions.
The Alameda Post also spoke with the AUSD Board of Trustees President, Jennifer Williams. Her statements echoed those of the Superintendent. She agreed that up to this point AUSD campuses have enjoyed a very open level of access, but after the events of this week, that could be subject to change. She stated that the District would reevaluate security policies, including further restricting access to school campuses and hiring additional security staff. She referenced improvements made to school security over the past several years with funding from Measure I.
Williams acknowledged that it was not protocol for teachers to leave their classrooms and pursue intruders, and that such behavior was discouraged. However, she recognized that the teacher was acting to protect AHS students and she expressed gratitude for his actions. She further clarified that the school was not locked down for the second incident because it happened at 3:15 p.m., 15 minutes before the end of the school day.
Williams disagreed with the APD statement issued after the assault on Tuesday, which read in part, "We do not believe either individual was looking to cause harm." Williams also expressed concern over the opinions of many students that they feel unsafe on campus after the intrusions and earlier incidents of racist and homophobic graffiti. As the mother of an AHS student, she said, "The last thing I want to hear is that they don't feel safe."
The Post will continue to monitor these issues and will report on any future developments.
Adam Gillitt is the Publisher of the Alameda Post. Reach him at [email protected]. His writing is collected at AlamedaPost.com/Adam-Gillitt.