Three separate school security incidents this week have left the community feeling uneasy. Although the incident at Encinal High School on Monday, December 5, turned out to be a false alarm, both incidents at Alameda High School the next day involved unauthorized persons accessing the school campus and interacting with students. These follow a report of racist graffiti last week that also happened at AHS.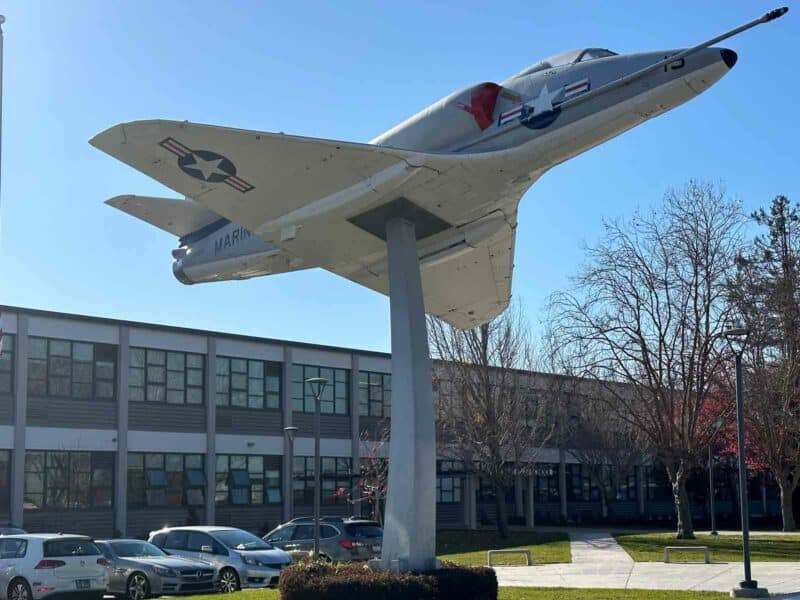 False alarm
Alameda Police responded quickly on Monday afternoon when they received a report of a possible firearm spotted on campus. They issued a shelter-in-place order and locked down the campus while investigating. The officers determined the object that was seen was not a firearm and there was no threat to public safety. When asked if the incident was due to legitimate concern or if it was what is known as 'swatting,' or a fake/prank call to police, APD responded in a post to Facebook, "A concerned witness notified staff of what appeared to be a possible firearm seen in someone's possession on campus."
Two different intruders
The first of two incidents at AHS on Tuesday, December 6, involved a former student coming onto the campus and acting erratically. Some students recorded his actions and brought the video to office staff, who alerted school security. The intruder was located within the school at Kofman Auditorium and, after Principal Robert Ithurburn engaged with him, the school called the City's CARE team to remove him from campus.
The team removed the unnamed former student from campus by midday. Shortly afterwards, according to a statement issued by the Alameda Unified School District (AUSD), "AHS staff requested that the Care Unit (sic) staff do a safety check on him, as he had alluded to students being afraid he would 'shoot up the school' some years ago."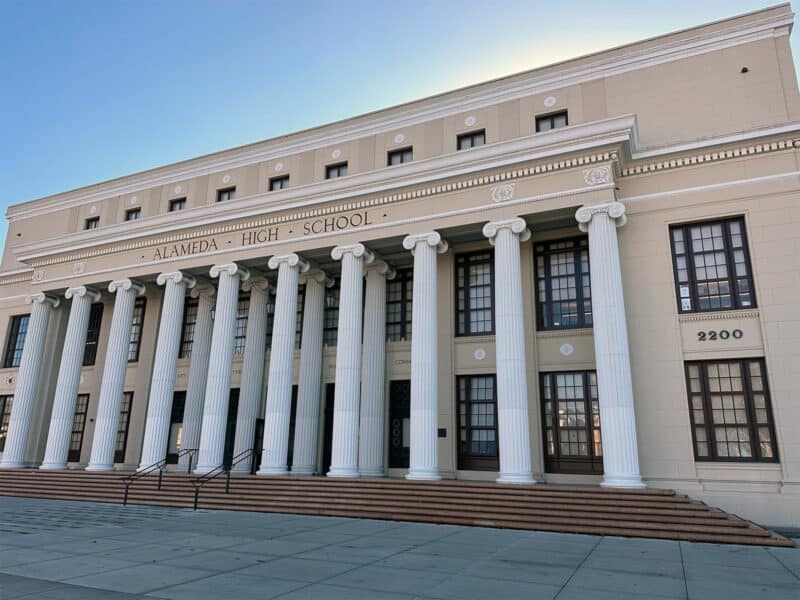 The second incident happened on the AHS campus three hours later. Another unauthorized intruder entered a classroom without permission and assaulted one of the female students by touching her face. When confronted by the teacher, the trespasser left the classroom. He then approached two other female students in the hallway and asked to kiss one of them.
As the assailant fled the building, the teacher continued following him, first to the Main Library, and then all the way to the Fruitvale BART station, putting himself at personal risk. When the teacher asked for assistance from BART police, station officers photographed the man. The perpetrator subsequently evaded capture at the station.
According to a tweet posted Wednesday afternoon by KRON4 reporter Rob Nesbitt, APD Chief Nishant Joshi says the unnamed 27-year-old assailant has been arrested. APD confirmed this in a post to Facebook on Wednesday afternoon, stating that the assailant was arrested on Park Street. In the post APD stated, "The 27-year old was arrested for multiple crimes, including possession of drug paraphernalia and probation violation."
Unlike the false alarm at EHS, AHS was not locked down during either incident. This has left many parents and students uneasy, despite no injuries to students or staff. In the letter to families after the incident, AUSD claimed "the man fled the building before staff could implement a shelter in place or lock down."
'Campus security is weak'
One AHS student in the senior class told the Alameda Post, "I feel unsafe and nervous on campus with the knowledge that anyone can walk onto AHS. The campus security is weak, and the front door is unwatched."
Denise, mother of two other AHS students, agreed. "My sons told me they were both in Kofman Auditorium in class when some 'random guy' walked in. It's difficult to prevent outsiders from entering an open campus. Let's remind our kids to report when they see someone or something unusual and to have APD programmed into their phones as a favorite contact. Calling 911 from a mobile phone…can mean a delayed response."
APD sought to downplay the incident in a comment to a Facebook post about the incidents, despite one of the intruders having assaulted a student. "In both incidents, we do not believe either individual was looking to cause harm," the APD wrote.
AUSD response
However, the AUSD acknowledged the severity of the intrusions in the public statement. "We recognize this is unsettling news and want to assure you we are taking this incident and our follow up extremely seriously." They also stated they have asked all school leaders to review their safety and security protocols.
We reached out to the AUSD with additional questions about how the district would respond to these three events. AUSD's Senior Manager for Community Affairs Susan Davis responded with the following statement:
"In partnership with APD, we have been reviewing protocols, updating them where needed to reflect best practices in school safety, training staff, and running drills at the school sites. Because of these trainings and drills, students and staff alike responded quickly and appropriately to all three situations this week, and we are grateful for their presence of mind and proactive actions.
"The topic of safety and security on high school campuses can be complex, due to the need to balance the instructional and emotional benefits of having an "open campus" (meaning students can come and go throughout the day) with the restrictions on movement and access that come with increased security. In the short term, AUSD will be supporting AHS in having more staff on campus to help with monitoring. In the longer term, AUSD, AHS, and APD will absolutely be reviewing campus security over the coming days to see what improvements can and should be made at this time.
"AUSD and AHS administrators have had conversations with that teacher who chased the suspect off campus. While that is not generally our protocol, we also understand he was acting out of a strong instinct to protect students."
Adam Gillitt is the Publisher of the Alameda Post. Reach him at [email protected]. His writing is collected at AlamedaPost.com/Adam-Gillitt.