Autumn is a busy season for sustainability activities in Alameda. It's a great time to learn more about electrification, energy efficiency, preservation of our shoreline, and discounts on switching to solar.
Energy and electrification workshop for members of Alameda faith organizations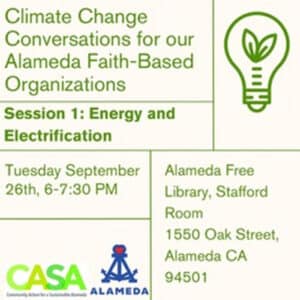 Are you active in a faith organization? Are you interested in helping to mitigate the impacts of climate change?
The City of Alameda and Community Action for a Sustainable Alameda (CASA) are hosting a series of free workshops for members of Alameda faith organizations who would like to green their places of worship and help their congregations green their homes and businesses.
The first workshop, "Energy and Electrification," will be held on Tuesday, September 26 at 6 p.m. at the Alameda Free Library, 1550 Oak St. at Lincoln Avenue. Light refreshments will be served.
October 4 is Energy Efficiency Day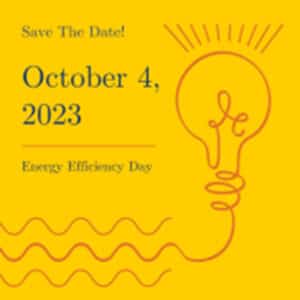 Energy Efficiency Day shines light on the many advantages of adopting efficient measures and behaviors that enable us to save money, reduce pollution, and create jobs. Participate in Energy Efficiency Day on October 4 and learn how to take small steps that add up to lasting comfort, better health, and lower energy costs.
Energy efficiency doesn't mean we have to sacrifice, but it does enable us to use less energy to get the same job done. Using less energy enables us to further stretch the electricity produced from emissions-free sources, such as wind and solar, and keep our homes and businesses comfortable.
Find out more about rebates for home efficiency and electrification upgrades at The Switch is On.
Survey: What can the future of the Bay Area and its shorelines look like?
The Bay Area's cultural and environmental diversity makes it an incredible place to live. From habitats to recreation, transportation to jobs, activity along our shoreline shapes our everyday life in the bay. No matter where we live in the Bay Area, we're all connected to one another and the Bay.
But our shorelines and environments are changing. Sea levels are rising and threatening ecosystems, infrastructure, recreational spaces, businesses, houses, and communities.
What can the future look like in the context of this change? What does it mean for our region to adapt—to make changes—in a way that supports the things we love about where we live, now and into the future?
Bay Adapt invites you to learn more about the BCDC Regional Shoreline Adaptation Plan and share your thoughts about the future of the shoreline in a short survey. Your opinions and ideas could help to inform the development of the development of the Adaptation Plan.
Discounts on home solar and storage
Bay Area SunShares, which offers rooftop solar and battery storage options with pre-negotiated pricing, has scheduled informational webinars for Bay Area homeowners to learn about solar and storage. The webinars, hosted by the Business Council on Climate Change, will take place on October 18 (noon to 1 p.m.), October 24 (5-6 p.m.), and November 1 (6-7 p.m.).
To register for any of the seminars, visit the SunShares webinar page.
SunShares offers solar pricing below the average market rate, and a discount for battery storage for new or existing solar systems. Additionally, homeowners may be eligible for a 30% federal solar tax credit. Sign up for the discount by November 15 at Bay Area SunShares.