Including analysis of Grand Street injury collision data
Local residents filled the social hall at the Mastick Senior Center for a community workshop on Wednesday, May 31, to learn more and share feedback about an updated street design concept for Grand Street.
In November 2022, City Council approved a redesign for Grand Street between Shore Line Drive and Encinal Avenue. After opposition from Grand Street residents, City staff hired Parametrix—the transportation consultant behind the Lincoln/Marshall/Pacific and Otis Drive projects—to "take a fresh look at the entire Grand Street corridor" from Shore Line Drive to Clement Avenue, according to City Manager Jennifer Ott.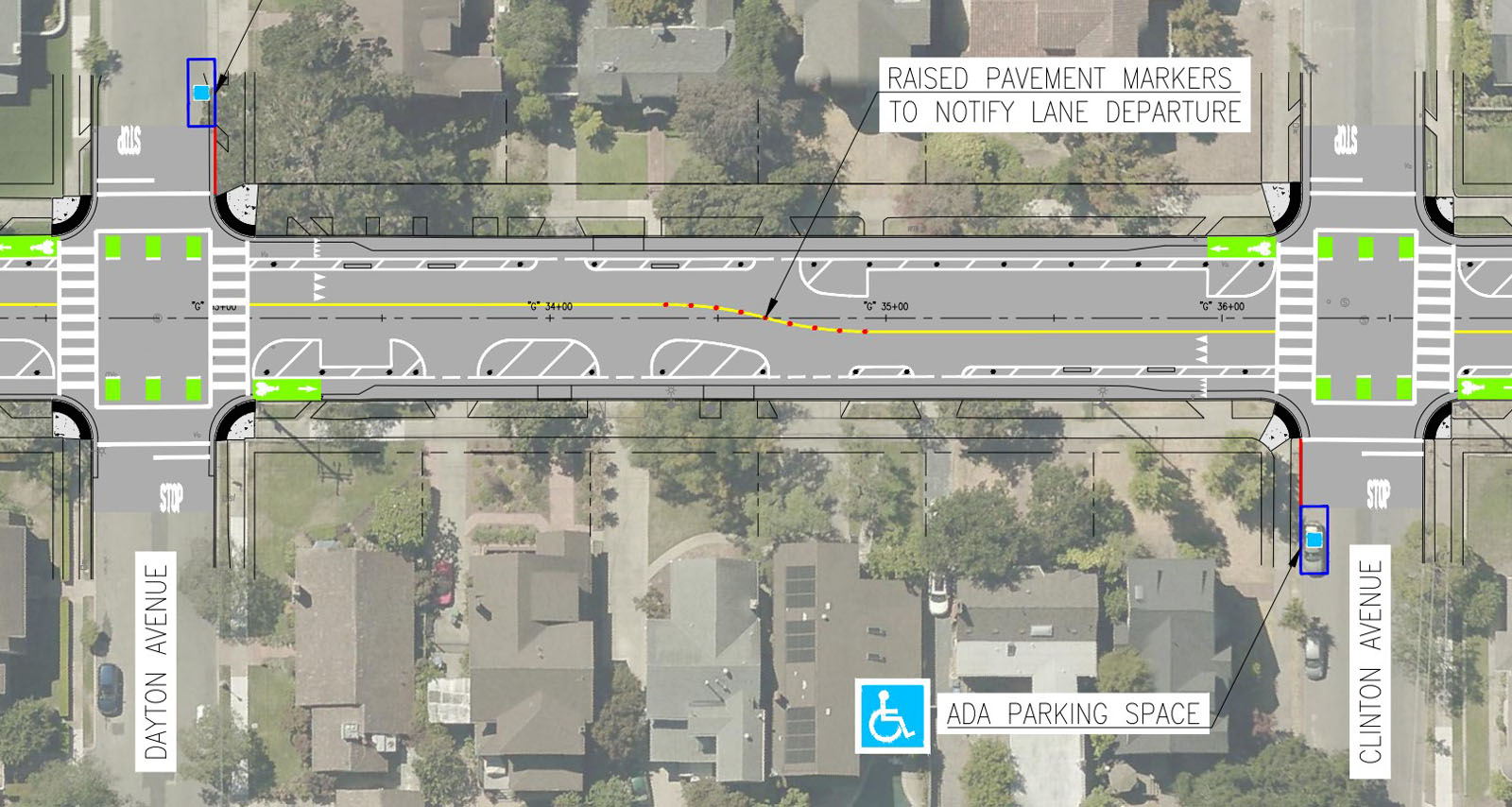 Planning, Building, and Transportation Director Andrew Thomas explained the corridor's potential to be safe and low-stress for all road users, particularly for students walking or biking to school and senior citizens crossing the street.
"Grand Street is not safe," Thomas declared. But his statement was met with boos and jeers from hecklers in the crowd who questioned whether the existing conditions of Grand Street are truly so severe.
Looking at the numbers
For a closer look, the Alameda Post analyzed injury collision data for Grand Street between January 2011 and December 2020. The City's Vision Zero Action Plan lists Grand Street as a "high injury corridor," a category of roadways that experiences a higher crash density and severity compared to other streets. At least 95 injury collisions occurred during this ten-year timeframe. The charts below summarize the causes and severity level of those collisions: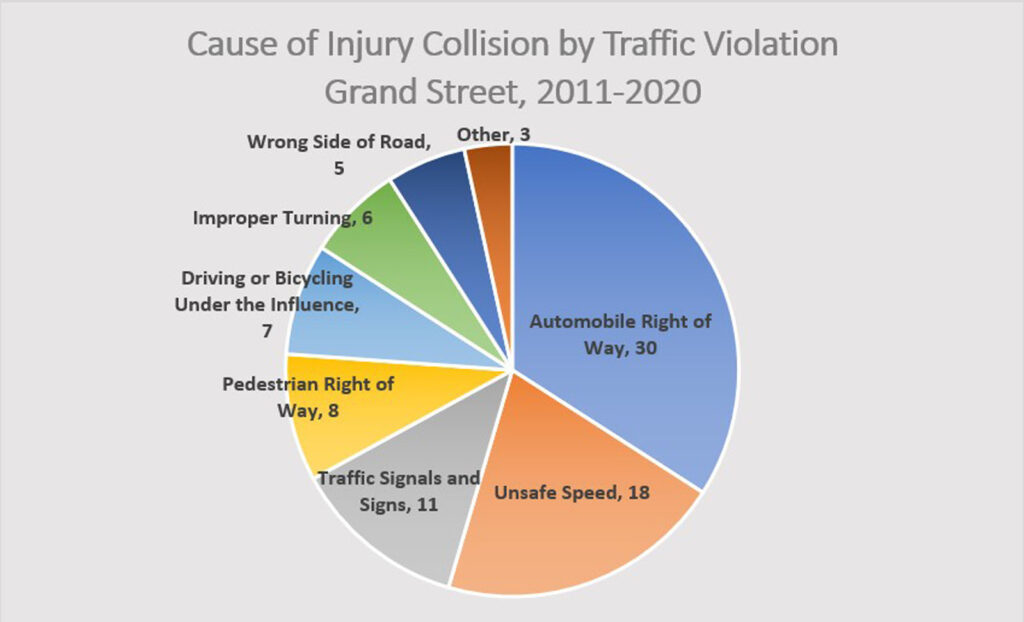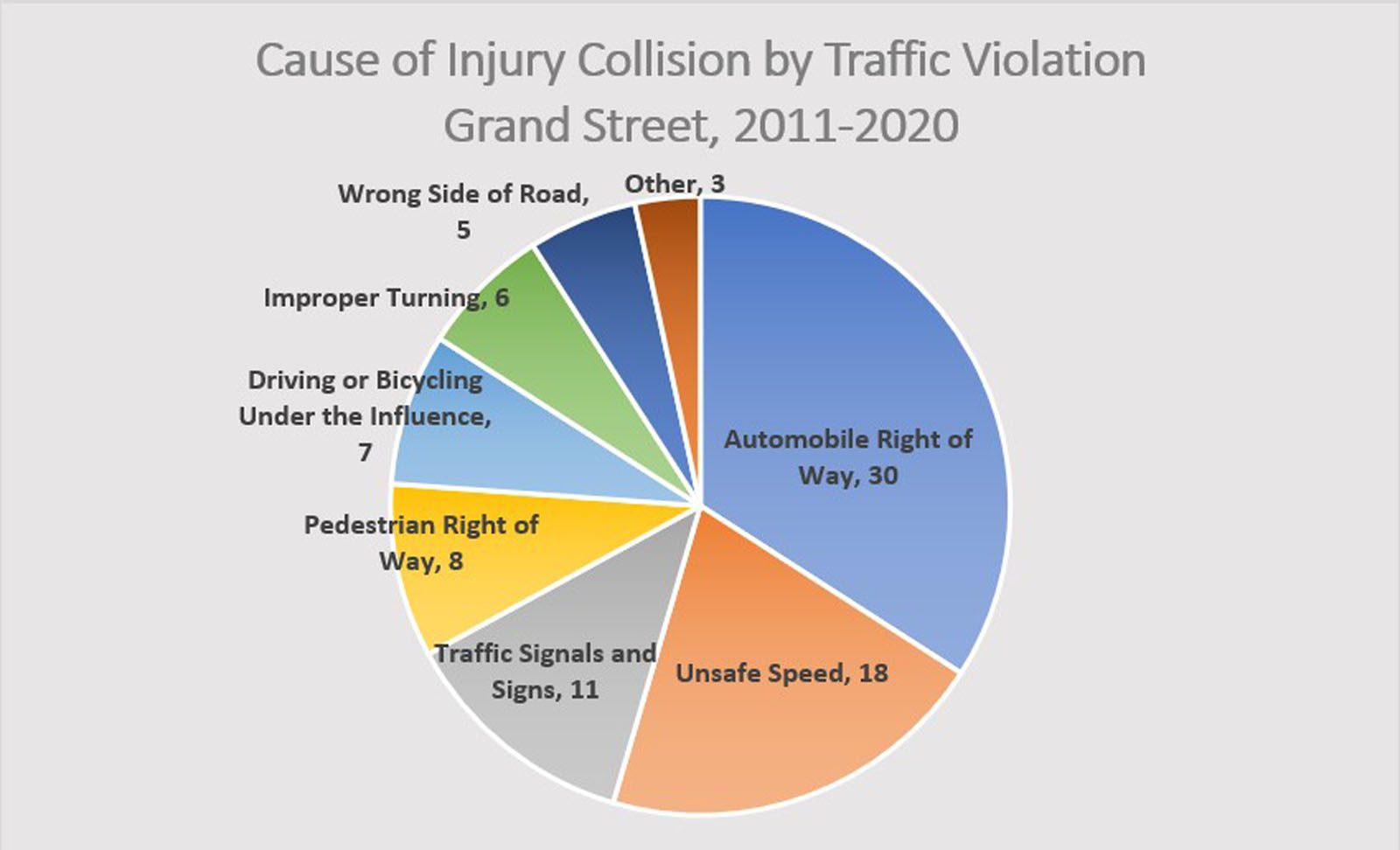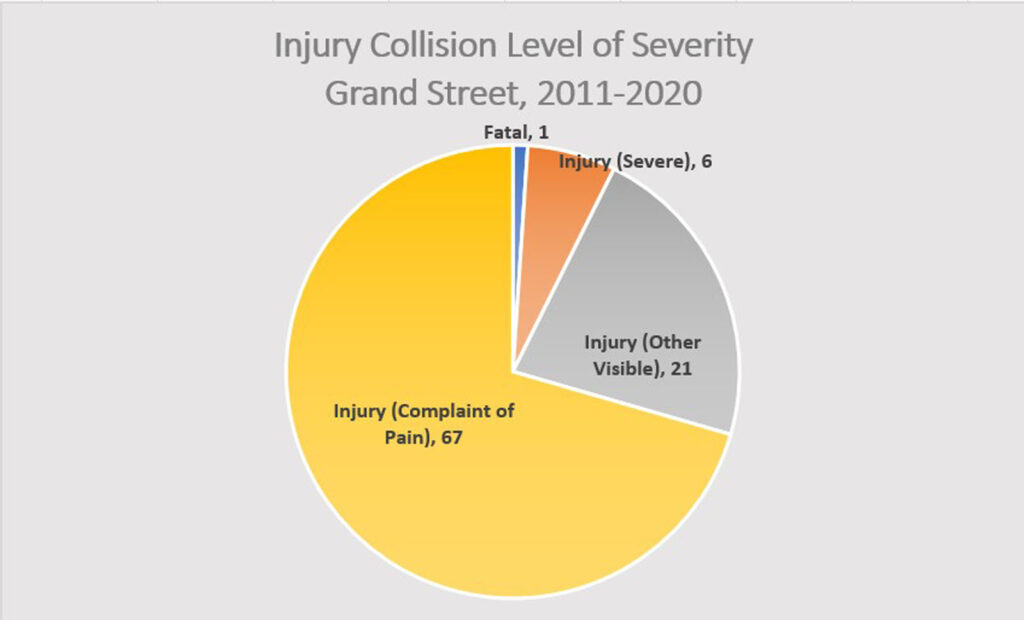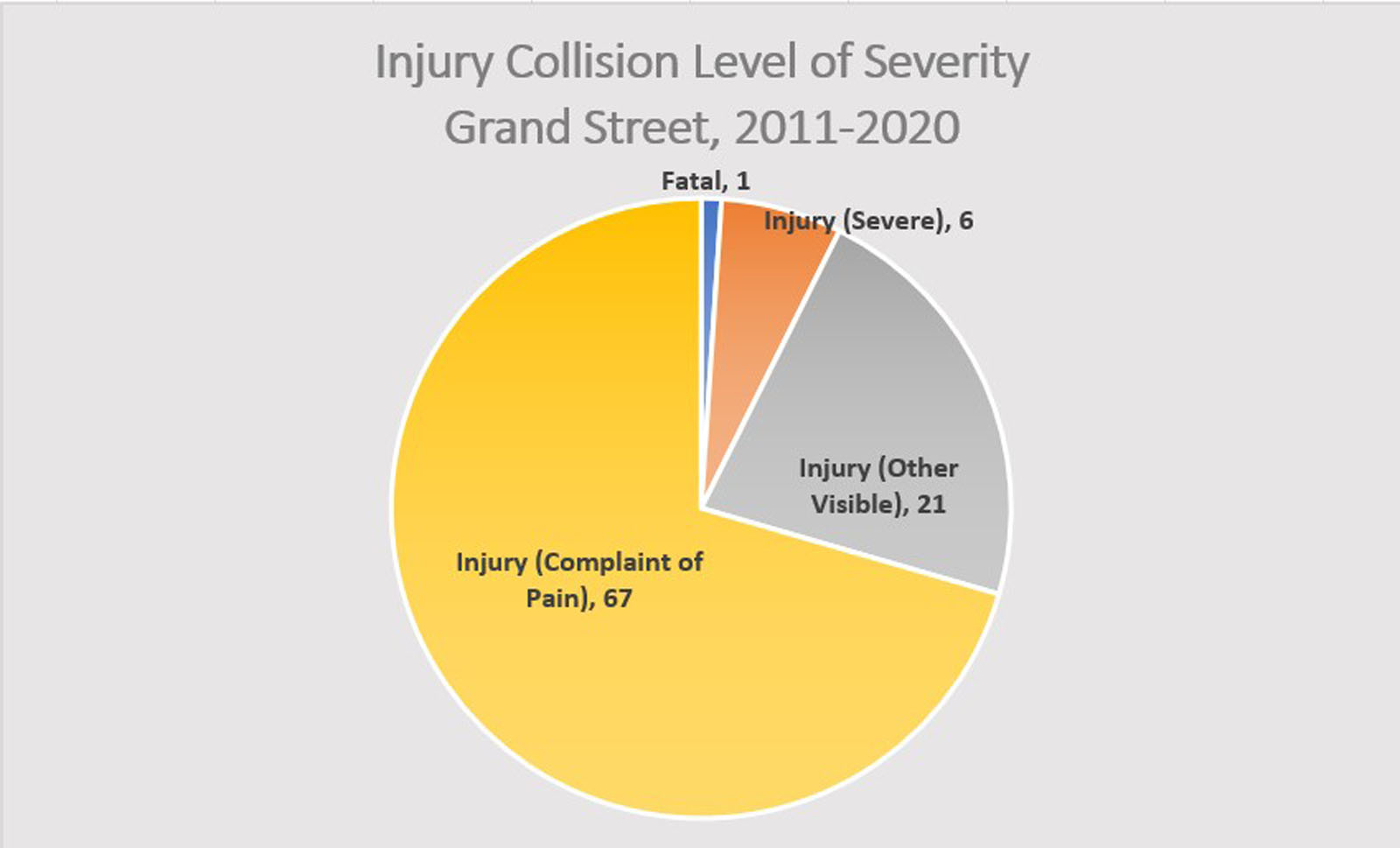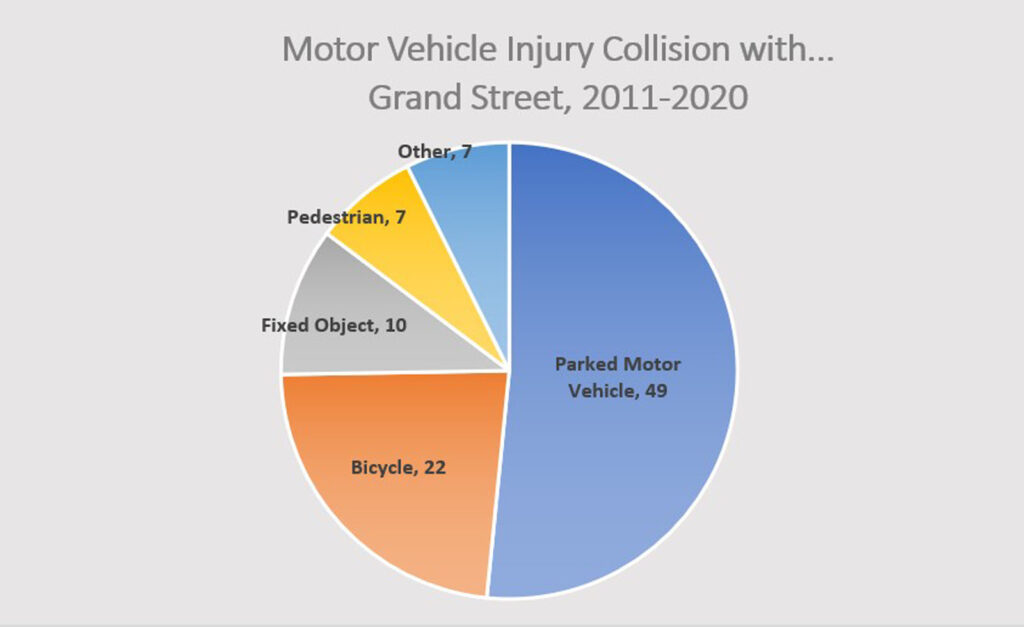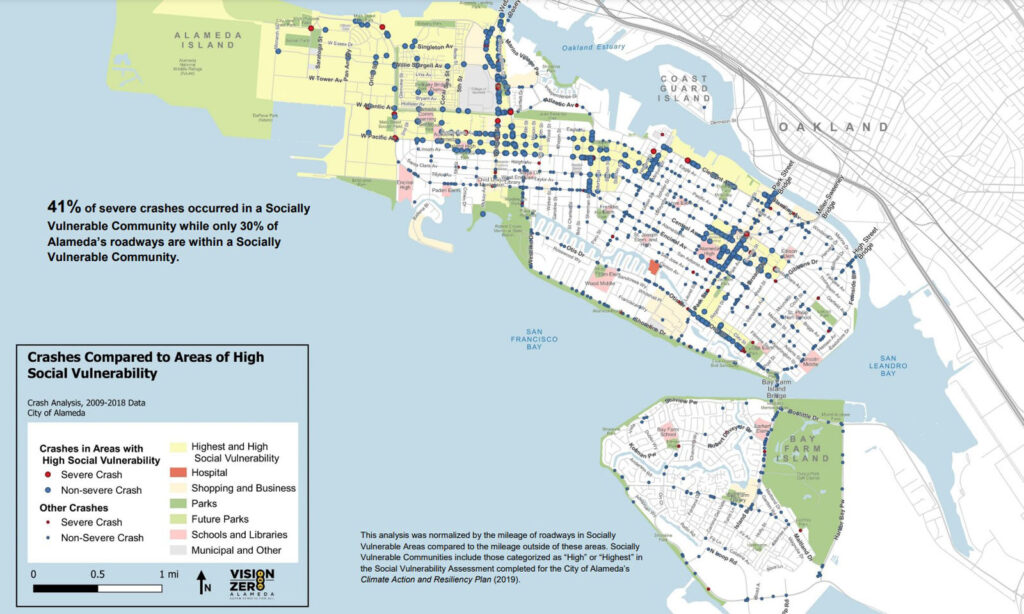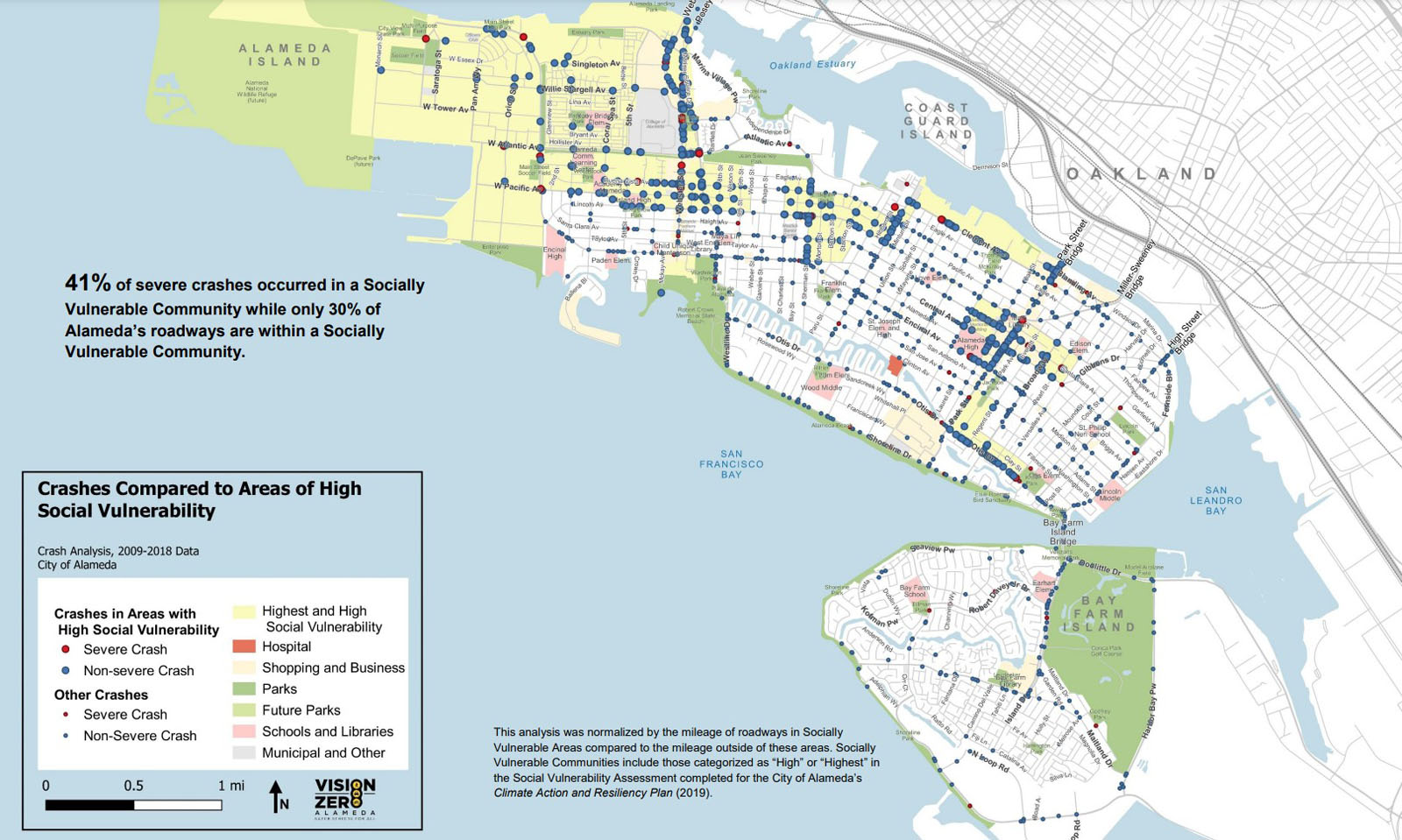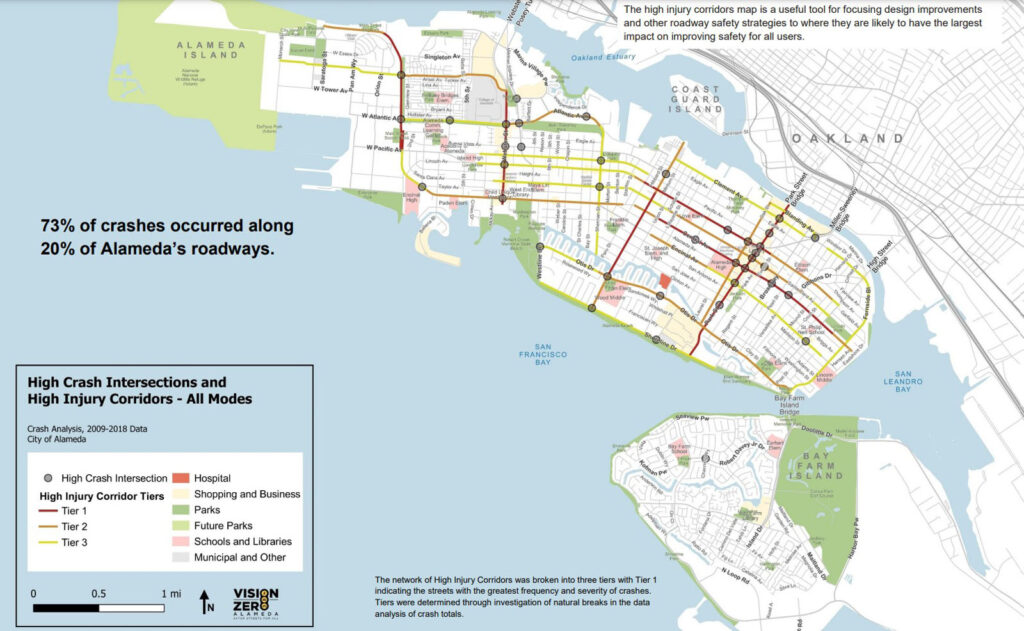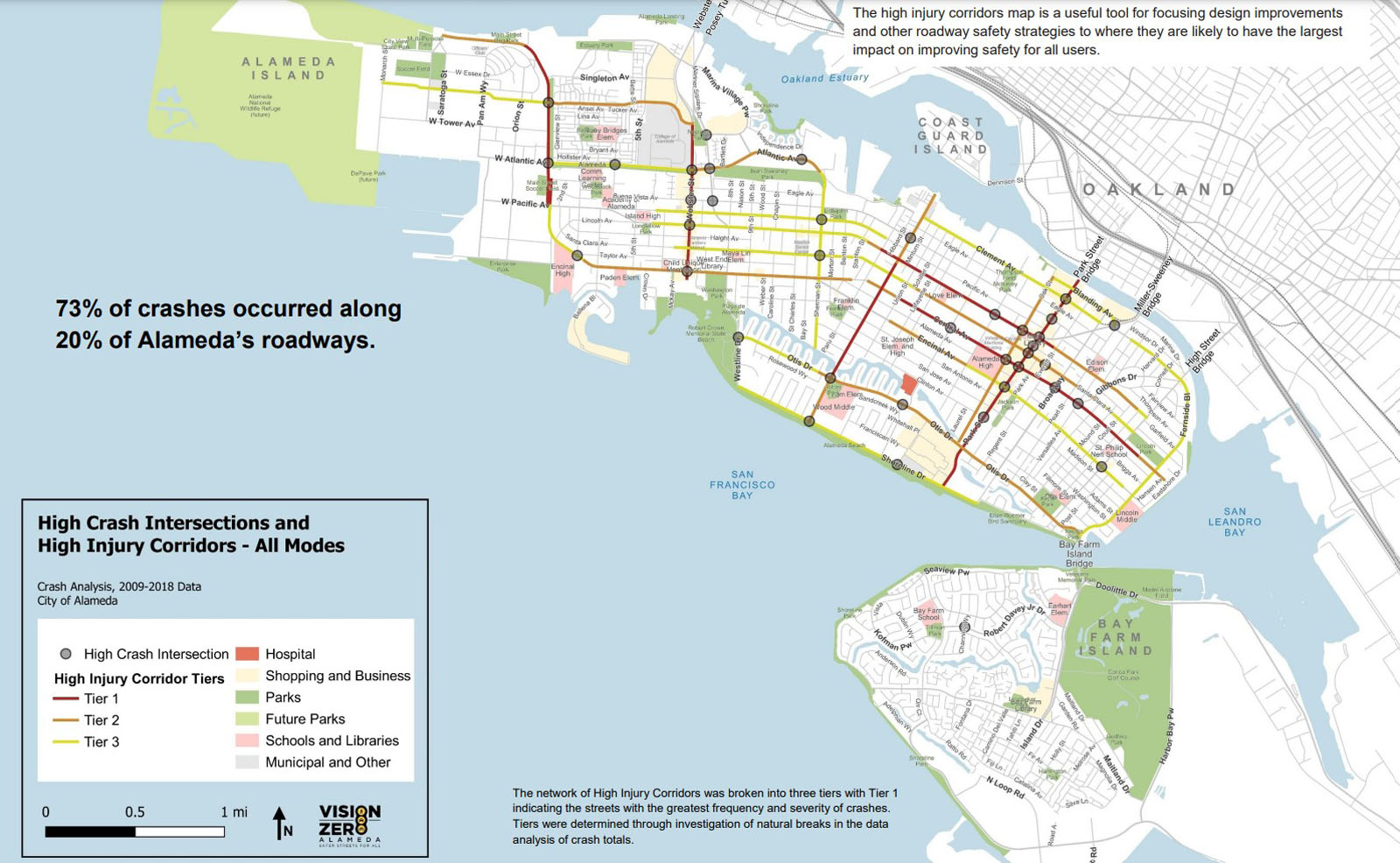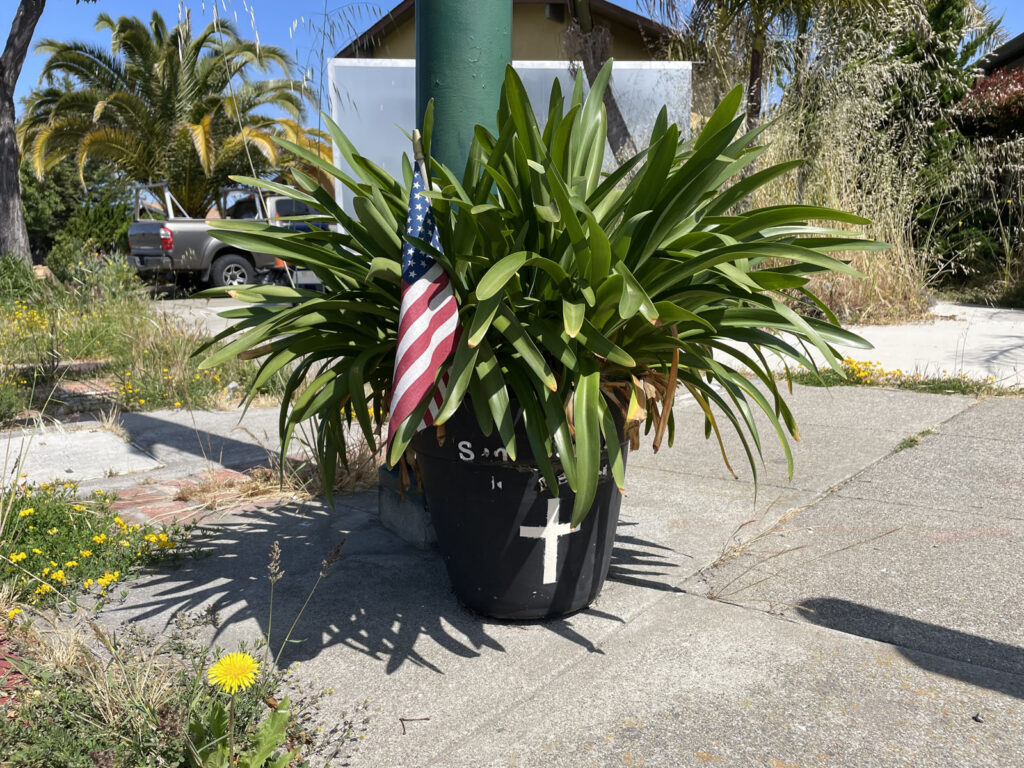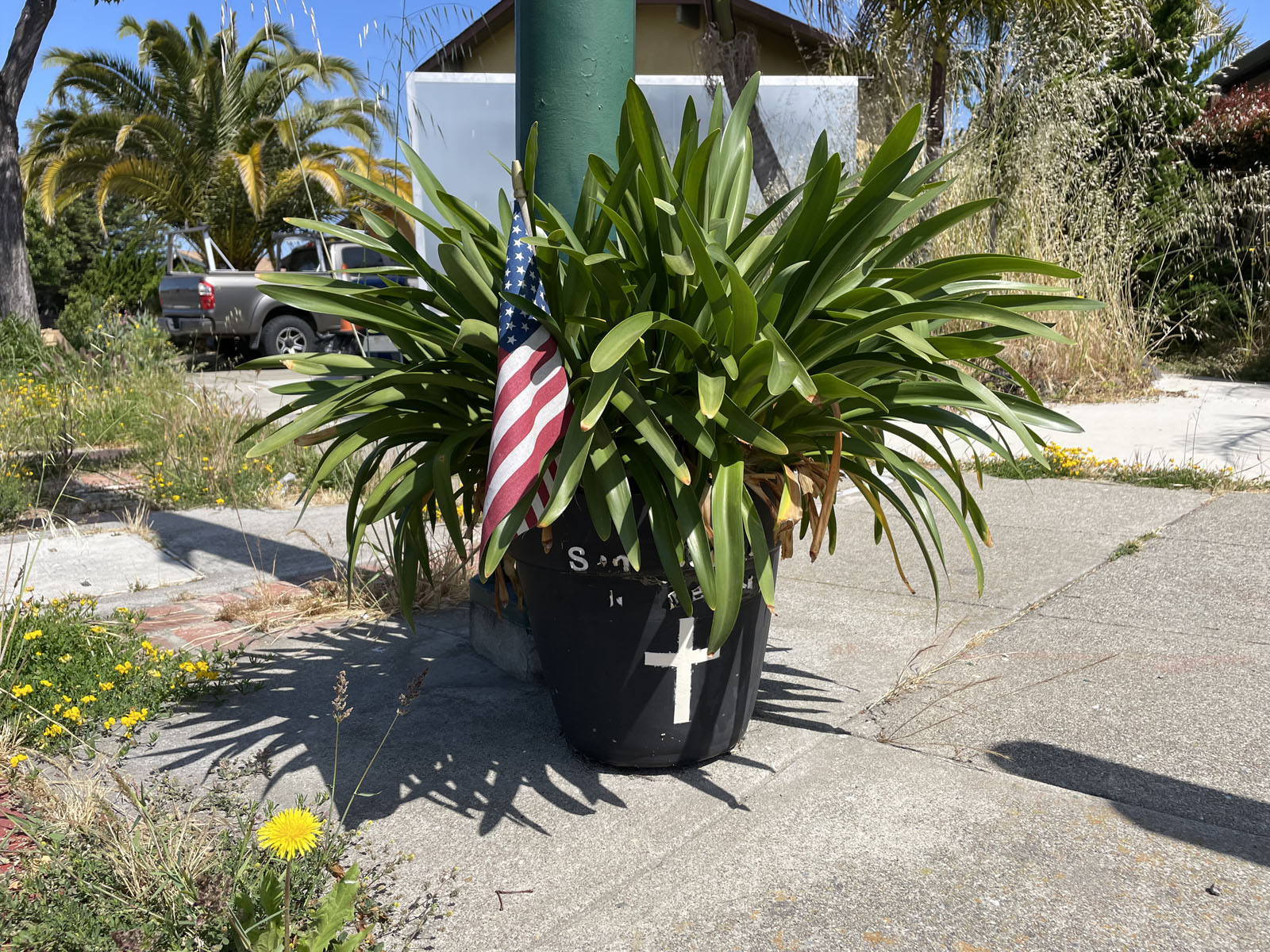 New designs for Grand Street
Moving forward, a revamp of Grand Street will likely occur in phases, split among three segments:
Segment A: Shore Line Drive to Otis Drive.
Segment B: Otis Drive to Encinal Avenue.
Segment C: Encinal Avenue to Clement Avenue.
Segment A is fully funded and will proceed for construction by 2024, based on the Council-approved original concept. It was not the focus of Wednesday's workshop.
Parametrix developed three new alternatives for Segments B and C. Each features pedestrian improvements, parking on both sides of the street, and bicycle lanes raised to the sidewalk level. Below is a summary of how each alternative differs from each other and the original concept:
Applying the council-approved concept to Segments B and C results in a parking loss of 60% to 70% with an estimated cost of $7.1 million.
Alternative 1 features a raised, two-way bikeway on the east side of Grand Street, with a projected parking loss of 5% to 15% and an estimated cost of $13.3 million.
Alternative 2 features a raised, one-way bicycle lane on both sides of Grand Street, with a projected parking loss of 10% to 30% and an estimated cost of $16.6 million.
Alternative 3 is a reimagining of Grand Street that enhances Alternative 2, with a projected parking loss of 10% to 30% and an estimated cost of $24.4 million.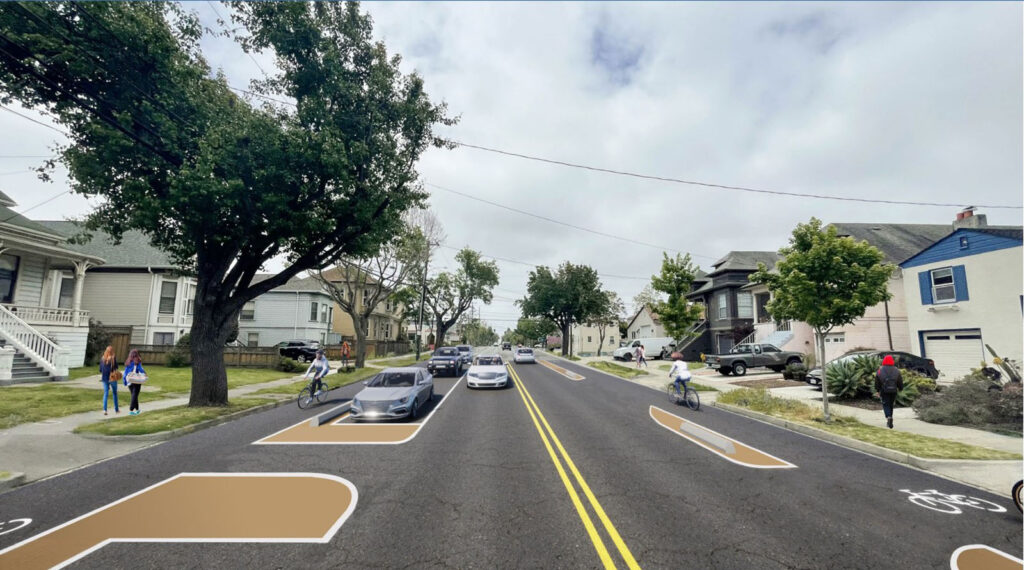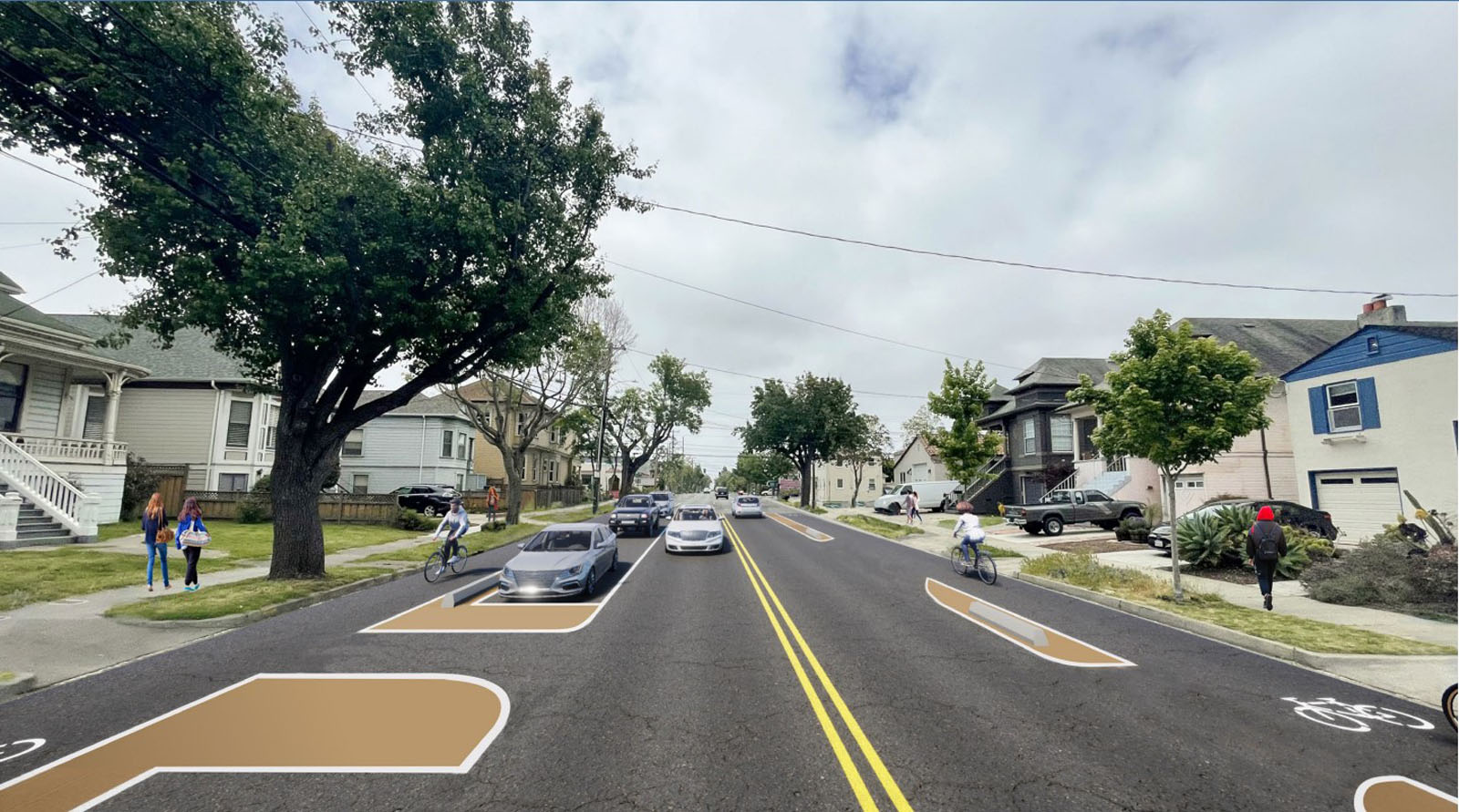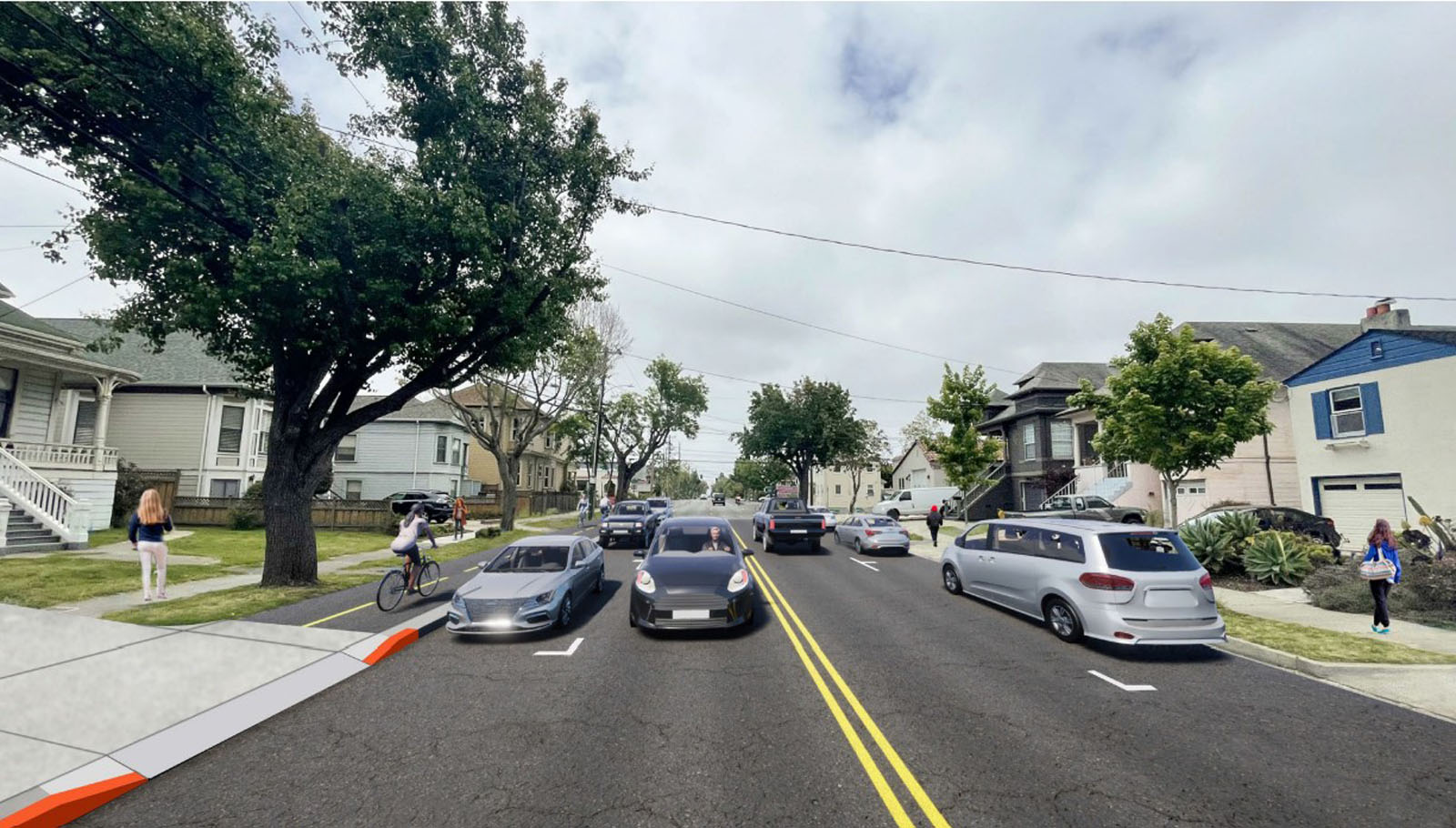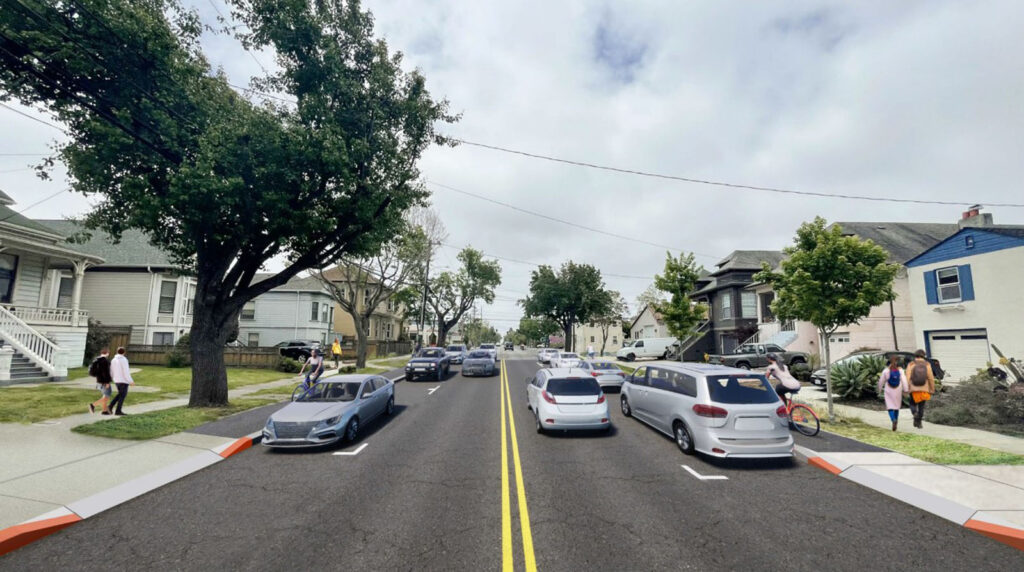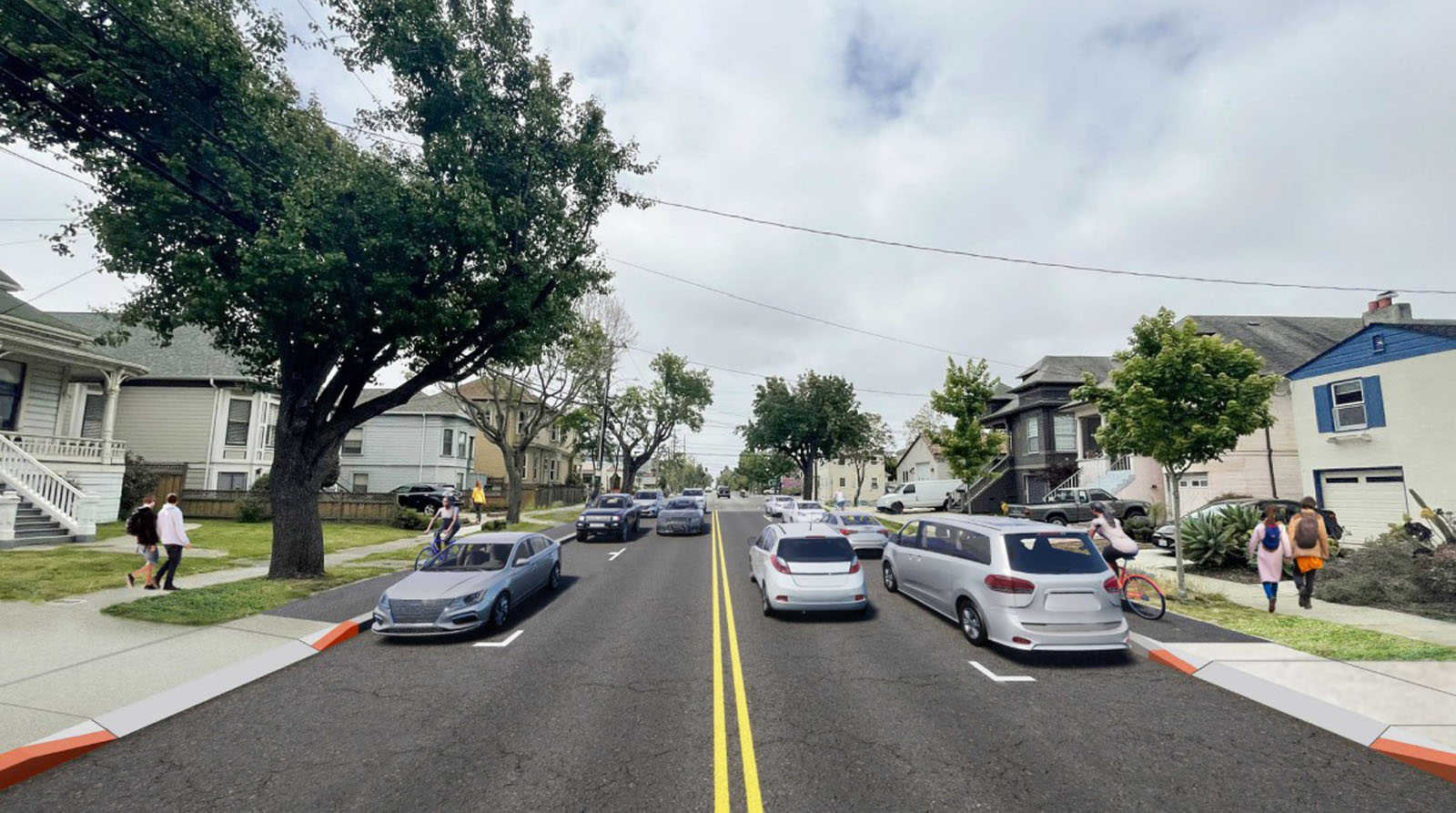 City staff revealed a preference for Alternative 1, which allows for more separation between cyclists and cars and lower parking loss while still being the least expensive of the alternatives. Alternative 3 was immediately eliminated as prohibitively expensive; it was presented only as a "what if" scenario for a Grand Street designed from scratch.
Two Grand Street residents, who asked not to be named, expressed concern that the raised bike lanes would introduce new collision conflicts and suggested additional flashing lights and crossing guards as a simpler solution. Carol, a resident of Grand Street near Encinal Avenue for more than 50 years, questioned whether the design can accommodate future requests by residents to install new ADA parking spots.
Eric and Julie, who live near Wood Middle School, and ZK, a frequent cyclist, generally supported the new alternatives, but also wondered whether such a high level of investment on the corridor is necessary.
"As a Grand Street resident, Option 1 is definitely the preferred proposal," read a written note posted anonymously on a wall exhibit of the proposed designs. "It is a great balance for pedestrians, bikes, and autos." Another note, referring to Alternatives 1 and 2, stated, "Both of these are great improvements. NO CHICANES."
City and consultant staff, who were scattered across the room, eagerly responded to concerns and questions of those in attendance. Bri Adams, a civil engineer with Parametrix, explained that although raised bicycle lanes introduce new conflicts, driveways and intersections will have their red curbs extended to increase visibility. Additionally, crosswalks on side streets will be raised to sidewalk level to encourage turning drivers to slow down.
"The curb provides much more safety than bollards," added Senior Transportation Coordinator Rochelle Wheeler, noting that this level of investment is critical to achieving the goals set forth by the Vision Zero Plan.
Additional opportunities for public comment will be available during a Virtual Open House on June 13, or by using a comment form on the City's website. The Transportation Commission will discuss the project at its meeting on June 21.
Ken Der is a contributing writer for the Alameda Post. Contact him via [email protected]. His writing is collected at AlamedaPost.com/Ken-Der.