Pyka to build drones that can spray pesticides in Building 39 hangar exempted from Tidelands restrictions
On September 5, by a vote of four to one, City Council approved an eight-year lease of an Alameda Point hangar to an autonomous electric aircraft manufacturing company called Pyka Inc. Their planes are designed for spraying pesticides on agricultural land. While the company hopes one day to sell autonomous planes for cargo delivery, the bulk of the discussion at the City Council meeting centered on environmental concerns raised by residents about industrial-scale aerial spraying of petroleum-based pesticides.


Pyka representatives seemed to distance themselves from the pesticide issue, saying that their pesticide drone sales were simply a means of generating revenue to allow the company to grow and be successful in other fields of autonomous aircraft production. Their emphasis appeared to be on the reduction of greenhouse gases caused by use of aviation fuel.
Most City officials expressed varying levels of support for the ideal of reducing the use of petroleum-based pesticides, also known as synthetic pesticides. However, Councilmember Malia Vella's primary concern, on the other hand, was determining if Pyka would be able to pay the rent and take good care of the property.
Vice-Mayor Tony Daysog questioned whether the City has a policy on organic farming or pesticide use. Noting that correspondence he received from constituents referenced the dangers of pesticide use, Daysog asked, "Is it correct to say we don't necessarily have a policy regarding encouraging organic type of … or do we?" Andrew Thomas, interim Director of Base Reuse and Economic Development responded, "We're not a farming community, so we don't have a lot of agriculture here in Alameda, so I can't think of any general policies about that."
Although the Council was made aware that the planes were going to be used to spray banana plantations in Central America with a chemical banned in the European Union, Councilmember Tracy Jensen noted that the chemical, Mancozeb, has not been banned in the United States.
Pyka co-founder and operations leader Nathan White implied that the use of Mancozeb in the U.S. is minimal because not many bananas are grown in the U.S. However, research shows Mancozeb is used on a wide variety of crops all across the U.S., according to the U.S. Environmental Protection Agency, and is controversial among health officials. A recent study by the National Institutes of Health concluded that "Mancozeb can be considered as a powerful threat for female reproductive competence" and "a powerful environmental pollutant."
Michael Norcia, Pyka CEO and co-founder said, "I do very strongly believe that making crop spraying less impactful for the communities that surround agriculture is a benefit to society. And then how can we grow, how can we make money, how can we sell aircraft, expand into the cargo market."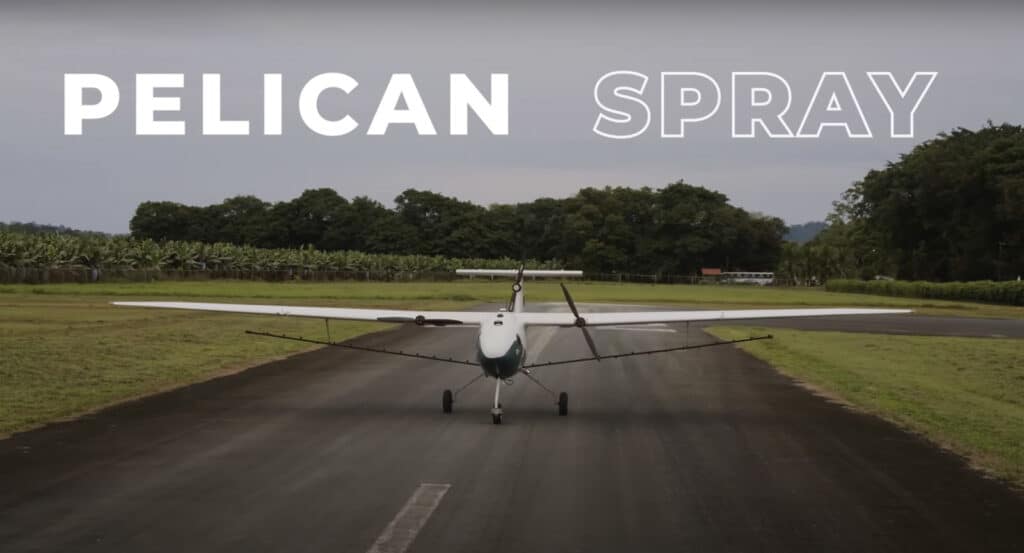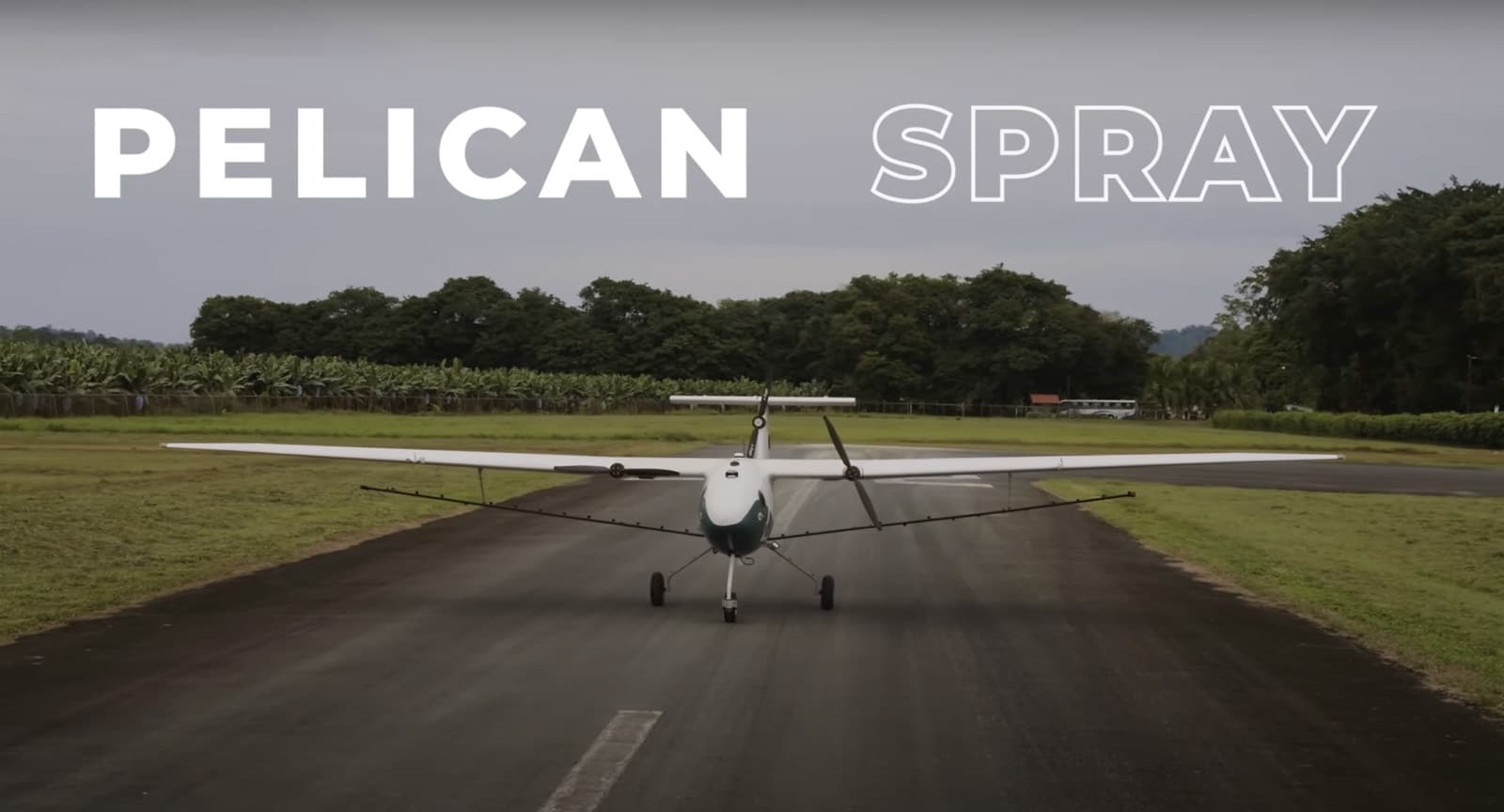 Pyka co-founder Chuma Ogunwole said the company's pesticide plane would also provide cost efficiency for organic farmers who spray pesticides, albeit not made from petroleum. "Organics are cost-prohibitive for a lot of producers around the country and around the world," said Ogunwole. "And unfortunately organics, while effective, need to be sprayed more frequently, which makes it even more prohibitive," Ogunwole continued. "Electric aircraft are much cheaper to operate."
To some, the hopes for electric crop-spraying planes incentivizing organic farming might be more aspirational than real. Agricultural chemical companies have a vested interest in making sure farmers do not transition to organic farming and remain reliant on buying their synthetic pesticides. One way this may be accomplished is by supplying seeds that have been genetically modified to withstand herbicide use. More than 90 percent of corn, soybeans, and cotton grown in the U.S. are genetically modified to be resistant to herbicides such as Roundup™, according to a report titled "Pesticides in Our Food System."
It is uncertain whether or not Pyka's planes could be spraying Roundup™ (made from glyphosate) or other herbicides like atrazine. The company representative said that they do not control what the farmers spray. "We build technology products," said Ogunwole. "We don't work with pesticides."
Mayor Marilyn Ezzy Ashcraft saw Pyka's pesticide plane as a smart business opportunity, given all the aerial spraying currently being done in the United States. Pointing to an article she recently read, "the U.S. is the largest aerial spraying market in the world with $800 million in annual sales," Ashcraft said. "This startup sees plenty of opportunities with crops such as leafy greens and vegetables that need to be well-presented on supermarket shelves."
Although the hangar being leased, known as Building 39, is on land designated as State Tidelands, it was exempted from restrictions that limit Tidelands to marine, visitor serving, and recreational uses in an agreement between the city and the state signed in 2014.
In the end, the Council voted that it was comfortable with pesticide drones being manufactured at Alameda Point. Councilmember Trish Herrera Spencer voted against the lease after voicing concerns about shipping containers being stored in plain view next to the building.
The Pyka lease will have its second reading for final approval at the September 19 City Council meeting as Consent Calendar Item 5-J.
Contributing writer Richard Bangert posts stories and photos about environmental issues on his blog Alameda Point Environmental Report. His writing is collected at AlamedaPost.com/Richard-Bangert.