Give blood, celebrate High Holy Days in person, COVID cancels Hamlet, longer Food Bank hours, local theft arrests, and road resurfacing starting soon.
Save a life at the Elks Lodge Community Blood Drive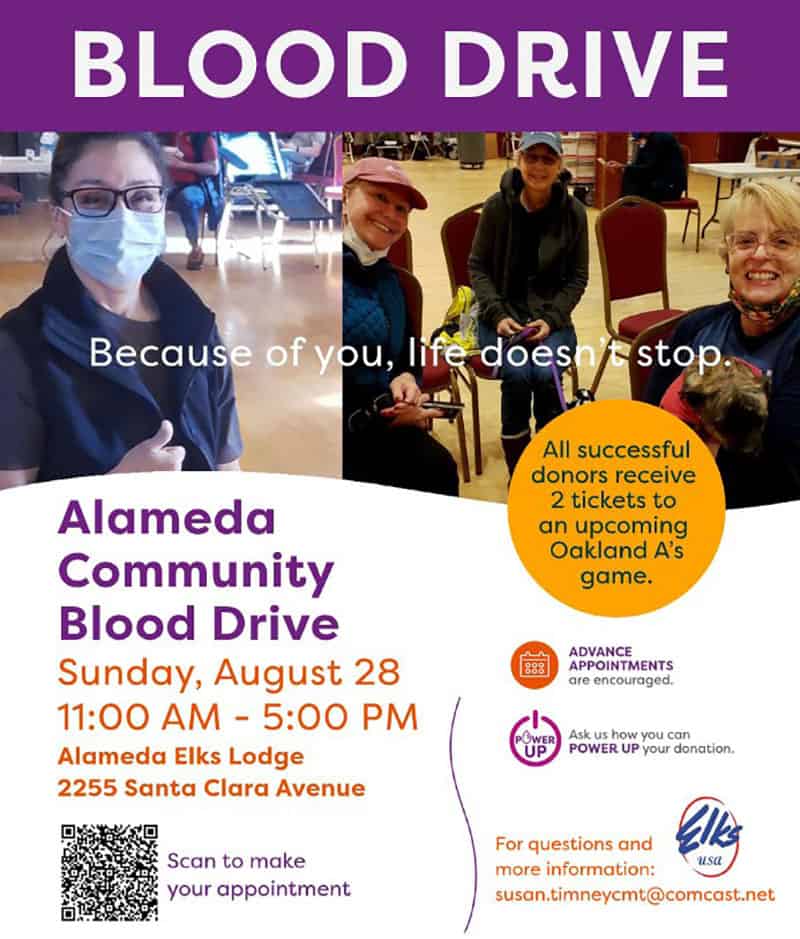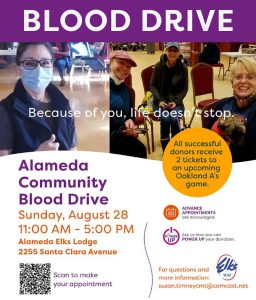 Every two seconds someone in the U.S. needs blood. Alamedans can save lives by participating in the Community Blood Drive this Sunday, August 28, at the Elks Lodge at 2255 Santa Clara Ave., in the Rathskellar area downstairs.
Blood and/or plasma donations are essential for surgeries, cancer treatment, chronic illnesses, and traumatic injuries, according to the American Red Cross. Whether a patient receives whole blood, red cells, platelets or plasma, this lifesaving care starts with one person making a donation.
To thank donors, the Elks Lodge will give every successful donor two tickets to an upcoming Oakland A's game.
To make an appointment—between 11:15 a.m. and 4:45 p.m.—simply scan the QR code on the announcement or go to the blood drive appointment site online.
Temple Israel resumes in-person High Holy Days services
Temple Israel, a Reform synagogue on Bay Farm Island, has announced that High Holy Days services this fall will be conducted in person, on Zoom, and via livestream on Facebook. Services for Rosh Hashanah (New Year) and Yom Kippur (Day of Atonement) have not been available in person since 2019. Services begin on the evening of September 17 with Selichot and conclude on October 5 with Yom Kippur. All services are free and require advance registration due to capacity limits.
Temple Israel's High Holy Days services will be led by the congregation's new clergy, Rabbi Cynthia Minster, with guest Cantor Star Trompeter. Melita Silberstein will lead early childhood services (ages 0 to 5 years), and Jenn Levine will lead the youth services (grades K through 5).
"We have been surrounded by uncertainty for years. Coming together for the High Holy Days is a chance to reconnect with the deeper meaning of our lives and reinforce our communal bonds," Rabbi Minster said. "I am honored to be leading Temple Israel as we enter the next 100 years of our spiritual community."
Temple President Betty Riback agreed that resuming in-person services is very important. "Like congregations across the world, we too are re-opening for people to gather together to worship and celebrate the start of another Jewish New Year with friends and family," Riback said. "This spiritual renewal, being physically back in our sanctuary, will be meaningful for many."
Complete service schedule and registration information is listed on the Temple Israel website. Please note that in-person services require proof of COVID vaccination, and masks must be worn.
Enrollment also is open for children to attend Temple Israel's religious and Hebrew school, Beit Bina. Temple membership is required. Membership information and the school application are both detailed on the temple's website.
COVID-19 outbreak shuts down Hamlet this weekend
Alameda's Food Bank Players canceled a performance of Hamlet scheduled for August 27 and 28 due to a COVID outbreak among the cast, according to director Gene Kahane.
"We are looking into the possibility of performing in the near future, and will let everyone know if that happens," Kahane said in a statement. "Thank you for your patience and your support of the actors and especially the Alameda Food Bank."
Alameda Food Bank hours extended
The Alameda Food Bank will extend Wednesday hours at its Island Community Market until 7 p.m. to better support working clients who cannot shop during normal daytime hours. Starting August 31, doors will be open from 11:30 a.m. to 7 p.m. on Wednesdays and from 11:30 a.m. to 4 p.m. on Mondays and Fridays. For information on how you can support this vital community nonprofit, visit AlamedaFoodBank.org.
Alameda Police arrest woman for fuel theft
Alameda Police Department officers responded to the 1700 block of 2nd Street just after 1:30 a.m. on Monday, August 22, after receiving a report of "sawing" noises coming from parked cars. APD officers located a woman who had drilled a hole into the victim's fuel tank to siphon gas.
The APD has been actively conducting operations to address various car-related crimes impacting our community. In the past week, officers have interrupted an in-progress catalytic converter theft, arrested an individual in connection with a stolen vehicle, located and returned several stolen cars, and removed burglary tools from our streets.
The APD recommends the following strategies to lessen the chance of becoming a victim to one of these crimes:
Avoid parking in secluded or poorly lit areas.
Keep your valuables out of sight.
Install an anti-theft device on your catalytic converter.
Install vehicle recovery systems to track your car's movements.
Police arrest suspect in $20,000 theft at Alameda Target
The Target store at Alameda Landing was hit by a series of grand thefts totaling over $20,000 in stolen merchandise between April and August 2022. All of the incidents had a similar suspect and modus operandi, according to the Alameda Police Department. On May 11, APD officers brought Twitter users along for an investigation into one of these incidents during a "tweet-along."
Several Bay Area law enforcement agencies, Target's Loss Prevention Officers, and the APD have been investigating these and other related Bay Area grand thefts. After months of investigation, a 47-year-old Berkeley man was identified and taken into custody in the City of San Leandro.
Alameda begins annual street repair and resurfacing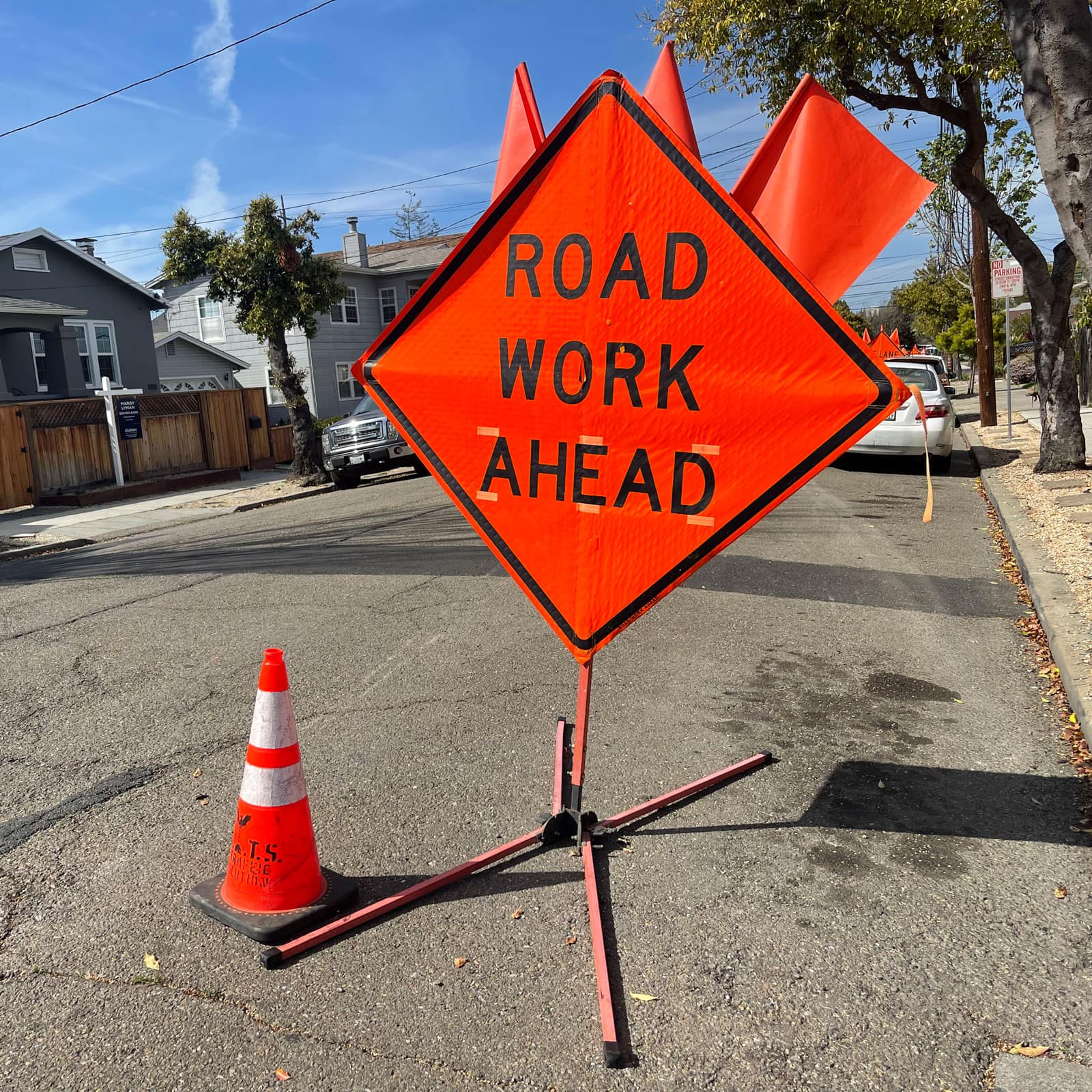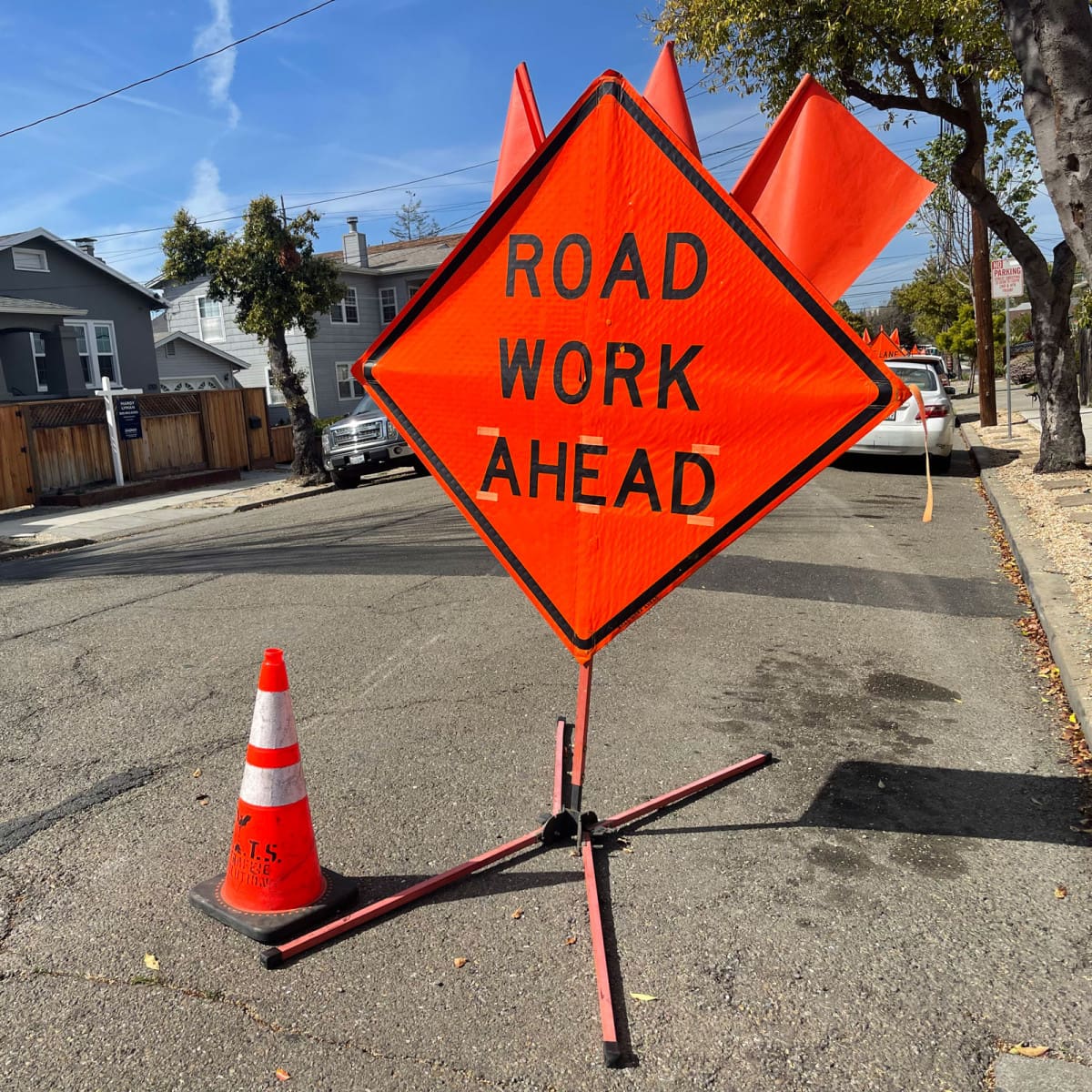 The City's annual street repair and resurfacing project is about to begin and is estimated to be completed by late November. Construction will be in progress Monday through Friday from 8 a.m. to 5 p.m.
Repairs will take place in several phases. Curbs and gutters will be removed and replaced; ADA-accessible curb ramps will then be constructed; areas with poor pavement will be patched with slurry seal and cracks will be filled; and finally, street pavement markings and traffic striping will be replaced.
During construction, motorists may experience minor disruptions in traffic, temporary loss of parking spaces, restricted street access, and increased noise and dust levels. Bus stops will remain accessible. Depending on the type of repairs needed at each construction site, either one lane in each direction will remain open, or the road will be narrowed to a single, shared lane. In the latter cases, flag persons will control traffic, and delays may occur.
Please note that on-street parking may be removed for up to one week during construction hours. The contractor will post "No Parking" signs 72 hours before starting work to inform residents about construction dates and parking restrictions. The project is primarily funded by Alameda County Measure's B and BB Local Streets and Roads, Vehicle Registration Fund, and the Road Repair and Accountability Act of 2017.
A full list of roads that will be under construction and the type of maintenance that each road requires is available on the City of Alameda website. Contact Trung Nguyen at 510-747-7900 with any questions about the project.