Warming shelter reopens, local woman missing in SF, join New Year's gala on USS Hornet.
City of Alameda reopens warming shelter
On these chilly winter days, not all of us have a home or any other place to stay warm, sleep, or enjoy a meal. Starting Friday, December 23—and operating every Monday, Wednesday, and Friday—the City of Alameda's Winter Warming Shelter will provide that warm place to sleep, along with dinner, breakfast, a shower (on Wednesdays and Fridays), toiletries, clothing, and limited overnight storage during the colder winter months ahead. Guests may also bring one approved, well-behaved pet. The Warming Shelter will be open through April 30, 2023.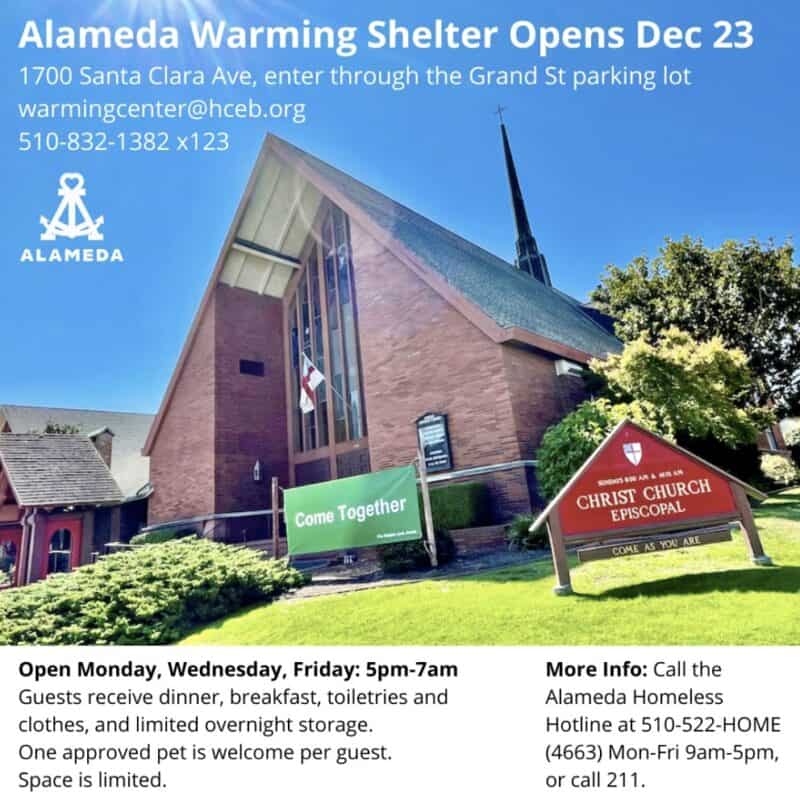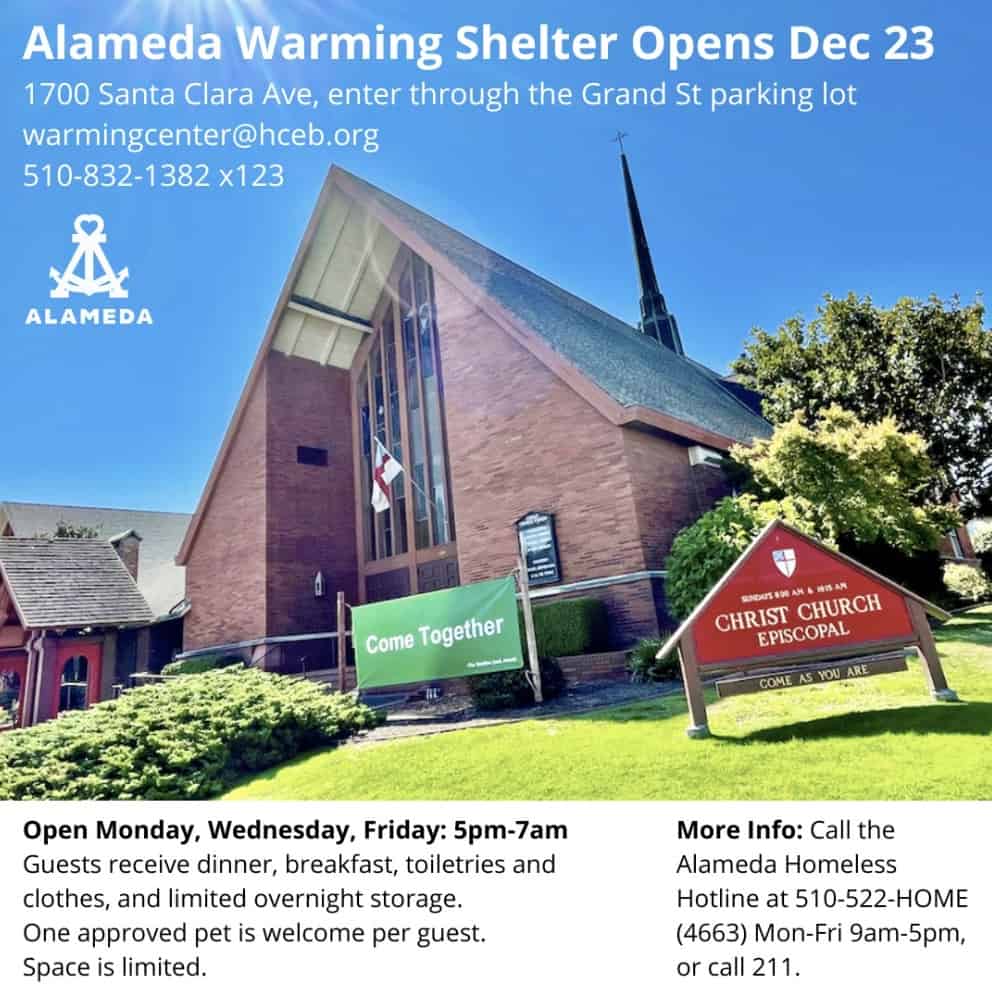 The Warming Shelter will be hosted by Christ Episcopal Church at 1700 Santa Clara Ave.; guests should enter through the Grand Street parking lot. The Housing Consortium of the East Bay (HCEB) is operating the Warming Shelter. HCEB also operates Jack Capon Villa on Lincoln Avenue, an 18-unit affordable housing community for low-income individuals with developmental disabilities.
Many thanks to Christ Episcopal Church leadership, congregation, and volunteers, who continue to fulfill this critical need in our community. They also have made a significant monetary contribution to help operate the Warming Shelter.
If you are interested in supporting the Warming Shelter, you can purchase an item on the Warming Shelter Wish List—the top priority at the moment is sleeping bags—or sign up online to volunteer your time and support with meals.
For more information, call the Alameda Homeless Hotline at 510-522-HOME (4663) Monday through Friday, 9 a.m. to 5 p.m., or call 211 on nights and weekends to access resources countywide. To contact the Alameda Warming Shelter, call 510-832-1382 ext. 123 or email [email protected].
APD still looking for missing 19-year-old woman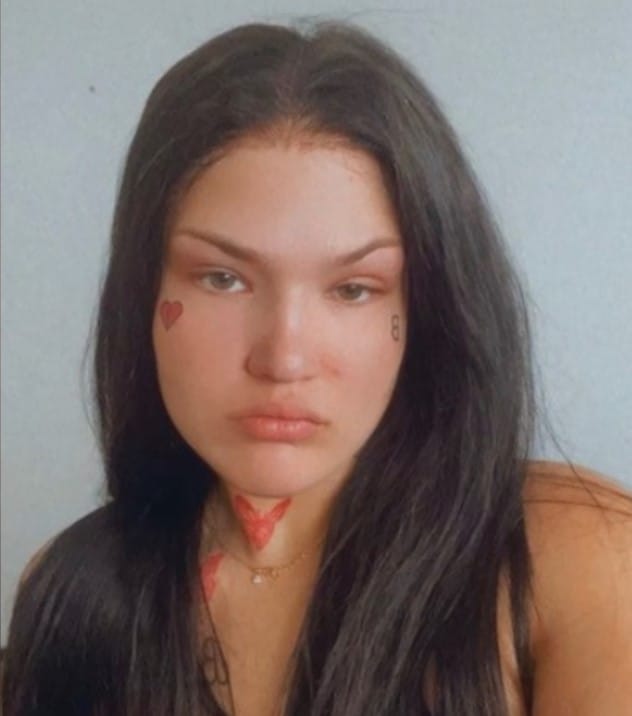 The Alameda Police Department (APD) is still looking for Giovanna Swarts, a 19-year-old Alameda woman who has been missing for a week.
Swarts was last seen on Friday, December 16, after she met with friends at the Uptown Bar on Capp Street in San Francisco. She was supposed to coordinate with family members to be picked up later that evening but they did not hear from her. The family notified APD on Sunday, December 18, around 10 p.m., after being unable to connect with Swarts throughout the weekend.
Giovanna Swarts is 5 feet 4 inches tall, weighs 180 pounds, and has distinct tattoos, according to police. She was last seen wearing a pink jacket with a black tank top and black biker shorts.
If you see her or hear anything about her possible whereabouts, please contact Alameda Police Department immediately, at 510-337-8340.
Swing in the New Year at the USS Hornet gala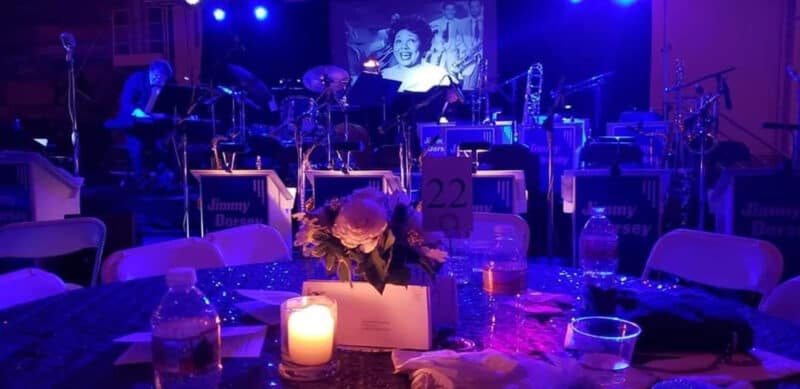 The USS Hornet Museum invites you to join as they ring in the New Year on board at the annual New Year's Eve gala on December 31. The party is the largest fundraising event of the year for the museum. The party starts at 7:30 p.m.—doors open at 7:15 p.m.—and continues until 1 a.m.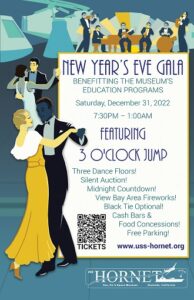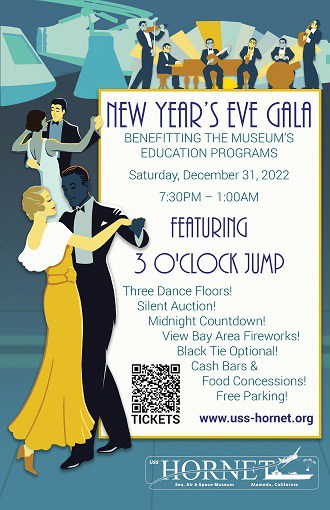 The event features the Bay Area's iconic 3 O'Clock Jump, an 18-person Big Band specializing in danceable Jazz from the Swing Era and forward. There will be multiple dance floors in the large, heated hangar bay, a countdown to midnight, food and drink concessions available for purchase, a silent auction, and more. Dress is Black Tie optional, so put on your favorite formal wear from any era and get ready to swing!
There's plenty of free parking for the event.
Purchase tickets online: General Admission is $60 (no reserved seating); Reserve Table Seating is $60 (seats are in Hanger 3 and Hanger Bay 2); and VIP Cabaret Table Seating is $99.00 (closest to stage).